Waterways
Shut-Ins to Visit Before the Summer Ends
Round out these last sweet weeks of summer by wading in some of the state's most gorgeous shut-ins. Pick one for a day trip, or turn it into a weekend, and visit all four.
By Katie Pollock Estes
Jul 2021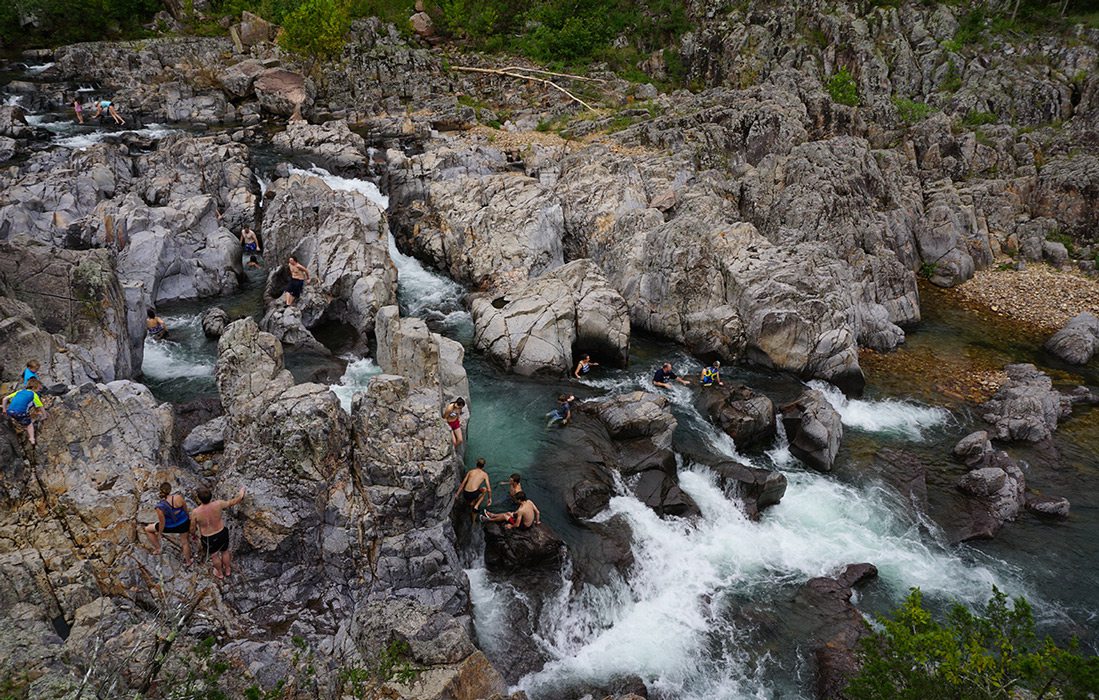 Johnson Shut-Ins
The most well-known shut-ins in the state, Johnson Shut-Ins is as fun as it is beautiful. Visitors enter Johnson Shut-Ins State Park and follow a 2.3-mile trail to the river, where they can scramble around on the rocks as the water ripples and rushes by. Be careful after a rain or during high water when the shut-ins are a little tougher to navigate—but most of the time, this scenic spot is Mother Nature's water park.
Find It: 3 hours and 15 minutes east of Springfield at Johnson Shut-Ins State Park
Tiemann Shut-Ins
Located halfway between Arcadia Valley and Fredericktown, these shut-ins along the St. Francis River are a gorgeous place to wade. To get to them, follow a 1.8-mile Tiemann Shut-Ins Hiking Trail until you reach the observation deck where you can look out over mini-waterfalls. The conservation area is also home to beautiful woodlands and tons of fauna, so keep your ears open for critters passing by.
Find It: 3 hours and 45 minutes east of Springfield in Millstream Gardens Conservation Area

Castor River Shut-Ins
These shut-ins are part of a uniquely hued landscape, thanks to the pink granite rocks that the river has cut through. That's not the only reason this wading spot makes for such a great photo-opp; the rushing water that flows around those pink rocks has beauty all its own. The shut-ins are located in a conservation area near Fredericktown, Missouri, and are accessed via a 1-mile loop called Cedar Glade Trail.
Find It: 4 hours east of Springfield in the Amidon Memorial Conservation Area

Rocky Falls Shut-Ins
Located a little farther west than the other three shut-ins on our list, Rocky Falls can be found near the towns of Winona and Eminence. It features waterfalls that rush over rhyolite rock, especially after a big rain. The large, calm pool at the base of the falls is a wonderful spot for swimming, and the wide gravel bar has plenty of space to set up chairs or throw down a beach blanket so you can rest and picnic between swims.
Find It: 2 and a half hours east of Springfield near Winona Township