Jamie Thomas, 35
Lives in: Springfield, MO
Vice President of Property Management, Enterprise Commercial Group
Charity: MS Society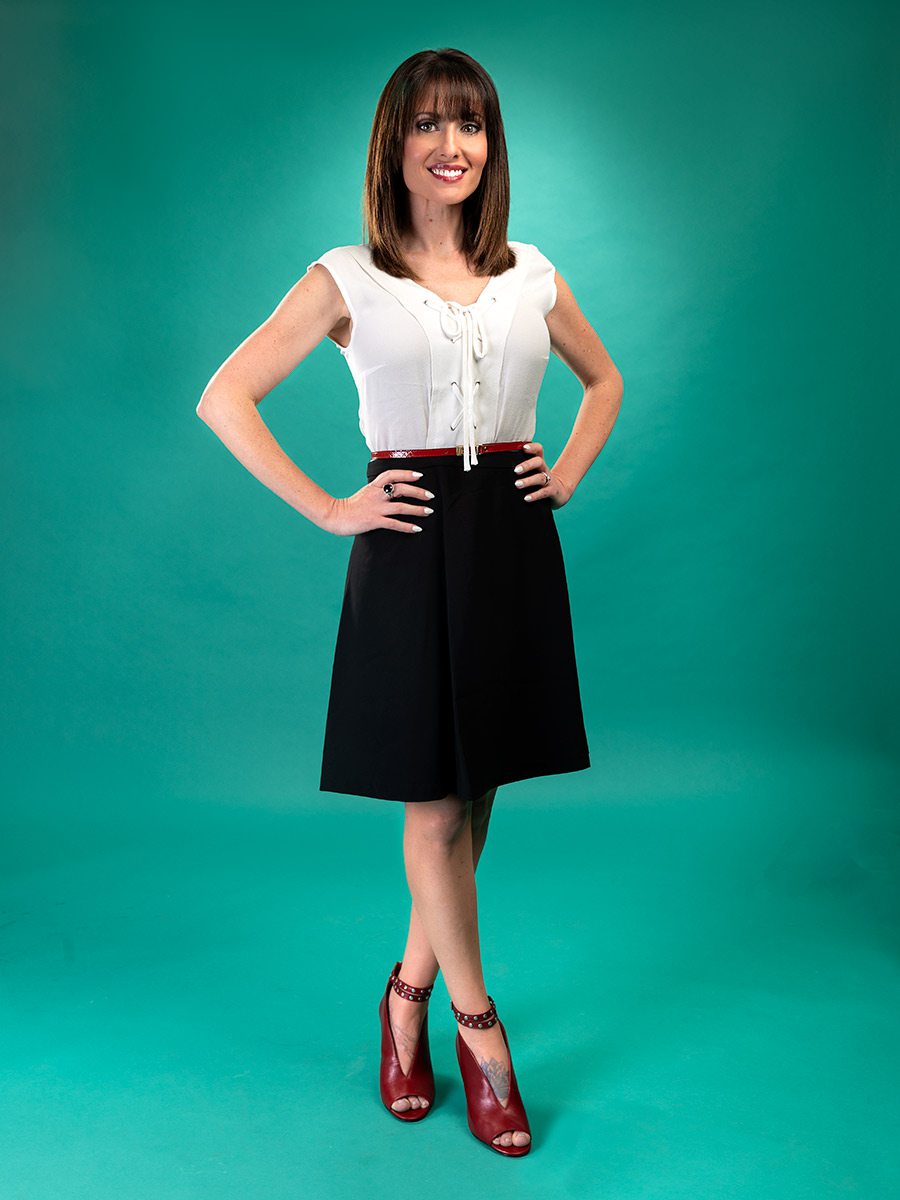 The woman who receives the most online votes and brings the biggest crowd to Indulge will donate a portion of the event proceeds to her local charity of choice. The winner will be announced at Indulge on October 3.

---
What is your local 417-land charity of choice, and why is it important to you? 
My charity of choice is the MS Society. In 2016, I was diagnosed with a rare, aggressive (sometimes fatal) form of multiple sclerosis called Tumefactive MS. I spent weeks not actually knowing what was causing the tumor-like lesions on my brain. My symptoms have ranged from vision disruptions, cognitive issues, neuropathy, numbness, extreme fatigue and interrupted speech. I had the resources to seek care from the Mayo Clinic and be my own advocate, but I recognize that not everyone is in the position to do that.
I think there is a lot of misconception that funds raised do not stay local, but in addition to funding research for a cure, the funds raised by the National MS Society support the local connection groups in what they need to directly help those living with MS and their families in 417-land. 


Do you volunteer, or are you involved in any philanthropic or community organizations? If so, what are they, and what do you do?
I fundraise for The MS Society and work to raise awareness year-round. I serve as a Team Captain for the Walk MS event, which is particularly important to me and my ability to walk for those who can't.
I am on the committee for Springfield Catholic School's Emerald Evening, which is the largest fundraising event for Springfield Catholic Schools and supports endowment for teachers' salaries. I also volunteer for St. Agnes Elementary Summer Jam.
I have been lucky enough to recently build a career around serving and improving the Springfield area by assisting in the housing needs of low-income individuals. We partner with various non-profits, such as The Kitchen, One Door, The Community Partnership and Legacy of Hope LLC to provide safe, clean and affordable housing. Additionally, I partnered with The Rebound Foundation to provide transitional housing to domestic violence survivors in order to allow them to continue on in the next steps in housing and rebuilding their lives.


What do you think makes a woman beautiful?
Kindness, positivity, strength, confidence and when she is not afraid to genuinely be herself—flaws and all.


What has been your proudest moment? Or, what are you most proud of?
I'm honestly proud of my resilience and where that has led me so far. There have been times when I have wanted to give up, but I have kept putting one foot in front of the other, trusting my gut and thriving despite what could have broken me. (That, or snagging my trophy husband, Josh.)


What was one particularly defining or life-changing moment in your life?
I went completely blind for three weeks in 2017 due to optic neuritis associated with my MS. I had nothing to do during that time but reflect on my life and bargain with God on the ways I could do better, if only I could get my life back. That experience changed me to my very core. I began to recognize the beauty in all of the things I was missing—such as bedtime stories and bath times. That experience made me a better mom and spouse. I also became more compassionate and empathetic. We are all fighting something that is invisible to the outside world, and we could all use a little more kindness. I did regain vision in my right eye and I'm doing my best every day to hold up my end of the bargain.


When you were a child, who did you think was the most beautiful woman? Why?
My own mom and grandma. My mom is naturally, outwardly beautiful. She has never worn a stitch of makeup and somehow looks 15 years younger than she is. Even more than that, she has a giving heart and is always thinking of others before herself. She is so considerate and never passes on an opportunity to let others know she is thinking of them. She is open-minded and passed that on to me. I remember seeing my grandma working so hard in the huge garden that she would grow every summer or helping my grandpa on their farm—wearing old cut-off shorts, over-sized T-shirts and a messy bun (before they were cool), but she always had on lipstick. I thought she was the most beautiful then. She was a true southern lady. 


What advice would you give to a young girl about being beautiful?
Don't wait until you're over 30 to be true to yourself or to recognize your gifts. I remember being a teenager and being too self-conscious to laugh too loud or stand out too much. Also, wear sunscreen!


What's something that might surprise us about you, or a story you love to tell?
I love pranks, and my poor husband is generally on the receiving end. Besides the classics like filling his Oreos with toothpaste or putting tape in the doorways for him to run into, one prank in particular always makes me laugh. Our house was built in the late 1800s, and the joke since we bought it has been that it might be haunted. My husband does not find this the least bit funny and is very easily spooked. About six months after we moved in, I browsed local thrift stores until I found the perfect creepy clown doll. It wasn't quite dirty enough to appear that it had been lurking in our attic for 130 years, so I ran over it a few times in our driveway and then hid it in his shower for him to find in the morning. I played dumb as to where it came from and he laughed it off, but you could see some panic on his face. It became a game where he would throw it away and I would dig it back out of the trash when he wasn't looking to hide in a new spot, including his car. 


What is your biggest source of inspiration?
My girls. They are 7 and 3 and truly believe that I am the best mom and person in the world. I just aspire to be the person they think I am. 


Where do you find beauty in 417-land?
We have great sunsets! I particularly love watching the sunset on C-Street from our front porch or at Millsap Farms.


What do you think is the biggest issue or challenge 417-land is facing right now, and how would you tackle it? 
I think the lack of affordable, quality housing is a major issue. We have so many great organizations pouring their hearts into placing individuals in homes, but there is only so much inventory. I feel like we've gotten a small start on tackling this with Enterprise Commercial Group. My boss, Titus Williams, is willing to invest in improving dilapidated housing and I'm lucky enough to play a role in figuring out how we can make it work, while keeping rents as low as possible. We won't really know how much of an impact we have made until years down the road.


Fill in the blank: Friends would describe you as "The _____ One." 
I actually polled my closest friends on this, and it was a narrow race between "witty" and "dependable."
See the winners in the September issue!
Get to know our 10 Most Beautiful even better. Then, watch them walk the runway at 417 Magazine's Indulge on October 3 at Oasis Hotel and Convention Center.