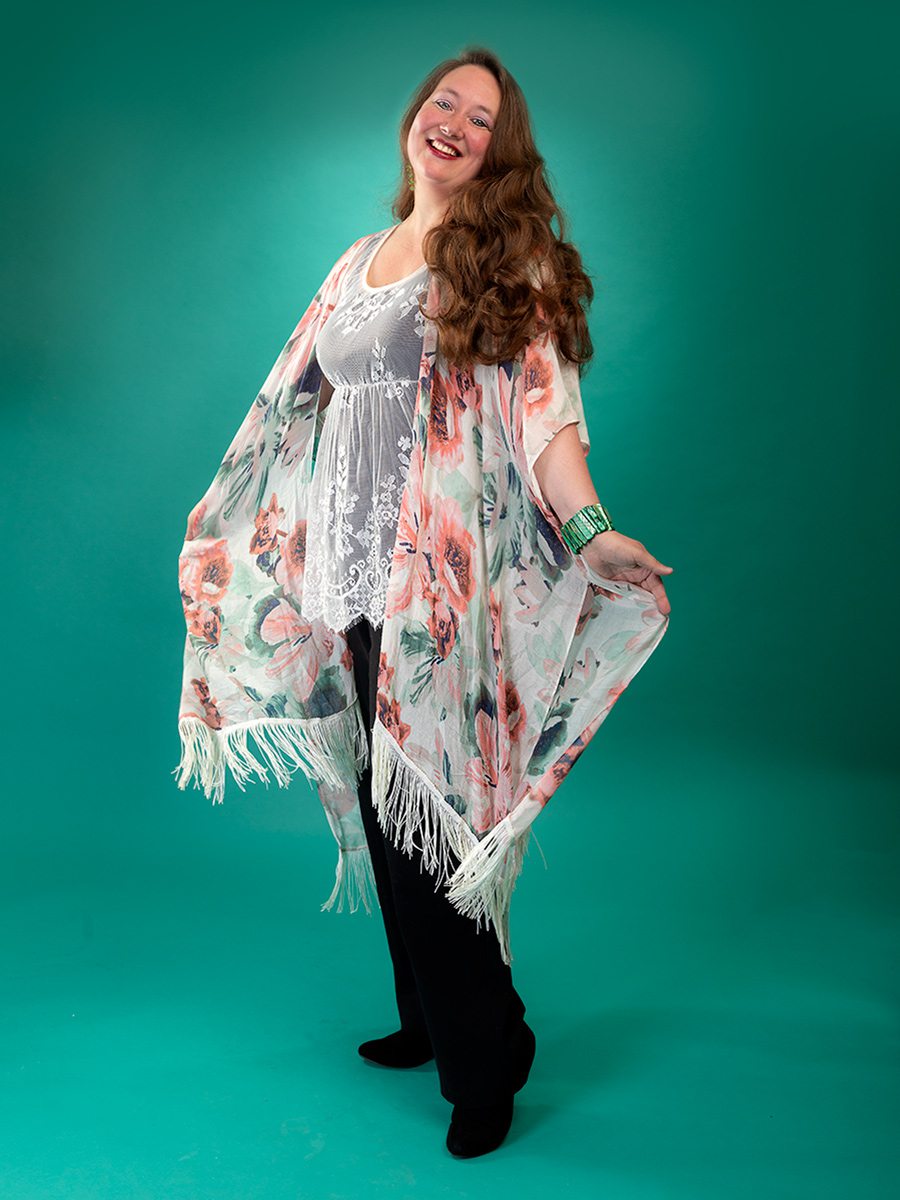 The woman who receives the most online votes and brings the biggest crowd to Indulge will donate a portion of the event proceeds to her local charity of choice. The winner will be announced at Indulge on October 3.

---
What is your local 417-land charity of choice, and why is it important to you? 
The Springfield Little Theatre Education Program aspires to provide unmatched theatrical educational experiences for students of all levels of experience and degrees of immersion. While many alumni of the program have achieved fulfilling careers in live theatre, theatre education, film, technical theatre, communications or arts administration, all students who participate in a SLT education offering or production learn the values of accountability, discipline, teamwork, kindness, hard work and play—attributes that will serve them in any of their future endeavors. Graduates emerge as confident, creative community participants and leaders, excelling in multi-facets of business, education, and the arts. I, myself, am the product of passion and purpose meeting opportunity, so I am committed to helping others find their way to the same magical intersection through their involvement at Springfield Little Theatre! 


Do you volunteer, or are you involved in any philanthropic or community organizations? If so, what are they, and what do you do?
On behalf of Springfield Little Theatre, I am committed to maintaining an attitude of service and collaboration. I believe in saying "yes" to our community! Our newest endeavor is a partnership with Camp Barnabas that seeks to provide inclusive theatrical experiences, including workshop, volunteer and performance opportunities, to students of all ages with and without disabilities. In the past year, the SLT education program provided a performance, a photo booth, face painters, costumed characters or volunteers for over 35 community events and organizations. We have provided locations for student film shoots, provided students opportunities to job shadow, provided studio space for emerging artists and supported district and state speech and theatre contests and local student productions. Our school touring company has visited over 30 area schools, ensuring arts access to the underserved. We've provided ample opportunities for students to gain confidence and experience in performing through Mainstage, Family Series, Education Series, Showcase and Summer Institute Productions. In addition, the SLT youth performance troupes have, for three years, presented a Show Your Character event, a benefit for the Landers Theatre and The Alzheimer's Association. 
Last season, we donated a portion of funds raised from one of our Education Series productions, The Boy Who Lived: A Wizard Rock Musical, to the MS Foundation. This season, we donated a portion of funds raised from our mainstage production of Disney's The Little Mermaid Jr. to Kadyn's Krew for Cystic Fibrosis. 


What do you think makes a woman beautiful?
Her authenticity, her confidence, her intellect, her passion, her compassion, her hopes, her dreams, her energy, her vulnerability, her ability to find humor and to offer and accept grace amidst adversity, her humility, her strength, her optimism, her gratitude, her sense of adventure, her laugh, her tenacity, her vitality, her generosity and the persistence of her spirit. 


What has been your proudest moment? Or, what are you most proud of?
As the education director for Springfield Little Theatre since 2003, I have led a dedicated, talented and supportive team that has increased program offerings and grown education revenue over 2400 percent. The nationally recognized program currently serves 230 full-time students, 190 part-time students and approximately 1,200 summer students and reaches over 30,000 more children through free and discounted performances for area schools, school tours, special workshops and community events annually. SLT's 10 auditioned youth performance troupes provide unparalleled theatrical, social and educational experiences, as well as numerous opportunities for community involvement. Our pre-professional program (PPT) provides a more rigorous set of courses and enrichment for the student who has identified a professional calling. Our recent PPT graduates have been accepted to some of the country's most prestigious conservatories and universities.
I am never more grateful or more humbled to be entrusted to the position I am than at our annual graduating senior youth performance troupe showcase or end-of-the-year season celebration, both events where our students and volunteers come together in an outpouring of love, support and commitment to the elevation of excellence, kindness, gratitude and willingness to serve both community and artistic expression.


What was one particularly defining or life-changing moment in your life?
I am a product of Springfield's arts community. I began my dance training at the age of 8 at Springfield Ballet. At 11, I attended my first summer program, State Ballet of Missouri's four-week intensive on the Webster University Campus in St. Louis. I continued to study and perform with Springfield Ballet and often traveled to Kansas City on the weekends to take professional company classes. I also enjoyed being a part of Children's Choirs of Southwest Missouri; performing in Springfield Little Theatre's Anne of Greene Gables, The Music Man and South Pacific; and dancing in Springfield Regional Opera's Die Fledermaus, for the grand opening of Juanita K. Hammons Hall for the Performing Arts, and for the city's annual First Night Celebration. 
A devoted student of classical ballet, I received a full scholarship offer to the School of American Ballet in New York, in addition to several other prestigious schools. I performed locally and regionally, and, at 13, attended the New York City Ballet School's five-week summer session before finishing the summer in Montgomery, Alabama studying and performing with Alabama Dance Theatre. After a third summer at SAB in NYC, I was one of 20 young dancers invited to stay the year at the country's most elite professional ballet training ground. SAB provided my dance training while I satisfied my academics at Professional Children's School, a school that is accommodating to a young person's professional schedule. I hold a bachelor of fine arts in dance performance from Missouri State University, and my choreography has won national recognition including a Dance Magazine award nomination for Choreographer of the Year. I have taught, directed and choreographed extensively in various local schools and Springfield stages including Tent Theatre. My Landers Theatre stage credits include direction or choreography for over 40 productions.

When you were a child, who did you think was the most beautiful woman? Why?
Jane Seymour as Elise McKenna in the film Somewhere in Time. A woman so gorgeous and fascinating that Christopher Reeves (Superman himself) would travel through time, then ultimately die of a broken heart to be with her again! A woman whose story inspired one of the most beautiful musical scores of all time, mostly written by John Barry and including the 18th Variation of Rhapsody on a Theme of Paganini by Rachmaninoff, my all-time favorite classical piece! And… those costumes! Perfection! 


What advice would you give to a young girl about being beautiful?
Know that you already are! Everyone is! There is an abundant amount of "beautiful" in the universe. Someone else's beauty does not diminish your own, nor does yours diminish theirs! Also, remember that no amount of physical beauty is as powerful as a beautiful heart and a beautiful soul, as words that are spoken and deeds that are done in kindness. And, give yourself a break because imperfection is beautiful, while perfection is, at best, empty and, in truth, really just an illusion anyway. Being "beautiful" is being the best possible version of yourself. Inner beauty radiates from within, and there's nothing more beautiful than someone who feels beautiful from the inside. 


What's something that might surprise us about you, or a story you love to tell?
It might be surprising to know that I was extremely shy as a child. One of the reasons my mother enrolled me in dance class was to force me to interact with other children.


What is your biggest source of inspiration?
The children that I have the privilege to teach and the stories that I have the honor to tell. 


Where do you find beauty in 417-land?
In nature, in music, in movement, in art, in the act of creation, in potential, in discovery, in friendship, in laughter, in forgiveness, in community, in quiet moments with family and in love.


What do you think is the biggest issue or challenge 417-land is facing right now, and how would you tackle it? 
Poverty, crime and mental health still seem to be the biggest issues 417-land is facing. I would never presume to know how to tackle the intricacies of these problems, but I do firmly believe in the power of education, and I do fervently believe in the potential of just one person to make a difference in the life of another person, even if they are able to provide nothing more than hope and encouragement. I feel that if we would all endeavor to look up from our cell phones, look around and each day make something just a tiny bit better for the people we meet and the places we work, learn and play, the results would be exponential. 


Fill in the blank: Friends would describe you as "The _____ One." 
Creative

See the winners in the September issue!
Get to know our 10 Most Beautiful even better. Then, watch them walk the runway at 417 Magazine's Indulge on October 3 at Oasis Hotel and Convention Center.