Weddings
Allison Burbee & Tyler Pool
September 15, 2012, Hosta Garden at Nathanael Greene Park, Springfield
By Ettie Berneking | Photo courtesy Meg White Photography
Jun 2013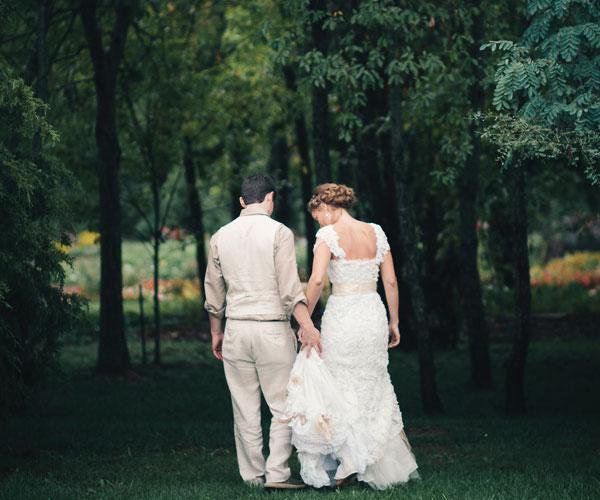 Putting love in the hands of fate, Tyler Pool and Allison Burbee met on a blind date after being set up by a couple Allison babysat for—the father had actually babysat Tyler when Tyler was still a tiny tyke. After a successful first date that included dinner at Nonna's Italian Cafe in Springfield and a viewing of The Blind Side, Tyler and Allison were hooked.
After two years of dating, Tyler popped the question following a carefully planned weekend during which Allison was knee-deep in a to-do list of her favorite things. Tyler surprised Allison with a love note and gift card before sending her on a shopping trip with her best friend, followed by a date night at Firehouse Pottery and Galloway Station, an afternoon of antiquing and a picnic at Beaver Dam. As the finale to her perfect weekend, Allison was met with a candlelight dinner near a pond at Tyler's parent's house; even the lily pads had candles bobbing on top. Back inside, Allison's and Tyler's parents were waiting to celebrate.
Planning the wedding, Allison, who works at Social Graces, included plenty of her own style. Rather than buying her dream dress, she made her dream dress. She found a simple-yet-
elegant dress at The Limited and then handed it over to the creative minds at Felicita Studios, who customized it to include lace from Allison's mother's wedding dress and antique jewelry from Tyler's mother's wedding dress. The result was a one-of-a-kind gown that carried with it years of love and memories. Allison also arranged her own flowers and had her wedding ring custom made from Cornerstone Fine Jewelry. Today the couple lives in Springfield.

LOVE AT LAST: Tyler Pool and Allison Burbee celebrate their wedding at Nathanael Greene Park (above); Tyler and Allison say their vows under a leafy canopy as their friends and family watch from below (below).
CELEBRATED IN STYLE: While looking for the perfect place to have their wedding, Allison and Tyler found the ideal spot at their favorite park—Nathanael Greene Park (top left). The wedding programs (top right) were ordered from Etsy and added to the mix of delicate and rustic decorations; The reception was stocked with Allison and Tyler's favorite foods and drinks (bottom left). Touches of lace and a neutral color scheme created a romantic atmosphere (bottom right).

It was the wettest day all year, but the rain didn't stop Allison and Tyler from celebrating.

Allison and her bridesmaids enjoy a break from the rain with the bridal bouquets Allison arranged

Using lace from her mom's wedding dress, Allison added delicate texture to her gown

Even though the rain changed the reception plans, Allison and Tyler still enjoyed their day
The Details:
Reception Venue: The Rooftop Terrace at Nathanael Greene Park
Tuxedos: Dillard's
Bride's Dress: The Limited
Dress Customization: Felicita Studios
Wedding Planner: Social Graces
Photography: Meg White Photography
Flowers: Allison Burbee
Rings: Cornerstone Fine Jewelry, Springfield; Johan Rust, Etsy