Weddings
Joshua Chamberlain & Lauren Swenson
June 2, 2013; River of life farm
By Ettie Berneking | Photos by Christian Gideon Photography
Jun 2013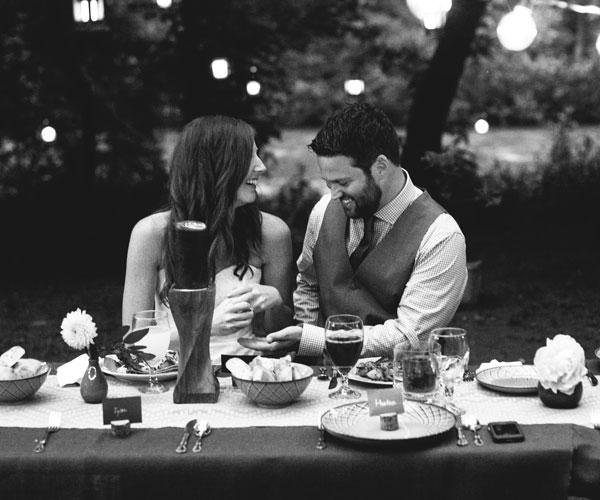 Josh Chamberlain and Lauren Swenson's wedding wasn't just a day the two friends and lovebirds would remember; it was a day all of their family and friends would store away in their memories as well. Like the couple themselves—whose first date included checking out a few Airstream campers, attempting to buy a brown chicken and touring Fantastic Caverns—Josh and Lauren's wedding was truly their own.
After a year-long friendship blossomed into a love story, Josh asked Lauren to marry him. With just six months until the big day, the couple recruited friends and family to help arrange and plan the upcoming wedding ceremony. Lauren's mother and friends set to work creating flower arrangements for the reception. Josh restored a 1925 Atwater Kent Horn, which played Josh and Lauren's favorite songs during the reception. Family and friends were busy assembling cakes and pies for the dessert table, including a red velvet cheesecake, Italian crème cake, layered chocolate caramel blackberry cake and apple pie. And since both Josh and Lauren's fathers are ministers, along with Josh's grandfather, all three men were assigned responsibilities during the ceremony and reception.
Every detail of the wedding was touched by loved ones, including Lauren's engagement ring, which was originally worn by her great aunt. Her dress was a redesigned Galina gown, and the flower in her hair was made by a friend who incorporated scraps of fabric from Lauren's mother's wedding dress and a brooch from Lauren's great aunt.
When the day arrived, Josh and Lauren took their families and friends to River of Life Farm for a memorable wedding weekend. As the sun set over the beautiful landscape, Josh and Lauren were married in front of those who had helped make that moment possible. 
Today the two live in Springfield. Josh works as a special education teacher and Lauren works as a speech-language pathologist. 
The Details
Wedding and Reception Venue: River of Life Farm
Caterer: River of Life Farm
Rings: Wedding bands from Justice Jewelers
Photographer: Christian Gideon Photography