Weddings
Alicia Scott & Ty McMurry
June 15, 2013 on family property in ozark
By Rose Marthis | Photos by Twin Town Studios
Jun 2015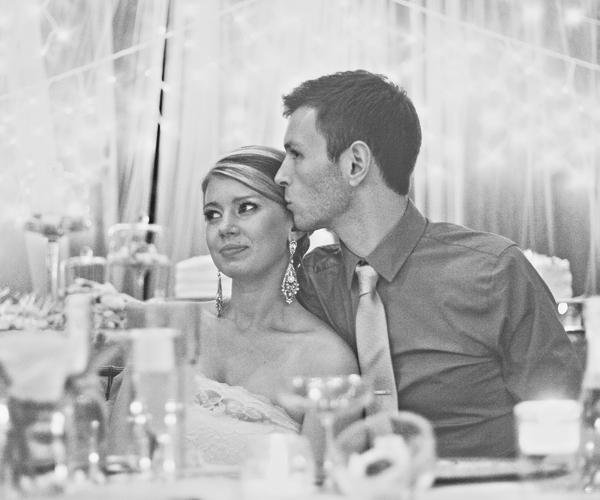 Whether you believe in fate or divine intervention, when the world keeps bringing people together, they're probably meant to be. Such was the case for Alicia Scott and Ty McMurry, who went to high school together in Ozark but didn't begin dating until after graduation. 
"We kept running into each other," Alicia says. "We both worked at Mercy for a time. I worked at the same gym he would go to, and we would bump into each other when we were out and about." 
All that running into each other by coincidence turned into a first date at Kai. After dating 10 months, Ty set up the perfect, classically romantic proposal. He picked up Alicia from work and took her to her apartment, which was decorated with votive candles leading to the living room, where he had arranged candles to spell out "Marry Me." 
After planning the wedding for five months, Alicia and Ty got married on Alicia's family's property in Ozark. The land has been in her family for generations and was the site of her grandparents' wedding as well. 
Their closest friends made up the small wedding party, with Kera Nadler as Alicia's matron of honor and Julie Hay as a bridesmaid. Ty had Nicholas Clark as his best man and Aaron Talent as a groomsman. 
Guests enjoyed a menu catered by Aviary Cafe and Creperie, and three flavors of cake from Spring Creek Tea Room. 
Alicia and Ty have been married two years this June. They are enjoying life in Nixa, where Alicia is an investment consultant with AG Financial Solutions, and Ty is a financial adviser with Waddell & Reed.

 Ty had his best friend and brother-in-law for his groomsmen. The groomsmen went for an opposite color scheme than Ty, and found their suits at JCPenney.

Alicia told her bridesmaids to pick any dress they were comfortable in, as long as it was blush or cream (top right). Her sister Julie and Kera joined in the wedding celebration.
\
Alicia found this guest book print on Etsy, and set up an ink pad station for people to sign their thumbprints. The bike is a shout-out to Ty, who does triathlons and loves bikes.
Alicia and Ty got individual bottles of champagne to toast with. The glasses came from BHLDN, Anthropologie's wedding website.
​

Amycakes made Alicia and Ty a raspberry-filled lemon cake with buttercream and fondant on top. They wanted to keep it simple with the light blush color and one peony on top with the initial "M".

Alicia loves peonies, and she found a bouquet photo on Pinterest and passed it to The Nest to recreate. Her bridal bouquet was more pink, while her bridesmaids had more cream-based flowers. Ty picked Alicia's ring out at Mitchum Jewelers. 

Alicia special ordered crystal-cut plates from Eventful Rentals in Nixa. 

Alicia and Ty had nearly 70 guests at their outdoor wedding.
Food: Aviary Cafe and Creperie
Cakes: Amycakes and Spring Creek Tea Room 
Flowers: The Nest
Wedding Planner: Day-of Coordinator: Abby Mitchell
Dress: Ella Weiss Wedding Design
Groom's Suit: Banana Republic
Rings: Mitchum Jewelers
Photographer: Twin Town Studios
Hair: Shaina with Details Salon
Rentals: SB Bon, A to Z Party Rental and Eventful Rentals
Invitations: Wedding Paper Divas
Makeup: Melissa Britt at W3 Salon
Lighting: Creative Outdoor Lighting