Weddings
Amber Obert & Bryan Musgrave
November 1, 2014, Stone Chapel at Drury University, Springfield
Savannah Waszczuk | Photos by Andrew Bowser
Jun 2015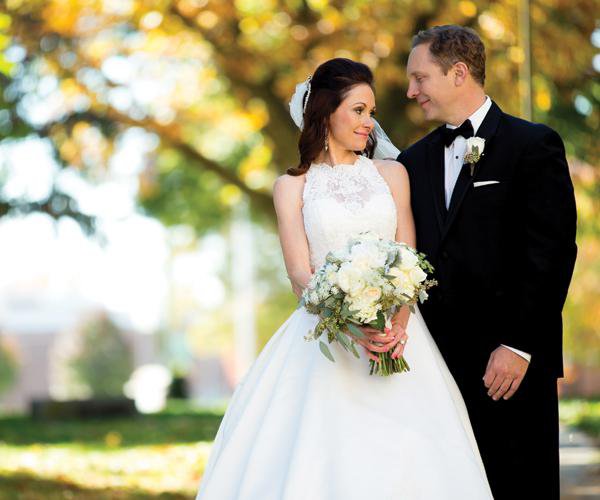 Amber Obert and Bryan Musgrave first met in September 2012 at Flame Steakhouse in Springfield, but the two weren't there together. In fact, they weren't even with the same group of people. "I was attending a fundraiser for Developmental Centers of the Ozarks, and Bryan was preparing to speak to the Springfield Symphony," Amber says. But once Bryan noticed Amber, he decided to strike up a conversation with her. "We both quickly realized we had a lot in common," Amber says. They shared their first date at MudHouse coffee shop not long after that fateful night. 
Roughly one year later, Bryan popped the question while the two were touring the Askinosie Chocolate Factory. "At the end of the tour, our tour guide went to retrieve the special sample bar and handed it to me," Amber says. "Bryan had slipped a note inside a bar of Askinosie chocolate, along with his own personalized Askinosie-style label. The note said 'Will you marry me?' When I turned around, I found Bryan on bended knee with the ring." 
The two later shared their love of Askinosie with their wedding guests as they gave out personalized chocolate bars for their favors. And as if that weren't sweet enough, Bryan went even further. Fifty steps further, to be exact. "He vacuum-sealed 50 extra bars so we could share one at each anniversary until our golden anniversary," Amber says. 
The wedding ceremony was at Stone Chapel at Drury University, and a reception followed at Historic Firehouse. Inspired by the 1920s era glamorized in The Great Gatsby, the two tried to incorporate the theme into every detail of their reception, which featured Art Deco-inspired stationery, vintage china and a 1920s-style swing/jazz band. "One of my favorite details was the gold wax seal on each matchbox that featured a number for the guests' seat assignments," Amber says. "We personally wax sealed 125 of them. I was very fortunate to have a groom who was involved in each step of the planning. As a result, we grew as a couple, and our wedding represented both of our personalities."
​

Amber Musgrave chose Megan Obert, Katie Schaefer, Chole Schaefer and Jennifer Obert for her bridal party.

 Adorned with jewels, even Amber's wedding day shoes had a touch of glam. Wedding planner Lenette Kujawa of Aflair Events helped the bride transform Commercial Street's Historic Firehouse into the perfect elegant-yet-vintage setting with a handful of special details, including vintage table settings. Bryan chose his two sons, Nikolaus and Christian Musgrave, to accompany him as his groomsmen.

The couple was married on a beautiful fall day at Stone Chapel at Drury University. Both the bride's dress and the groom's tuxedo were from Gracie's Bridal, and the bride carried a gorgeous bouquet by Artistry in Bloom.
Patty Cakes created a four-tier French vanilla cake with amaretto filling. The delicious creation was frosted with buttercream icing and adorned with a gold Art Deco–inspired design to fit the theme. Bryan and Amber gave their guests Askinosie Chocolate bars as wedding favors.  

A Rolls Royce from Fisk Limousine provided the perfect getaway car for the happy newlyweds.
Dress and Tuxedos: Gracie's Bridal
Photographer: Andrew Bowser Photography 
Videographer: Beth's Photography
Hair: Milk.Honey Salon
Makeup: Melissa Britt at W3 Salon
Food: Chef Roland Parny with La Galette Berrichonne
Cake: Cake Worthy By Patty
Ceremony Music: Springfield Symphony String Quartet
Reception Music: Montage
Flowers: Artistry in Bloom
Wedding Planner: Aflair Events