Weddings
Liz & Kerry
This year's 417 Bride Our Wedding Story winners, Liz Johnson and Kerry Noe, celebrated their dream wedding at Stone Chapel before shutting down historic C-Street for a blow-out reception at the Savoy Ballroom.
By Ettie Berneking
Dec 2013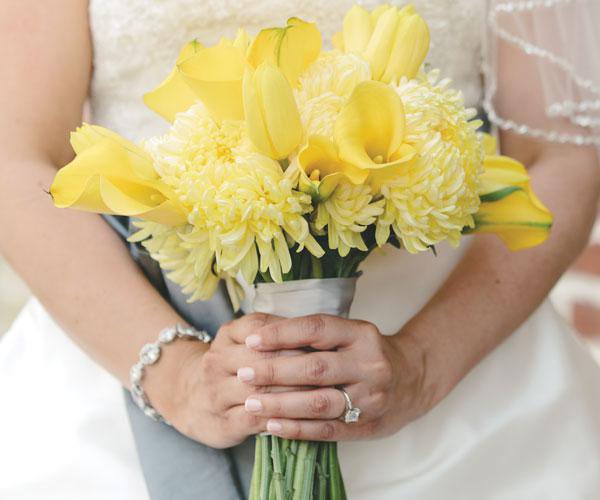 In preparation for our fifth-annual Our Wedding Story contest, we perused dozens of entries from soon-to-be brides and grooms. After several "oohs" and "ahhs," we selected the six most touching love stories and the couples who submitted them as our finalists. Each love story was posted online, and as the votes rolled in, it was Liz and Kerry's tale of romance that won our readers' hearts.
How They Met
Liz and Kerry first met at a trivia night while out with friends, and although Kerry knew immediately that Liz was the woman for him, Liz was not as convinced. Even after a second promising night where Liz accompanied Kerry as his date to an adult prom their friends were hosting, Liz's heart was still not won over. Time and time again, she turned Kerry down when he asked her out on a date. Then, finally, she said yes.
For their first official date, Liz and Kerry decided to enjoy an afternoon of thrills at Silver Dollar City. Between roller coaster rides, the two wandered into the park's Christmas store since Christmas is Liz's favorite holiday. That day, among an assortment of sparkly red and green decorations, Kerry purchased one special ornament and told Liz they would hang it on their first Christmas tree together. 
Liz thought the roller coaster rides had made Kerry a bit loopy, and laughed at the idea, but by Christmas 2012, Liz and Kerry were hanging that ornament on their third Christmas tree together. 
The Proposal
While driving home from dinner one night, a Justice Jewelers commercial came on the radio. "You know I'm going to marry you someday," Liz said. If only she could have seen the future, she would have realized how true her words were. Once home, Kerry tricked Liz into thinking she was getting her birthday present early, but instead of the Kitchen-Aid mixer she had been expecting, Liz opened her eyes to find Kerry down on one knee. Minutes later, the happy couple was celebrating the big news at The Red Room with the same friends who had introduced them a few years earlier. 
The Big Day
As the wedding day approached, Liz and Kerry were busy finalizing last-minute details. They had already booked the Stone Chapel for the ceremony and the Savoy Ballroom for the reception. With the date secured and the location nailed down, Liz booked Abundant Life Photography and headed to the All About Weddings show where she booked her ceremony music and met the creative minds behind Ace Legendary Productions. "I hadn't planned on hiring a videographer. I thought it was an extra expense," Liz says. "I didn't see that as a must. But when I saw his work, I went home and told Kerry I had hired a videographer.  Everything else kind of fell into place."
Helping keep Liz stress-free, Kerry stepped up to assist with the wedding planning. "He's not your typical male," Liz says laughing. "He was so hands-on. We were equally making plans. All of the creative ideas were him. Shutting down C-Street was his idea. He made a music video of him and one of me and then one of us together, and that was our entrance to the reception." As Kerry helped plan the reception, the giant dance party in the street, even the late-night hot dog snack, Liz was confident that every detail was nailed down. 
But Kerry had one more surprise waiting for her. When May 25, 2013, finally arrived, Kerry and Liz stood at the altar ready to exchange their vows. That's when Kerry pulled out a binder. For nearly five heart-warming minutes, Kerry shared his love for Liz and explained how she had enriched his life in so many ways. "That just describes our relationship perfectly," Liz says. "We played the newlywed game at our bridal shower, and the question was, 'What's unique about you?' My answer was, 'I'm simple, and he's extravagant.' That was his answer, too. My vows were so simple, and he pulled out this huge binder. That's just him, and it's one of the things I love about him."

Liz Johnson, the bride of Our Wedding Story winning couple, celebrated her wedding at Stone Chapel in Springfield.

The four-tier wedding cake was made by Amycakes Bakery and tied in Liz and Kerry's timeless color scheme of gray and yellow. 

Liz and Kerry collected cards from family and friends to remember their big day

 Kerry even mixed yellow into his tuxedo

Artistry in Bloom provided the flowers for the wedding and reception and brought in tons of delicate yellow blossoms to decorate the tables

Liz and Kerry decorated the Savoy Ballroom in yellow and gray, their wedding color scheme. 

 Liz found her wedding dress at Normans Bridal in Springfield and picked out Kerry's tux there as well. She wanted to create an elegant and timeless look, so she tied bits of yellow and gray into her and Kerry's wedding ensembles.
Details
Wedding Venue: Stone Chapel
Reception: Savoy Ballroom
Catering: Touch 
Cake: Amycakes Bakery
Bride's Dress: Normans Bridal
Flowers: Artistry in Bloom
Wedding Planner: Bringing It Together Events 
Photography: Abundant Life Photography 
Entertainment: Bella Donna for cocktail hour; Pearl for reception 
Rings: His from Maxon's Diamond Merchant, hers from a private buyer 
Videographer: Ace Legendary Productions