Weddings
Chelsea Redfern & Joshua Cantrell
Chelsea Redfern & Joshua Cantrell combined rustic charm and DIY ingenuity for their perfect day.
By Savannah Waszczuk | Photos by Mandy Evans Photography
Dec 2016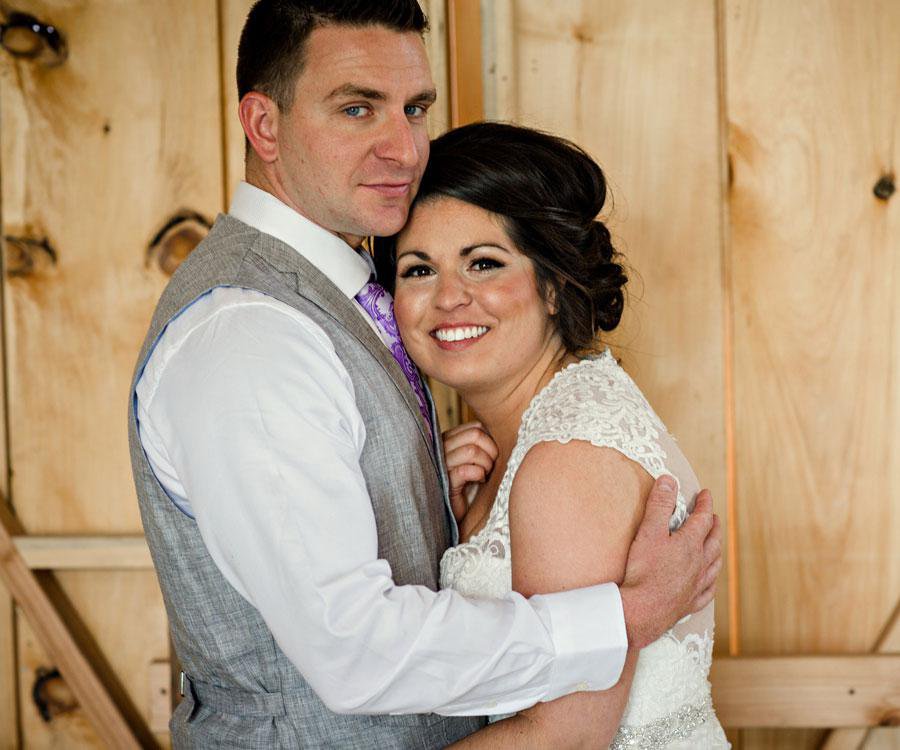 Chelsea Redfern's mother, Ginny, moved into a new home in fall 2014. Little did she know then, she was living in the house that sat next to the barn where her daughter would be married less than two years later. But the area itself was nothing new. In fact, Chelsea's former home was just down the road, and she and Ginny knew the roads well. "We used to do three-mile walks every day, and we would always walk past this place," she says. They'd look at the old, dilapidated property each time. But then one day someone bought the house and remodeled it, and Ginny fell in love.

Ginny bought this property next, and soon after, Chelsea's boyfriend, Joshua Cantrell, proposed. It was soon time to start planning a wedding. When the two began thinking about venues, Chelsea thought of her mom's backyard. "I had always said I wanted a backyard wedding," Chelsea says. "When I met Josh, our interests and tastes aligned, and he was totally up for it. I just wanted to get married in my mom's backyard and use the barn as a backdrop, but mom said, 'How about we gut the barn, turn it into a venue and go from there?'"
Chelsea's family called in a professional to refinish the old barn's foundation, and they called on friends and additional family members to help remodel the rest of the interior. Roughly five months later, the barn-turned-venue—named Tucked Inn Barn—was complete. The rustic space was named after Chelsea's brother, Tucker Redfern, who passed away in 2012, and Chelsea and Josh were proud to be the first to celebrate their marriage there. 
After the ceremony, guests enjoyed a casual meal catered by Whole Hog Café, and dessert was cake and cupcakes by Beth's Bake Shoppe & Tea Room. An arrangement of flowers, vintage furnishings and other rustic touches helped complete the look of the space, much of which was designed and executed by Chelsea's mother, Ginny, who owns Baglady Boutique.


Chelsea's family and friends helped refinish the barn and get it ready for the big day. After having the foundation redone, the crew headed inside to add insulation, sand and stain wood and do all the other work it took to transform the old space into a dreamy rustic venue.


Chelsea used chalk pens to write on the antique-looking chalkboard that was placed toward the arrival area. She freehanded the board's display type, which included the names of those in the bridal party. 


Chelsea's cousin, Leslie Newcomb, handmade giant flowers to decorate the wall behind the seating area. "She made them using cardstock and cardboard," Chelsea says. "The biggest one was 3 feet in diameter." The flowers hung behind a couch that had a view of the dance floor. 


The wedding cake was a strawberry cake with white icing by Beth's Bake Shoppe & Tea Room. Chelsea's mom, Ginny Redfern, added twine and floral accents to the cake to help it match the rest of the wedding's decor.


The bridal party included Mark Dixon, Jake Smith, Kennerik Nelson, Bobby Francis, Travis Woolery, Maddie Fletcher, Alyson Hooten, Katelyn Jones, Heather Baldwin, Haley Brorsen and Tiffany Woolery.


Chelsea and Ginny had charger-sized wood slabs cut from a tree, which they then sanded and stained themselves and used in the venue's decor. The pieces were used in table centerpieces, which also featured fresh floral arrangements by The Nest. Homemade peach preserves were given away as wedding favors.


Chelsea designed her own wedding invitations, which included shades of purple and pink and a splash of flowers.


One of a Kind: Chelsea purchased her wedding gown at Gracie's Bridal. It was originally a strapless dress, but Chelsea had it altered to include lace straps. 


Chelsea and Josh were given a custom ampersand sign displaying their anniversary as an early wedding gift. "I have an obsession with ampersands," Chelsea says. They displayed the sign in the venue with floral arrangements created by Chelsea's mom, Ginny.


Chelsea's father, David Redfern, walked her down the aisle. A large burlap runner helped complete the outdoor wedding's rustic theme.


Nearly 150 people attended Josh and Chelsea's wedding. The main seating area featured tables with white linens and white chairs, and tulle and three chandeliers hung from the wooden beams above. 


Setting the Scene: A burlap runner helped carry the wedding's rustic theme outside of the barn, and  two reclaimed barrels helped frame the picturesque ceremony.


---

Resourses:
Dress: Gracie's Bridal
Photography: Mandy Evans Photography
Food: Whole Hog Cafe
Cake: Beth's Bake Shoppe & Tea Room
Entertainment: B Sharp Entertainment
Floral Bouquets: Linda's Flowers
Floral Centerpieces: The Nest
Wedding Planner: Ginny Redfern
Hair: Katelyn Jones
Makeup: Melissa Britt Rogers
Invitations: Chelsea Redfern
Props and Decor: Baglady Boutique
Rings: Glasscock Jewelers