Trends
Bring These Two Complementary Colors into Your Home Decor This Fall
Stone, bronze and rust bring warmth to foggy periwinkle in this complementary color scheme. 417 Home's Editor-at-Large, Heather Kane Kohler, explains how these colors can work together through different textures and materials.
By Heather Kane Kohler
Sep 2020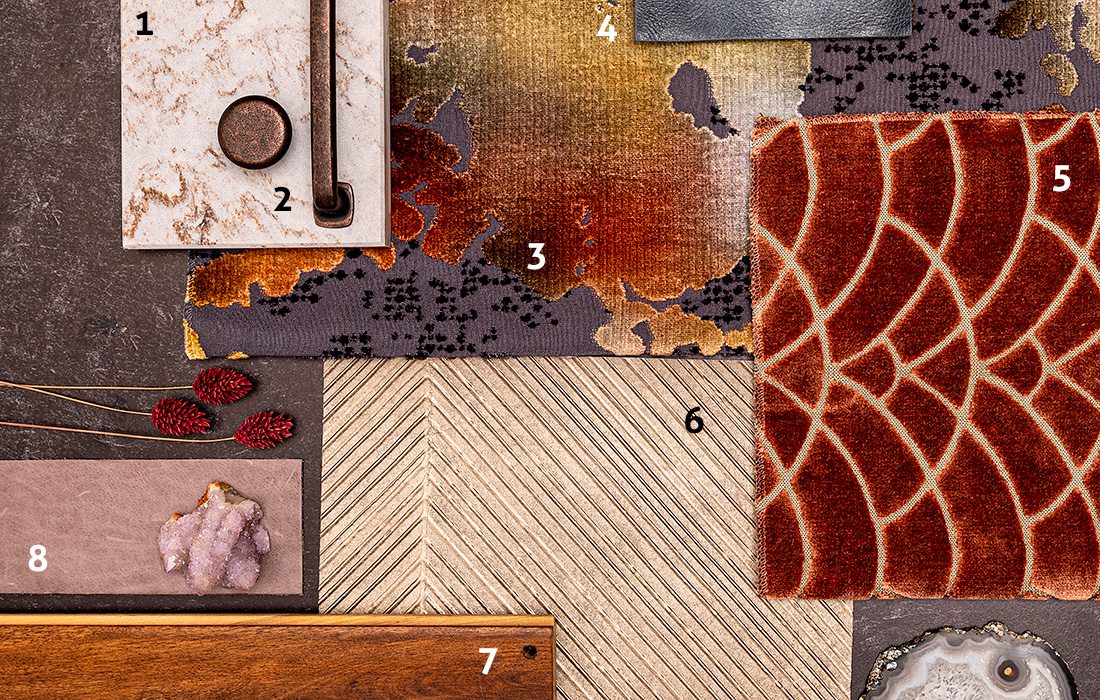 1. Caesarstone, Excava, $115 per square foot at Unique Tile |  2. Jeffrey Alexander distressed oil rubbed bronze knob $7, pull $15, both at Cabinet Concepts by Design | 3. S. Harris Worldly Velvet in Fire, $600 per yard at Decorating Den | 4. younger + co leather LE173, grade LE1, price upon request at Decorating Den | 5. Marcus Williams Stout: Bolton 8 Salmon fabric $199.98 per yard at Resource Room | 6. Schumacher Modern Glamour chevron texture wall covering 5005652, $89 per yard at James Home Decor | 7. Prolex flooring in solid birch, caramel color,  $5.05 per square foot at Classic Wood Floors | 8. Moore and Giles, Comfort Design Italian Tobias leather in opal, price upon request at Decorating Den
---
Complementary periwinkle and rust set the mood for this board, acting as the foundation for this color palette. These colors work together beautifully, as their main pigment is rooted in blue and orange, two complementary colors that sit across from each other on the color wheel. Stone with organic veining in shades of oyster and taupe helps to ground this look, and hardwoods with amber undertones enrich earthiness. Brushed bronze fixtures elevate the mood, giving it a more formal aesthetic. Fall is all about texture, so adding elements like leathers and velvet will give a space using this palette more depth. Layer texture by using wall coverings to line the insides of bookshelves and bring in light fixtures with amber and blue glass. Furniture in navy leather adds another layer of sophisticated texture. Use periwinkle and rust colored velvet as accents and copper patina decor elements for added interest. With the right balance of contrast this collection of design elements creates a moody, rich and earthy palette that's perfect for fall.