Trends
How to Reduce Your Closet's Environmental Impact
Even the smallest decisions can help create a more sustainable future. Here are a few simple ways you can help.
Heather Kane Kohler
Oct 07 2021 at 8 a.m.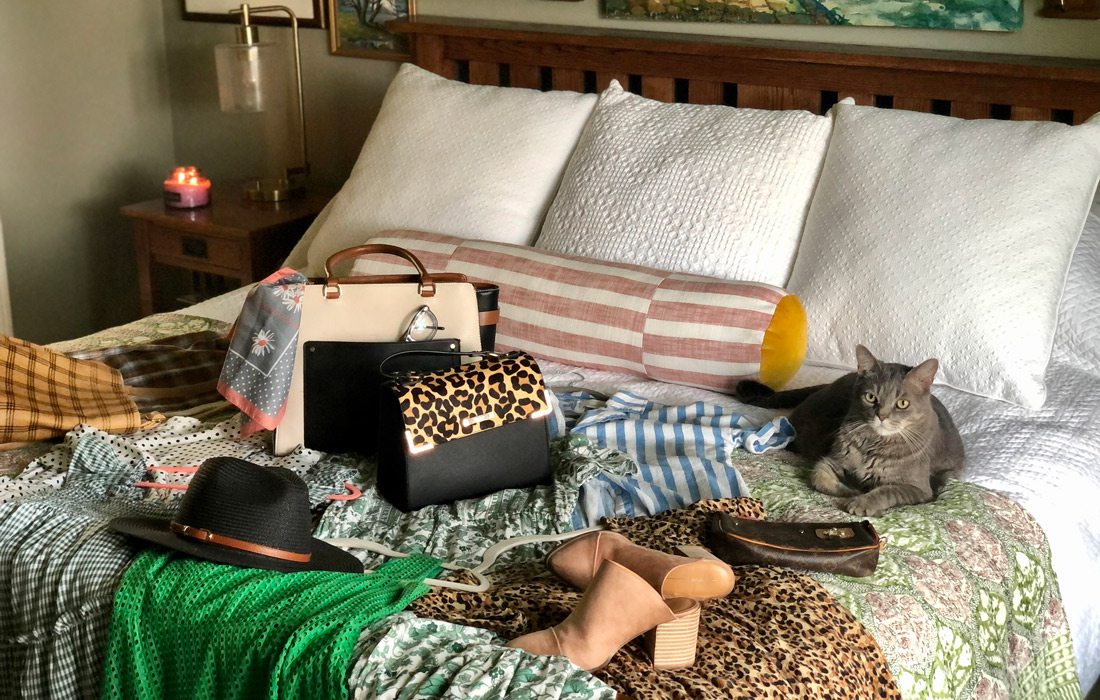 It's no secret that the apparel industry is the fourth largest polluter in the world. As a fashion lover, I've realized that you don't have to sacrifice style in order to make better buying decisions that have less environmental impact. As consumers, the responsibility lies with our buying power. If we change, so will the industry. Here are some simple ways to do your part.
1. Follow the 30 Times Rule
I use this rule every time I want to buy something. I just think to myself, "Will I wear this 30 times?" If the answer is "yes," then I buy it. If it's "probably not," then I skip the purchase. Honestly, I do better with staple pieces I love anyway, so this rule has been a real game-changer for my small closet.
2. Purchase from Sustainable Clothing Lines
More and more designer lines are using sustainable practices, so with a little research you can make better buying decisions that you can feel good about. One of my favorite sustainable lines is AS by DF, available at Harem & Co. This line makes timeless statement pieces out of recycled leather. Another local boutique, STAXX, is all about two green denim lines: Levi's and Boyish Jeans. These brands are focused on new innovative technologies to reduce waste, use less water and non-toxic dyes, plus they're jeans really hold up.
When shopping at Modern Society, look for the Be Gentle icon on Gentle Fawn clothing. These items are made with low-impact fabrics and organic fibers. Another big brand in the sustainable game is Toad & Co. available at Five Pound Apparel. Every item Toad & Co. makes is sustainable, and made from high-quality materials known for low-impact growing and clean manufacturing. Plus, Five Pound Apparel's mission is to give back to different nonprofits through every purchase.
3. Keep an Eye on Your Washing
Washing our clothes has a big impact on the environment. It takes a lot of energy to heat the water and run the drying cycle. Try wearing a garment a few times before washing and make sure you do large loads. Wash items on cold as much as possible and hang them up instead of using the dryer when you can. Use green detergents made to clean without heat or harsh chemicals like Glamorous Wash available at Brown Derby International Wine Center. These things help your clothing last longer! Avoid dry cleaners that use harsh chemicals and instead try dry cleaners that only use eco-friendly chemicals like Lloyd's Dry Cleaners. Lloyd's also recycles their plastic hangers.
4. Buy Vintage Clothing & Accessories
Not only do you know these pieces are good quality because they've lasted a very long time through lots of washes, but you get one-of-a-kind items! I'm a big vintage lover because it doesn't lose its value like newer clothes do. They are plenty of vintage lovers like me out there that will pay a pretty penny for vintage finds, you don't wear anymore. Some of my go-to vintage clothing stores in Springfield are Homewrecker Vintage, Decades Vintage Boutique, and Hakaar's Bazaar.
5. Get One, Give One
Every time you get something new, add something to the donation pile. I know a lot of people do this and it's such a good practice to get into, plus it makes you really think about what's in your closet. I even do this with my son's toys. There are amazing places to donate gently used clothing to. Some of my favorite local non-profit organizations include Harmony House and The Plaid Door. You can also check out the City of Springfield Citizen's Guide to Recycling & Donation Locations.
6. Recycle It
The average American throws away 70 lbs. of unwanted clothing and other textiles each year and every second the equivalent of one garbage truckload of apparel items are dumped in a landfill. So, what do you do with clothing that's not suitable to donate? You recycle it, so it can be used to make new clothing! Simply drop your clothes and bedding off at the Think Big Foundation's purple bins. Whatever, the Think Big Foundation can't reuse, they recycle. All donations through the Think Big Foundation help to create sustainable revenue for Big Brothers Big Sisters of the Ozarks. It's important to ask what will be done with your donations that can't be resold, some organizations will just trash it and it will end up in a landfill, which is what you should try to avoid.
7. Rethink What You Have
We tend to think that buying new clothes will make us happy, but maybe we should reconsider some foundations of our lifestyle instead? Try looking at your closet with a new perspective. Invite a friend over and put some outfits together with their help. Sometimes, a new set of eyes is all you need to see hidden potential in something. After all, the most environmentally sustainable jacket is the one that's already in your closet.