Style
15 Ways to Live Your Most Stylish Life in 417-land
A celebration of why 417-land is a stylish place to live, with tips from the local style icons who bring something exciting to the table every day.
By Savannah Waszczuk, Claire Porter, Rose Marthis, Heather Kane and Katie Pollock Estes
Apr 2016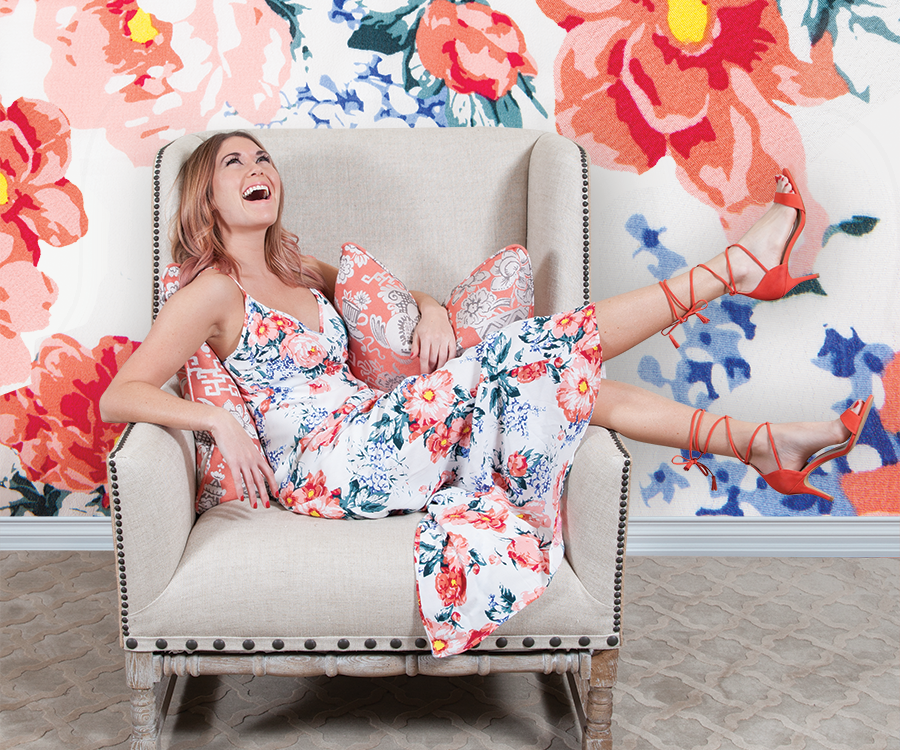 Style is all around us. It's in the touches of glamour you add to your home, and the pops of eccentricity you bring to your wardrobe. Here we celebrate why 417-land is a stylish place to live, with tips from the local style icons who bring something exciting to the table every day.
---
Horns and succulents add a bit of Southwestern flair to this tablescape designed by Lori Guy. 
Photo
 by Brandon A
lms.


Set a super Stylish Table
Like Lori Guy


Lori and Tom Guy love to play host. "When we moved to Millwood, we made it a habit to get together with three other couples every month for dinner," Lori says. And they're still keeping up with this tradition—plus more. "One of our New Year's resolutions was inviting new friends over once a month as well," Lori says.
With so many of these dinner parties, Lori has plenty of practice in setting the perfect table. "I let the time of the year dictate the setting," Lori says. During the wintertime, tablescapes should feature season-appropriate colors. "I like to mix golds and silvers with greens and white during the winter," Lori says. When temperatures warm up and spring and summer roll around, you can change these out to incorporate brighter shades, and you can bring autumn colors to the table when the leaves start to change.
Lori stresses that centerpieces also play an important role in setting the scene. They are often responsible for determining the table's overall mood. And when you're thinking about what to put in those vases, think natural. "I always try to bring something fresh to the table," Lori says. "This can be greenery from pine trees or holly trees during the winter, and flowers from my window boxes during the spring or summer." But these items don't necessarily have to be contained in the centerpiece. "It's nice to add that fresh touch, even if it's just a fresh sprig of something in a napkin ring," Lori says. If you don't grow your own flowers, consider buying a bouquet and breaking it up, placing one flower at each place setting.
Another important part of setting the table is knowing your audience. "I set the table differently for our new friends than I do old friends," Lori says. "We wouldn't use name cards with our old friends, but it's nice to use them with new people. I try to sit couples together who I think may enjoy getting to know one another." And she also sets the table a bit differently when little ones are around. "We have our grandchildren here sometimes, and I'll roll out brown craft paper as placemats for them," she says. "I'll put some washable markers at their seats." This technique can also work with adults. "I've also done this for our group of friends when we were planning on taking a trip together," she says. 
---

Michelle Houghton does the majority of her painting in her sunroom, where the lighting and plants set the perfect scene to get creative. Photo by Brandon Alms.


Marry Your Style to Your Art
Like Michelle Houghton


For Michelle Houghton, style is more than just clothes. It's the aesthetic that people put out in the world—the overall mood and environment a person creates. And a huge part of Houghton's style comes from the art she creates.
As a self-taught artist, Houghton says she was always interested in art and style, but never thought she was talented enough to call herself an actual artist. But over the last couple of years, she has committed to make time for it. She started using it as a release from her job as a junior high school counselor, and  she soon realized she was accumulating a lot of paintings. After receiving positive feedback, she started an online store, and now she shows her work locally and paints every week. "I have ideas of who I am and how I see the world, and it all comes out in my painting," she says. 
But her painting is just one way that Houghton expresses herself. She can see a lot of connections and similarities in her art and her wardrobe, usually with color schemes. She goes through phases and finds it interesting that she can see her interests reflected in her style and other places in her life. "For me, clothes embody how I view myself and how I put myself out there," she says. "What I'm interested in will come out in what I'm wearing." 
While she doesn't consider herself high-fashion, Houghton says she does care about the vibe she's putting out in the world through her look. She describes her personal style as "anything with structure but still a bit messy." 
"I never want to come across like I have it all together, because I don't," she says. "But I do like there to be a grounding and a structure." For others looking to make their style and art really come together, she recommends being mindful. Think about why you feel comfortable in a place like your home, then incorporate those colors and mood when you're choosing looks.
Her other tip? Don't be afraid to take risks. Pull everything out of your closet, and find the pieces you forgot existed. Then branch out. "Learn a little bit, and try to incorporate what you're seeing in other people," she says. "How does what you're inspired by affect how you view the world and how you want to present yourself? Find who you want to be, and project that image." 
---
5 Shops to Help You Create Your Most Stylish Closet
1638 E. Republic Rd., Springfield
What You'll Find: The best designer brands grace the racks at Harem, where you can go home with a little Kate Spade, Rachel Zoe, Alice + Olivia and more. We especially love the killer shoe selection here; it's always worthy of a splurge.
1326 E. Battlefield Rd., Springfield
What You'll Find: It's the perfect combination of on-trend and affordable, and we love the variety that we can always find at The Uptown Boutique. It's the ideal place to stock up on everything from basics to the season's hottest trends.
2646 S. Glenstone Ave., Springfield
What You'll Find: Everybody knows you need a good foundation to look your best, no matter what your style is. You can find beautiful and perfectly fitted bras in every size and style at Amelia Madden, and finding the perfect fit means the rest of your clothes will look that much better on you.
2652 S. Glenstone Ave., Springfield
What You'll Find: With both women's and men's apparel and accessories, this shop is a go-to for trendsetters. The racks feature tried-and-true styles alongside trendy selections.
2144 E. Republic Rd., Suite A112, Springfield
What You'll Find: Always a step ahead of the trends, STAXX has been one of Springfield's fashion staples since 2004. The store's clothing is a little chic, a little boho and always on point. 
---
Drink Champagne Like A Pro
Champagne is a powerful drink. With one simple bottle, you can make an ordinary occasion feel elegant and sophisticated. If you get the right stuff, you can impress all of your guests. But how do you know what bottle will blow them away? We talked to Colin Yates, Operations Manager at Macadoodles (1455 E. Independence St., Springfield, 417-883-9000), to learn a few tips about buying and serving bubbly. 
Step 1: Know Your Occasion
The first thing to think about when buying Champagne is the occasion. If you're just looking for a few bottles to pop on New Year's Eve, it's probably fine to go to the super cheap stuff. No one will be drinking it anyway, right? But if you're buying it for something else—even simple morning mimosas—don't skimp. No one wants a post-popping headache.
Step 2: 

Determine Your Price Point
One of the most important things to determine is how much you'll spend. "People are often looking to spend anywhere from $10 to $50," Yates says. Talk to your sales person about the best value for your price point. There are affordable bottles of quality Champagne. "My favorite go-to is typically a prosecco," Yates says. 
Step 3:

Open With Caution
Most people think that you're supposed to hear a "pop" sound when opening your Champagne. This isn't true. "A pop actually means that you've bruised all the bubbles," Yates says. "It makes it flat." Instead, Yates recommends first loosening the cage, then gently holding the cork and cage to keep them in place. "You should actually twist the bottle and slowly remove the cork," Yates says.
Step 4:

Pour like a Professional
Champagne is called bubbly for a reason. "It's guaranteed to fizz up when you pour it," Yates says. Pour slowly, and put the Champagne in first when mixing things like mimosas. "If you're using fresh-squeezed orange juice, it has a high tendency to fizz over," Yates says. "Just add a couple drops at first, then pour the rest." 
---
 
Amber McFall and Garri Clark at 2014's "Night at the Nile" Charity Ball.


Set The Bar High For Fundraiser Style 
Like Amber McFall


Amber McFall and her husband, Tom, often attend many of Springfield's most high-brow events. But Amber is not a woman who just blends in with the rest of the crowd. No. Amber is that girl who every other girl is talking about. The one with the perfect outfit that you spot from a mile away. Here's how she always manages to dress the best.
Know the Theme
"I always try to follow what the event's theme is," she says. Perfect examples of this are her dress for the 2014 Ball of the Wild, which had a zebra-print top and a bright pink bottom, and the two-piece dress she wore at the 2014 Junior League Charity Ball, which had a theme of Night at the Nile.
Be Not Afraid
"Whatever you want to wear, just wear it and own it," Amber says. "Don't worry about what everyone else in Springfield is wearing. Be fashion forward. It's good to take risks. It's kind of like art. You're the canvas, and your clothes are your artwork."'
Shop for the Perfect Piece
If you're having trouble finding a dress locally, Amber suggests looking online at houseofcb.com. "You can find a lot of things celebrities wear on that website," she says. "That's where I found both of these dresses."
---

 Have Flawless Skin
Like Jillian Kane


As a medical aesthetician at The Center for Plastic Surgery, Jillian Kane helps clients achieve their best skin. To put her money where her mouth is, Kane has found her own routine for glowing skin, and shares her tips for how to get your best skin at home. 
Morning
Kane washes her face gently, and then applies an antioxidant, like Vitamin C serum. When Vitamin C is applied topically, it fights free radical damage from sun exposure, she says. Apply it to your entire face, avoiding the eye area, and then follow with a good moisturizer (she uses one with hyaluronic acid) and sunscreen every day.  If you wear makeup, Kane recommends sticking to 100 percent pure mineral makeup. Chemicals in makeup can irritate your skin, and mineral makeup often has added SPF to help protect against sun damage. 
Evening
Kane says your evening routine is even more important than the morning. If nothing else, wash and moisturize because you want to get all the dirt and chemicals off your face and let your skin renew itself overnight. Jillian washes with a Clarisonic, then applies resveratrol gel as an antioxidant. A couple of nights a week, she applies retinol to help exfoliate and renew her skin. On nights she doesn't use retinol, she applies a cream with alpha hydroxy acids. This helps remove dead skin cells and lets you wake up with a glow. 
Overall
Kane says the biggest thing to remember is that it takes 45 days to complete a full skin cycle and see a difference. And it's important to find a routine that works for you. "Don't overwhelm yourself with 20 different products," she says. "Two cleansers and two products in the morning and night are sufficient. Do what's manageable for you." She recommends making it a habit to spend some time on yourself and your skin. Most results are going to come from what you do at home rather than one treatment at a spa. 
---

Cecil Hughes is known for his ability to create gorgeous floral arrangements with all styles of flowers, such as this anthurium arrangement. 


Be Surrounded By Fresh Flowers
Like Cecil Hughes


After 33 years of running his own floral design and delivery business out of his home, Cecil Hughes knows a thing or two about making a statement for any style with flowers. "[With individual clients], you get to know them whether they're upscale, artsy, avant-garde or if it's a little old lady on a fixed income," he says. "You have to be able to do it all." 
As a master of all styles, Hughes enjoys ikebana most of all. This Japanese, contemporary style is minimal in the way of flowers and features clean lines and exotic flowers like orchids, anthurium, protea and bird of paradise. 
To put together a stunning contemporary arrangement, Hughes recommends digging into your artistic side. "Floral design is just like any other design," he says. "You put things in composition. It's line, balance, focal point, depth and general harmony." Just like with art, go with the flow. "Sometimes your best work is by accident," he says. "It's kind of like jazz."
If the thought of playing artist is intimidating, you can fall back on Hughes's second-favorite floral arrangement: a handful of the same type of flowers dropped in a vase. "Simplicity is key, and less is often more," he says. "Most of the time when I have messed up a design, it's because I'm overthinking. If you don't know what to do next, quit." 
Any arrangement does the trick. "Believe it or not, I have had people send me flowers, and I turn to mush just like anybody else," Hughes says. "It's really not so much the flower arrangement itself; it's the thought that turns you to mush." 
To order your own arrangement from Hughes, call Cecil's Floral at 417-869-5476, 8 a.m. to 5 p.m. Monday through Friday, or 8 a.m. to noon on Saturday. 
---

Thanks to a pristine pool and perfectly polished landscaping, the Lockharts' outdoor space is the perfect place for a party. Photo by Jeremy Mason McGraw.


Create the Best Backyard For Entertaining
Like The Lockharts
​
When it's time for the Lockhart family to play host, Camille and her husband, Alan, know just where to go: right to their very own backyard. Complete with a pool, a fire pit, multiple dining areas and even a half-court basketball court, it's the perfect spot for relaxation for the family, and the polished landscaping and furnishings make it a prime spot for a party. Ready to bring a splash of style to your own backyard? Check out Camille Lockhart's tips for creating your very own opulent outdoor space.
Plan for Privacy
The Lockharts carefully situated their home and landscaping so that their backyard isn't visible to any neighbors. "There are holly bushes that completely block any view from the left, and the house wraps around on the right and blocks any views from that side," she says. Towering evergreen trees toward the back of the property help provide seclusion from that direction, and an additional row of bushes near the pool help make it even more personal. Camille worked with Kimberlee Stockwell-Braasch of Kimberlee Designs, LLC to plan the layout of the outdoor space. 
Pick Your Plants Wisely
Camille knew that she wanted a lot of boxwoods in the landscaping's layout. "We have well over 100 boxwoods around the whole house," Camille says. She likes the plants for their ease of maintenance and manicured look. 
Make Room for Color
Rather than planting flowers in various beds and gardens around the house, the Lockharts put all of their colorful flowers in pots and planters. "I wanted them to be easily maintainable," Camille says. "I change the flowers out with each season."  
Let it Flow
Having multiple lounge and dining areas provides plenty of space to spread out during parties, and a double-gate fence that leads to the pool can be opened to provide more of a free-flowing space. 
Get the Look
The Lockharts wanted outdoor furniture that looked classic and tailored, but also inviting and welcoming. "Because we have three children, we wanted it to be not quite so serious and a little more fun," Camille says. They worked with Lee Haik at James Decor to find pieces that provided this specific look, choosing tasteful lounge chairs, umbrellas and even embroidered bolster pillows in playful shades of blue and green.
---
6

 Shops 

to Help You Create 

your Most Stylish Home

 

2144 E. Republic Rd., Ste. B102, Springfield

What You'll Find: The newest shop on this list, 5908 features an eclectic and artistic range of home décor items with classic furniture options, too.  It's a great place to find an interesting piece to complement your décor.

 

1324 E. Republic Rd., Springfield

What You'll Find: Classic and elegant are the name of the game here. With everything from furniture to lighting, this spot offers options for a variety of styles—and they always feel upscale.

 

2814 S. Fremont Ave., Springfield

What You'll Find: This place just oozes stylish masculinity. Don't miss the clean lines of the cozy-but-modern Gus line of sofas and chairs. We can't get enough of them.

 

2144 E. Republic Rd., Ste. A100, Springfield

What You'll Find: Ellecor features furniture and home accessories creatively put together into settings that help you picture the products in your own home. It's a great place to find that one item that will set your space apart.

 

3405 E. Battlefield, Ste. 128, Springfield

What You'll Find: This store is packed with décor that's perfect for creating a shabby chic look or complementing farmhouse style. Look for lots of spring décor this season.

 

214 W. Phelps St., Suite 101, Springfield

What You'll Find: We love that Obelisk features the work of local artists among the store's beautifully designed home décor and furniture.
---
Have Your Most Stylish Night Out
Where to Dine
Tucked into Walnut Street among the hustle and bustle of downtown Springfield, Flame Steakhouse & Wine Bar (314 W. Walnut St., Springfield, 417-862-4444) is the place to go for a swanky night on the town. The Red Room downstairs is a posh spot for sharing cocktails and apps with the ladies, and the main restaurant's dim lighting and tasteful decor are stylish enough to make anyone feel chic.
Where to Sit
Flame is home to a couple of hot seats. If you forget to make a reservation,  ask about sitting at the large booth-style table in the bar area, directly past the hostess stand. It's large enough to seat six or so, and it still gets full service! Bonus: You're right next to the bartender, so he'll likely keep the drinks flowing. If you're after more of a private dinner with your sweetie, request one of the two-person tables upstairs. There's something about being on a secluded little table above the buzzing restaurant that makes you feel first class.
What to Wear
Flame is the perfect spot for your little black dress. If it's chilly (it's still early spring, after all), throw on a fur to keep warm until you're seated. If you're planning to go out on the town after your meal, add a bit of edge with tights and a leather jacket.
What to Eat
On a night that's all about style, we suggest you live it up in every way possible. This means feasting on the day's selection of Oysters on the Half Shell or Alaskan King Crab Legs from Flame's Raw Bar. 
What to Drink
Everyone looks cool holding a martini glass, right? Order a martini up. But don't just get it dirty. No. Not on this night. Order it filthy. You order that filthy martini, and you drink it. Every last sip of it. You deserve it.
---

Rock Bold Red Lips
Like Tammy Kirks
​
Tammy Kirks, Marketing Manager at Harem & Company, says she started embracing red lipstick about four years ago when she wanted a bold change. Now, she feels almost naked without it and owns more than 25 tubes. She uses a creamy lip liner (like Clinique's Rich Red) to fill in her entire lip, and says you can change the hue of your red lip by using either a brighter or darker liner. Then she applies a lipstick with a creamy formula to create an opaque, full coverage lip. Avoid gloss because it bleeds and softens the look, she says. Her favorites are by MAC cosmetics, but she recommends Revlon Love That Red for a great spring color. Kirks believes there is a red for everyone, and you shouldn't be afraid to pair bold lips with bold eyes. The key is confidence. "Just don't overthink it," she says. "Put it on. Smile. And go out there and kill it."
---

Get the Look: Missouri Necklace, $18 at Five Pound Apparel


Wear Your Hometown Pride 
Like Five Pound Apparel
Cashew Chicken, college crowds and an unmistakable love for everything local are just a few of Springfield's quirks that place it among the best in the Midwest. Now you can take that hometown pride and wear it on your sleeves—literally. The shelves at Five Pound Apparel are stocked with shirts touting sayings like, "The epicenter of awesome," running under an outline of the state, or nods to our food-crazy tendencies like, "Visit for the beauty… Stay for the Chinese food! Springfield, MO," to name a few of the more popular ones. But it's not just what's printed on the shirts that ooze local love. Each print is designed by local artists and screen-printed here in 417-land. Even the T-shirts themselves, which come from American Apparel, are American-made. "We don't skimp on the quality," says Five Pound Apparel Manager Becky Gourley. "We get the best shirts we can. They're made in the U.S., and we use eco-friendly ink that fades nicely as the shirts age." 
However, if your day-to-day style is not quite so casual, Five Pound has plenty of more subtle accessories to flaunt your local flair. Stock up on Home is Where the Heart Is Missouri-shaped necklaces, or light and shiny Crow Steals Fire pendants with Springfield's coordinates engraved on them. 
And you don't have to let your local flair end at your outfit. Show your walls some love with Missouri-shaped beer cap maps, bottle openers and cutouts, or pick up a hand painted Missouri-made sign version of Five Pound's popular "Springfield, MO Where Dreams Come True" design.
---

Photo by Brandon Alms


Wear Pearls 
Like Pat Bowman
Pat Bowman, sales associate at Maxon Fine Jewelry, loves classic style, and what's more classic than a set of pearls? From the different varieties to the lengths of strings, Bowman breaks down why these pearl necklaces are her go-to favorites. 
1. Embrace the dark side
These Tahitian pearls are like the Black Swan to the White Swan, equally beautiful but slightly exotic. This necklace is princess length, which in pearl lingo means it hits right at the collar bone. "I love the way black pearls look with red lipstick," Bowman says. Pair the pearls with a crisp white blouse for a look that pops. 
Tahitian pearl princess strand necklace with 8-16mm pearls, $11,500 at Maxon Fine Jewelry
2. The classic choice
Simple in its appearance, this is a choker that sits right at the base of the neck. "The look ends up being softer and more formal," says
Bowman. "I like these best tucked under a jeweled collar or paired with something strapless." 
White pearl choker strand necklace, $4,485 at Maxon Fine Jewelry
3. Tie a knot
"This strand is known as a rope and is probably the most versatile of all the strands," says
Bowman. "You can tie them in so many ways and wear them at so many different lengths." Her favorite is just a messy knot. "It adds a touch of edge to something that is otherwise viewed as perfect."
White pearl rope strand necklace, $1,080 at Maxon Fine Jewelry 
4. Something for Everyone
When you're talking about pink pearls, you should refer to their color as golden. These pearls are grown in the South Seas and can get fairly large in size. "Golden pearls are a great investment because they really look beautiful on everyone," says Bowman. 
Golden pearl princess strand necklace, $2,700 at Maxon Fine Jewelry
---

The Metallic Realm clothing line by LaWanda Rose mixes brights and pastels.


Make Your Mark on the World
Like LaWanda Rose Darden


​While many people dream of becoming clothing designers, few actually make it to the point of seeing their pieces made and displayed on store shelves. But for St. Louis native LaWanda Rose Darden, who moved to Springfield to attend Missouri State University, this was a reality before she even finished college. "I designed a line called Metallic Realm for my senior collection," LaWanda Rose says. "When I won the spring fashion show, I had the opportunity to sell my pieces at Arts & Letters in downtown Springfield."
LaWanda Rose originally planned to study fashion design at MSU, but as she learned and became more and more interested in the industry, she expanded her goals. "I learned so much about the business aspect of fashion that I wanted to do merchandising as well," LaWanda Rose says. "I am double majoring in fashion design and merchandising. I would eventually like to own my own business." 
During her junior year, LaWanda Rose interned with Zac Posen in New York for a semester. "I went back to New York later that year, in September, to help out with fashion week," she says. After that first-hand experience right on the runway, the next big step in her college career was designing her own clothing line during her senior year for Missouri State's annual spring fashion show—which is what landed her the chance to sell her collection at Arts & Letters. "To be honored at that level was a great accomplishment," LaWanda Rose says. 
With plenty of design experience under her belt, LaWanda Rose next applied for the Disney College Program, hoping to get some merchandising experience before she graduated. "I think there were around 50,000 applicants," LaWanda Rose says. She was one of the 3,000 who we're accepted, and she had just started the internship at press time. "I've just always wanted to be a designer," LaWanda Rose  says. "That would be my top goal." And judging by her experience, we'd say she's well on her way. 
If you'd like to learn more about LaWanda Rose's designs or even wear some yourself, send her an email at LaWanda05@gmail.com, and let her know what look you're after. You could be modeling her looks on the streets of Springfield in no time flat.
---
Pull Off a Great Hat
Like Jared Cluck


Jared Cluck, one of 417 Magazine's Best Dressed winners, got his very first hat from his grandpa when he was little. And that started a life-long love for the accessory. He says he looks for hats that have character, and are maybe a little worn or look like they were handed down. You'll often see him in a wide-brimmed fedora, a ball cap or a black felt pork pie that he uses to dress up his evenings. He says if you search hard enough, especially in vintage shops, you can find a great hat to step up your style. And the key is confidence. "A lot of people don't think they can wear hats with wider brims, but just wear it with confidence and know it looks good," he says. 


To find a great hat of your own, check out these three Springfield spots: 
1.  Just For Him, 1334 E. Battlefield Rd., 417-886-8380 

2. Dapper Barber, 312 Park Central East, 417-720-1196 

3. MODERN Society, 2652 S. Glenstone Ave., 417-831-0775 

---
Local artist Doren Chapman created the eye-catching pieces that hang in Murphy's living room. Murphy picked up the bust for a fraction of its regular price during one of Obelisk Home's big sales.  


Style Your Home and Yourself 
Like Shailey Murphy
When you've got great style, you rock it in every way you can, spanning from your wardrobe to your home décor. For designer Shailey Murphy, her University Heights home and her closet together make a seamless style statement thanks to eclectic components—a blend of vintage, mid-century modern and minimalist styles and pieces ranging from inexpensive basics to one-of-a-kind pieces purchased at higher price points. 
Murphy mixes pieces she picks up at Grayson Home or Modern Society and STAXX with quirky and unusual finds from Urban Flea Market or area estate sales to create her look, usually pairing a few higher-end or harder-to-find pieces with inexpensive staples like white T-shirts or leggings. In lieu of pursuing one specific style, Murphy tries to incorporate an eye-catching conversation piece into her outfits and designs. "When people would come over, they usually would point out something they liked in my home," she says. "I noticed it wasn't the items you could run out and just grab at the store. Sometimes it was an item I found traveling in another country, or it was my grandma's chairs from the 1950s or it was something random I discovered at a vintage shop." And it's often items she pairs together. "I might put a brightly colored quilt over the couch or wear bright tights with my outfit," she says. "Those pops of fun color go hand-in-hand and can be styled with your home or wardrobe." 
When finding your own conversation piece, consider thinking outside the box. "I always try to keep in mind the process of editing your style," Murphy says. "You don't want to go too crazy, but by mixing and matching patterns and styles, you can create something unique." 
As you craft your own rule-breaking style, Murphy says that it is perfectly okay to be inspired by designers and the latest trends, but in the end, being truly stylish means being true to yourself. "At the end of the day, you're going to be living in the space, and you don't need to live in what I love or anyone else loves," she says. "You need to live in what makes you happy and is life-giving to you, and that's different for every person." 
---
To recreate a floral arrangement that she spotted in Architectural Digest, Sharon Taylor hot glued pieces of a red napkin that her daughter found on the ground onto the ends of branches from her backyard. Photo by Brandon Alms.


Build Your Best Bar
Like Sharon Taylor & Rachel Owens
Designer Sharon Taylor, owner of Sharon Taylor Interiors, and Rachel Owens are teaming up to form a pop-up design collective. They've pooled their design eyes to revamp Taylor's built-in to form a party-ready bar for the brightest of spring fêtes, and now they're sharing their knowledge with you.
Start with a focal point
Taylor found this wallpaper sample from makelike and decided to frame it as the bar's centerpiece. She and Owens pulled out the turquoise in the pattern by painting the built-in Cool Aqua by Benjamin Moore, and they used coral books on the top shelf to tie into the pattern's bright, springy color.
Mix it up
Taylor suggests mixing more than just your drinks by weaving in complementary colors and various textures. "It's a balance of warm wood tones with warm, Old World accessories that give it that eclectic feel," she says. Taylor and Owens added gold and silver elements throughout the vases, frames and accessories, and mixed old, vintage elements, such as the marble urn, with crisp, new ones like the glassware, bottles and vase. 
Think like an artist
Creating visual interest means thinking about elements such as symmetry, balance, depth and texture. The two created symmetry by framing the bar with two large glass cases. They balanced the full bottom shelf with accessories in coordinating colors up top. With a table in front of the bar and glasses lined up in the open drawer, the bar gains depth (and usable workspace), and it's all topped off with floral and natural elements for an added textile touch. 
Keep it fresh
Taylor says that every bar needs a fresh element to it, whether it's produce like lemons and limes showcased on a cake stand or flowers and plants like hydrangeas and succulents scattered throughout the setup. Owens says she also often includes bottles stuffed with herbs or jars filled with olives and raspberries to serve double duty as decoration and mix-ins. 
Simplicity is key
You don't have to stick to an in-the-box bar set for the perfect bar. Taylor notes that all you really need are a few beautiful bottles of your necessary mixers and liquors, fun or collected bar tools, some pretty glassware and an ice bucket—or in this case, an ice vase—to get the bubbly flowing. 
Remember: It's a bar!
Ultimately, you want to have fun with decorating and make it a welcome spot for guests. "Part of designing is inviting people in to help themselves," says Taylor. Have wines open and ready to pour, keep bottles reachable and mixes in an easy-to-access spot so guests can spend less time trying to concoct a drink and more time admiring your handiwork. 
---
Whether she's playing host or attending a party, Katie Hoesch is well known for the thoughtful gifts she shares with her family and friends. Photo by Abby Gust.


Gift Thoughtfully
Like Katie Hoesch


Stylish guys and gals dress to the nines for every event on their packed social calendar, but the truly stylish know the best party accessory is a thoughtful thank-you gift. Katie Hoesch is making an impact around town with her beautiful and touching gifts. "The best gifts that I give are the ones that are unexpected," she says, adding that she loves finding creative ways to show her appreciation to the host or hostess for giving up their time and effort to throw a great event. 
Hoesch starts by thinking of something personal to the recipient (when in doubt, break out the monograms) and anticipating what they might need following the event. For example, for late-night dinner parties, Hoesch will pack a basket with homemade pumpkin bread, coffee, napkins and plates, or she'll sneak a note and a monogrammed Mason jar packed with mint leaves, cucumbers and orange slices into the fridge for a morning pick-me-up. Other times she presents local treasures such as soaps and jellies from MaMa Jean's Natural Market, truffles from Elle's Patisserie and a copy of 417 Magazine to an out-of-town guest. 
After she chooses the perfect gift, Hoesch comes up with a beautiful presentation to match. She often keeps it simple with a neutral wrapping paper livened up with event-appropriate ribbons or a surprise on top. Sometimes she adds natural elements with a sprig of rosemary or a fresh flower, and other times she coordinates little trinkets like a beautiful spreading knife with the gift inside.
---
Master the workout chic look
Like Tiana Shaver


Tiana Shaver, personal trainer and fitness instructor at Dan Kinney Family Center, effortlessly moves from running at the gym to running errands with a style all her own. To get her casual-yet-put-together look, she focuses on quality pieces. "The most important thing is finding good pants," Shaver says. Her favorites are Lululemon, and she recommends investing in a couple of solid black or navy pairs and a fun printed pair, and having both long and cropped lengths. To capitalize on good pants, she adds an easy, flowy top (she finds a lot at STAXX). Pull it all together with a jacket or pullover that can take you from the gym to out and about. For footwear, Shaver says she usually just wears her tennis shoes or makes sure she has a pair of UGG boots or fashion sneakers packed. Her No. 1 tip? Always be prepared. "Bring your toiletry bag, and pack an extra pair of socks and an extra sports bra," she says.
---
Stylish
 R

eads
To Inspire Your Mind


In three retrospective volumes presented in a collectible bundle, these bite-size books capture the most iconic images from each decade of Dior's rich history. Dior three-book slipcase, $75 at Brown Derby International Wine Center
This stunning book gives readers a glimpse into world-acclaimed designer Lars Bolander's eclectic interiors. With pages and pages of sophisticated design and a look at Bolander's process, this read is much more than just a coffee table book. Lars Bolander: Interior Design and Inspiration,
$55 at Obelisk Home
You will find faces like Robert Redford and Ryan Gosling gracing the pages of this book. All gents that embody GQ's mantra: "Look Sharp. Live Smart." GQ Men is 304 pages of men who set the standard for style. GQ Men, $150 at Obelisk Home
Fall head-over-heels for this book full of the most fabulous and fashion-forward shoes that have ever existed. Expect to see designs that not only inspire but break every rule. Are they shoes or sculptures? And who really cares? For the Love of Shoes, $65 at Obelisk Home
Learn all about one of Paris's most stylish and mysterious hotels through this lovely book, Hôtel Plaza Athénée. This book captures the essence of Parisian Life with interviews of those whose lives have intersected there. Hôtel Plaza Athénée, $85 at Brown Derby International Wine Center


---

Patti Johnson's closet is gorgeously organized.  Photo by Kevin O'Riley.
Organize Your Closet
Like Patti Johnson


Patti Johnson is a pro in all things home decor. She's been an interior designer for nearly 20 years, and she even opened her own home decor store—5908 Interiors—in 2015. Oh, and did we mention she designed her very own custom home with an absolutely drool-worthy custom closet? Take note of her expert tips, then get your own outfits in order.
1. Overhaul Your Hangers
Making sure you have all of the exact same hangers is very important. "All of my hangers are those thin, felt-covered hangers," Johnson says. "I used to have wooden hangers, but those took up too much space." If you choose to use colored hangers, make sure they are the same color. Uniform hangers will give your closet an instant facelift.
2. Organize by Sections
Johnson chooses to organize her closet by color. "I'm pretty much a white, black and gray color girl," she says. Each color has its own section. If you have space, you may also choose to organize your closet by season.
3. Give Your Accessories a Home
"When we were building our house, I made a separate little cabinet for all of my costume jewelry," Johnson says. But if you don't have room for a cabinet or vanity, Johnson recommends finding a different way to organize your accessories. "I coordinate mine by colors," Johnson says. "My colors are together, and silvers and golds are together."
4. Straighten Those Shoes
Storing your shoes in shoe boxes can be confusing—how do you remember exactly what you have when they're tucked away in cardboard? Before she moved and had a custom shoe closet installed, Johnson organized her shoes in plastic shoe boxes.
5. Develop Hanging Habits
We've all put off hanging clothes a few days too long, then had to tackle putting away a pile of clothes as tall as we are. Well, today is the day that stops. "I always try to hang stuff up as soon as it's clean," Johnson says.
6. Donate Your Duds
Johnson says to clean out your closet at least once a year. "Go through and think about the last time you wore something," Johnson says. If it's been over a year, it's probably time to sell or donate it. 
---
5 Instagrams 
to Follow to Inspire Your Stylish Life
Mallory Leicht
Mallory Leicht writes the Chase the Flavors blog and is one of the bright minds behind creative local events like Wild Bob's Musical Book Club and Cocktails on the Farm. The beautifully lit photos on her Instagram will whet your appetite for pretty food and for travel.
Katie Shelton
You can see Katie Shelton on stage leading The Mixtapes, but she also writes Skunk Boy Blog and curates one of the prettiest Instagrams around. There you can find everything from vignettes of her personal style to little clusters of enoki mushrooms that are pretty enough to hang on your wall.
Mara Dockery
The images on Mara Dockery's Instagram lean in the direction of graphic and lovely. Closeups of spiky plant leaves or colorful patterns are posted alongside grinning babies. Everything is presented from an unexpected angle, and we just can't stop scrolling.
Chuck Travers
One of our favorite Springfield-based photographers, Chuck Travers, has an Instragram full of eye-catching scenes. His aesthetic is influenced by his background in fine art photography. He utilizes color and composition to shape the everyday world around him into playful and thought provoking images.
Heather Kane
We can't help bragging about our Creative Director Heather Kane's eye for fashion. Every shot on her Instagram is a testament to her styling skills. 
Bonus: You might spy an outtake from an upcoming 417 Magazine shoot if you're lucky.



---
Develop a Buyer's Eye
Jennifer 

Feuerbacher,

 Brown Derby International Wine Center
Market: 
AmericasMart Atlanta 


417 Magazine: How do you avoid buying everything in one style? 
Jennifer Feurbacher: My mom goes [to market with me], so we hit two generations. Sometimes we take friends, too. 
417: Where do you find hot trends? 
JF: Every time we travel, I visit the gourmet food and wine shops or boutiques to see what they're doing and what trends they're predicting, then I bring them back here. 
417: Is it ever okay to go over budget? 
JF: If you're going to keep it for a lifetime and it speaks to you every time you walk in your home, it's worth it. 
Sarah Schaeffer, 

The Uptown Boutique
Market: 
WWDMagic and Dallas Apparel & Accessories Market


417 Magazine: Should I be shopping several seasons ahead? 
Sarah Schaeffer: Everything is in the moment. There's stuff out there that I could buy for fall, but how do you know for sure that's going to be the trend? I buy for my customers in the moment, because that's how my customers shop. They're typically shopping on a Friday afternoon for what to wear to dinner that night.  
417: What do you do if nothing on the rack seems like that perfect piece? 
SS: I always tell my customers that if they sort of like it and are kind of drawn to it on the hanger, go ahead and just try it on, because it could do wonders for their figure, their style and their look once they get it on. But you never know until you try it.
417: How do I avoid having a closet full of clothes I never wear? 
SS: I always tell people to buy what you love, don't buy what you like. If I don't like it at market, I'm not going to like it when it comes to my door, so I don't even fuss with it. 
Lee Haik, 

James Décor
Market: 
High Point Market 

417 Magazine: When it comes to buying furniture and decor, how do I have a successful shopping trip?
Lee Haik: Buy things that you love, and buy things that have meaning to you. It doesn't matter what your designer loves because you're going to be the one who's living with it. 
417: I'm a trendy dresser. How can my home decor keep up? 
LH: The clothing market tends to follow the furniture market. The trends tend to work together. Clothing designers keep their eye on the furniture market to see what colors are coming back.
417 Magazine: What constitutes James Décor's style? 
LH: We don't want to get in on the beginning of a fad because a year later, everyone is tired of it. We like to find styles that are timeless so you can't date when that house was built. We like for you to walk into a home and not be able to tell if it was built or decorated 20 years ago or two days ago.
Nathan Taylor, 

Obelisk Home
Market: 
Highpoint Market and The Atlanta International Gift & Home Furnishings Market


417 Magazine: How do you assess if something is a good purchase? 
Nathan Taylor: [I ask myself] if I were going to buy this for myself, is this going to be of acceptable quality for me? That doesn't necessarily mean it has a high price. Does the price carry the perceived value of the product based on its quality? 
417: What strategies help you shop successfully? 
NT: As a buyer, I try to buy for a wide variety of people and not just a certain demographic. Sometimes you have to think like a young hipster or like a 70-year-old who is moving out of their home and downsizing. Is this something someone could keep in their homes for the next seven to 10 years and be happy about it?
417: How do you find that one perfect piece? 
NT: You have to identify if it appeals to you. Don't buy it because it's the right color or it matches the rug. If it speaks to you, buy it. That's how I shop at market. If it makes your heart go pitter-patter, buy it, then find a place for it. Not everything has to be the perfect piece, because then it loses its personality.
Meghan Chambers, 

STAXX
STAXX travels to five or six different markets across the country each year.


417 Magazine: With all these great trends, how do you find the best one to spend your money on? 
Meghan Chambers: Personally I've found that over the years, trends go full circle. If you find a trend, don't spend your whole budget on it. Spend more on a basic or a staple, and find the trend at a lower price point. The staples last through several seasons.
417: For these in-between seasons like spring and fall, should I be shopping ahead? 
MC: It's easier for store buyers to shop closer to season when we see which trends stick around or will even translate for our customers, but the wiser shoppers are ones who shop for spring in January and March, because that's when the hottest seasonal trends and styles are dropping. 
417: How do I get the most out of my shopping trip? 
MC: Utilize your sales associates. The more information you give them, the more they can help you.