Spaces
How to Use Textured Wallpaper in Your Home
Wallpaper is back and better than ever. Learn how to tackle the trend of textured wallpaper with tips from local experts.
By Haley Phillips
Feb 2020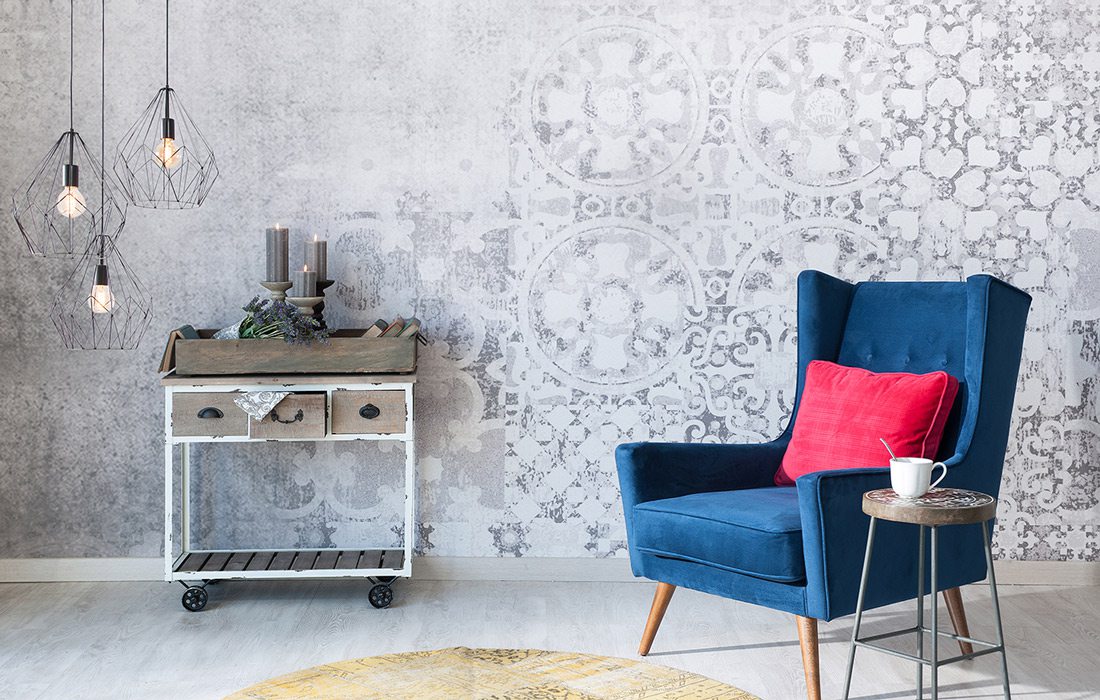 Wallpaper is nothing new in the world of design, but after years of being tossed aside, it's back. "It's time to go for it," says Haden Long, owner and lead interior designer of Ellecor Interior Design (623 S. Pickwick Ave., Springfield, 417-720-2602). "Everything old is new again in wallpaper." Colby Kern, associate designer at Obelisk Home (214 W. Phelps St #101, Springfield, 417-616-6488), chalks the revival up to a "rebellion against the stark walls and environments most of us grew up in." Today's homeowners are looking to personalize spaces, and wallcoverings can help.
Use Wallpaper for Color
Use wallcoverings to incorporate color into any room. "Color in all areas of design is finally back," says Lee Haik, owner of James Décor (1324 E. Republic Rd., Springfield, 417-883-2616). "Jewel tones like navy, green and red are the big trend." For a subdued selection, look to watercolors. "We are seeing the washed-out watercolor look on wallpapers and fabrics," Long says. "They serve as artwork for the room all on their own."
Cover a Single Wall or a Small Space
Committing to one style can be overwhelming; ease into the trend with a smaller space, such as a powder bath. "Because they are smaller and typically less architecturally interesting spaces, [powder baths] are great for making a bold statement with wallpaper," Kern says. Accent walls are another way to sample this trend. Long recommends taking the look into the bedroom where an accent wall with large florals or textured grass cloth creates a backdrop for your bedframe.
Choose Patterned Wallpapers for a Bold Statement
As is the case in other areas of design, use patterns, big or small, to add character to an otherwise lackluster space like the dining room. Haik suggests using wallpaper panels that create an allover scene—a look that complements both traditional and contemporary decor—while Long advises pairing big prints with wainscoting to create a more conservative look. If you're really looking for a throwback, consider the colorful large-scale patterns reminiscent of the '70s, Haik says.
Try Removable Wallpaper
Removable wallpaper options are available for home and business renters to use in their temporary spaces without the fear of leaving behind damaged walls. "It gives everyone the opportunity to personalize their living environment," Kern says. It also allows for an easier room refresh; whenever you grow tired of your current look, switch it up!
Where to Shop for Modern Wallpaper in the Ozarks