Trends
Warm Up Your Decor with Neutrals
Minimal can feel warm and inviting when you lean into warm, neutral elements around your home. We've gathered up some of our favorite accents from local southwest Missouri stores.
By Heather Kane | Styled by Dylan Lyle
Dec 2019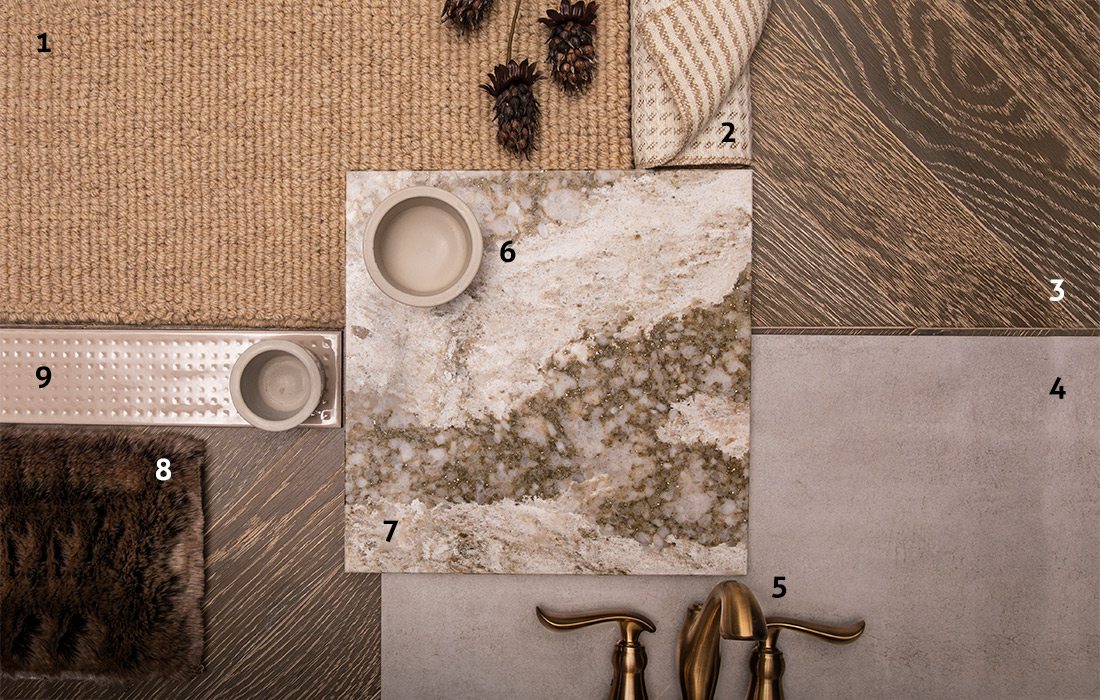 1. 100% wool Park City rug in khaki, $6.11 per square foot at Mouery's 2. Italian-made waffle-weave linen blend fabric, $164 per yard at James Décor 3. Chevron Canterbury 3.5-inch wide plank flooring, $11.50 per square foot at Mouery's 4. Atmosphere white polished 12-by-24-inch tile, $5.77 per square foot at Unique Tile 5. Delta Linden 4-inch center-mount champagne bronze faucet, $184 at Edge Supply 6. Simple cylinder votives, $6 each at Artisan Elements 7. Beaumont champagne granite, $95 per square foot at Unique Tile 8. Bernhardt fur-like fabric, $155 per yard at James Décor 9. Imola taupe textured tile, $7.50 per square foot at Unique Tile
---
With the new year around the corner, designers are warmly welcoming a new decade in home design and, with that, a new love for serene combinations of softly muted neutrals. This human and earthy palette creates the perfect clean canvas for energizing pops of color, sophisticated matte blacks and unique architectural elements. Texture takes on an important role within this mood board, blending natural aesthetics, Nordic simplicity, rounded forms and warm metals. Today's neutrals are transitional and hearty with undertones like pewter, mauve, stone, charcoal, lilac, blue and rust. Layering these colors, along with rich textures and natural elements, can help people feel engaged, included and healthy in a serene space.