Trends
Danavee Long's Vintage Collection
Danavee Long's love for antiques continues to grow in her eclectic collection at The Vintage Peddler.
By Susan Atteberry Smith
Mar 2020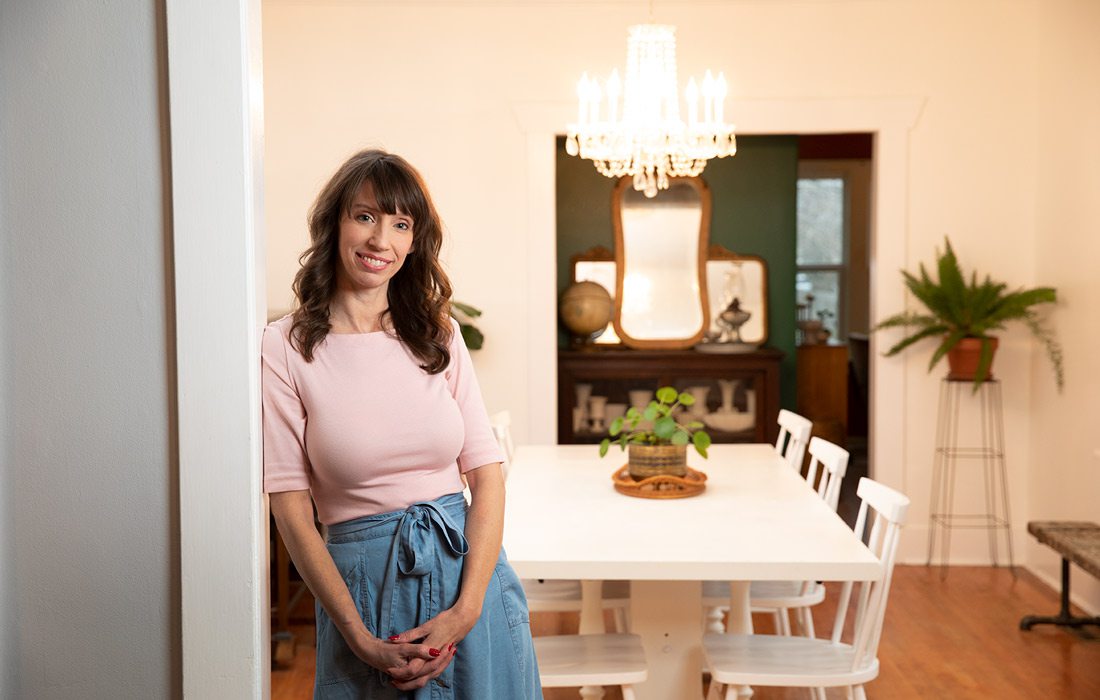 As a kid tagging along to auctions, shops and garage sales with antiques-collecting parents and a grandfather who sold what he found, Danavee Long couldn't help but catch the collecting bug by the time she got to college in the 1990s. "It's kind of in my blood," she says. 
Long still has her first find—a hand-painted Victorian vase repurposed as a silk-shaded lamp—along with her passion for collecting. When she isn't teaching fourth grade at Lyon Elementary in Republic, she's selling collectibles with her father, Gary Kimmons, at Relics Antique Mall (2015 Battlefield Road, Springfield) and at The Vintage Peddler (1432 E. Trafficway St., Springfield).
Over the years, Long's savvy about what sells has grown along with her inventory. Her eclectic style can be seen in her The Vintage Peddler booth, where a bentwood stool shares space with Pyrex and vintage flannel shirts—all must-haves among a new generation of collectors. With Long's own changes in style, that Victorian vase-lamp has landed in her basement. Still, don't look for this sentimental treasure-hunter to consign it anytime soon. "It's not my jam anymore as far as decor goes, but it's that piece I can't part with," she says.
Most Popular Vintage Items for the Home
Google images, eBay "solds" and Pinterest boards are a few ways antiques dealer Danavee Long learns the market value of collectibles. Lately, midcentury modern furniture, bohemian furniture and midcentury dishes are the highly collectible trends.
Midcentury Modern to 
Bohemian Furniture
Nostalgia for the '60s and '70s—"think Grandma and Grandpa's living room"—has collectors mixing sleek midcentury modern furniture with bohemian cane and rattan accent pieces. Furniture that could have come straight out of a The Brady Bunch set is especially popular: "The TV console, the long couch, the really long coffee table—all of that is now fetching hundreds of dollars, depending on the maker," she says.
After unwittingly scoring four Milo Baughman designer chairs for $100 at a Springfield flea market, Long flipped them to a Detroit dealer for $900 then saw them go for $4,000 on the internet. That said, even a mass-produced Broyhill "Brasilia" bedroom set from the '60s could easily sell for more than $1,000, says Long. Even '60s and '70s candlesticks, Dansk metal or teakwood and metal, now command a couple of hundred dollars. Bohemian cane or rattan furniture is also in demand: Tagged for $29.95 at her The Vintage Peddler booth is a bentwood and caned "footstool or plant stand! You choose!" Long says on her This Vintage Grove Facebook page.
Midcentury Kitchenware
Not all collectors have the cash to recreate the bedrooms and living rooms of yesteryear, but here's the good news: "Grandma's kitchen is hot," Long says, and popular Fire-King and Pyrex dishes often sell for $20 apiece or less. Martha Stewart "made the Jadeite color explode" in the 1990s and early 2000s; Long offers Fire-King's Peach Lustre dishes. Early Pyrex is also still a bestseller in similar soft shades of turquoise and pink (or "gooseberry"). While a "rainbow set" of four Pyrex mixing bowls recently sold for $100, Long says collectors can purchase individual dishes for much less.  Look for Pyrex that retains a glossy finish, then wash it properly, she admonishes, shaking a finger: "Don't put it in the dishwasher, people—it ruins it."