Local Homes of 417-land
Historic Homes of Delaware Neighborhood
With homes built throughout the past 100 years, the Delaware neighborhood in is rich with diverse architecture. We peek inside four homes that have won the hearts of owners for decades and the stories found in blueprints and beneath layers of wallpaper.
By Tessa Cooper
Sep 2020
Nestled just south of the Rountree neighborhood, Delaware boasts its own collection of stately, historic homes and has plenty of architectural charm to share. We peek inside four of these grand homes and talk with the homeowners about what makes this area of Springfield, Missouri so special.
Click on a home's photo below to read about its history and current owners.
More About Delaware Neighborhood
A Brief 
History Lesson
Ozarks historian and realtor Richard Crabtree shared his timeline of Delaware history. 
1874
Records show Col. John S. Phelps, C.M. Bennett and Dr. G.W. Delo own farmland in the Delaware neighborhood.
1904
William Howard Johnson purchases neighboring land. Two years later he develops Meadowmere Place and designs the still-standing pergolas and stone posts, which were originally used as gates to fence in farm animals.
1906
Springfield's first country club, complete with a lake on the grounds, forms between Meadowmere Place, Portland Street, Delaware Street and Glenstone Avenue.
1912
J.R. Mack and Charles O. McCasland develop Sagamore to offer starter homes.
1920s
Maps dating to this decade reveal subdivisions including Hawthorne Place, Meadowmere and Sagamore Hill. In 1928, the city drains a lake in the neighborhood.
1930s
After burning down three times, the country club is no more. In 1933, the city decides to bury Fassnight Creek to make it run underground.
1950s
Delaware School is built in 1951. John Q. Hammons develops the commercial area along Glenstone. O.T. Gillenwater develops a residential neighborhood on the country club's former grounds named Country Club Estates.
Today: By the Numbers
1,171 Housing Units
2,206 Population
44.6 Median Age of residents
Architecture Styles
Paden Chambers, project associate and architectural historian at nForm Architecture and chair of Springfield's Landmarks Board, on common home styles found in the area.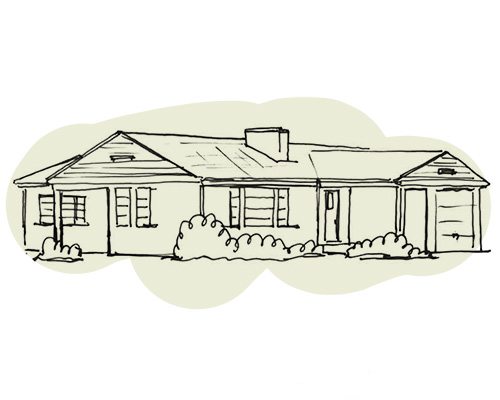 Ranch-Style
Ranch or Rambler style homes built in the '50s and '60s can be found on the eastern side of the neighborhood. These long and low pitch roofline homes borrow some of the characteristics of the revival styles.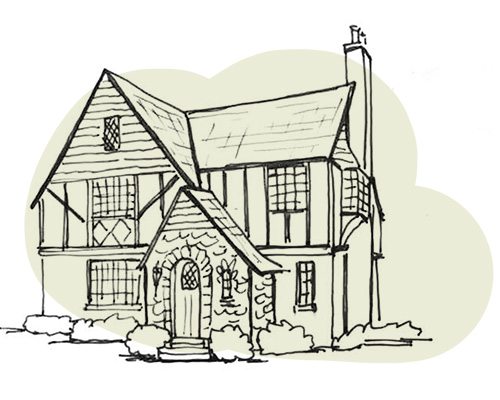 Tudor Revival
Characterized by brick, stone and slate exteriors, these homes feature steep multi-gabled roofs, half-timber framing and decorative chimneys. They range in size from small bungalows to large estates. 
Spanish Revival
It's easy to spot Spanish Revival homes, thanks to their tell-tale curves, arches, terracotta roof tiles and exterior stucco reproduced from homes found in the Western United States.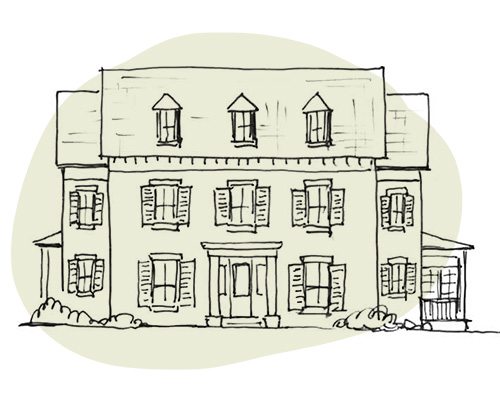 Colonial Revival
Colonial Revivals are known for their symmetrical façade, single or paired paned windows and ornate front entrances. These homes are often related to Dutch or Cape Cod colonial houses.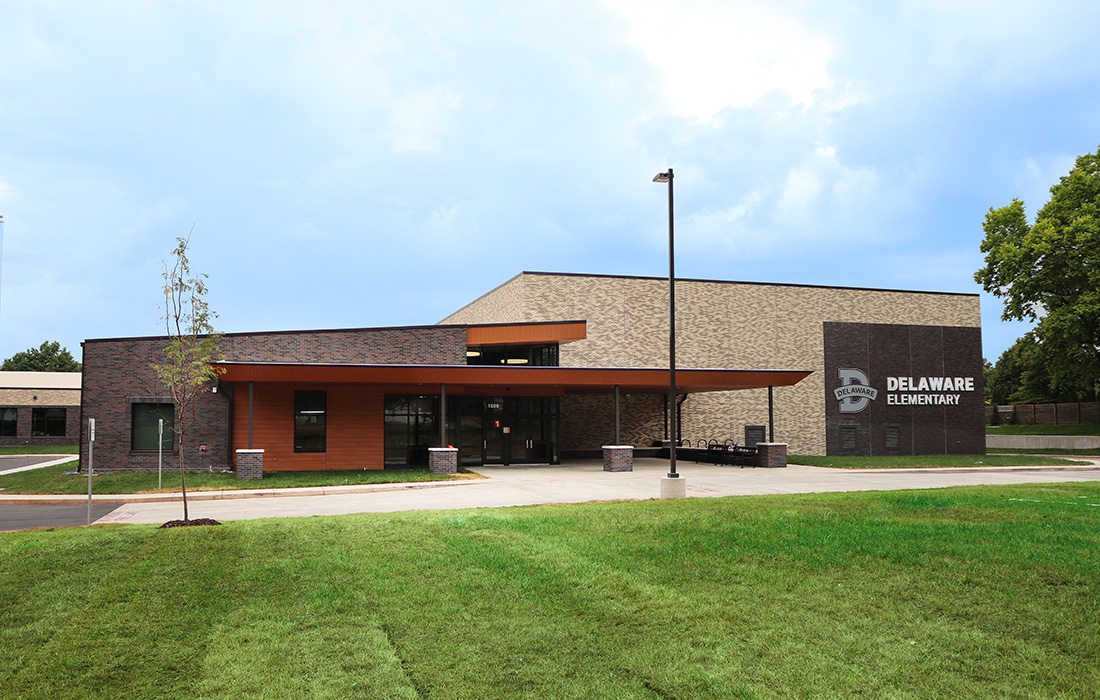 A New Delaware Elementary
After experiencing a wild ride during the first half of 2020 featuring a temporary relocation and a shutdown, Delaware Elementary students are getting to reunite with their peers and teachers at the new Delaware Elementary. Located at the same address but rebuilt from the ground up, the new building is 68,146 square feet with increased accessibility. "This building has actually been designed to meet the needs of all learners," says Delaware Elementary principal Stephanie Young. "So through this building, we will be able to provide a world-class education to our general education students, but also, a world-class education to our students with moderate to severe disabilities."
The new building can house up to 350 students, and it also features improved security and a safe-room gymnasium. Springfield Public Schools invested $23.78 million to build this new school, thanks to Proposition S that Springfield voters approved. "In Springfield, we always knew that our community supported schools, and the passage of Proposition S was a very tangible way for our community to show their support," Young says. "The construction that is taking place all over the school district is an investment in the future of our community, not just the future of our schools and our kids. Schools are such a central figure in any community."
Neighborhood Perks
Learn more about the lure of the area from Delaware dwellers.
Location, Location, Location
For Kim and Keith Chaffin, being centrally located is a favorite perk. And with Missouri State University, Rountree and Phelps Grove surrounding the neighborhood, options for evening stroll routes among mature trees are endless.
Community Events
According to Jeff Brossard-Sims, president of the Delaware Neighborhood Association, there are events like ice cream socials and lemonade crawls.
Houses Maintain Their Value
Brossard-Sims, who is also a realtor, notes that homes in this neighborhood don't stay on the market long.
Blossoming Business Districts
Most residents have a café within walking distance. Link and Nancy Knauer love watching Pickwick and Cherry's business district expand.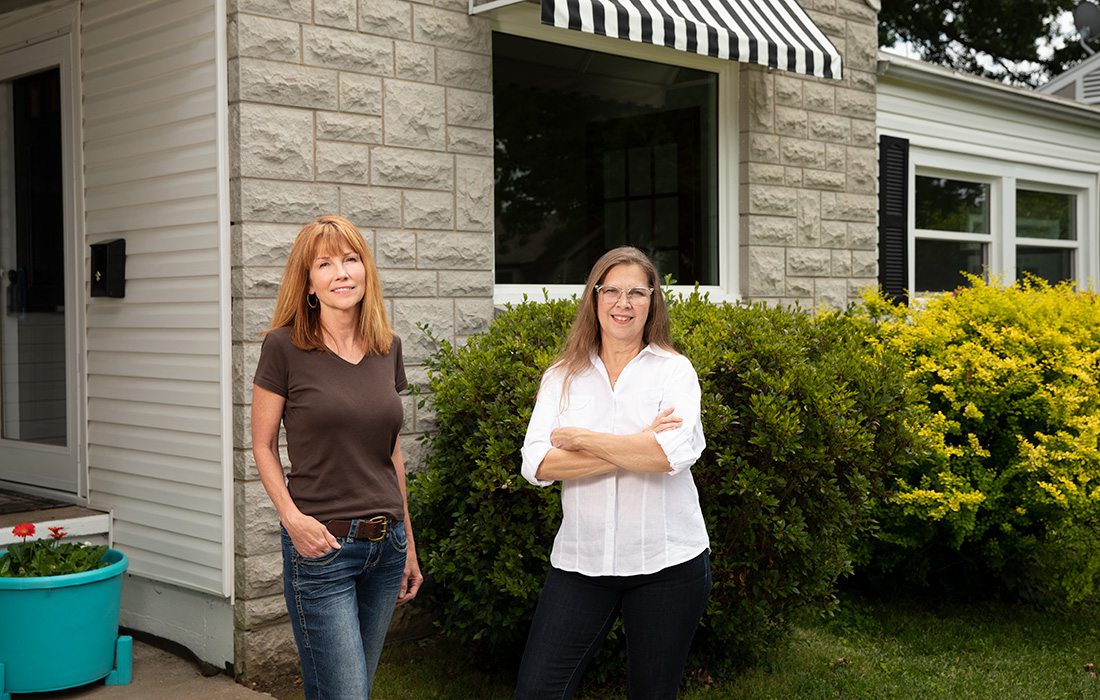 Rehab With a Heart
Close friends Michele Lawrence and Ramona Williams restored a 1950s Carthage Stone home back to its original glory and made lasting memories along the way.
Some friends grow closer by starting a book club or going on weekend getaways, but others simply rehab a house together. The latter was the case for friends of 32 years, Ramona Williams and Michele Lawrence, who dedicated eight months to restoring a 70-year-old Carthage Stone home in the Delaware neighborhood before selling the property to new and loving homeowners.
Before rolling up their sleeves and starting the hard work of restoration, Ramona and Michele spent a significant amount of time sourcing mid-century trim and fixtures to match the original architecture and charm of the 1950s bungalow. Never discouraged by the limited number of period pieces available, they'd take on the challenge of making what they were missing, like a striped awning for the home's exterior. They also unearthed a vintage trellis in a forgotten corner of the attic and painted it turquoise.
One evening will always stand vivid in Ramona's memory. She and Michele were out in the backyard power-washing the home's exterior siding when they accidentally dropped the spray wand. The pressure from the wand uncovered a concrete paver. Curious, the two got dressed for the occasion and continued to power-wash the spot to see what was underneath the dirt and overgrown grass. "We put on raincoats, and really, it was like Lucy and Ethel once we got covered in mud," Williams jokes. "The only thing left on my glasses was a windshield wiper swipe. I've actually had to throw away that raincoat because it was so stained with the mud." What they found was a large patio on the southeast corner of the house that gets plenty of shade.
The friends can laugh about it now, but they also had a run-in with some poison ivy while trimming the overgrown shrubbery along the fence line, which required multiple rounds of medication.
Regardless, they also knew how to relax and enjoy the process. When things got too serious, they'd proclaim it a day, pull out some lawn chairs and enjoy a cool beverage on the patio they had unearthed. Even on late nights, they'd call each other and chat on their car rides home.  And the spirit of the neighborhood also captured their hearts. "We enjoyed bike rides and walks around the area, found friends in the neighbors, got to know the mailman, Eli, and even fell for the lovable bassett hound next door, Quincy. It just felt like home," Lawrence says.