Profiles
Chasing Springfield History: Q&A with Richard Crabtree
Richard Crabtree has made a name for himself by exploring the history of 417-land and sharing what he finds through the always-interesting Springfield History Facebook group. We talked to him about his passion for Springfield's past.
By Jamie Thomas
Feb 2020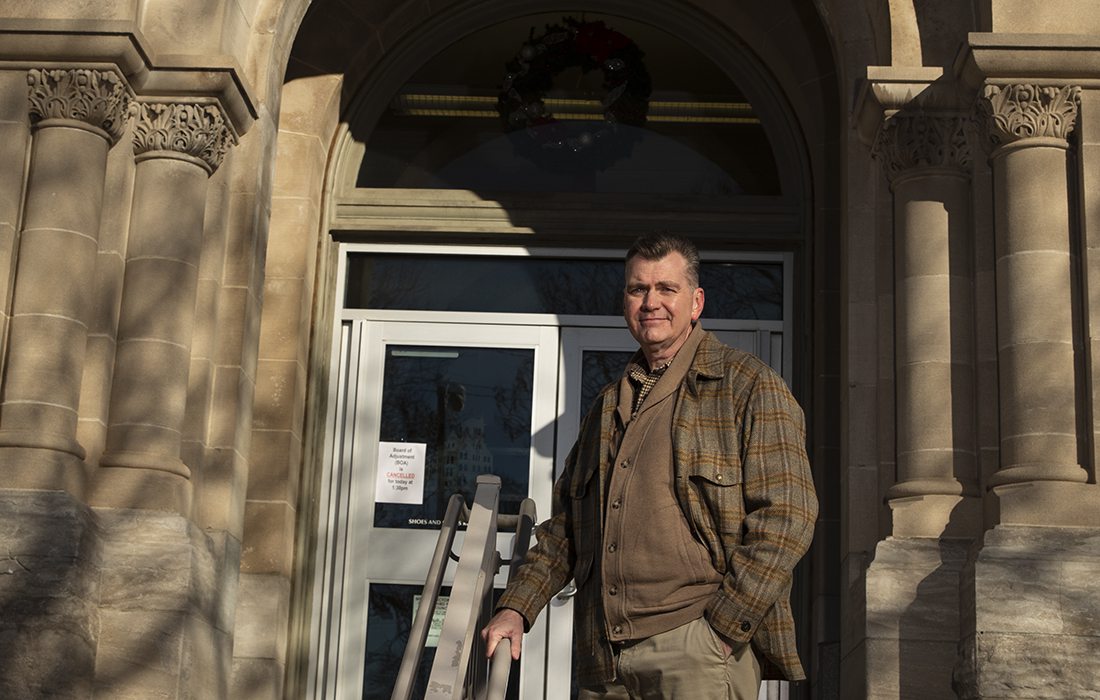 417 Magazine: Have you always had an interest in history?
Richard Crabtree: I grew up in the St. Louis area, and I had a junior high and high school teacher that taught a local history class. And my grandparents loved history. I learned quite a bit. When I was 16, I drove everywhere... and got to go to a lot of historic sites. I nurtured the interest, and I've been heavily involved in photography. So that was something that allowed me to get out and explore and read and research.
417: How did you end up in Springfield?
R.C.: My wife and I were living in Ozark, and she transferred to Empire Bank on Glenstone. She said, "Why don't we get a house here?" and I said, "If we're going to do this, I want an old house." We landed on a Carl Bissman house built in 1934. There was a show on HGTV called If Walls Could Talk, and I wanted to find out where one goes to find out the history of our house.
417: How did you get started on your research?
R.C.: Even then, in 2007, it was difficult to find stuff online. So I went to the Greene County Archives, and they were helpful, but they weren't going to do the work for me. I went to the History Museum, and then I ended up at the Library Center. I spent hours staring at microfilm. One day, as I was scrolling through, a house went by—It was my house from October 28, 1934. Once I researched my entire history, I thought it'd be kind of fun to do my neighbors'.
417: How did it grow from there?
R.C.: What I found was two things: Springfield was heavily influenced by St. Louis, and Springfield is a big, small town. Everybody's connected somehow, and the more I dug, the more it took me to downtown, to Phelps Grove, University Heights, Brentwood, Southern Hills. It just all started falling into place. Now I find that I'm kind of a historian for all of Springfield.
417: How did the interest lead to the Facebook group and the videos?
R.C.: There was a Facebook page called "You Know You're From Springfield, If…" I joined. There was some great content, but none of it was history-based. So, I started it up. That just exploded, and I had people ask, "Rich, can't you do a presentation?" So, I started doing presentations, mainly at my church, and 150 people show up wanting to hear this. Then I'd have people on the page say, "I can't make those; I live in Seattle," or "I'm working at night." Finally, somebody said "Would you transcribe your talks and put them on YouTube?" So that's where we are now.
417: What's the difference between going to a talk and watching a video?
R.C.: I don't do notes, which drives some of my friends off the wall who also do these types of talks because they have all of this stuff ready. If you're really passionate about it and you know it well, you don't need any of that. You can kind of look up at a picture and it should trigger something. If you come to my live talks, every one of them is slightly different.
417: How do you find things to research?
R.C.: Probably the thing that I get asked the most on Facebook is, "Tell me the history of my house." What's really fun is that I have people who have lived here and they know the color, the stories. I can give them the facts, they can tell me the stories, and, hopefully, they mesh.
The History of Phelps Grove Park
Explore Springfield's History