Trends
Statement Orange Cabinets Bring Warmth and Life into this Kitchen Design
Sierra Penas, interior designer at Ellecor Design & Gifts, used a little color and a lot of strategic thinking to create a kitchen that is both useful and aesthetically pleasing.
By Tessa Cooper
Sep 2020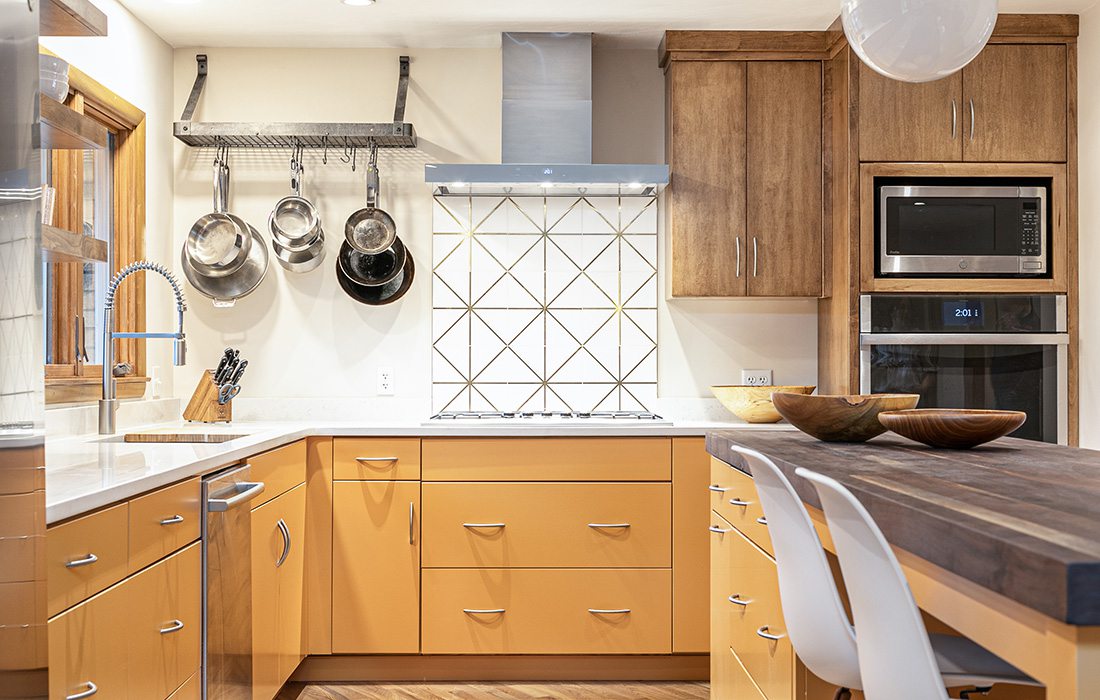 Don't let the statement orange cabinets and sleek mixed metals fool you. When Sierra Penas, interior designer at Ellecor Design & Gifts, started drafting up plans for this kitchen redesign, she placed an equal emphasis on functionality, not just beauty. The result was a roomy kitchen with ample countertop and storage space that also happens to be eye-catching.
But to get there, Penas had to get creative and even move a wall that limited the space's potential.
"Being able to come up with a floor plan and problem-solve by relocating that central wall achieved what their main goal was, which was functionality," she says. "They're big cooks, so they needed workspace. But any time you do a remodel, you also want it to look new. So that was the second goal for them."
Updating the kitchen also involved new flooring, new cabinetry, new backsplash and new lighting. For this project, Penas convinced her clients to go bold with custom orange cabinetry, a color we don't see too often in kitchens. "The color is my favorite part for sure," Penas says. "It is very challenging to present sort of a bold, out-of-the-ordinary color to a client. It takes a lot of visualization meetings, even for clients who are open to out-there ideas like they were."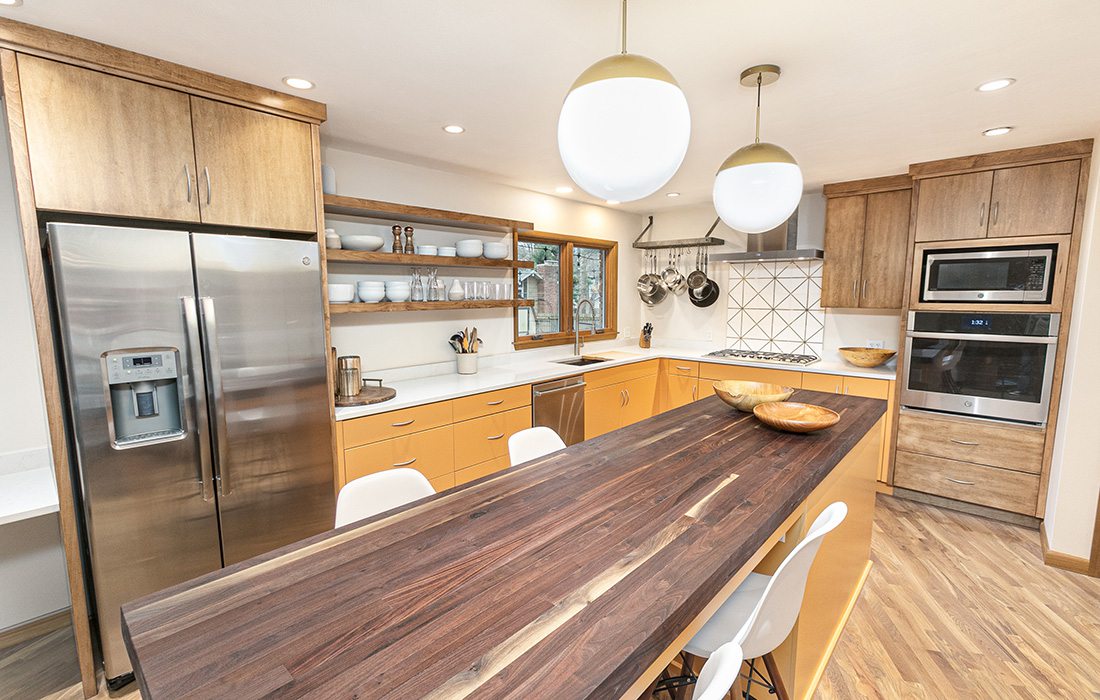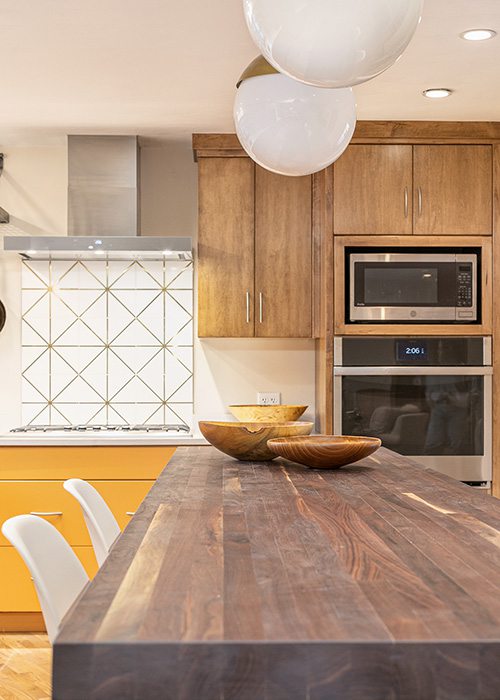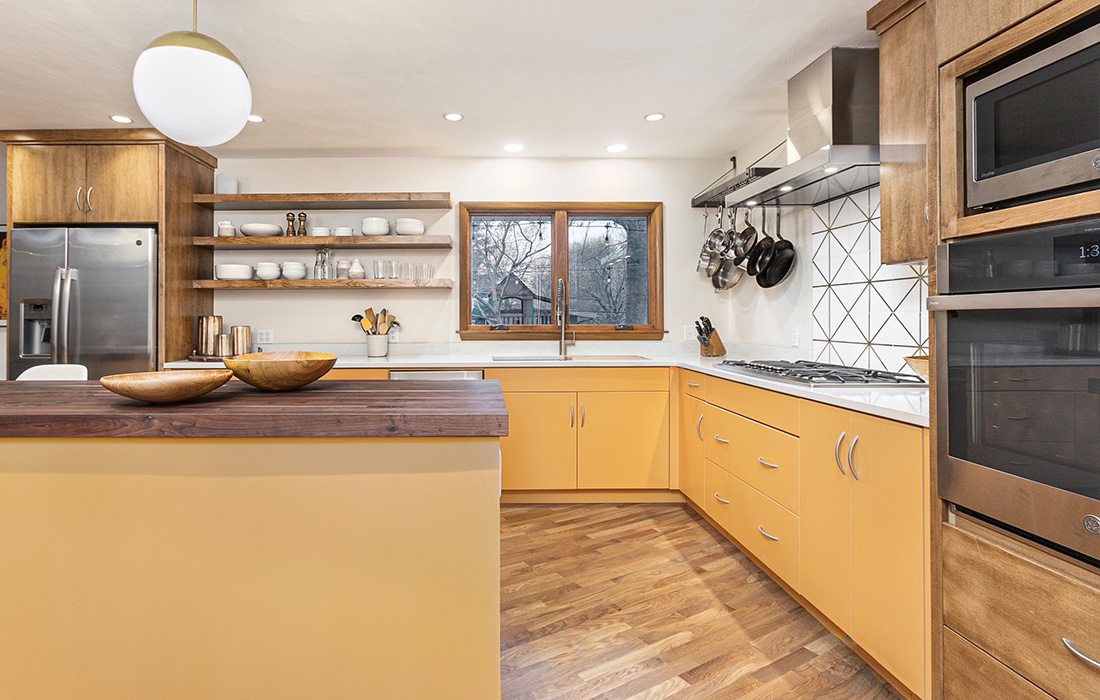 Sierra's Kitchen Redesign Tips
Play with Hardwood 
Floor Patterns
For homes that already have hardwood floors, matching new hardwood flooring to old hardwood can be a challenge. Instead of trying to get an exact match, Penas chose to lay the planks in this kitchen at an angle, showing an intentional difference.
Mix Those Metals
Penas encourages her clients to not be afraid to mix metals. According to her, two metals can easily play nicely together in a space, and maybe even three if you're up for a challenge.
Ask for Help Visualizing
If a designer presents an idea that you haven't seen before in real life, Penas encourages you to ask plenty of questions at visualization meetings to form a trusting relationship.