Life
6 Best Scuba Diving Spots
Whether you're a seasoned pro or looking to learn more about scuba diving, southwest Missouri and northwest Arkansas have plenty to offer including sunken boats, a variety of fish, underwater forests and more.
By Ettie Berneking
May 07 2020 at 3:34 p.m.
Lake season is here! That means it's time to dust off that kayak, paddleboard and, yes, your wetsuit and head to these top six local scuba diving sites. There are underwater mazes, sunken boats, garden statues and even underwater forests. So, if you think you've seen the Ozarks and all its natural beauty, it's time to head underwater and explore what you've been missing on the surface. Diventures can get your certification started online, so once the weather warms up you can finish your training and head to one of these six popular dive sites in southwest Missouri and northwest Arkansas. (Just a friendly reminder—don't go scuba diving until you're certified.)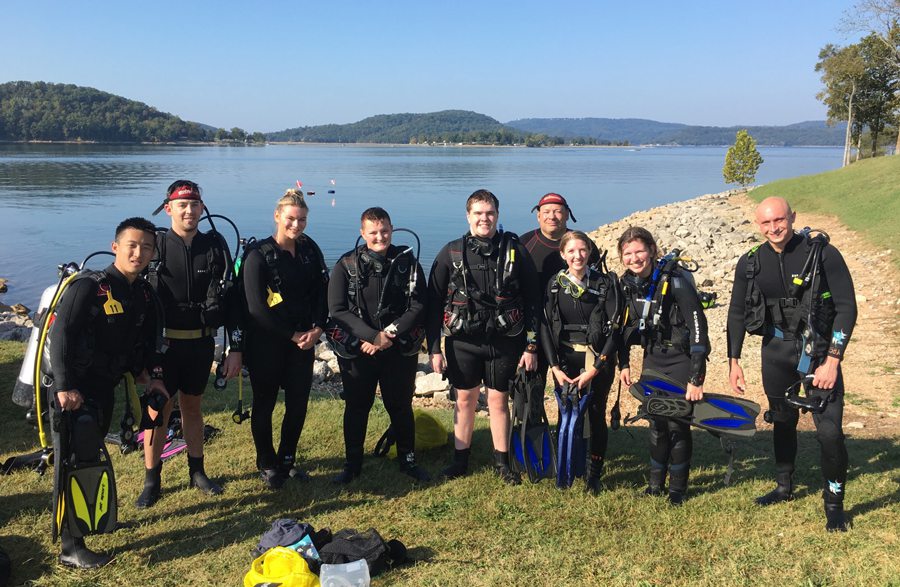 Beaver Lake Scuba Park
Depth: 20–100 feet
Location: 348 Damsite River Rd., Eureka Springs, Arkansas
Best Time of Year to Dive: April through October
Water Temperature: 50 degrees in early spring and up to 80 degrees through summer 
Don't Forget: Your dive flag and underwater flashlight so you can check out the inside of the wrecks
Why We Love It: This dive spot truly is a scuba park, except instead of swing sets and slides, Beaver Lake features sunken boats, cars, statues, an airplane and even a small-scale pirate ship. If you're a beginner diver, don't worry about getting lost. Each underwater feature is connected by a line you can follow, which makes this an easy dive. As for wildlife, expect to swim among Ozarks classics including bass, crappie, longear sunfish, catfish, walleye and crawfish. If you're lucky, you'll spot a freshwater jellyfish. Entrance to the scuba park requires a small fee per car. 
Duck Island on Table Rock Lake
Depth: 15–65 feet
Location: Branson, Missouri
Best Time of Year to Dive: April through October
Water Temperature: 50s in early spring and into the 80s through summer
Don't Forget: An underwater flashlight, dive flag and a surface marker buoy so approaching boats know you're nearby
Why We Love It: If you love watching the wildlife under the waves, this is a great dive spot for you. This site has several fish habitats including sunken boat lifts (a favorite of bass) and an underwater wreck located on the east side of the island about 45 feet down. If you haven't been here before, be advised: This site is only accessible by boat. You'll find it across from the Showboat Branson Belle. Once you've reached the spot by boat, motor to the east or north side of the island for prime diving. 


Zebulon Pike at Table Rock Lake 
Depth: 25–95 feet
Location: Branson, Missouri
Best Time of Year to Dive: Early spring, summer, late winter
Water Temperature: Varies between 40 and 50 degrees in late winter and early spring, and 60 degrees and warmer in the summer 
Don't Forget: Flashlight, surface marker buoy and your dive flag (required by law)
Why We Love It: Who knew one of Branson's major attractions was nowhere near the strip? This sunken underground maze is the largest wreck dive in southwest Missouri. It's also a great dive spot for a small group, so gather a few of your friends with fins, and hit the water. To find the dive spot, head across the cove from Table Rock Lake Point 1 near Rock Lane Marina. Look for a white buoy tied to a tree just off the shore in about 15 to 20 feet of water. At the bottom of this tree, there is a line that will take you to the bow of the sunken boat—a 90-foot-long double decker excursion boat. 


Monte Ne at Beaver Lake
Depth: 15–25 in the amphitheater, 40–50 feet in the town itself
Location: East of Rogers, Arkansas, on Arkansas Highway 94
Best Time of Year to Dive: Late fall to early spring when the lake is at normal pool levels
Water Temperature: During the best time of year, temperatures hover between 50 and 60 degrees.
Don't Forget: 7mm or greater wetsuit or drysuits, your dive lights, dive flag and surface marker buoy
Why We Love It: This is a nice, shallow dive with a lot to see. Unlike most dive sites that feature sunken boats and slips, this one features an entire town. The town of Monte Ne, Arkansas, was flooded years ago, and divers can still see the forgotten buildings and amphitheater. There are two ways to get to this dive spot: You can either head out on the water by boat, or just hop in next to the boat ramp. The amphitheater is next to the boat beach near the ramp, so it's a great first sight. The town itself can be found directly out from there.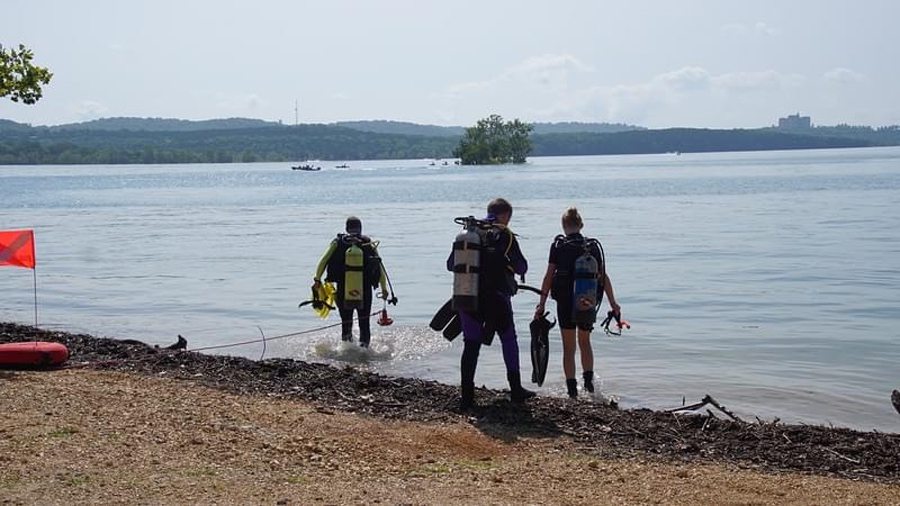 Jake's Island on Table Rock Lake
Depth: 20–130+ feet
Location: Branson, Missouri
Best Time of Year to Dive: This site typically has great visibility year-round
Water Temperature: The water temperature will vary throughout the season, but expect 45 degrees in the winter and 80 degrees during the summer. 
Don't Forget: A surface marker buoy, dive flag and light are must-haves on this dive. 
Why We Love It: Jake's Island provides divers with what's called a wall dive—a steep dropoff that takes divers from a shallow area to a near vertical drop along a cliff or reef. The site is located in the middle of Table Rock Lake, and divers can enjoy all kinds of bass, catfish and sunfish on their way down to the sunken boat that starts to appear about 50 feet below the surface. To reach this dive site, hop on a boat and motor out to Jakes's Island on the other side of Indian Point Marina before dropping your surface marker buoy (an absolute must in this busy channel). This site is directly southwest of Point 1 (you can see it from Point 1).


Spoonbill Bluff on Table Rock Lake
Depth: 15–100 feet
Location: Branson, Missouri
Best Time of Year to Dive: Any time, but spring and early summer are best
Water Temperature: Varies during the year from 50 to 80 degrees
Don't Forget: Flashlight, dive knife, surface marker buoy and dive flag
Why We Love It: This is a fun dive for a small group. Just motor to the dive site, which is located directly across from State Park Marina and anchor behind the bluff on the right side of the cove. Once you're in the water, you'll be able to spot a sunken sailboat that's about 25 feet below. You'll also see several concrete statues and, if you're lucky, one of the large paddlefish that call this water home.


Enchanted Forest at Table Rock Lake
Depth: 15–80 feet
Location: Branson, Missouri
Best Time of Year to Dive: Spring and summer
Water Temperature: 50 to 80 degrees depending on the time of year
Don't Forget: Flashlight, dive knife, surface marker buoy and dive flag
Why We Love It: The Ozarks is known for its lush forests, but have you ever seen an underwater forest? If not, the Enchanted Forest is a must-see. This grove is home to large moss-covered oak trees, some of which still break the surface and can be seen from your boat. If you have a way to take underwater photos, this site provides some breathtaking photo ops. The silhouette of the trees against the ambient light above produces a beautiful visual effect, and the lush trees attract schools of fish. This site can only be reached by boat. To get there, head half-a-mile north from Table Rock Dam, and look for the bluff just under the Chateau On The Lake and you'll find the site on.
If you're a seasoned diver, chances are you've already started planning your upcoming dives. If you're totally new to the underwater world of scuba diving, Diventures is here to help with year-round trainings that can be enjoyed through group or private sessions. In fact, the first half of your diver training can be done online. Just sign up in advance by calling the shop at 417-882-9966, then get ready to knock out your online training before wrapping up your certification in the open water.

About Diventures: Diventures is Springfield, Missouri's premier scuba dive destination, and teaching is its primary focus. Diventures scuba instructors have more than 50,000 logged dives around the world and bring that experience to Springfield in order to teach others how to safely enjoy the sport of scuba diving. Diventures also offers kid and adult swim lessons, summer swim programs for children, guided dive trips
https://www.diventures.com/travel/
around the world and a top-of-the-line
scuba gear shop
.