Arts & Culture
Alice Cooper Brings His Too Close for Comfort Tour to Springfield
Alice Cooper's "Too Close for Comfort" tour makes a one-night stop at Juanita K. Hammons Hall in Springfield.
by Jamie Thomas
Aug 17 2023 at 8 a.m.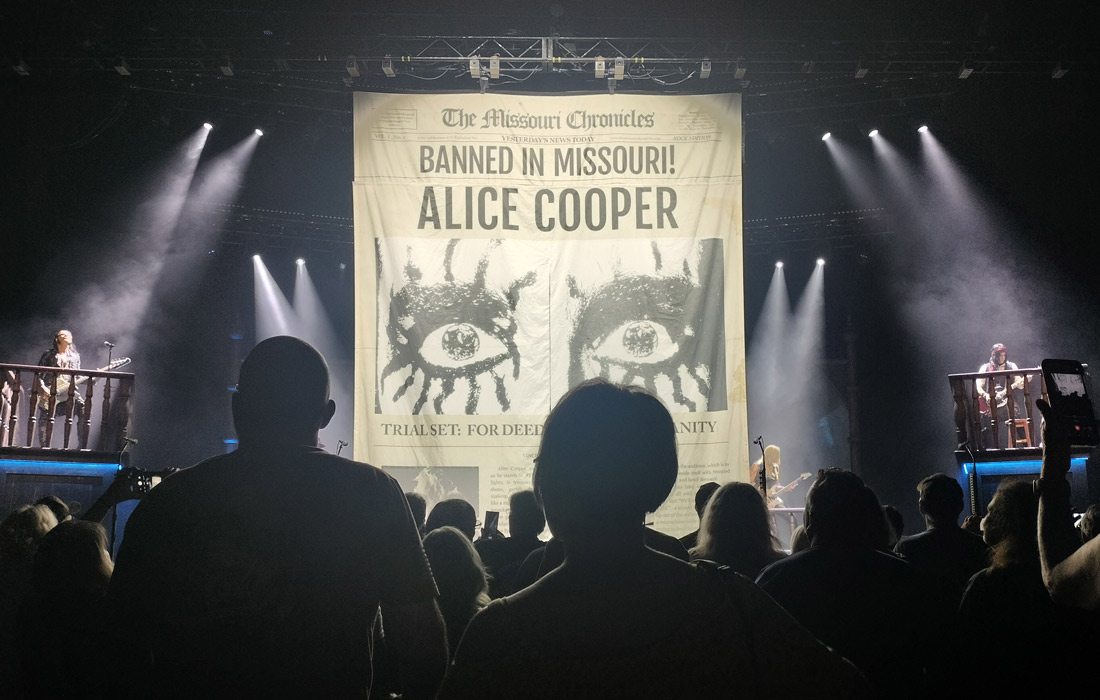 When any fan of rock music or heavy metal, regardless of their age, hears the term rock star, there are probably a handful of people who immediately come to mind: people who shaped not just the music, but the look and personality that go along with it. Among those names—likely near the top—is Alice Cooper. Cooper has been performing since 1969, beginning as the frontman for the band Alice Cooper, taking the name (legally changing his own name—Vincent Furnier—in the process) when the band split and going solo in 1975 with the album "Welcome to My Nightmare." Now, Cooper has a new album, "Road," on the way, set for release on August 25. It seems fitting that someone who's been touring for more than 50 years would make a stop at the birthplace of Route 66, and we (me, specifically) were lucky enough to get tickets to the show.
On a personal note, as someone born in the mid-1980s to parents who were both fans of rock music, Cooper's music had always been in my life in some way, and the tongue-in-cheek theatrics and gloomy aesthetic finally clicked fully into place for me when I hit my typically moody teenage years. Even as I (mostly) grew out of my own gloomy aesthetic and my musical taste expanded in more… eclectic directions, I've always maintained a soft spot for Alice Cooper's music and an admiration for his ability to keep doing this with so much charisma well into his 70s. When the opportunity to see him live came along—especially right here in Springfield at Juanita K. Hammons Hall—it wasn't something I could pass up.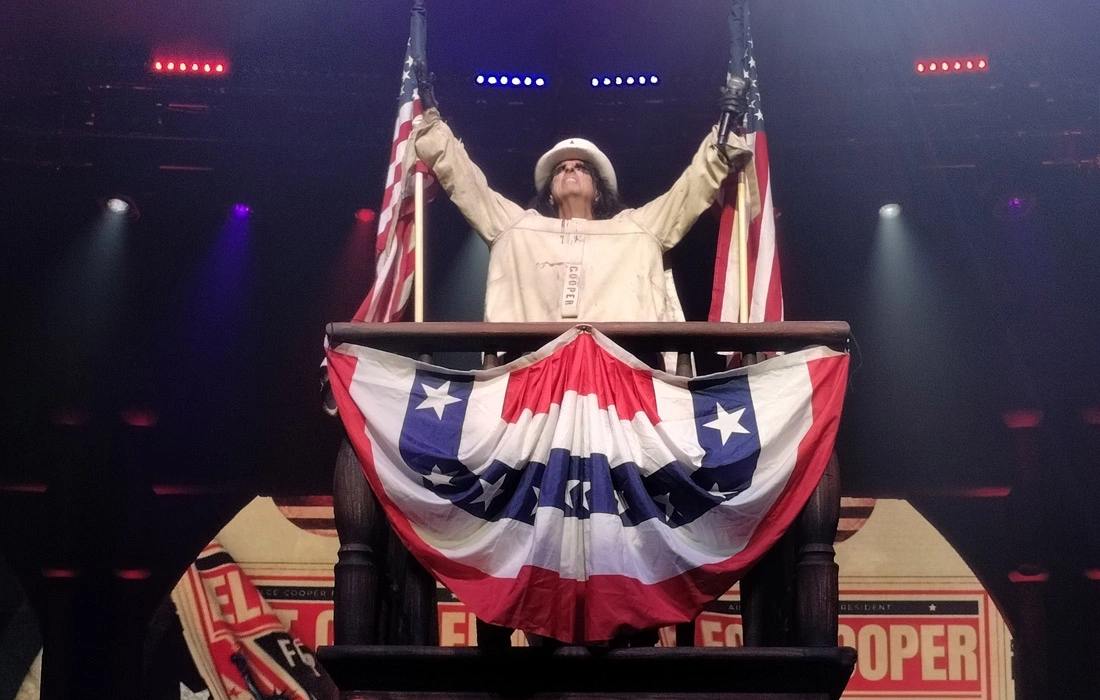 Photos by Jamie Thomas Alice Cooper and his band—Nita Strauss (lead and rhythm guitar), Tommy Henriksen (lead and rhythm guitar), Ryan Roxie (guitar), Chuck Garric (bass), Glen Sobel (drums), Sheryl Cooper (dancer)—filled a faced-paced show with spectacle, horror and humor.
The Crowd
Arriving at Juanita K. Hammons Hall, I was greeted by a big crowd of all ages that had already lined up way out into the street, excitedly waiting for the show: older fans, middle-aged fans, teenagers and even a few young kids. The outfits ran the gamut too. There were plenty of band T-shirts, mostly featuring Alice Cooper himself, but a healthy number of Ozzy Osbourne shirts, Black Sabbath T-shirts (mine included), shirts proclaiming fandom of the Rolling Stones, the Beatles and more. Perhaps more surprising was the equally healthy showing of fans in sensible button-down shirts and comfortable shoes intermingled with a few fans who had gone all out in full Cooper-esque costumes, eye makeup and black leather included.
The Show
With everyone seated, the show kicked off at 8:15 p.m. There was no opening act for this particular show, so Cooper kicked off the concert with "Lock Me Up," followed by "No More Mr. Nice Guy," before launching into a fast-paced show that clocked in at a brisk 90 minutes. In that 90 minutes, Cooper and his band, including returning guitarist Nita Strauss, blasted through songs spanning the decades he's been both in-studio and onstage. The set list included songs from the early days of his solo career, "I'm Eighteen" and "Ballad of Dwight Fry," and his anthemic '80s and early '90s hair metal–infused hits, including "Poison," "Hey Stoopid" and "Snakebite," which saw Cooper draped in his signature python, the live reptile curling around his head and shoulders as he sang. The show closed with two of Cooper's biggest and best-known songs, "Elected" and "School's Out," mixed in with a fast-paced cover of Pink Floyd's "Another Brick in the Wall, Part 2."
What stood out the most about the show was how tight, well-rehearsed and expertly crafted the experience was. Nearly every song had its own costume and set change, all achieved with a brief drop in lights. Even with the brisk pace, Cooper (and his band—not to mention his wife, dancer Sheryl Cooper, who made a few gruesome and show-stealing appearances, at one point gleefully holding aloft her husband's guillotined head while dressed as a bloodied-and-eye-patched Marie Antoinette) clearly relishes every second he's in front of a crowd. Even at 75 years old, the founding father of theatrical shock rock owns the entire stage, delivering his characteristically gravelly vocals with a grandiosity, enthusiasm and charisma that demonstrates why he's been able to perform for so long and appeal to generations of fans.
The Takeaway
Cooper's ability to put on a show hasn't wavered in his nearly five decades of touring the world and making music, along with founding his Solid Rock charity, which provides free after-school training in music, dance and more for young people aged 12 to 20. Cooper treats every live show like the single greatest show on earth, acting as host and ringmaster for a macabre circus that keeps the camp factor up to make sure—no matter how gory things might get—everyone's having the time of their life. If you're a fan of rock music or even just really into theatrical shows, vaudevillian humor and larger-than-life spectacles, you'll definitely want to catch Cooper the next time he stops in southwest Missouri. Considering how energetic he still is halfway through his seventies, it probably won't be long until we see him on stage here again.