We Are #417Strong
Tips for Planning Your Best Stay-Home Date Night
Dr. Ginger Holczer, local psychologist at Creative Pathways, shares tips for how to make time for date nights in.
Haley Phillips
Apr 16 2020 at 3 p.m.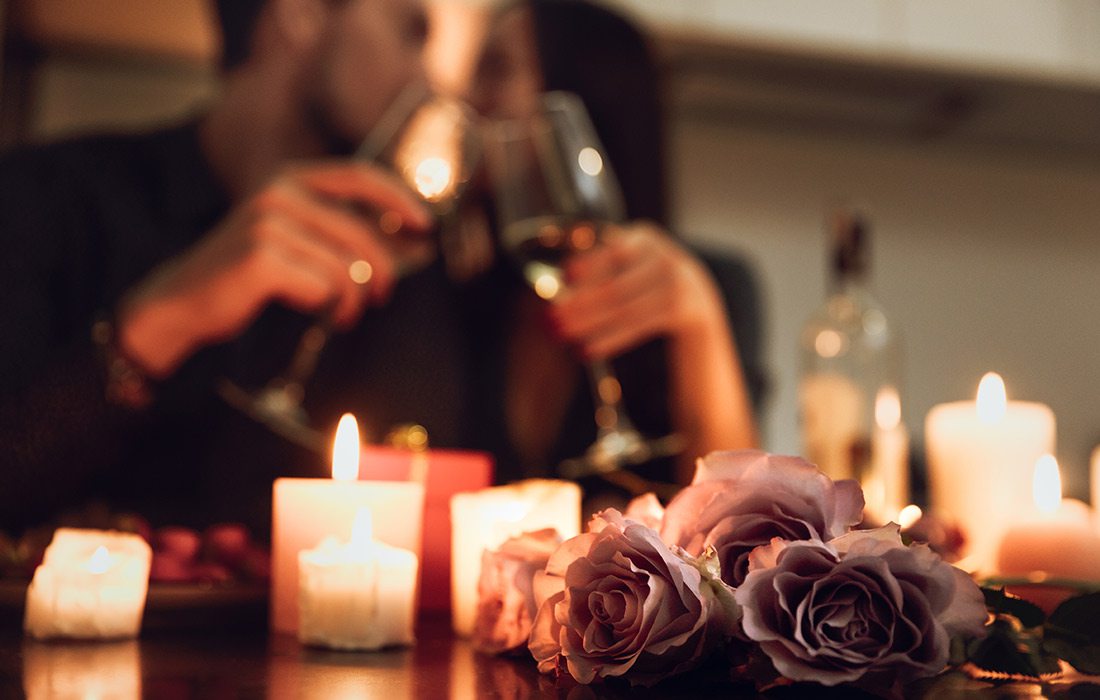 Since our latest routines have us working, playing and everything in between at home with our partners, it's hard to even think about planning a date night. Couples are spending more time than ever together but foregoing the crucial aspect of connecting with each other. Dr. Ginger Holczer, local psychologist at Creative Pathways, shares with us how to take back our date nights with these simple tips for separating work from personal life.
Make the Transition
"One of the things that I really stress to my people is that they have transitions between work time and home time," Holczer says. She suggests starting your day by getting ready, whatever that might look like, and then making some sort of transition at the end of your work day. "If you used to come home and change your clothes or take a shower, or go take a half hour to get ready before dinner or whatever, keep those transitions going," Holczer says.
Keeping Connected
Interacting with others outside the household is also important. "Keep having virtual happy hours or other virtual connections so that your partner isn't the only person that you're connecting with," Holczer says. Maintaining these outside relationships helps to make the time spent with your significant other that much more special.
It's a Date
Think you don't have time for date night? Put it on the calendar every week or every other week. "Make date night a ritual," Holczer says. "Put it on the schedule and then you work around that." Having children can make it hard to arrange, but Holczer suggests planning date night for after bedtime. "If you have older kids, maybe find something special for them to do," Holczer says. "Let them have a movie night with popcorn and let them know that their parents are having special time together. I think that's a really good precedent to set for your kids."
All Dolled Up
If you've been running around in yoga pants every day, it's probably time to break out your favorite pair of skinny jeans or swipe on some lipstick. Anything you can do to emulate a night out is ideal, says Holczer.
Conversation Starters
"A really important part of date nights—and this is whether you go out or you stay at home—is talking about things other than money, kids, problems, work or even the coronavirus," Holczer says. It's tempting to fall back on familiar topics or to rant about your day but Holczer advises setting that time apart to learn more about your partner. "Sometimes we've been married for 15 years and still don't know these things about our partners," Holczer says, "so that's just another really good way to stay connected."
5 Ideas for an At-Home Date Night
Need a few ideas for your next stay-at-home date night? Here are five local ideas to spice up your night in:
1. If your ideal night out includes the arts, try bringing the music home. Tune in to Springfield Symphony Orchestra's Facebook page for weekly concert recommendations and round out the experience with a bottle of wine from Vino Cellars.
2. Does an at-home edition of Chopped sound more appealing? Order a meal prep box from Progress and get competitive while flexing your cooking skills.
3. Craving a flick from the big screen? Moxie Cinema is teaming up with film distributors to bring the Moxie experience to your home each week. Pick up a few of your fav sushi rolls from Haruno Japanese Sushi Bar & Grill  for a movie night upgrade.
4. Stay connected with friends and never miss a double date game night with the help of Jackbox, Zoom and a Golden Girl cocktail kit.
5. Is there a better way to learn to dance than in the comfort—and privacy—of your own home? Push aside the coffee table and hang up some string lights for a makeshift dance floor, then start streaming Dance With Me's newest online dance lessons every week.