Recipes
Berry, Mint Sorbet
This simple and refreshing sorbet is sure to cool you off this summer.
By Ettie Berneking
Jun 26 2015 at 4:59 a.m.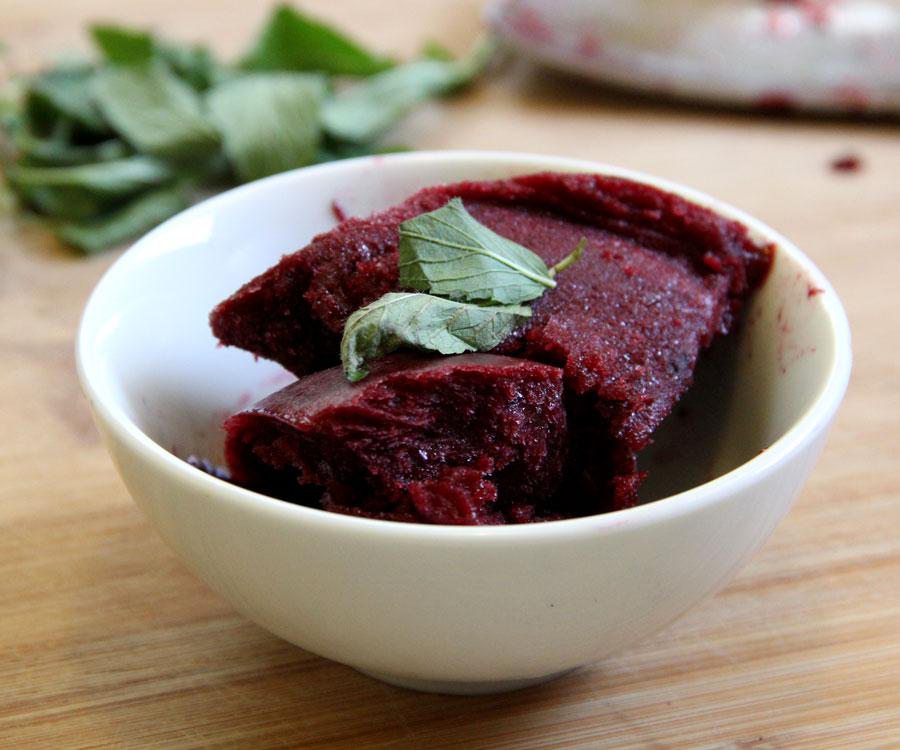 After last week's baking snafu, I was ready for a simple, no-fuss recipe, so I blended up a berry sorbet. It was a hit! You can make this with pretty much any berries you have on hand, but I used a mix of blueberries, strawberries and cranberries. Whichever berries or fruit you do use, make sure they are thawed. I started with frozen berries and quickly learned it was not going to work. I made the mistake of pouring my sugary simple syrup over the frozen berries. The hot liquid immediately froze into a web of minty sugar that made pureeing the berries impossible. Luckily, a few minutes over-medium heat on the stove solved my problem.
You don't have to make a simple syrup if you don't want. If you're in a pinch and don't have much time to spare, you can simply add the sugar and water to the food processor and pulse everything together. I wanted the sorbet to be a bit sweeter and offset the sweetness of the berries with some mint. I also added a tablespoon of corn syrup to keep the texture smooth. I was worried the sorbet would turn out too icy, but the corn syrup did help keep the ice crystals to a minimum. You can add more corn syrup if you like, but read through other recipes to see what they call for.
The whole recipe is incredibly simple with just one step that takes a bit more work: pushing the blended berries through a mesh sieve. It took me a good 20 minutes to completely press out all the liquid, but all that hard work was worth it.
I'm already planning on making a peach and basil sorbet for the Fourth of July weekend! It's so good!
Berry, Mint Sorbet
Shopping List:
Blue Berries
Strawberries
Lemons
Mint
(All available at MaMa Jean's Natural Market)
Ingredients:
1 cup blueberries
2 cups strawberries
1 cup cranberries
Zest of 1 lemon
1 tablespoon lemon juice
1/2 cup sugar
1 cup water
1 handful mint
1 tablespoon light corn syrup
Directions:
1. Use a food processor to puree the berries, lemon zest and lemon juice.
2. Bring the sugar and water to a boil, and add the mint. Let the syrup reduce till thick.
3. Remove the mint leaves, and add the syrup to the berry mixture along with the corn syrup. Pulse a few times to incorporate.
4. Use a rubber spatula to press the berry mixture through a mesh sieve to remove the berry pulp.
5. Freeze the strained liquid for at least 2 hours or until solid.