Things to Do
Bike Shop Opens on Frisco Highline Trail
Offering rentals, sales, repairs, accessories, snacks and cold drinks, Frisco Bicycle Rental and Sales has all the gear necessary for a two-wheeled trek.
By Shannon Hoffmann
Apr 12 2018 at 10:33 a.m.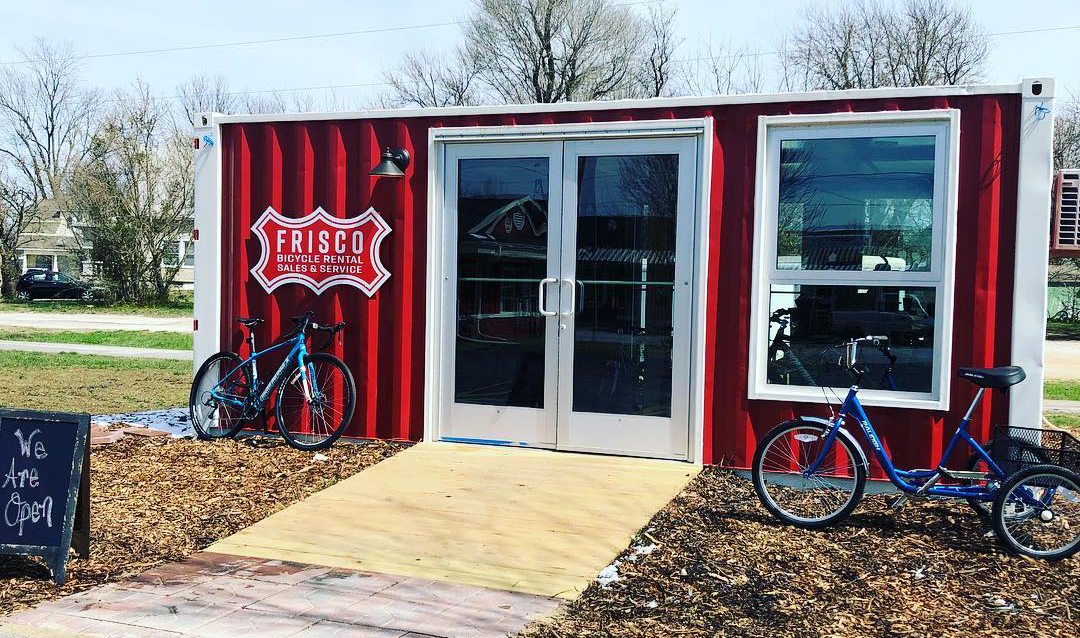 Cari Harrison and her husband, Matt, took up running about 5 years ago. They started putting in miles on the Frisco Highline Trail, close to their home in Willard. Over time, the Harrisons went from running 5k's to half marathons and eventually full marathons. Then, Matt sustained an injury and decided to dabble in biking during his break from running.
"He quickly fell in love with it," Cari says. "Then I jumped on the bandwagon, too."

Over time, the Harrisons came to realize there was a void in their hometown concerning access to biking supplies. To fix this, they started their research and got to work.

According to Ozark Greenways, the owners of the trail, the Frisco Highline Trail is 35 miles long and runs through the Ozarks, connecting Springfield and Bolivar, making it the second longest rail-trail in Missouri. People can walk the trail with leashed pups at their side, bike over the scenic bridges or run to mile 23 for a view of the Little Sac River. Fun fact: It would take bicyclists approximately three hours to bike the full length of the 35-mile Frisco Highline Trail.
"When we began to research the concept of a bike shop in our area we realized the opportunity we had to provide our community with more than just a bike shop, but also a bicycle rental shop," Cari says.

Instead of going the traditional bike shop route, the Harrisons took a more eco-friendly approach. 
"We loved the thought of using repurposed materials to build our shop," Cari says. "So when we began to brainstorm a way to tie in the history of the railroad to our bike shop,  the thought of using shipping containers came to light and we ran with it."
Matt has a background in construction, so he drew up the plans for their storage container concept and Frisco Bicycle Rental and Sales was born.
"Our hope is that all families in our community might have the possibility to enjoy the beautiful trail that runs through the heart of our city."
— Cari Harrison
Customers can rent comfort cruisers, performance gravel bikes, mountain bikes, hybrids, a tandem bike, kids bikes and pull-behind trailers for children and pets. To guarantee your rental, make a reservation ahead of time here. The shop also offers cold drinks, coffee, snacks, fuel for endurance athletes and fresh fruit.
In the coming months, Frisco Bicycle Rental and Sales will feature a rooftop deck. 
"We are super excited to begin the construction on the rooftop deck," Cari says. "We hope for our shop to not just serve the biking community, but to also be a gathering place."
The rooftop patio is projected to open sometime between May and June of 2018. 
"My husband and I were both born and raised in Willard," Cari says. "We are proud members of our community and can't wait to give back."
Frisco Bicycle Rental and Sales is now open, but has a grand opening event on May 5 with live music, giveaways, snacks, a group ride and activities for kids. 
The shop is currently open weekends and by appointment only on weekdays. Once the weather warms up and summer arrives, hours will be reevaluated. 
Check out their Facebook page for more updates. 
Frisco Bicycle Rental and Sales
Hours of Operation 
Weekdays by appointment only 
Saturday–Sunday 7 a.m.–7 p.m.