Life
Why You Should Visit George W. Bush's Portraits of Courage at Wonders of Wildlife
Former President George W. Bush's collection of oil paintings that depicts the lives of war veterans opens April 14 and runs through July.
By Shannon Hoffmann
Apr 13 2018 at 3:03 p.m.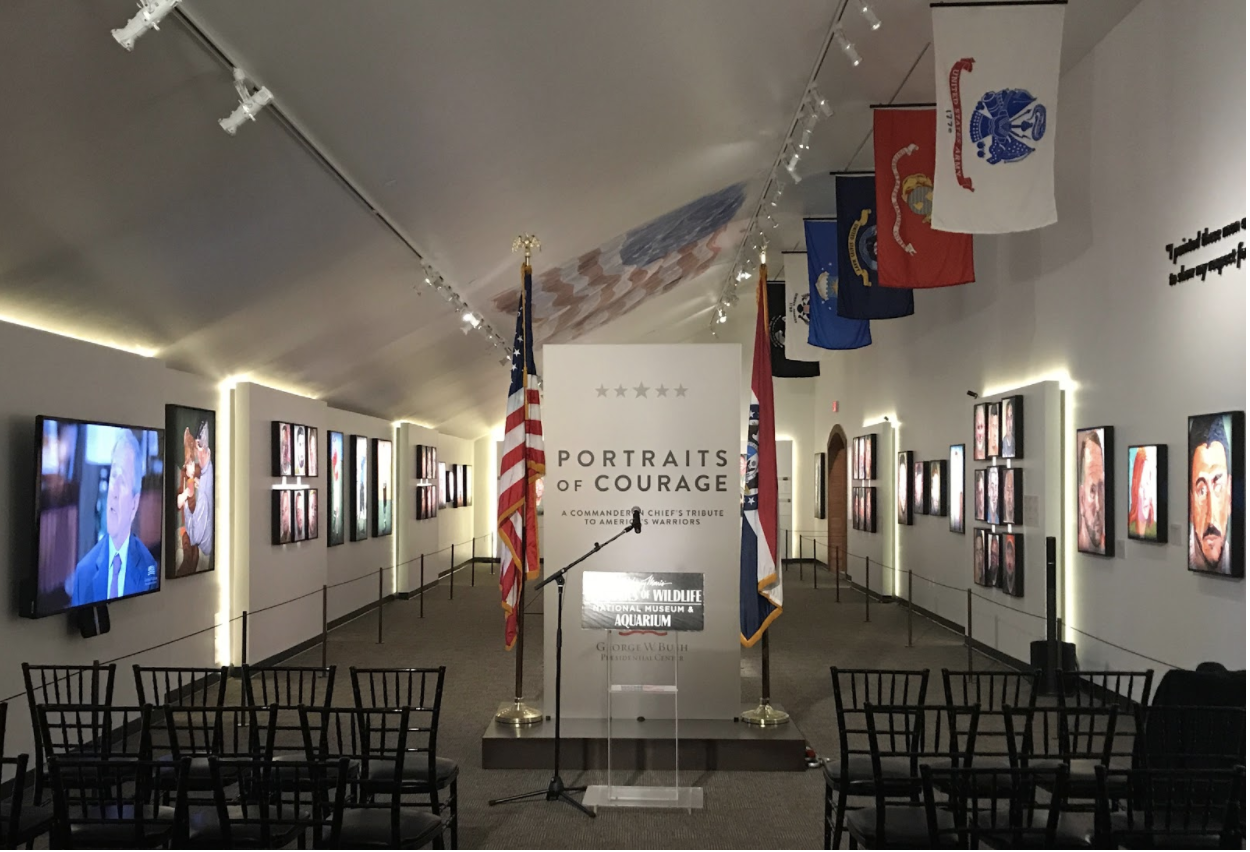 Tomorrow marks the opening of Portraits of Courage: A Commander in Chief's Tribute to American Warriors oil painting exhibit by former President George W. Bush at Johnny Morris' Wonders of Wildlife National Museum and Aquarium. The collection is made up of 66 full-color portraits and a four-panel mural of 98 men and women who have served our nation since 9/11. Bush has come to know each of the represented members on a personal basis, including Staff Sgt. Army combat veteran and Purple Heart recipient Spencer Milo. 
"This is a symbol of the strength of our nation," Milo said, during a press event at Wonders of Wildlife on Friday. "The men and women in these photos exemplify that." The exhibit opens to the public on Saturday and runs through July 5. We got a sneak peek, and these three reasons are why you shouldn't miss it.
1. The warriors stories will make you reflect on the sacrifices they made.
Bush has created a profound exhibit that sheds light on veteran warriors and the sacrifices they've made. Each display tells the story of the warrior illustrated, in descriptions written by the painter. It allows people to understand and learn about those who have shown their bravery on the battlefield and how they've continued their lives through recovery and contributions to others and society as civilians.
During the press event, Milo told his story about how and why he joined the army, injuries he sustained and how he got to where he is now. Believe us when we say there wasn't a dry eye in the room at times. To hear his speech and how humbled and proud he is to be a part of the exhibit was moving and inspirational. Knowing how well Milo is represented in this exhibit shows how Bush truly cares about each and every warrior he has painted. 
2. The details of the gallery are exquisite. 
The attention to detail in the exhibit is remarkable. Every branch of military is honored, each represented by its flag hanging from the ceiling. Every member painted is portrayed with their name and story, and there is even a section dedicated to the people who taught Bush how to paint. Additionally, this exhibit features information and resources to guide visitors on better ways to help and support post-9/11 veterans.  
3. Springfield is one of the few places to host the paintings.
Wonders of Wildlife is one of just four places nationwide—and the first outside of Texas—to host these paintings, and you can experience it all during your visit. Admission to the exhibit is included with the aquarium's regular entry fee, and you can visit seven days a week from 10 a.m.–8 p.m.
Learn more about Portraits of Courage here and discover Spencer Milo's story below.