Table Talk
Table Talk: December 7–13
This week: Andy's Custard new Winter Flavors, Holiday Cocktails at Jimm's, a new menu at The Ozark Mill and more.
By Jorge Cespedes
Dec 07 2021 at 8 a.m.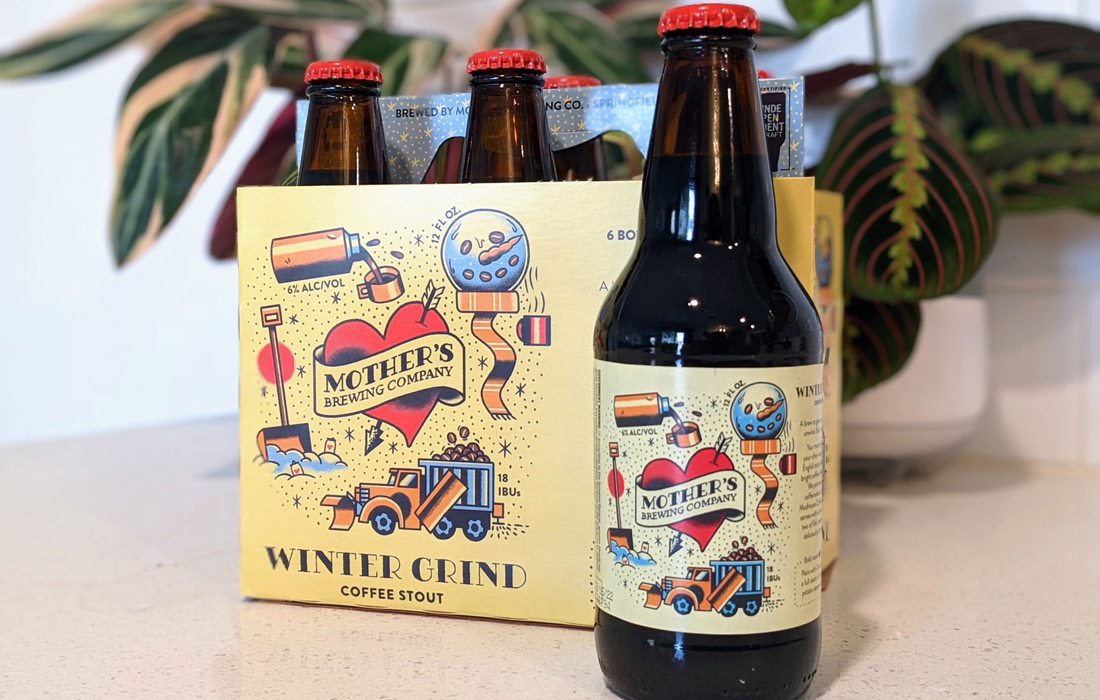 Mother's Winter Grind Latte Series

I'm already a big fan of anything Mother's Brewing Company puts out, from the light and refreshing summer shandy to the new-ish hard seltzers and the year-round Lil' Helper, a lovely IPA. One beer I've always waited for with excitement is the Winter Grind, a delicious coffee stout that boasts big flavor with acceptable abv, which is exactly the kind of beer I like to drink. Well, here's the cool thing happening this year: They did a Latte Series on this Winter Grind. I had the pleasure of tasting the four flavors and wow, they're so good! The four flavors are Vanilla, Salted Caramel, Pumpkin Spice and Irish Cream. Here's the problem though: I just can't choose a favorite. They all have unique flavors with layers of intensity, and I highly suggest you go give them a try!
Jimm's Steakhouse Holiday Cocktails

A Christmas jazz album is playing in the background, you walk into this Springfield staple steakhouse and already your mouth is watering with the smells in the room. Your mind is racing with thoughts of what to order from the menu. What will it be tonight? A slow-roasted prime rib, or a nice surf and turf? Well, whatever you end up ordering at Jimm's Steakhouse will be delicious, but before we get too far into the meal, let's check out the new Holiday Cheers cocktail menu with unique options such as the Fireside, a Frangelico and brandy cocktail that will warm up any soul looking for the right inspiration for that adventure down the menu columns. What about a Figgy Yule Mule? It's made with black fig vodka and ginger beer, and I can only imagine what a tremendous flavor combination that could be. This new menu has eight really fun cocktails, so go check those out!
Ozark Mill's Latest Menu

We can all agree how impressive this entire venue is and what a great job they have done with all of their food service facilities.There's the Workshop and the Ozark Mill and both have well-curated, thoughtful and ingenious food items on their menus. Here are a few of their newest ones: The Market menu has a sweet potato chowder with crispy bacon, smoked paprika and sunflower seeds, and it just sounds ideal for any cold day. They also have a smoked turkey orecchiette (my favorite pasta shape) with a roasted garlic cream that is just calling my name. For The Mill Restaurant's regular menu, there's a braised pork shank with cornbread gnocchi and fresh herbs, and then a play on a steak frites with a 12-ounce strip steak, fries and an arugula salad.
Andy's Frozen Custard Does Winter Flavors

Isn't it funny how it could be freezing outside and you still crave a really tasty frozen custard filled with flavor? Andy's Frozen Custard has a couple of new winter flavors that sound awesome and I am definitely getting in my car and going straight to the nearest store. We're talking about the Santa Brownie Jackhammer made with store-baked brownies and crushed candy cane on vanilla custard and the Andy's Nog Shake made with vanilla custard and fresh egg nog. These are on point for the season and there is no way you wouldn't get excited to give these a try this holiday season.