Table Talk
Table Talk: April 18–24
This week: Pizza for a good cause, Huey Magoo's opens in Springfield, planning ahead for spring eats and more.
by Katie Pollock Estes
Apr 18 2023 at 8 a.m.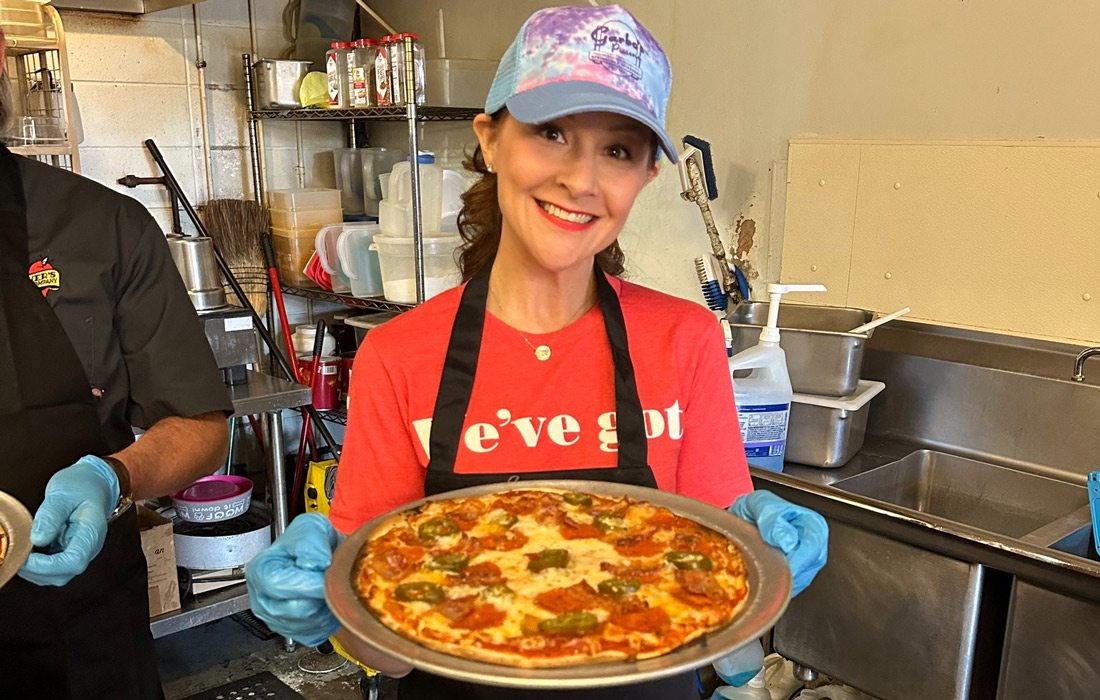 Pizza for a Cause
Remember a few weeks ago when we told you all about Publisher Logan Aguirre's pizza creation that she whipped up at Garbo's Pizzeria? (In case you don't recall, it was called the Fiery 417 and featured pepperoni, breakfast bacon, jalapeños, red onion, Garbo's cheese blend and traditional sauce.) From tomorrow through May 3, you can order that delicious pie at Garbo's, and 100% of the sales goes directly to Dynamic Strides Therapy, a local non-profit that provides pediatric therapy. Every Fiery 417 pizza you order counts as one vote for Logan's pie because she's in competition with Jeff Schrag of Mother's Brewing Company and Jeff Houghton of The Mystery Hour to see who can sell the most pizzas for Dynamic Strides. Schrag's pizza is called the Mother Lover, and Houghton's is called Mystery Meats. Word on the street is that all three taste delicious—but that Fiery 417 has a killer kick. This friendly competition leads up to the fifth annual Pizza & Pints event on May 7, when the winner will be announced at a fun event featuring pizza, apps, salad and beer to benefit Dynamic Strides. Get your tickets in advance if you plan to attend.
Huey Magoo's is Open!
Springfield's newest chicken joint just opened at the corner of East Sunshine Street and Ingram Mill Road, just west of Highway 65. This Huey Magoo's location, the first of four in the region from owner James Tillman, serves fried or grilled chicken tenders in a bunch of tasty formats. You can get them as-is and perfect for dipping, on a sandwich, in a wrap or on a salad. We love the grilled chicken option, for those days when the kids only have eyes for chicken fingers, but the parents want something a bit more healthful. Have you given it a try yet?
Secret Menu Hot Tip
Yesterday on our favorite day of the year (417 Day, of course) Andy's Frozen Custard posted about a hidden menu item that we can't help but adore. The 417 Sundae features vanilla custard topped with strawberries and crumbled Oreo cookies. If you haven't tried this combo, race over to Andy's to give it a try. It's seriously so delish: creamy, crunchy and full of bright fruity flavor.
Plan Ahead
There are several food-centric events on the horizon, and you need to nab your tickets now to ensure you get a seat at the table. Find them and more events online at 417's new community calendar.
• On April 26, you can take a Cultural Cocktails class at The Workshop at Finley Farms, led by Aaron Rozeboom of Bonded Beverage. Guests learn to make caipirinha cocktails from Brazil, the Pimm's Cup from England and the Singapore Sling from Singapore. In addition to recipes, Rozeboom shares the history of each drink.
• On April 29, head to the Bass Pro Shops Shooting Academy at Big Cedar Lodge for their Tacos & Tequilas Fiesta event. Guests get to sample Cazadores tequilas and learn all about how it's produced. Then the party starts with a mariachi band, margaritas and Mexican food. 
• Tickets are going fast for the Urban Roots Farm Spring Dinner, featuring Chef Daniel Ernce from Progress. The event is a five-course meal served family-style outdoors on the farm. There's live music, wine and beer too. The super-springy menu looks delish and features dishes like pea shoot salad, Newman Farm pork belly with honey-beer glaze, strawberry trifle for dessert and more.