Table Talk
Table Talk: July 26–August 1
Wine slushies, a new spot for wings, butterbeer frappes, new food trucks, new seafood and much more in this week's Table Talk.
by Katie Pollock Estes
Jul 26 2022 at 8 a.m.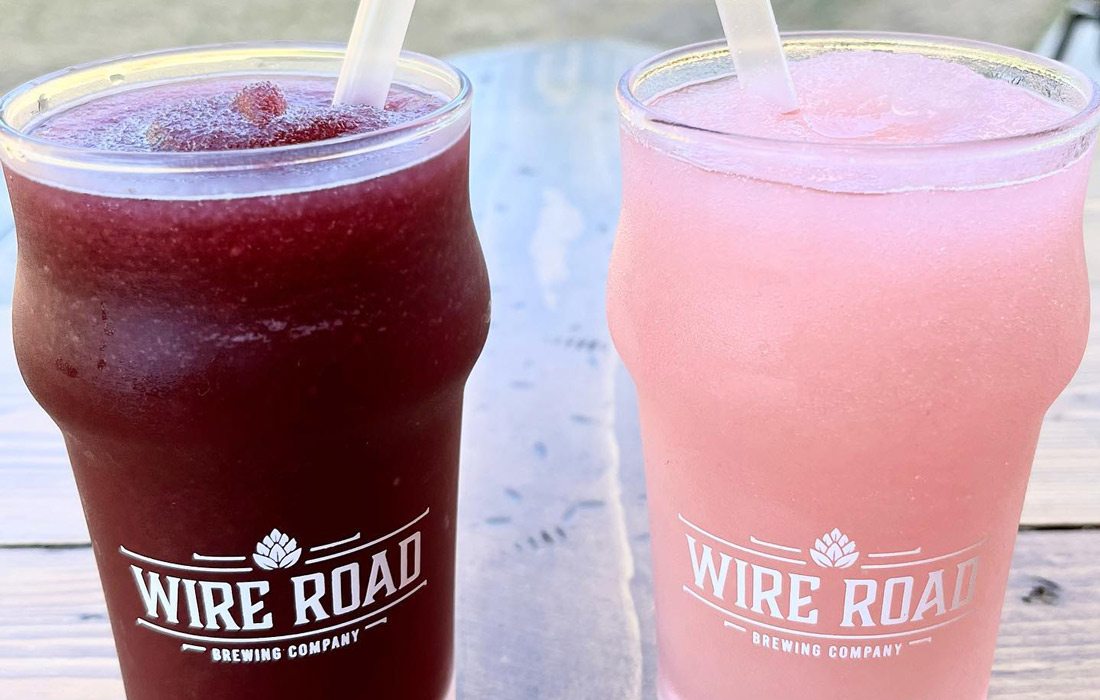 Bada Wing Bada Boom
Chicken wing lovers, there's an event tomorrow that you need to know about. The team behind one of our area's tastiest taco joints, Not'cho Ordinary Taco Truck, has a pop-up concept as well—and they aren't using it to sling more tacos. It's called Bada Bing Wing Co., and it serves a menu of cleverly flavored chicken wings that changes a little at each event. At past pop-ups they've served some other funky fair too, like loaded French fries and pork rinds. The menu for tomorrow's pop-up was still in the works when we spoke to them last week, but they said they'd most likely serve their signature buffalo flavor, plus Kansas City barbecue, Carolina gold and peach-bourbon habanero. Each flavor comes with it's own specialty dipping sauce too, so you have more dunking options than the typical ranch and bleu cheese dressings. Visit Wire Road Brewing Co. tomorrow from 5–10 p.m. to give Bada Bing Wing Co. a try.
Sweet Dreams are Made of Cheese
Any Springfieldian who loves nothing more than a big bowl of creatively concocted macaroni and cheese will be thrilled to learn that Joplin-based MacCheesy's will soon be opening a shop in the Queen City. They serve stretchy, gooey, gloppy pans of piping hot mac in flavors like Buffalo chicken, Frito chili, Cajun shrimp, traditional and more. You can also get 10 types of grilled cheese, soups, salads and those super-fancy milkshakes topped with everything that are practically a work of art. Cheese Louise, that sounds delish. We can't wait until they open up shop here in Springfield!
Crabs are the New Black
Have you all noticed how many crab leg joints there are in 417-land these days? We've seen a steady increase over the past couple of years, and a new one is about to open this week. Krab Kingz opens Friday July 29 at 3014 S. National Ave. and will be open Wednesday through Sunday 11 a.m. to 9 p.m. after that. The seafood chain offers Southern-style crab platters featuring snow crab legs, sausage, corn and potatoes, or you can get a mountain of shrimp and a few other options like po' boy sandwiches. Krab Kingz joins other regional crab spots that have opened in the past few years, like Storming Crab Seafood, Big Al's Crab Shack in Ozark, Cajun KrawStation (which is currently working on opening their permanent brick & mortar), and Krakin' Cajun.
Christmas in July
Now through July 31, European Cafe is celebrating the winter holidays by bringing back the warmly spiced and always comforting holiday favorites. The timing is perfect, considering we're supposed to get rain this week and temps might drop to the practically frigid 80-degree mark. So what's on the menu? Stop in for gingerbread, pumpkin tarts, sugar cookies and toasted marshmallows. Then wash them down with pumpkin lattes, peppermint mochas, candy cane lattes, and our favorite: cardamom shortbread lattes. Just thinking about it has us feel jolly indeed
ICYMI: Itty Bitty News Bites
• New food truck alert! Keleke Hawaiian BBQ & Catering just opened a brand new food truck in Branson. They serve tasty bites like homemade Hawaiian banana bread, shredded smoked kalua pork (smoked inside banana leaves), ahi tuna poke and more. Pay them a visit at 2166 State Highway 246 in Branson, and gobble up that Hawaiian goodness from under a grass-roofed sunshade to beat the summer heat.
• Cherry Picker Package x Fare reopened last week with a revamped (and much brighter!) interior, as well as an expanded patio space outside. There are a few new menu items available now, but you can still get some of those Cherry Picker classics, like the Spice Oddity latte, To Brie or Not to Brie sandwich and tomato-orange soup. Have you been back to check it out? 
• We don't know much yet, but a new eatery called Goofy Goose Lakeside Bar & Grill is set to open soon at Baxter Marina in Lampe. Baxter Marina already has their Ride the Wave Bar & Grill that lets you dine right beside the water, so we can't wait to see what Goofy Goose is like. We'll keep you posted on an opening date.
• A couple of weeks ago, we told you about the boat bottles (flavorful little cocktail mixers in boat-ready plastic bottles) from 417 Cocktails. Well, they aren't the only ones in Springfield selling mixed drinks great for on the go. Ty Iechyd Da Distillery is serving canned cocktails like their Classic Daiquiri To Go made with Iechyd Da Rum, simple syrup and fresh lime juice. It's available at Springfield Brewing Co. so pick some up before your next weekend on the lake.
• We're super-excited about this one: Wire Road Brewing Co. is now serving wine slushies! These are the perfect summer treat, and we used to be able to get them at one of our favorite (but now defunct) Lone Pine St. eateries. So when we saw that Wire Road was serving them now, we were jazzed. You can get them in a Hellbender red sangria flavor or Rosé Blushie flavor.
• Express Foods has long been the wholesale fresh seafood hookup for anybody in the know in 417-land, taking orders for everything from fresh crab, shrimp and ahi tuna to whole alligator, along with some non-seafood options like steak and poultry. Now, Express Foods is opening a storefront in Springfield, making it even easier to get the good stuff right when you need it. Seafood & Cajun Meat Market has their sign up at their West Chestnut Expressway location in northwest Springfield, but no opening date yet. However, they have said that they'll have a steamer on hand to steam seafood for customers, and they'll be serving a variety of house-smoked boudins and other fresh Cajun sausages. We'll keep you posted!