Table Talk
Table Talk: May 19–26
This week: Memorial Day grill packs, grown-up drinks at First Watch, a pretty patio at The Finley and more.
by Katie Pollock Estes
May 19 2020 at 8 a.m.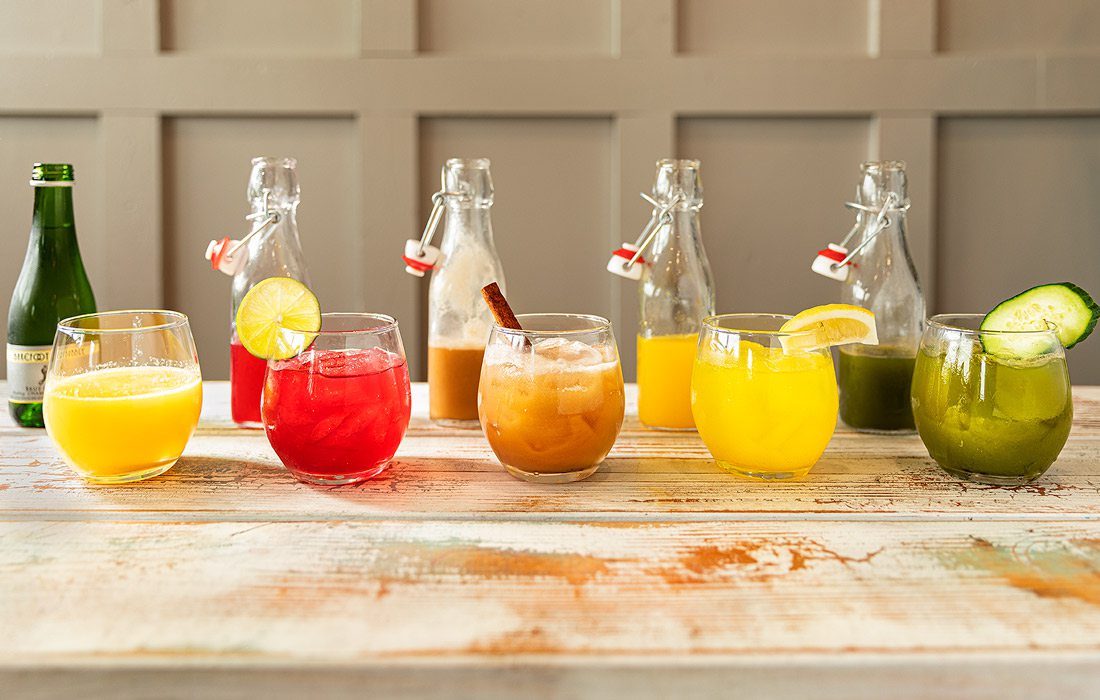 Meaty Grill Packs for Memorial Day
Are you ready to get your grill on this weekend to celebrate Memorial Day? Even though you're likely spending the day at home with the fam instead of at a big party, you can fire up the barbecue pit and make something awesome. This year, some local restaurants are selling grill packs—bundles of meat that you can grill at home. Just a couple of examples:
• At Aviary Cafe, the grill packs' price tag looks hefty ($299) but it includes both the meat and a Kudu grill that normally retails at $499. The meat includes bistro steaks, shrimp, beef patties, pork chops and chicken breasts. If you're not in the market for an actual grill, you can purchase the meat separately to cook on the equipment you already have.
• Ocean Zen has been offering cook-at-home proteins as well, and you can even let them know when you order if you prefer a different size cut than what is offered. They'll customize it for you! Proteins include mahi mahi, lobster tail, seabass, ribeye, filet, scallops and bacon.
• If you want the barbecue but don't want to do the work, you can always order takeout from one of our local barbecue joints. At RibCrib, they are offering some Memorial Day family packs that feed up to 10 people and include smoked chicken, ribs, three sides, salad, some fixings and dessert.

Brunchy Cocktails at First Watch
The bar menu at First Watch has arrived, and it has us itching for a little weekend brunch with some hair of the dog. Alongside classics like mimosas and bloody marys (although… their bloody mary is a little extra; it comes with a skewer of Million Dollar Bacon), you can find a few signature cocktails as well. The Morning Glory features orange, lemon, turmeric, ginger, agave nectar and vodka. Another vodka infused pick-me-up is the Vodka Kale Tonic, with bright green flavors of kale, apple, cucumber and some lemon to boot. The Pomegranate Sunrise is a tequila and pomegranate juice concoction, and the Cinnamon Toast Cereal Milk which is sweet combo of coconut rum, cold brew coffee, coconut milk and agave nectar with a cinnamon stick.
Dine Again at Top of the Rock
If COVID-19 restrictions had you missing dinner and a beautiful lake view at Top of the Rock, then this is your week. Starting yesterday, the attraction brought back its cannon fire and bagpipes sunset ceremony—and you can now make reservations to dine outdoors at Buffalo Bar to get a front-row seat to the see it happen.
The Hepcat is Back for Carryout
After a temporary closure for COVID-19, The Hepcat is easing its way back into operations. Their first step was reopening for carryout, which is now available Thursdays through Saturdays from 4 to 9 p.m. The takeout menu includes dishes like Cajun boudin balls, shrimp and cheddar grits, 10-piece family-style smoked fried chicken meals and more.
It's Springtime at Progress
Progress has rolled out its new spring menu, and as always, it looks incredible. There's always a new carrot dish, and this menu's version takes an Asian spin with a house-made Japanese togarashi seasoning. Yum! Alongside the longtime-favorite Milk & Honey dessert is a the new Cake & Ice Cream, which features an olive oil cake, olive oil ice cream, hazelnut crumble and some sweet-tart lemon. Fried chicken is always a stunner at Progress, and the spring menu's version is sprinkled with pickle powder with Calabrian chili hot sauce on the side. We could go on and on, but we're stopping now because it's making us very hungry.
Dine in The Sweetest Courtyard
When The Finley reopened last week for inside seating, they also opened up a brand new outdoor seating option: A pretty outside courtyard with patio seating, a sweet little gazebo and string lights that we can't wait see glowing on warm summer nights—or on sunny weekend mornings for a little brunch. (We'll take the fried green tomato BLT, please!)
Double Down on the Icing
St. George's Donuts is offering donut decorating kits that include the spots famously delicious donuts, ooey gooey icing and some sweet sprinkles so you can decorate your treats at home. What a fun activity for kids! Or for grown-ups who live for icing and want to douse their donuts in a little extra sweetness.