Life
Tim O'Reilly Breaks Ground for BigShots Golf in Springfield, MO
BigShots Golf brings a state-of-the-art golfing venue to the north side of Springfield, MO.
by Jamie Thomas
Nov 22 2019 at 1 p.m.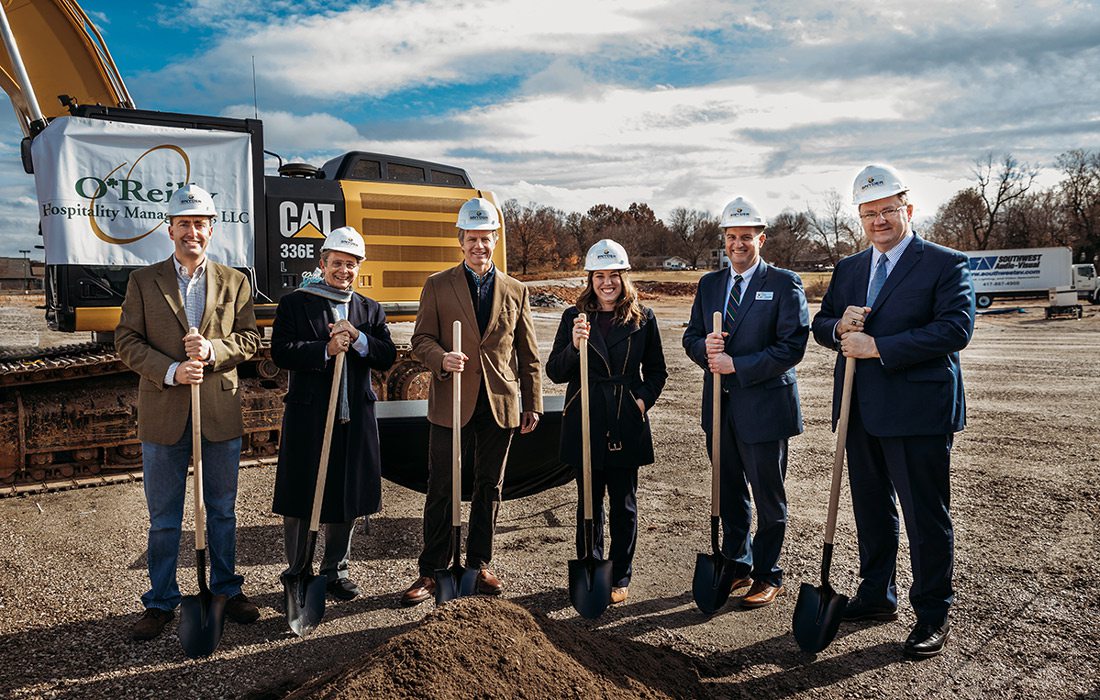 The cold chill in the air did nothing to dampen the excitement as Tim O'Reilly, CEO of O'Reilly Hospitality Management, spoke to the crowd at the groundbreaking ceremony of a major development project on the north side of Springfield, MO. BigShots Golf, which develops family-friendly driving ranges with advanced technology in partnership with ClubCorp, will be opening a venue on the intersection of Kearney St. and Glenstone Ave. where a vacant K-Mart once stood.
"What a great day," says O'Reilly, taking to the podium as one of a number of speakers on November 22. "We have really been looking forward to this day. BigShots is different, it has a high-tech approach, it's golf for the golfer and non-golfer, it's an introductory experience where people can come in and warm-up to golf and have fun." The partnership with BigShots also brings ClubCorp, the largest owner and operator of private clubs nationwide, to 417-land. BigShots and ClubCorp entered a joint venture in 2018, and O'Reilly describes its involvement as "an outstanding thing."
After many thank-yous to attendees who helped make the project a reality, O'Reilly moved on to talk about the location chosen for BigShots. "We could have put this anywhere in Springfield," says O'Reilly. "We wanted it here on the north side. We believe the best days are yet to come for the north side. This can really help knock it out of the park." The new facility will also be working hand-in-hand with the Boys & Girls Clubs of Springfield to continue to help vulnerable and in-need children. "It's going to be exciting," says O'Reilly. "It's going to draw people from all over Missouri to this point in north Springfield."
Other speakers at the ground-breaking ceremony included:
• Darren Harralson, senior director of operations at O'Reilly Hospitality Management
• Dr. Matt Hudson, vice president of the North Springfield Betterment Association
• House representative for Missouri Crystal Quade
• Bob Dixon, commissioner of Greene County
Following the groundbreaking, O'Reilly told 417 Magazine about the difficulty of excavating an old property to make room for new development. "We've had a lot of surprises as we uncover the layers of the onion in terms of sewer lines and other things we've had to have officially deactivated," says O'Reilly. "Nothing really serious, but things that take a little longer than you'd like."
When it comes to the neighborhoods surrounding the area, however, O'Reilly has been met with almost universal positivity. "We had a lot of the neighbors show up to some of the hearings and they unanimously came up, shook my hand and said 'it's going to be great.' We promised them that our lights were going to be situated so they wouldn't have an interruption to their quiet enjoyment."
BigShots is slated to open in September 2020 and will offer state-of-the-art golf facilities for pros and novices alike. The project is part of a major push to develop and rejuvenate the north side of town, and 417 Magazine looks forward to bringing you some hands-on coverage when it opens for business.