Features
Learning to Cook with Cook Camp
Cook Camp, owned by a team of 417-land brothers, teaches culinary skills and hosts pop-up dinners around the state of Missouri.
By Kate Duby
Sep 2021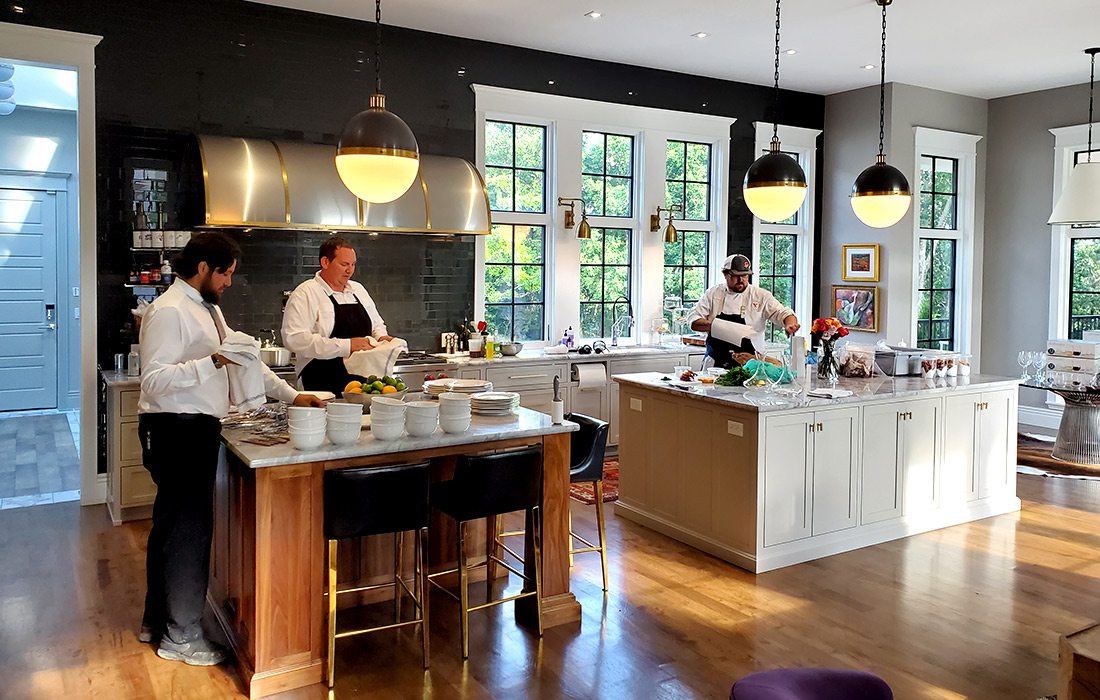 When last year's stay-at-home mandates brought the three grandsons of KC Masterpiece founder Dr. Rich Davis back home to southwest Missouri, it seemed obvious that they would spend a lot of time cooking. Calvin Davis, a James Beard award nominee and the middle Davis brother, was the obvious chef, followed by Alex, who studied culinary arts Ozarks Technical Community College. While quarantined together at a bed-and-breakfast in their hometown of Stockton, Calvin, Alex and Joe all found themselves cooking together.
All of that time spent together led the brothers to develop and launch Cook Camp, a growing operation of culinary workshops and private pop-up dinners offered in and around Springfield, Columbia, St. Louis and St. Petersburg, Florida, last February. While Joe, 23, gets credit for a lot of the cold calling and initial networking that went into starting their business, he jokes that Calvin and Alex—affectionately nicknamed Al and Cal—are "really the stars of the show."
Calvin, 30, serves as executive chef at Cook Camp, while Alex, 34, serves as general manager and chef. Joe, formerly the general manager, accepted a job in investment banking in New York and has since stepped away from the business.
With varying sources of inspiration and levels of culinary training, each Davis brother has brought their own flair and expertise to Cook Camp, though they share a connection to and love for the gastronomic culture of 417-land.
Alex enjoys integrating his favorite French-style technique into the foods he cooks, Joe calls himself a "recovering Thai-food addict," and Calvin likes feeling connected to the food he cooks. "I want to bake my own bread," says Calvin. "(I want to) make my own pasta, catch my own fish, find my own mushrooms."
They've already taught classes on Moroccan chicken, fresh pasta and Thai cuisine at Best of Luck Beer Hall (313-B S. Jefferson Ave., Springfield, 417-522-9009) in Springfield, and they plan to continue introducing new courses.