Food
Why Radishes Are a Great Starter Vegetable
Plants with longer grow times like carrots are worth the wait, but there's one veggie to plant now that will provide nearly instant gratification: radishes.
by Rae Swan Snobl
Mar 2021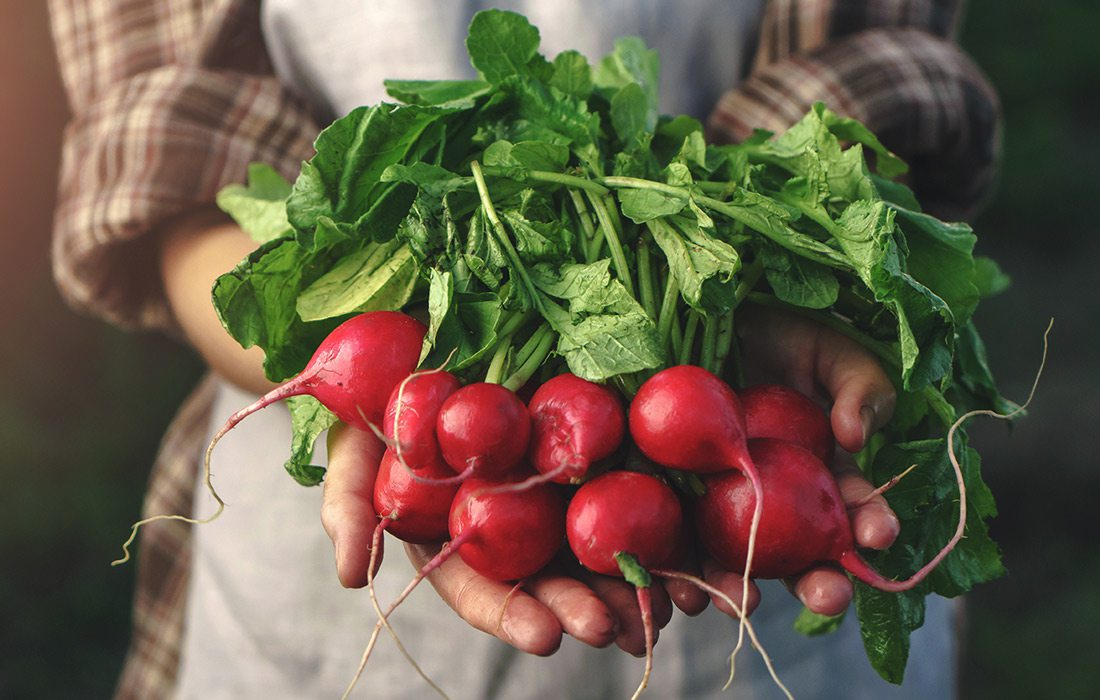 One of the best beginner veggies for Ozarks gardeners to plant are radishes because they are easy to grow, and some are ready to harvest in as soon as 25 days. Plus, the seeds are large, making them easy to keep track of while planting. "This makes them perfect for beginner gardeners and kids," says Ellen Neville-Verdugo, creator of Midsommar Gardens. "As long as you remember to water and thin the sprouts after they've germinated, you can have a crunchy garden snack in less than a month." They're a cool-weather crop and will grow best in the spring and fall.
With their bright colors and crunchy texture, radishes are versatile and a pretty addition to a plate. Neville-Verdugo recommends trying an heirloom radish seed for a fun variation. "There are many varieties, all with their own flavor, look, size and personality," she says. "They can all be eaten raw, and some are especially good pickled with red onions and apple cider vinegar, then sprinkled on tacos or nachos or roasted in the oven, which removes much of the sharp, spicy flavor. The leafy green tops can be thrown into a salad, used as a garnish or made into pesto." Radishes are also a good source of antioxidants and vitamin C. They help support a healthy digestive system and are a very low-calorie food, making them practically guilt-free.
1 1/2 cups radish greens
1/2 cup parsley
1 cup walnuts
3 tablespoons lemon juice
2 garlic cloves
1/3 cup extra-virgin olive oil, plus more if desired
1/4 cup grated Parmesan cheese (optional)
Salt and pepper to taste
1. Pulse the nuts and garlic in a food processor until it forms into a paste. Add the radish greens, parsley and lemon juice, and pulse until smooth. Drizzle in olive oil and puree until it reaches a smooth consistency, adding more if desired. Season with salt and pepper to taste
2. Store in a clean jar in the refrigerator and enjoy within a few days, or freeze to enjoy for a long time!