Dishes
Goat Cheese Strawberry Mousse at European Cafe
And six other dishes or drinks that have passed our taste buds this month and made us rave. They are ranked by level of yumminess.
By The Editors
Mar 2019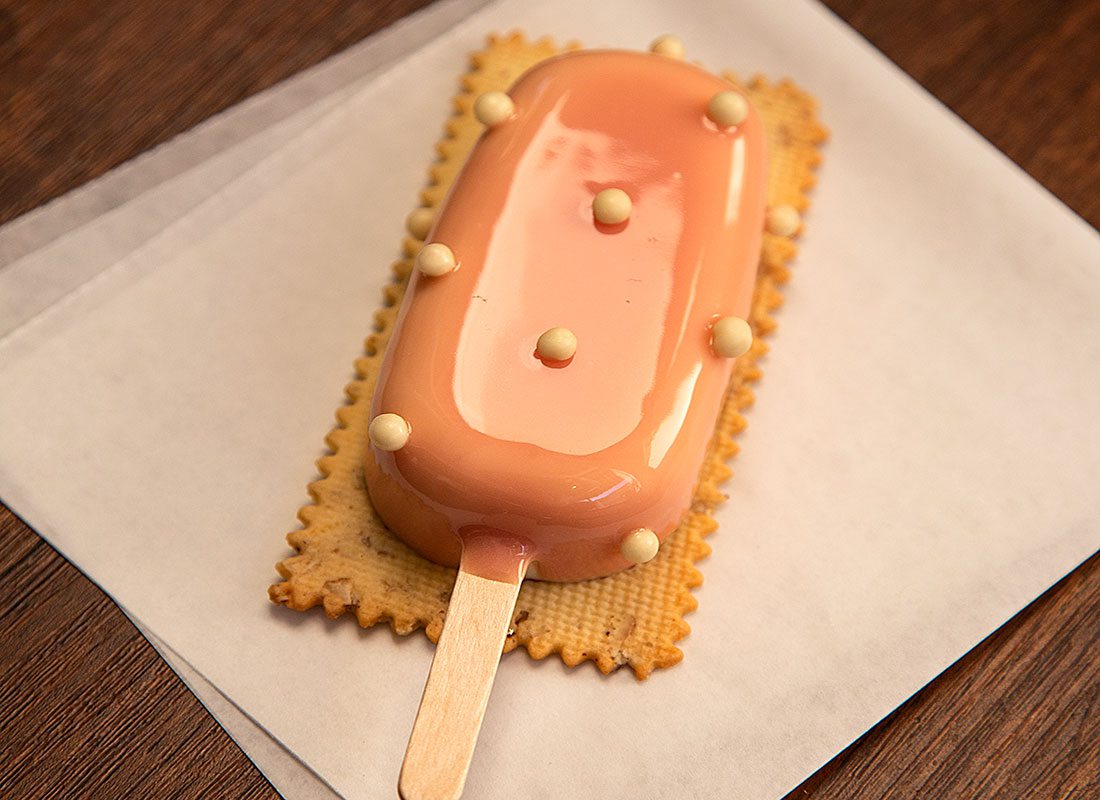 Designed to look like a pink popsicle with white polka dots, the goat cheese strawberry mousse from European Café (2017 Park Central East, Springfield, 417-986-4646) is almost too pretty to eat. Almost. This precious little dessert has the texture of cheesecake and sits on a base of strawberry gelee with a pecan shortbread cookie. The goat cheese adds a nice bit of tang and keeps the whole thing from being too sweet. 
We love a good chicken Ceasar salad, and one of our favorites comes from The Grotto (301 Battlefield Road, Springfield, 417-886-9600). What sets this salad apart from others is the tangy dressing, handful of crunchy croutons and an abundance of Parmesan cheese. 
Farmer's Gastropub (2620 S. Glenstone Ave., Springfield, 417-864-6994) changes its menu frequently, but you'll always find lots of international flavors among the pages. For example, the chicken mushroom korma is a delicious spin on a classic Indian dish. Coconut milk, chilies and cilantro combine to create a mild-but-flavorful curry, which is served over a bed of almond rice pilaf. Garlic naan comes on the side to soak up all that goodness.
Chocolate and raspberry is a tried-and-true flavor combination, and it's particularly tasty in a latte, which is why we love the Fruit Bat latte at Mama Jean's Natural Market (several 417-land locations). 
You've probably tried fried pickle rounds, and you might have even been lucky enough to experience fried pickle spears, but our guess is you have yet to experience fried pickle fries, that is unless you've visited 417 Taphouse (431 S. Jefferson Ave., Springfield, 417-942-0958) in the last few months. What makes these fried pickles stand out is the perfectly balanced batter-to-pickle ratio. We can't get enough of them.
There are plenty of reasons to love the pork nachos from La Paloma Mexican Grill (3014 E. Sunshine St., Springfield, 417-719-4484). First of all, they're huge. (You could split this with a friend and still have leftovers!) Second, they are topped with tons of tender, juicy pork. Third…do you really need a third reason? Pro tip: Add cooked jalapeños for a bit of heat.
Crispy, house-made and hand-coated in a slightly salty batter—what more could you want out of a plate full of crunchy onion rings? Nothing. Snag these scrumptious crunchers at The Roost (2025 W. Sunshine St., Springfield, 417-865-4000).