Dishes
The Parisian (Ron Style) from Derby Deli
Plus six dishes and drinks that have passed our taste buds this month and made us rave. They are ranked by level of yumminess.
By the Editors
Mar 2018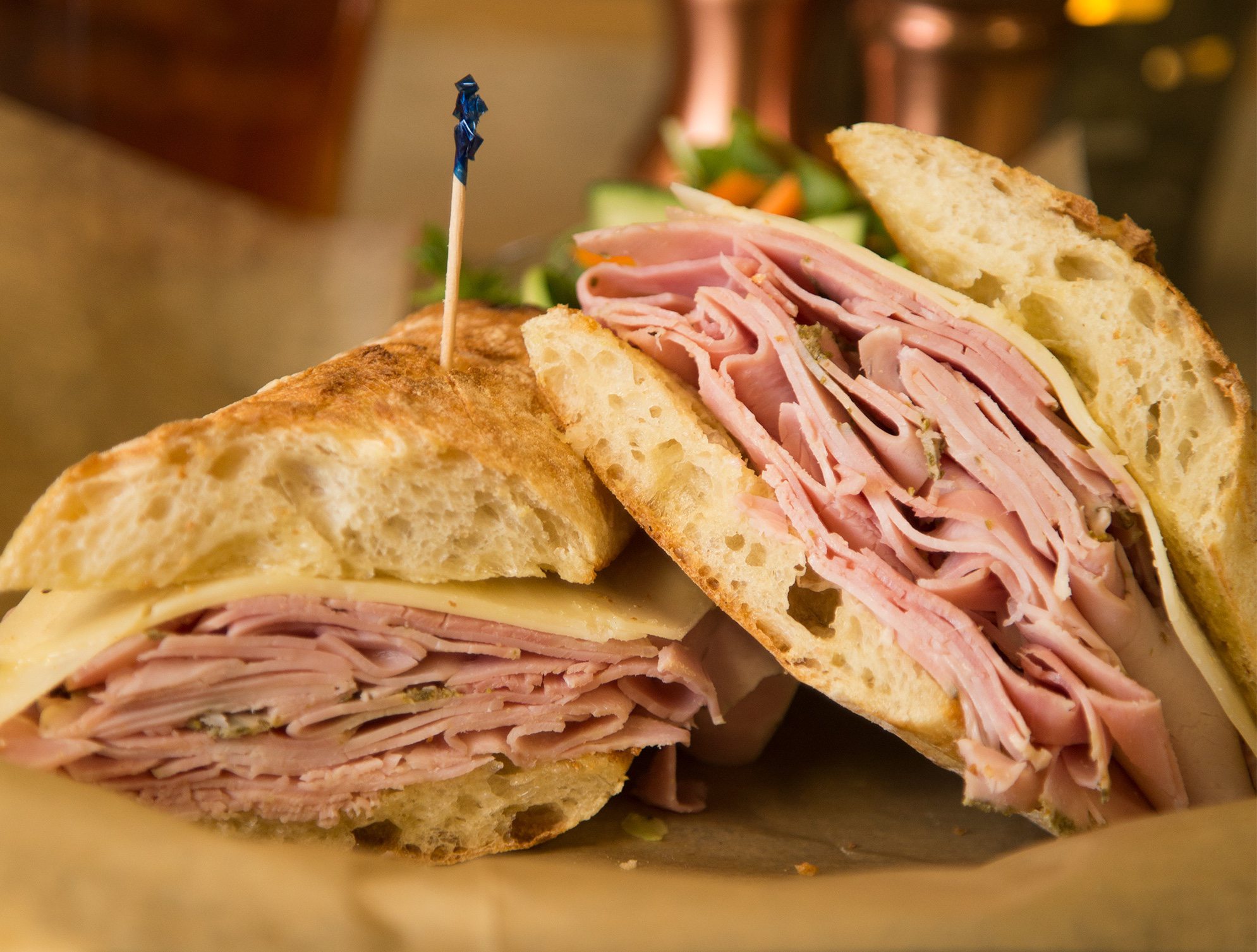 1. We know a restaurant is doing a great job when even a super-simple dish tastes incredible. The Parisian (Ron Style) from Derby Deli (2023 S. Glenstone Ave., Springfield, 417-883-4066, brownderby.com) fits the bill, with decadent rosemary ham, more Presidents butter than you probably should eat in one sitting, nutty Gruyere cheese and a crunchy baguette.
 
2. One of our favorite antipasto plates is the one from The Pitch Pizza & Pub (2924 E. Sunshine St., Springfield, 417-368-0277, thepitchpizza.com). The homemade caramelized onion dip and pesto mix well with various cheeses and other goodies, but the star is the house-made sausage that is always the first thing to be gobbled up.
3. A bright side that always makes it into our order when we visit Tropical Smoothie Café (3645 E. Sunshine St., 3811 S. Campbell Ave.; Springfield, tropicalsmoothiecafe.com) is the kale and apple slaw. It's crunchy, sweet perfection in a tiny bowl.

4. When we're dying for Chinese but don't want breaded and fried chicken, we get the jalapeño-basil chicken from 5 Spice China Grill (2058 S. Glenstone Ave., Springfield, 417-799-0215, eatoceanzen.com). It's spicy, bright and full of veggies to boot.
 
5. The cardamom shortbread latte from European Café (207 Park Central East, Springfield, 417-942-5055, 417europeancafe.com) is a not-too-sweet indulgence that comes with a bite-size shortbread bit on the side. So dreamy.
 
6. The Chop Chop Salad from Farmers Gastropub (2620 S. Glenstone Ave., Springfield, 417-864-6994, farmersgastropub.com) is a treat disguised as a salad. The crispy arugula, kale and cabbage mixture is loaded with locally made bleu cheese, pumpkin seeds, egg and a delightful buttermilk dressing.

7. Our favorite portable frozen treat is the dark chocolate covered mint custard bar from Andy's Frozen Custard (various 417-land locations, eatandys.com). The chocolate hard shell is better than most, and the mint custard is oh-so-indulgent.
 
"7 Good Things" is chosen by the editors of 417 Magazine as a service to readers. We've tried everything on this list, and we like it. To send us your suggestions, email Editor at editor@417mag.com.