Reviews
We Tried Downing Street Pour House's New Springfield Location
Downing Street Pour House and its Springfield expansion deliver creative and elevated takes on pub food.
By Katie Pollock Estes
Nov 2020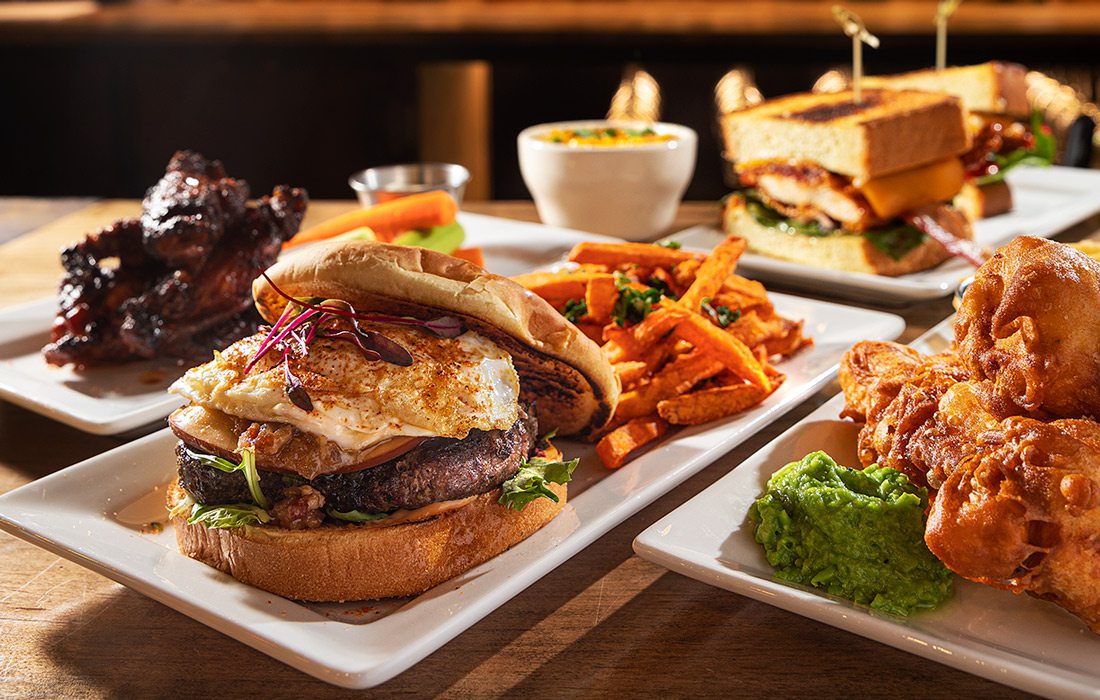 There are normal days, and then there are Burger Days. You know the ones. Your day took a convoluted route from point A to point B, and you hit speed bumps all along the way. Maybe you failed a little at something. Maybe you got disappointing news. There are a lot of reasons why a normal day might become a Burger Day. But the only remedy is to tuck into a beefy, juicy patty and chew away the imperfect day.
I was having a Burger Day the first time I visited Downing Street Pour House's (DSPH) second location in Springfield (1724 E. Battlefield Rd., Springfield, 417-427-7171). The restaurant's other (and first) location is in Hollister (24 Downing St., Hollister, 417-320-6106) where it has gained quite a following. It's owned by the same people who have won loads of barbecue championships through Gettin' Basted, their barbecue food truck and restaurant. When Downing Street Pour House opened its second location in Springfield, it brought all the elevated pub food along with it—and that includes a lineup of stellar burgers.
So it didn't take long for me to home in on those beefy entrees and order the H.A.F.B. Burger. Those initials stand for the key ingredients: It's a medium-rare prime wagyu hamburger patty that comes topped with avocado butter, a soft fried egg and super-crisp bacon—along with sriracha mayonnaise, tender greens, and smoked Gouda. The burger itself was delicious: so flavorful and juicy. But cutting into that egg and adding unctuous runny yolk to every bite was the icing on the cake. And along with the bacon it added some serious breakfast vibes to the meal.


My husband, Eli, ordered the DSPH Nashville Hot Chicken Sandwich, which features a breaded and fried chicken breast dipped in hot sauce and topped with bacon, cheddar and veggies. Actually, he and I split both the hot chicken and the burger because they both boasted spicy ingredients, and we love to torture our taste buds. While they were both quite tasty (especially that burger!), we didn't find either of them to be particularly spicy. The chicken had just a hint of heat, not the blaze I expect from something with "Nashville hot" in its name. I'd recommend them both, but not for their spice.
Our kids split a plate of their very favorite pub food: fish and chips. The kids loved it, and I tried a bite, too. We were all impressed by how crispy the batter was, and how hefty the pieces of fish were. Because the fish was thick-cut, there was a wonderful fish-to-breading ratio that we really enjoyed. Between all of our meals, we got a chance to sample and share several potato-centric sides. The classic fries and sweet potato fries were crispy and delicious, but our favorite side was the order of Brabont potatoes. Small red potatoes are cooked, then smashed, then fried, creating a ton of crispy bits and crunchy edges. We thought they needed a bit of salt but were otherwise delightful.
After the meal, we were all stuffed and happy. A fun family dinner with new takes on bar food had turned my Burger Day into a bonafide Good Day.