Reviews
Dig into Pork Belly Burnt Ends at Hard Knox BBQ
Indulge your inner carnivore with a hefty many-meats platter at Springfield MO's Hard Knox BBQ.
By Katie Pollock Estes
Dec 2019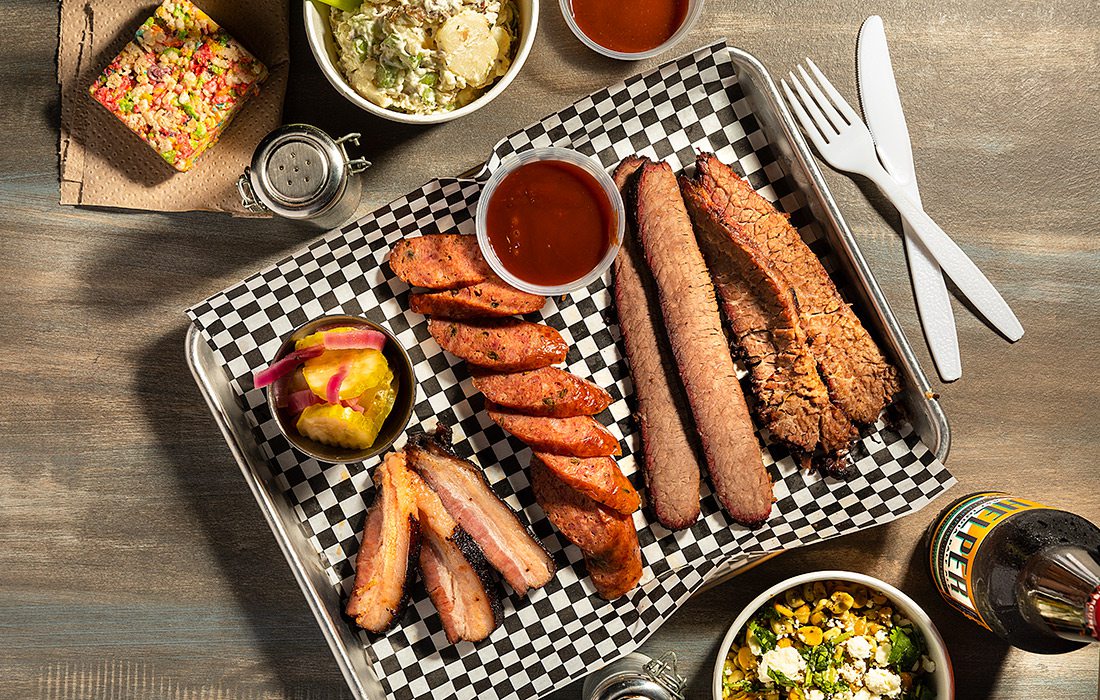 On a hungry no-lunch kind of day when my husband, Eli, and I didn't have any dinner plans (but did have an empty fridge that was begging us to go grocery shopping), we knew we needed something quick, filling and not-cooked-by-us to feed our family for dinner. Enter Hard Knox BBQ, one of the newest spots on southwest Missouri's growing meat-centric barbecue scene. We ordered a three-meat combo (with brisket, pork belly burnt ends and jalapeño sausage) to feed our whole crew and dug in.
I expected to love the brisket best, but my favorite protein turned out to be the pork belly burnt ends. With much mouthwatering affection, I will call these bacon nuggets from here on out. They are the perfect two-bite–sized cubes—black as night on the crispy charred edges, with tender meat and fat that is perfectly, delightfully rendered. I never dipped them in sauce; they absolutely do not need it. The whole family enjoyed the bacon nuggets. My son, Oliver, literally squealed, "This is the best thing ever!"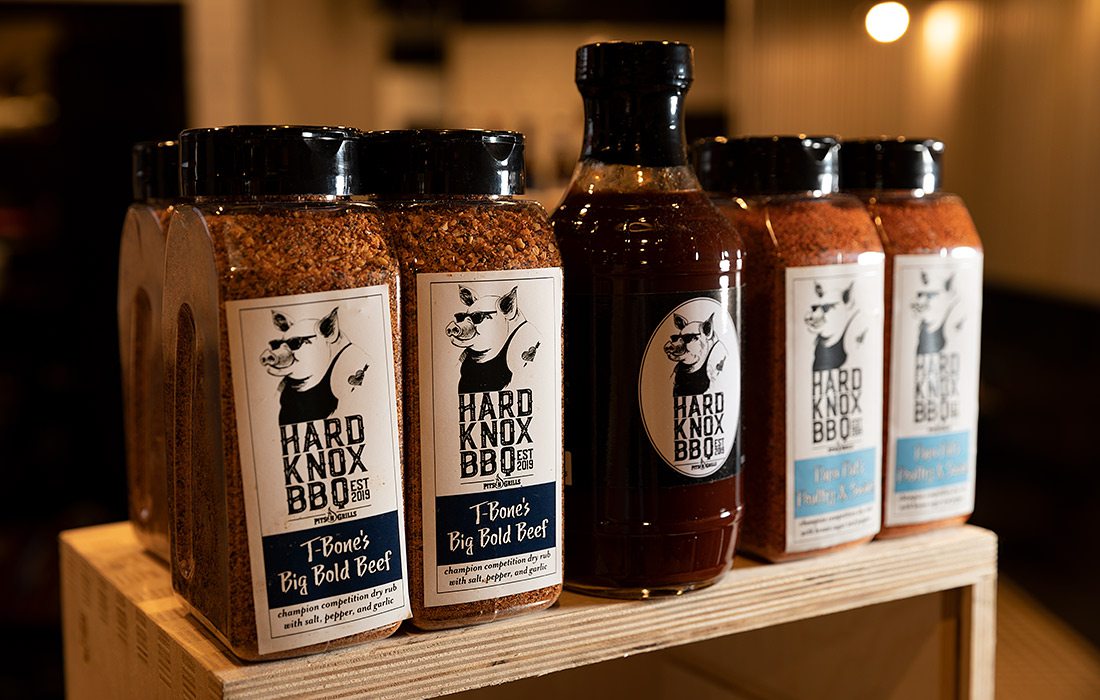 The sad news, though, is that a couple of weeks after my family went nuts for the bacon nuggets, Hard Knox removed them from the menu and replaced them with sliced pork belly. I haven't tried that yet, but if my past pork belly experience at Hard Knox is any indication, it's probably excellent.
Although brisket is usually my go-to (and the meat I use to test how much I'll love a barbecue spot), I found the Hard Knox version a little dry. Maybe it was an off batch, but I had to dunk it in more sauce than I really wanted to. I alternated bites among three house sauces: a classic barbecue sauce, a tangy version and a spicy one. My kids enjoyed the  classic, I gravitated to tangy almost every time, and Eli preferred spicy. To me, the spicy sauce had a nice flavor but didn't really offer enough heat.
What did pack a punch was the jalapeño sausage. Tender on the inside with a satisfying snap in each bite, the sausage slices were like little fiery surprises. Some of the bites were mild, but others had more jalapeño bits and sent me reaching for my drink. They were like the popcorn of the meal—I kept thinking I was finished, only to reach in and snag another tender and spicy nibble.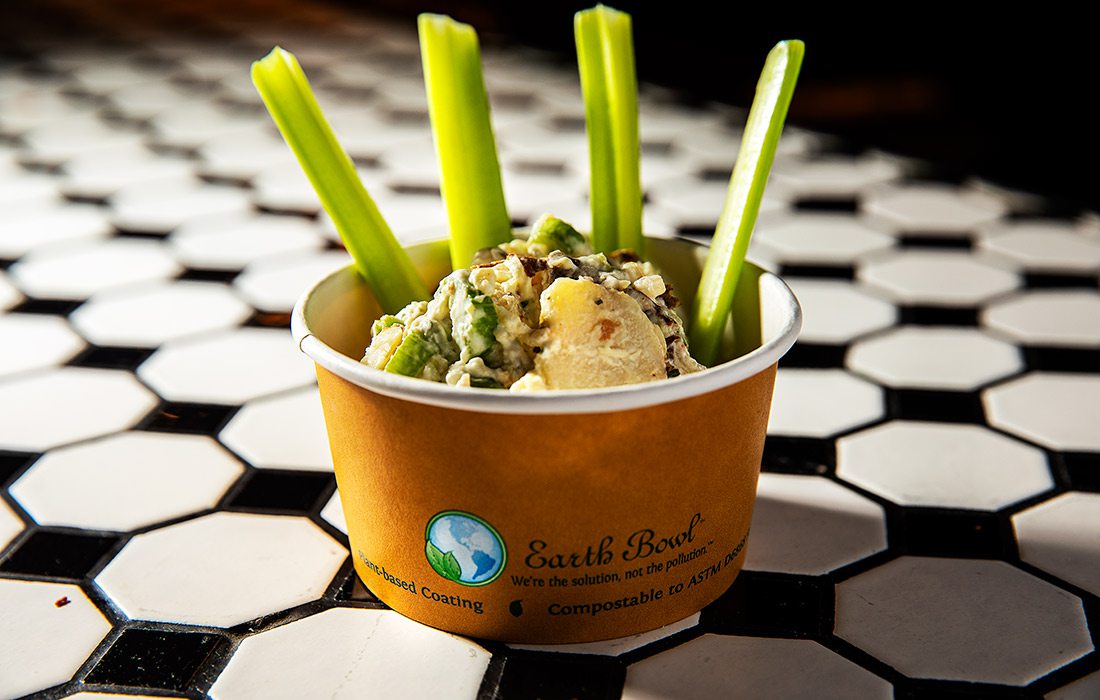 For sides, we opted for street corn and potato salad. The street corn wasn't bad, but it was a little overcooked. More than anything, I was surprised by how much I loved the potato salad. My main beef with barbecue spots is that the sides often lack creativity and—more annoyingly—textural variety. At a not-great barbecue spot, you get two textures in your meal: tender meat and a saucy, smooshy something on the side. Where's the crunch?! The potato salad at Hard Knox had lots of it, thanks to a bunch of fresh celery mixed in with skin-on potatoes that weren't cooked to death.
I returned to Hard Knox a few days after my first visit, and to my delight a better batch of brisket was waiting for me. I ordered it as a slider, on a soft bun—and it was a deliciously tender brisket redemption. All it needed was a little scoop of that killer potato salad to make it a perfect little lunch.
Tasty Tips for Eating at Hard Knox BBQ
Take It Home
Hard Knox BBQ sells jars of its dry rub blends and its sauces. You can get them both in the restaurant and at Pits N Grills.
Names You Know
One of the Hard Knox BBQ owners is Pat Duran, owner of Metropolitan Grill and longtime restaurant pro. He partnered with barbecue competition champ Tyler Thomson to open Hard Knox a few doors down from Metro Grill.
Order Early
On the day we visited, Hard Knox had run out of the macaroni and cheese side that I'd been dreaming of. They can run out of meats too, on busy days. Check their often-updated Facebook page before you go if you have your heart set on a specific order.