Features
Best Dishes
Hope you're hungry!
By Ettie Berneking | Styled and Photographed by Brandon Alms | Illustrations by Dusty Campbell
Aug 2015
Everyone has a favorite dish—those meals you dream about, the ones you crave, the food that makes your stomach grumble for more and your heart ache once you've devoured every last bite. And after eating our way through 417-land's dining scene over the last 15-plus years, we have our own list of culinary crushes. They range from Korean staples to late-night indulgences, and now we're sharing these heartthrobs with you. Hope you're hungry!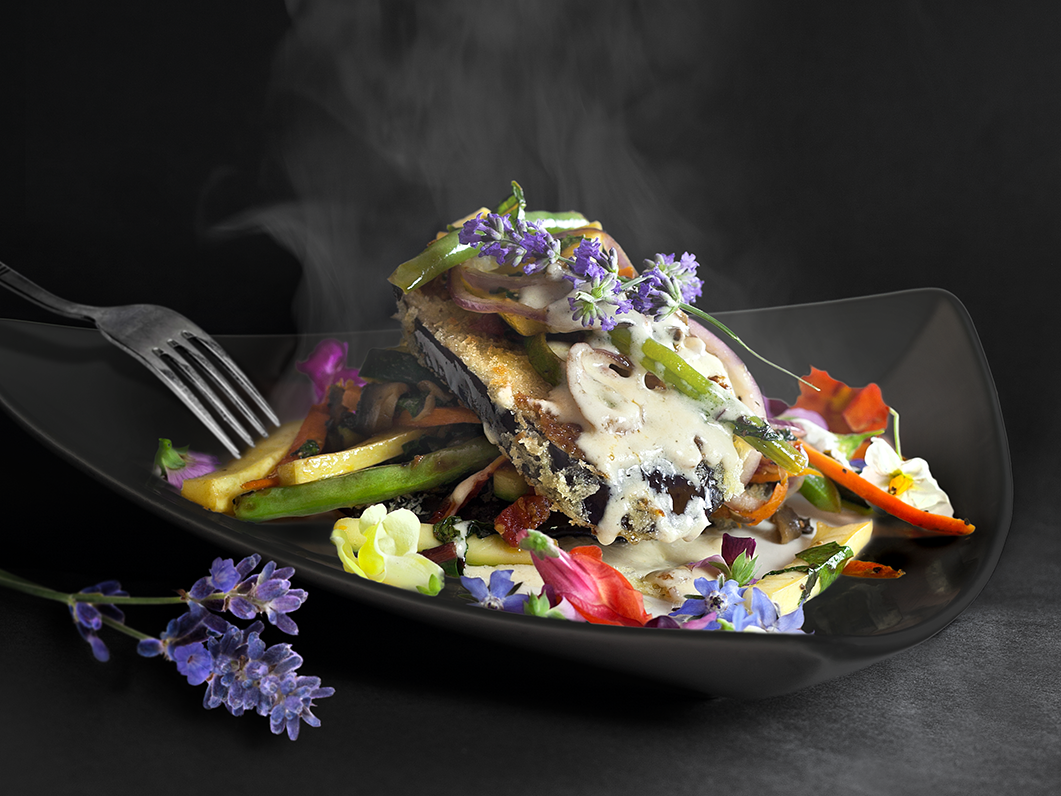 Eggplant Milanese
Gilardi's Ristorante, 820 E. Walnut St., Springfield, 417-862-6400, gilardisonwalnut.com
There's something sensual and mysterious about the deep purple eggplant. Maybe it's the royal color—almost gaudy. Or maybe it's the mild flavor that still manages to stand out in a dish. Floured, crusted in panko and fried until golden brown, this simple garden beauty takes its rightful throne, which is just how Gilardi's Ristorante serves its eggplant. Sheaths of eggplant, sliced lengthwise, are encased in a panko-rich batter, fried and layered with sautéed carrots, artichoke hearts and creamy mozzarella to create a stunning tower of deliciousness. Topped with garlic cream and green parsley oil, this dish is a work of art but one that's disassembled without any guilt.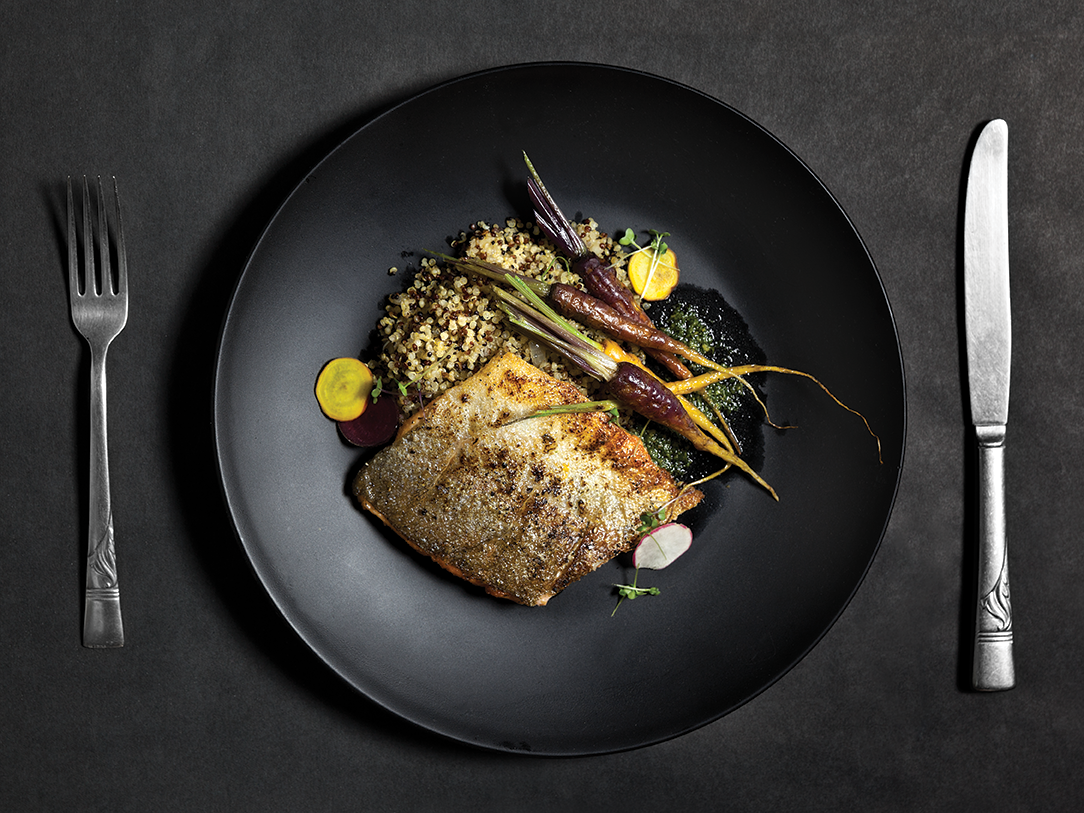 Ruby Red Trout
Aviary Café and Creperie, 2144 E. Republic Rd., Springfield, 417-881-9736, aviarycafe.com
Forget about those savory crepes you're used to ordering at Aviary. This past June, this cafe launched itself into more classic French cuisine. While you won't lose all your favorite crepes, you can now enjoy more items, including this pan-seared ruby red trout. Served with quinoa and market-fresh vegetables, it's the citrus compound butter that steals the show. Once that sinfully rich butter has melted down and coated the trout, each bite of tender, flaky fish includes a pop of brightness that complements its salty, crisp skin.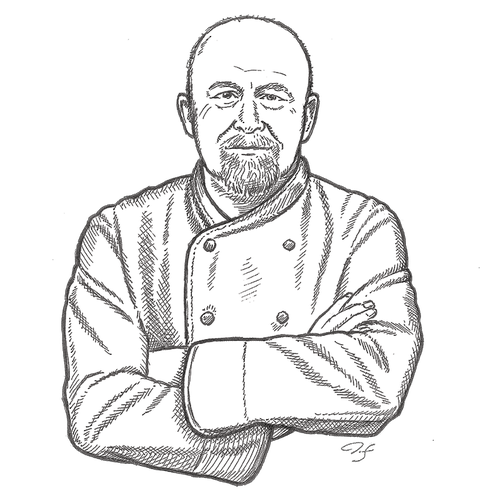 Chef's Dream Dishes

"Grilled ribeye, just-picked corn on the cob, twice-baked potato and strawberry shortcake with homemade ice cream."
—Craig Von Foerster, owner and chef of Harvest Restaurant
Jimm's Pub Mac
Jimm's Steakhouse & Pub, 1935 S. Glenstone Ave., Springfield, 417-886-5466, jimmssteakhouseandpub.com

New to the menu at Jimm's Steakhouse & Pub is the cheesy, gooey pub mac. Besides blending Gouda, cheddar, port derby cheese and provolone into a goopy, irresistible mess, this mac and cheese mixes bites of andouille sausage into a pile of cavatappi noodles. Seconds are a must!


Bibimbap
Soo's Korean Restaurant, 3644 S. Campbell Ave., Springfield, 417-889-2220
We love the hot stone bibimbap dish at Soo's, which arrives piping hot. The stone bowl helps the rice on the bottom get crispy. On top, there are fresh veggies including carrots, zucchini, radishes and spinach. When the hot bowl arrives, stir in some spicy gochujang sauce. 

Chilean Sea Bass
Haruno Sushi Bar & Grill, 3044 S. Fremont Ave., 417-887-0077, harunosushi.com
Garlic is the key to the Chilean Sea Bass at Haruno. This hefty cut of flaky white fish is encrusted in dried garlic, salt and pepper before it's seared and deglazed with yuzu soy sauce. Follow each mouthful with seasoned rice and asparagus, and your night is off to a great start.


Arrabiatta Lasagna
Nonna's Italian Café, 306 South Ave, Springfield, 417-831-1222; 3512 South National, Springfield, 417-890-8300; nonnascafe.com
With lightly spiced vodka cream sauce, ricotta cheese, mozzarella, chewy lasagna noodles and about 4 inches of good old classic Italian cooking to eat your way through, there's little to dislike with this dish. Added bonus: It's a vegetarian meal!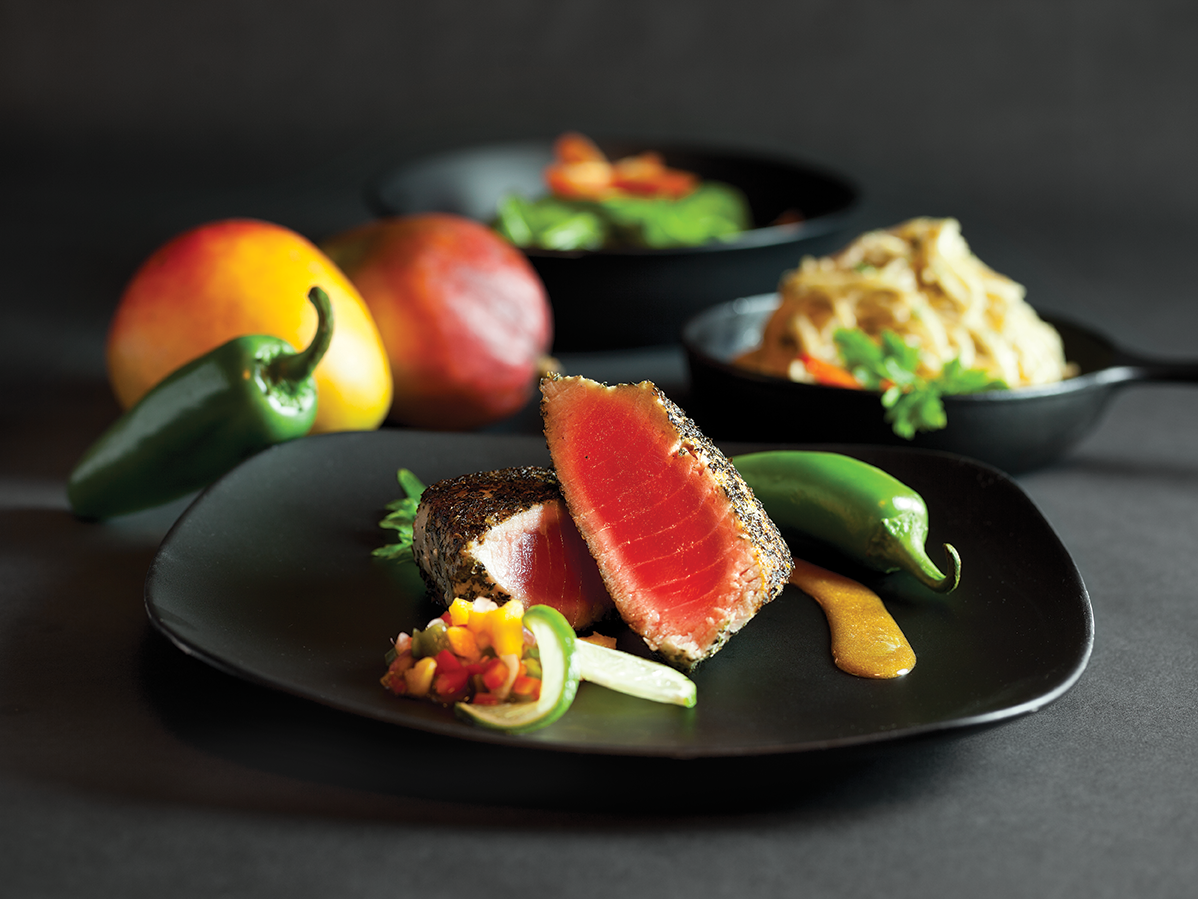 Mango Jalapeño Ahi Tuna
Kai, 306 S. Campbell Ave., Springfield, 417-832-0077, kaiafterdark.com 
There are some dishes that are almost too pretty to eat, and this is one of them. Seared ahi tuna steak is crowned with mango jalapeño salsa and balsamic teriyaki glaze and served with garlic noodles and spicy baby spinach salad. If you're worried about the heat from the fiery salsa, don't fret. The jalapeños are stripped of their seeds and soaked in water and salt to kill some of the kick. What's left is plenty of fresh flavor.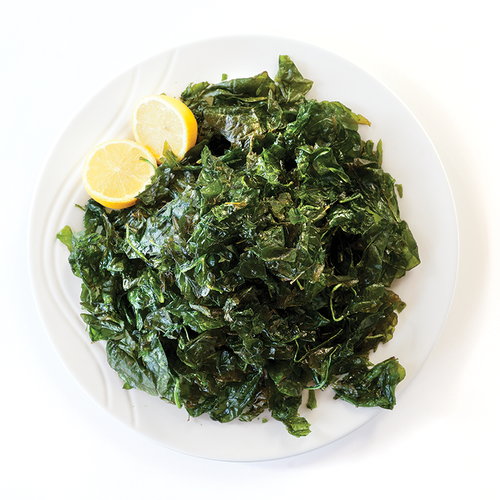 Legacy Dish
Green Goddess

Flash Fried Spinach at Metropolitan Grill
On the Menu for: 20 years
We Love It Because: Everything tastes better fried. Even spinach! And since Metro first rolled out this tangy, crunchy, garlicky appetizer, diners haven't been able to get enough.
Blackened Swordfish
Touch, 1620 E. Republic Rd., Springfield, 417-823-8383, touch-restaurant.com
When summer heat sends us rushing to the nearest body of water, there's one dish that helps us cool off: the blackened swordfish at Touch. Fresh swordfish is hit with a special blackening seasoning and a squeeze of lime. Simple and fresh! Grilled asparagus and a poblano lime puree make this one seriously filling meal.


Roasted Cauliflower
Osage Restaurant, 150 Top of Rock Rd., Hollister, 417-335-2777, topoftherock.com
This is one of those dishes that will have you gobbling up your veggies. Thick, crunchy cauliflower steaks are roasted till just tender and slightly golden to bring out their flavor. The thick romesco sauce—a nut and red pepper blend—is the perfect condiment, and steamed garlic spinach and broccoli rabe come on the side.
Petit Filet Mignon
Level 2 Steakhouse, 200 E. Main St., Branson, 417-243-3433, level2steakhouse.com
At Level 2, make sure you go for the petit filet mignon. This 6-ounce center-cut tenderloin is tender, and flavorful and serves as the perfect beefy vessel for many tasty toppings, like whiskey sauce, béarnaise, brandy peppercorn sauce, dried cherry demi glace, crumbly smoked blue cheese and many more. 


Fish Tacos
Purple Burrito, multiple, 417-land locations 
Few dare to combine cheese and fish, but the rabble rousers at Purple Burrito throw caution to the wind and christen their fish tacos with a mix of cheddar and Monterrey jack. The tacos boast battered tilapia, mounds of red and white cabbage and homemade  sauce made with mayo, lime juice and other secret ingredients that add zip, tang and wow.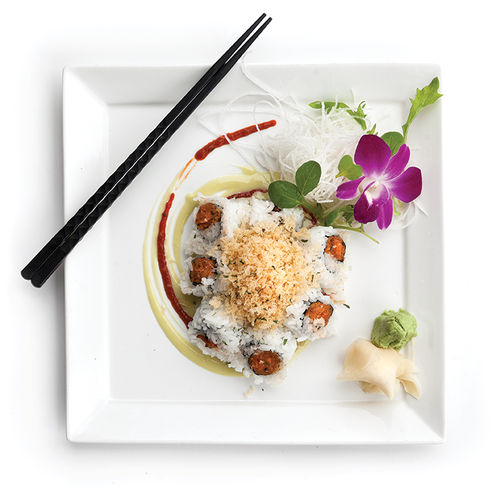 Legacy Dish
Sex Appeal

Sex and the City Roll at Haruno Sushi Bar and Grill
On the Menu for: More than 10 years
We Love It Because: With its deep-fried crab, scallops, green onion, smelt roe, sticky rice and hot sauce, this sushi roll is like a roller coaster of flavors and textures.
Peking Duck
Five Spice China Grill, 2058 S. Glenstone Ave., Springfield, 417-799-0215, 5spicegrill.com
Look past the cashew chicken and wontons, and you'll find traditional Chinese menu items at Five Spice. This includes the elusive Peking duck, which is one of the most popular menu items. It takes 18 hours to bring this duck to perfection. Once it has been cured, braised and roasted, the whole bird is fried and served with steamed buns, hoisin sauce, scallions and julienned cucumbers. You can order a half or whole duck. Don't shy away from the crispy skin; that's the best part!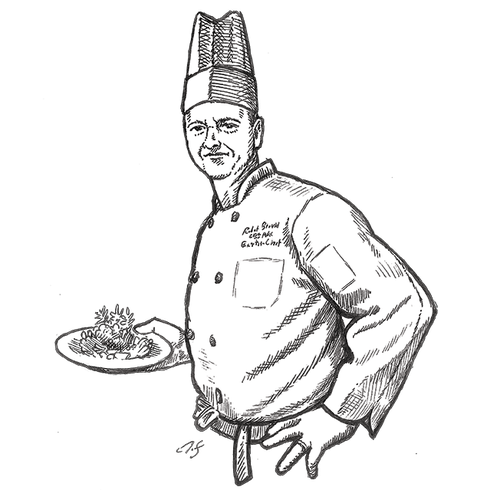 Chef's Dream Dishes

"I dream about pan-seared Magret of Duck with figs and Armagnac!"
—Robert Stricklin, executive chef at The Keeter Center
24-Ounce Porterhouse Steak
Ocean Zen, 4117 S. National Ave., Springfield, 417-889-9596, eatoceanzen.com 
With the launch of its brand-spanking new location on south National Avenue, Ocean Zen is upping its culinary game, too. While there are a handful of new dishes we can't wait to get our hands on, this 24-ounce steak is the new heavyweight on the menu, and it has us drooling more than anything else. Unlike it's meaty predecessor from the old menu, this giant completely skips the grill and instead is fire-broiled to finish. The final minutes inside the restaurant's new 1,600-degree broiler sear off the edges for a nice crunch while the tender, juicy inside is left untouched.  You also have a choice of macaroni and cheese, bacon cheddar mashed potatoes, cheesy roasted potatoes or garlic mashed potatoes. You can't go wrong.
Bacon-Wrapped Buffalo Tenderloin
Red Oak Steakhouse, 69300 E. Nee Rd., Quapaw, Oklahoma, 918-919-6141, downstreamcasino.com
After a successful night at Downstream Casino, it's time to celebrate. That means food, and lots of it. This is where the bacon-wrapped buffalo tenderloin comes in. This is one seriously indulgent meal. Truffle potato hash, meaty morels, baby carrots, Vidalia onion marmalade and a bone marrow herb compound butter… Who knows if you'll even make it to the tenderloin! Kidding. Of course you will. This is the Midwest after all; this is steak country. Oven-finished and wrapped in thick bacon, the steak is seared on the grill and christened with bone marrow–herb compound butter that melts over each and every ounce of the 10-ounce creation. 
Royals 
Metropolitan Grill, 2931 E. Battlefield St., Springfield, 417-889-4951, metropolitan-grill.com 
This dry-aged, 16-ounce KC strip landed on the Metro menu last May thanks to owner Pat Duran's love of the Kansas City Royals. Besides being an ode to the KC home team, this bone-in steak celebrates another famed part of KC history: the J. Rieger & Co. distillery. The Rieger name was common until prohibition sent the Missouri distillery underground for 95 years. So when J. Rieger & Co. whirled back to life,  Duran decided to celebrate this KC original by pairing the whiskey with a KC strip. Dry-aged for 33 days and cooked to order, the steak is delivered to your table, topped with a dollop of butter, a crack of black pepper and a splash of J. Rieger whiskey. Then it's lit on fire. The flambé effect locks in that rich caramel flavor of the whiskey and makes the edges of the strip perfectly crisp. Between mouthfuls of steak, you can raise a fork to our KC neighbors with a bite of melty mac and cheese that comes on the side. 


Chicken Marsala
D'Arpino's Italian Cafe, 3014 S. National Ave., Springfield, 417-889-9898, darpinos.com
This meal made its way to Springfield after Mark D'Arpino learned to make it while working at an Italian Restaurant in New York. Chicken breasts are pounded, breaded and cooked in a Marsala wine reduction. It's topped with mushrooms and served over spaghetti.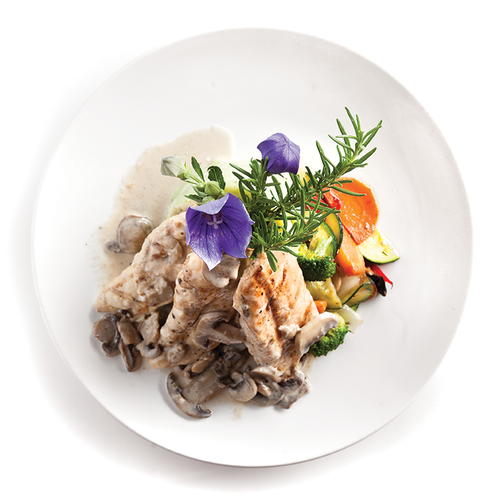 Legacy Dish
The Bird is the Word

Pollo Grillado at Argentina Steakhouse (Editor's Note: Since the initial publication of this article, Argentina Steakhouse is no longer in business)
On the Menu for: At least 10 years
We Love It Because: Maybe it's the mushroom cream sauce or maybe it's the spinach-whipped potatoes that come on the side, but whatever it is, this dish has been a customer favorite since the restaurant opened.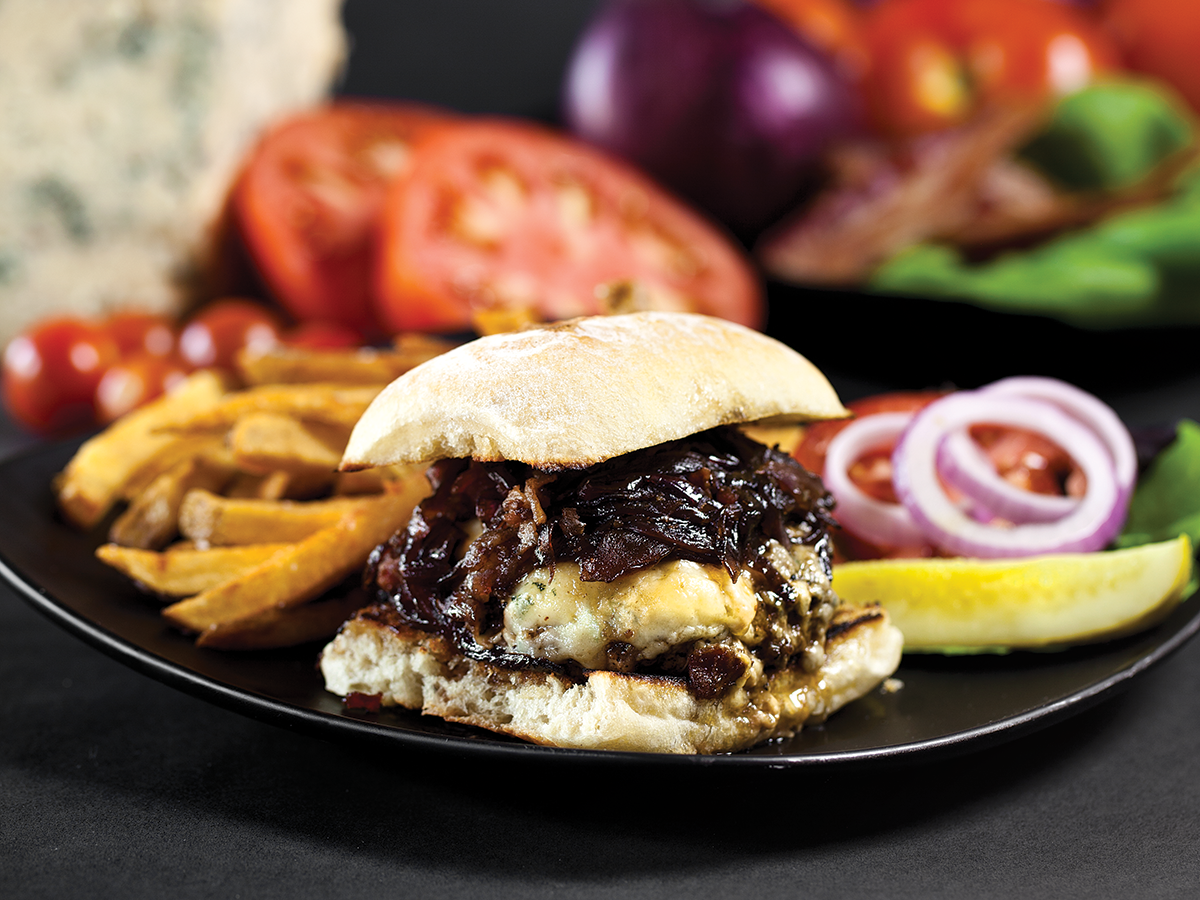 Stilton Burger
Farmers Gastropub, 2620 S. Glenstone Ave., Springfield, 417-864-6994, farmersgastropub.com
While the ingredients in this burger's seasoning are kept top-secret, its deliciousness is definitely not classified. Our favorite part is the Royal Blue Stilton Cheese. This is the king of bleu cheese and is one of owner Bill Griffith's favorites. Turns out, he's not the only one who loves it. Made in England, the cheese is by appointment to the majesty of the queen, which means her fridge is packed with this stuff. Besides the stinky-but-rich cheese, the burger's wonder is increased thanks to the savory bacon jam and grilled ciabatta bun. Layer on onions, sliced tomatoes, lettuce and cucumber dill spears, and you've got yourself one hell of a burger.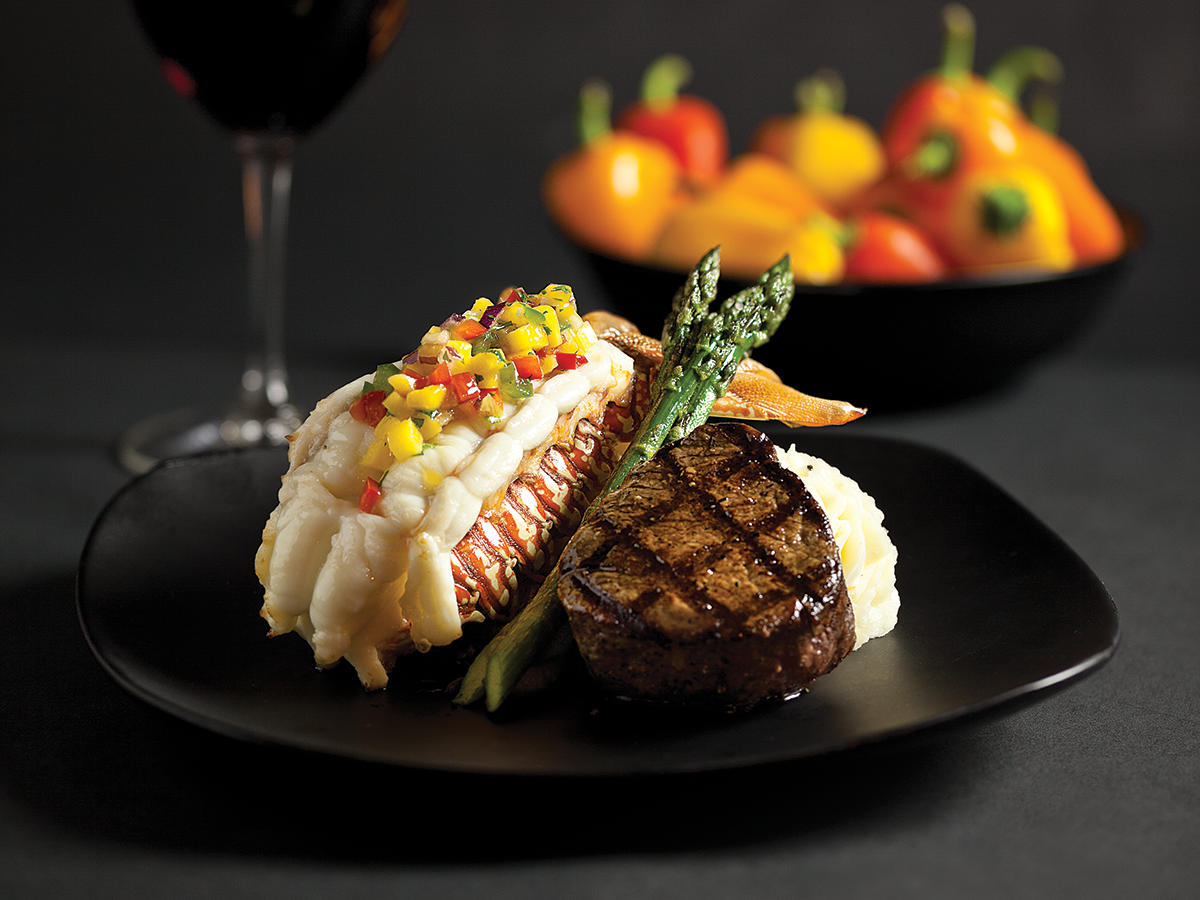 Filet & South African Broiled Lobster Tail
Chateau Grille, 415 N. State Highway 265, 417-334-1161, chateauonthelake.com
Talk about indulgent. Talk about sinfully rich. Talk about beyond filling. And talk about buttery. This dish is all about the melty, velvety, calorie-packed butter, and it couldn't be better. To start, a 6-ounce Angus filet is grilled to order and hit with a splash of red wine demi-glace. The steak alone would be enough, but nothing is ever enough for chef Doug Knopp. So to really top it off, Knopp pairs the steak with a beautifully prepared South African lobster tail, which has a special place in his heart due to the tender and rich meat found inside. If you make it through both the steak and the lobster, it is then time to turn your attention to the roasted garlic and black pepper whipped potatoes, grilled asparagus and mango salsa that is served on the side. As chef Knopp puts it, this is one sexy dish! And at $70 a pop, be prepared to make it rain.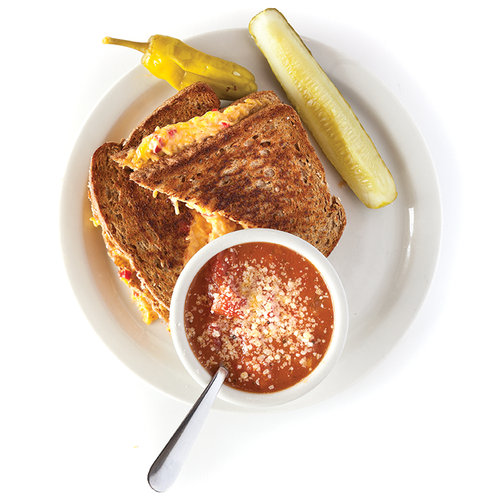 Legacy Dish
A Winning Combination

Tomato Soup with Grilled Pimento Cheese Sandwich at Nearly Famous Deli and Pasta House
On the Menu for: 39 years
We Love It Because: Chunky vegetarian tomato soup is made fresh every day and is the perfect dunk tank for those pimento cheese sandwiches.
Tomato and Basil Pasta
Devil's Pool Restaurant, 612 Devil's Pool Rd., Ridgedale, 417-335-2777, bigcedar.com
When summer hits, there's something refreshingly simple about garden tomatoes and creamy mozzarella cheese. It's light and fresh, yet deep and indulgent. We are willing to bet that's why this vegetarian pasta dish has done incredibly well on the otherwise-meat heavy menu at Devil's Pool Restaurant. To really pump up that fresh tomato flavor of the simple-yet-indulgent creation, this dish starts with a roasted tomato ragu that is cooked down with all of the garlic and herbs you could possibly handle. Chunks of fresh heirloom tomatoes and herbs add a huge pop of freshness that is only improved by the treasured bites of cool and creamy mozzarella. Paired with a patio-view of the sunset, there are few better ways to enjoy summer in the Ozarks.  


Seafood with Squid Ink Pasta
Fire & Ice Restaurant, 2546 N. Glenstone Ave., Springfield, 417-522-7711, oasisfireandice.com
It might sound a little more than unusual, but there is absolutely nothing squid-y about this seafood-packed pasta. The squid is just the one to thank for that almost-black linguini. Along with shrimp, clams and mushrooms, the squid ink pasta is tossed in a pan sauce loaded with shallots and garlic. Once it's deglazed with white wine, the pasta is mounted with whole butter and finished with lemon juice and fresh basil. This dish is surprisingly light and goes great with summer wines. 
Wicked Chicken
Salvatore's Fresh Ristorante Italiano, 1932 W. Retail Ln., Ozark, 417-485-3838, salvatoresfresh.com
A visit to this Ozark eatery wouldn't be complete without trying the homemade pasta. In fact, we recommend taking an extra-long lunch break to just watch the pasta being made. There's something cathartic about watching long delicate noodles come out of the pasta maker. And then getting to eat those noodles… that might be what really attracts us to this Italian joint, and particularly to the Wicked Chicken dish. As owner Judy DeMoro thoughtfully describes it, this plated pasta combo is chicken-fried chicken made with plenty of Italian love. What makes this dish truly evil is the blush Wicked sauce—a mixture of the delicious house-made red sauce and cream with some heat added. Swoosh that combo over a tall bed of just-made rigatoni noodles, tender fried chicken breast and gooey, melted mozzarella cheese, and you'll be singing amore in no time.


French Onion Filet
Mythos Euro-Kuzina, 1306 S. Range Line Rd., Joplin, 417-624-6984, mythosjoplin.com
Everything you love about stringy cheese melted over French onion soup comes on a filet at this Joplin eatery. To start, a 9-ounce Angus filet is sliced in house, then aged for six weeks. Once the meat is ready to go, it's grilled to order and nestled on a pillow of garlic mashed potatoes. But what you should really get excited about is what happens next. That filet—in all its juicy glory—is capped with a thickened French onion soup crouton. The whole thing is topped with Swiss-port fondue, and at that point it's time to dig in.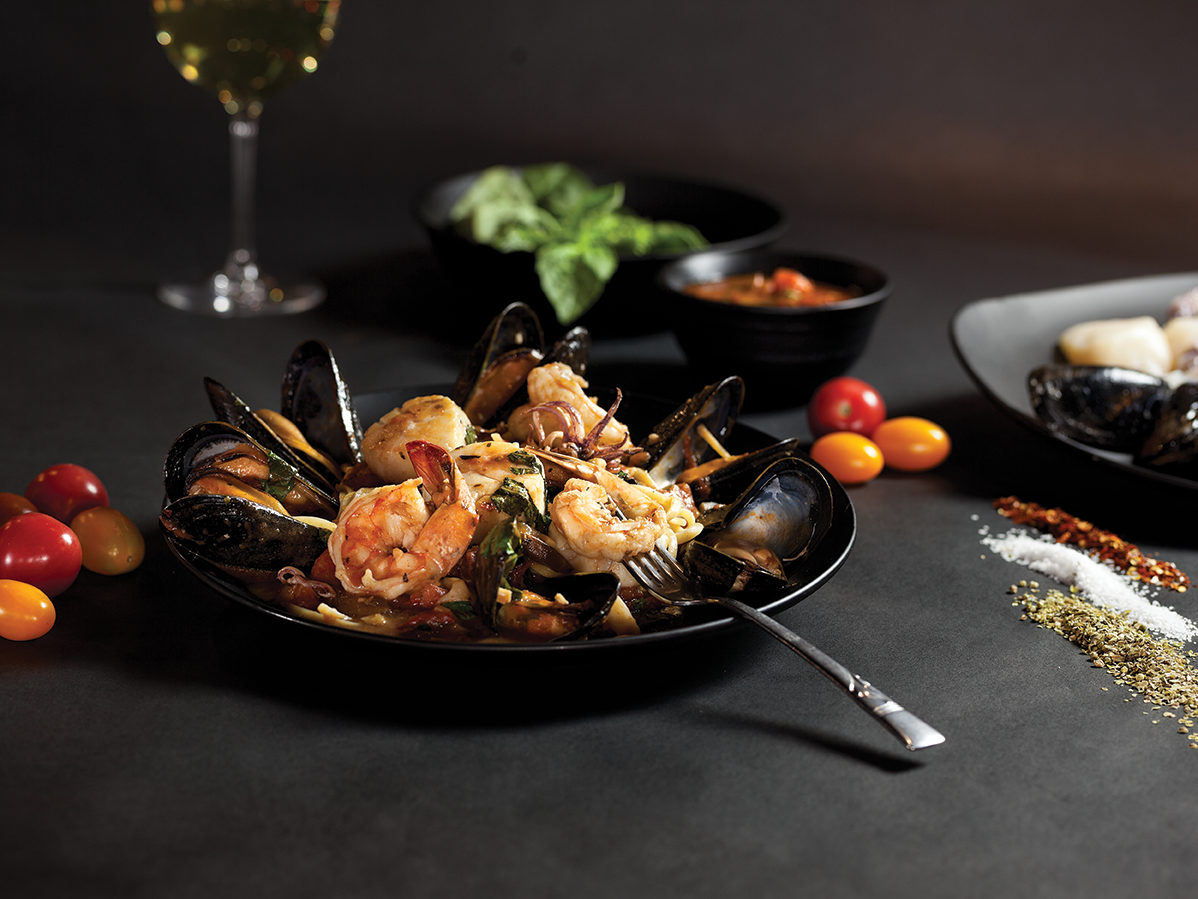 Seafood Pasta
Ristorante Nicola's, 3631 E. Sunshine St., Springfield, 417886-3700, nicolasristorante.com 
Whoever thought sharing was a good idea had never tried the seafood pasta at Nicola's. Thick linguine noodles, meaty scallops, butterflied shrimp, tiny purple octopi and salty mussels swim in a pool of garlic and tomato. What really gives this sauce its amazing flavor is the red wine reduction. This giant steaming seafood dream is too good to share. Order an appetizer. Now that you can share. As for the pasta, guard it with your fork if you have to!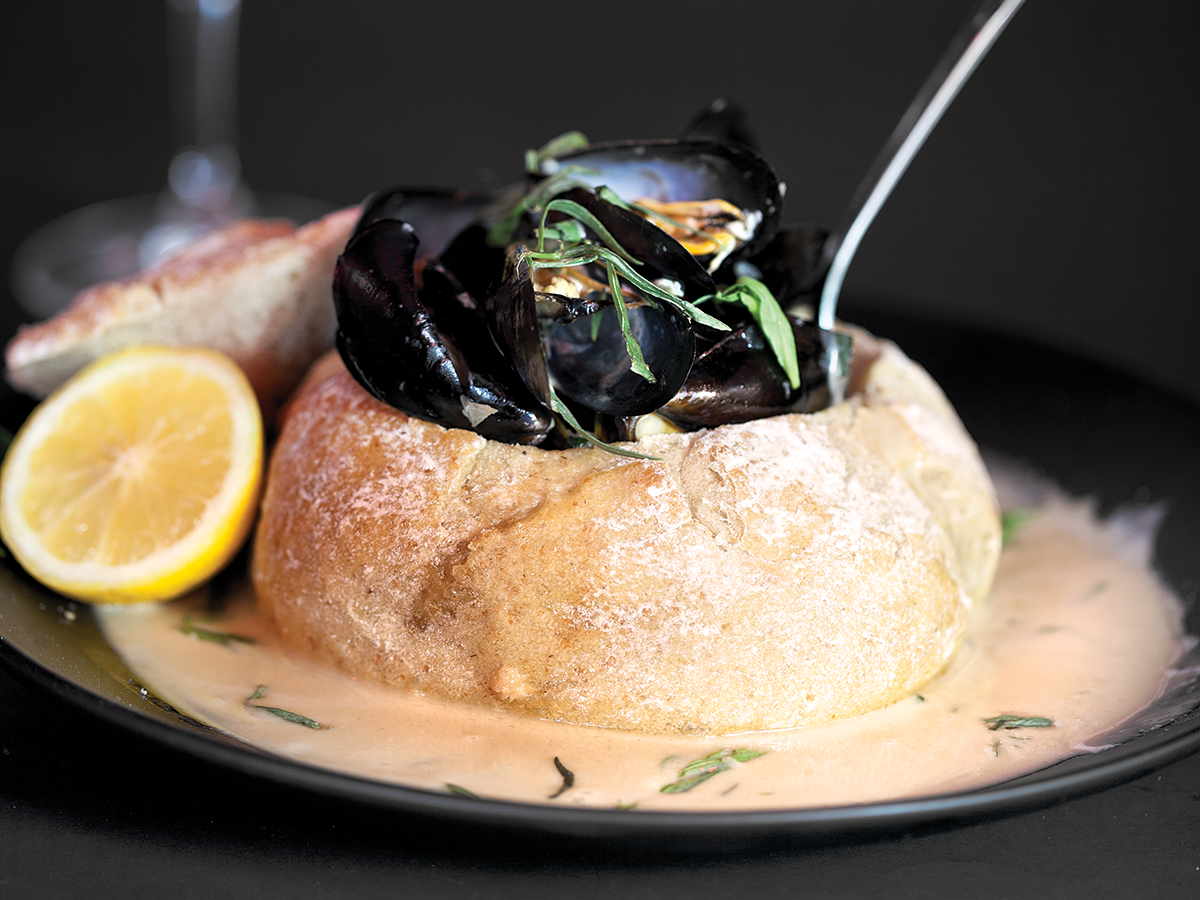 Flame Steamed Mussels
Flame Steakhouse, 314 W. Walnut St., Springfield, 417-862-4444, flamesteakhouse.com
For a date night that won't break the bank but will leave your crush thoroughly impressed, order the steamed mussels at Flame. While this steakhouse is known for its dry-aged ribeyes and filets, the steamed mussels are just as scrumptious. Surprised? Well don't be! Served in a giant bread bowl made fresh each day at The Artisan's Oven, steaming mussels float in a tarragon beurre blanc, which is a simple sauce of wine, butter, lemon, salt, fresh tarragon and plenty of garlic. Plan on bringing along plenty of breath mints. Your date will thank you for the meal and then thank you for the mint.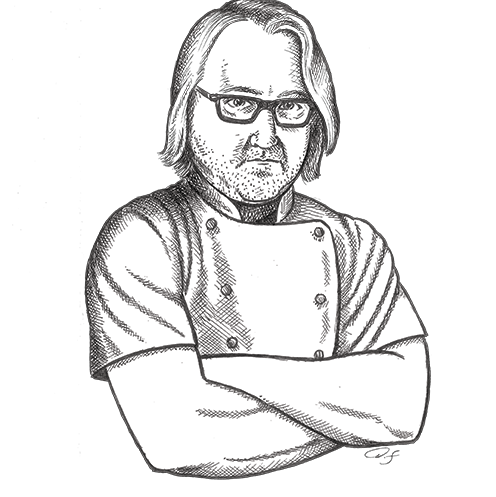 Chef's Dream Dishes

"Smoked venison prime rib with Mother's Three Blind Mice horseradish cream sauce, artichoke and parsnip confit hash with gooseberry aioli."
—Jason Miller, owner of Instant Karma and Eagle Drive-In
Drunken Goat Seco
Cafe Cusco, 234 E. Commercial St., Springfield, 417-868-8088, cafecusco.com
It's rare to find goat on a menu here in 417-land. This delicacy is much more common in places like New Zealand, which is where owner and chef Joseph Gidman got his recipe for this labor-intensive dish. To reach its optimal flavor and tenderness, the goat is cooked overnight for a minimum of 14 hours in a pool of Mother's Three Blind Mice beer, anise liqueur, spinach, cilantro, peas, brown sugar, garlic, applewood-smoked sea salt, achiote oil and choclo (Peruvian giant white corn). The goat is then sautéed to order along with peas, carrots and potatoes and served alongside soft focaccia and seasoned rice. Imagine your grandmother's homemade stews, but instead of a thick bowl of meat and potatoes, this dish is heartier with less broth, and the alcohol used gives it a nice bite.


Bossam Lettuce Wrap
Jin's Korean Grill, 2185 S. Campbell Ave., Springfield, 417-501-8630
There's an enjoyment that comes with dishes that still require some assembly. This is part of the fun of the bossam lettuce wraps. Piles of crisp lettuce are waiting for your creative culinary touch. Load them up with slow-cooked pork topped with spicy jalapeños, sour kimchi and garlic. Or go nuts and chomp into a straight kimchi wrap. Why not? When you're ready for the next taste bud challenge, start experimenting with the array of sauces: shrimp paste sauce, bean paste sauce or spicy apple sauce.
Dave's Pit Combo
Buckingham's BBQ, 2002 S. Campbell Ave., Springfield, 417-886-9979; 2415 N. Glenstone Ave., Springfield, 417-831-7427; 3624 E. Sunshine Ave.; 1821 S. 19th St., Ozark, 417-485-8000; 606 W. Mt. Vernon St., Nixa, 417-724-2344; buckinghambbq.com  
Carnivores rejoice! This is a supermeaty dish worth sinking your teeth into. Seriously. Get ready to loosen your belt. This combo comes with a little of everything, and we're talking everything! There's smoked beef brisket, pulled pork, ribs, pit ham, turkey, andouille sausage  and your choice of two sides. Yes, we love the horseradish cole slaw and the smokey mac and cheese, but if you want our opinion, order the pit beans. These little guys are cooked in a wood-fired smoker with trimmed beef brisket for 14 hours. So be sure to clear your afternoon because this is one meal you won't want to rush through. 


Filet Al Porcini
Avanzare Italian Dining, 1908 S. Glenstone Ave., Springfield, 417-567-3463, avanzareitaliandining.com
For great Italian fare that warms your soul and fills your belly, few do it better than Avanzare. And for a truly indulgent, gut busting meal, go with the Filetto Al Porcini. This pan-seared, center-cut filet mignon is enormous. We're talking 3 inches of meaty deliciousness that's drowned in a creamy white wine butter sauce. Cradling this dream boat is an equally enormous bed of herbacious and buttery risotto that's held together with a web of melted Parmesan cheese. As mouth-watering as all that is, we haven't gotten to the best part yet: the mushrooms. Oh the mushrooms! Tender, flavorful, meaty and piled in abundance, thinly portobello mushrooms are the finishing touch to the crown of broiled-melted Gorgonzola crumbles.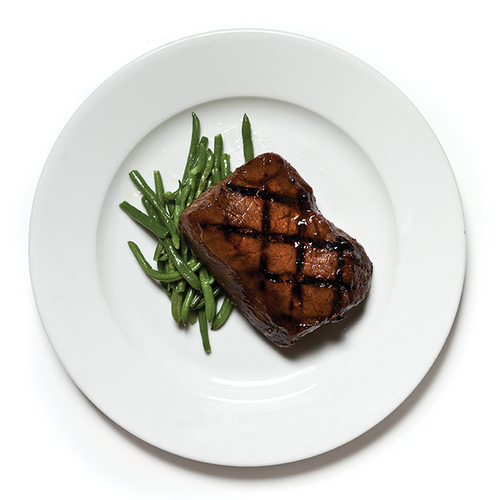 Legacy Dish
Steaked in Tradition

Hawaiian Sirloin at Jimm's Steakhouse & Pub
On the Menu for: Almost 8 years
We Love It Because: To give this 11-ounce beef sirloin even more flavor, it's marinated in a sherry, red-wine vinaigrette that's laced with pineapple juice. Nearly 36 hours later, that tender cut is ready for the grill.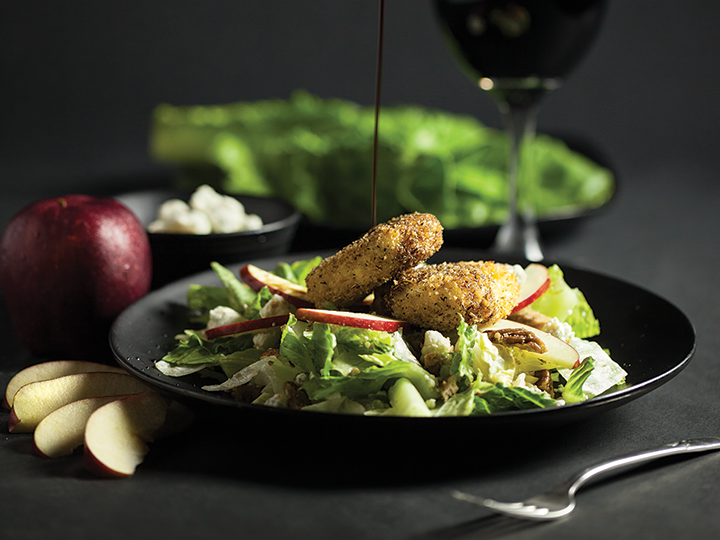 Crusted Goat Cheese Salad
Caldone's (Editor's note: This restaurant has closed since the publication of this article.)
Oh the lowly salad. So often forgotten or relegated to a starter, the salad is one dish that has plenty of untapped potential, which is why the crusted goat cheese salad at Caldone's is on our list of top dishes. Fresh greens are tossed with bleu cheese crumbles and candied pecans before the real star of the show arrives: the goat cheese patties. Creamy rounds of goat cheese are breaded in a mix of panko and Italian herbs and then pan-fried till they're crispy on the outside and warm and melty on the inside. Dressed in homemade balsamic vinaigrette and paired with fresh gala apple slices, this little old salad gets upgraded to an entree.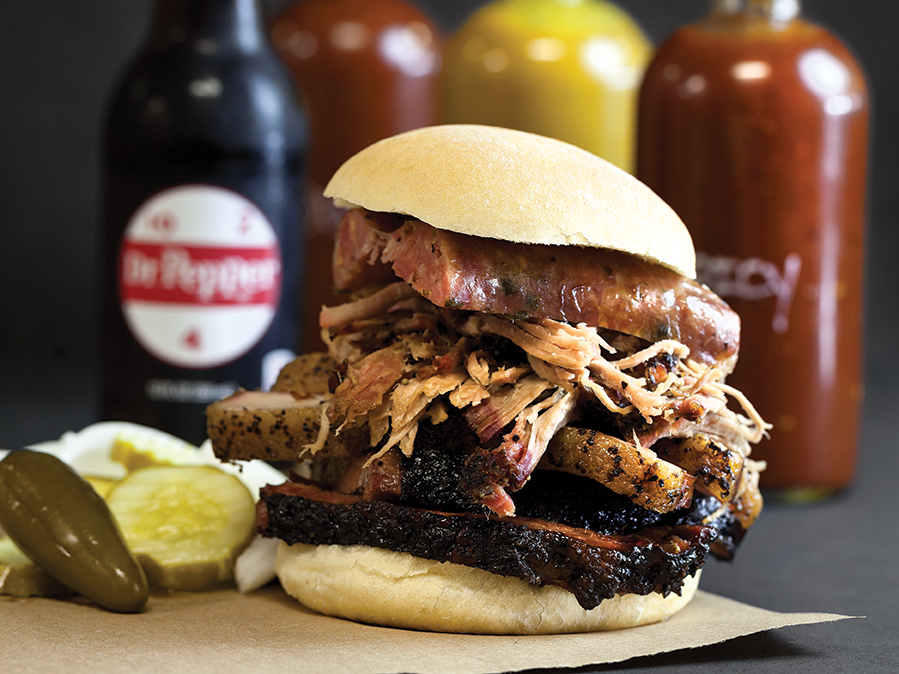 Smokestack
City Butcher and Barbecue, 3650 S. Campbell Ave., Springfield, 417-720-1113, citybutchersgf.com
If you're a vegetarian, look away! This behemoth is loaded with a smorgasbord of meats. Brisket, pulled pork, pork belly and your choice of a Texas hot link, Austin andouille, or a jalapeño cheddar sausage is all piled high on top of a freshly baked bun. Weighing in at three-quarters of a pound, this sandwich is not for the faint of heart. Come hungry or go home. And don't even think about asking the guys behind the counter to add sauces or sides on top of that majestic meat monster. They won't do it. But they won't stop you from drenching your smokestack in any of the sauces that are available at your table. In fact, co-owner Jeremy Smith even recommends a combo of half mustard and half spicy barbecue sauce.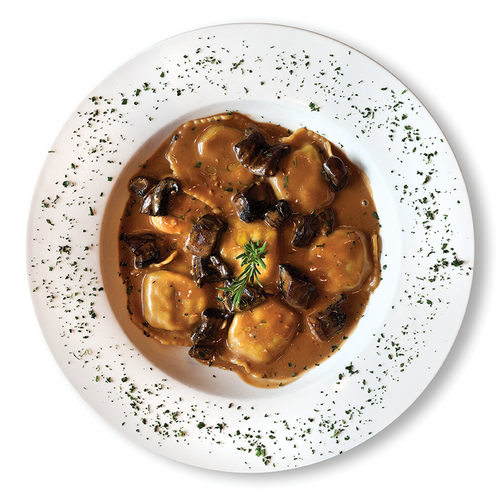 Legacy Dish
The Ravioli of Your Dreams

Veal and Portobello Mushroom Ravioli at Bruno's Italian Restaurant
On the Menu for: Nine years
We Love It Because: Tender pillows of homemade pasta are stuffed with veal filling and drowned in a rich and creamy beefy mushroom sauce.
Torta de Carnitas
Cantina Laredo, 4109 S. National Ave., Springfield, 417-881-7200; 1001 Branson Landing, Branson, 417-334-6062; cantinalaredo.com
It's time to upgrade your idea of Mexican food. Yes, we still love those overflowing baskets of chips and salsa and plates full of sloppy tacos, but this slow-roasted braised pork shank will blow your mind. It is served on grilled ciabatta bread with goat cheese, homemade apricot jam, and two eggs sunny side up. It's a flavor extravaganza that only gets better thanks to an assortment of salty, fried treats that come on the side, including French fries, yellow onions and sliced jalapeñoes. As a bonus, you can still start off with one of those baskets of salty tortilla chips and homemade salsa we mentioned earlier, and you can even splurge on some creamy, delicious guacamole that's made table-side. It's a win-win.


Basa with Basil Sauce
Tong's Thai Restaurant, 3454 S. Campbell Ave., Springfield, 417-889-5280; tongs-thai-restaurant.net
For those who aren't quite ready to dive into the spice-packed world of Thai cuisine, the basa with basil sauce is a safe entry point that will continue to thrill your taste buds long after you've become a Thai cuisine addict. Simple and delicious, the basa fish, also known as Vietnamese catfish, is  hand-battered,  quickly deep-fried and smothered in an herbaceous basil and garlic sauce. What makes this dish a winner is its versatility. As you get braver, you can adjust the heat from mild—aka wimpy—to Tong hot, as they like to call it. Or, if you're not in the mood for basil, try one of the other three sauces: mango and pineapple, red curry or sweet and sour.
Chicken Parmesan
DiGiacinto Italian Restaurant, 2259 S. Campbell Ave., Springfield, 417-882-5166; digiacintos.com
Settle into a booth at DiGiacinto, and let the Italian ambience flood over you. Everything here is bueno, but for a taste of Italy that will bring comfort and an end to a growling stomach, order the chicken Parmesan. Chicken breasts are dredged in egg and flour and then baked to perfection before being plopped down onto a heaping pile of spaghetti and drowned in homemade tomato sauce, melted provolone cheese and shaved Parmesan. Even the Godfather himself never ate so well! 


Lamb Rogan Josh
Taj Mahal, 1250 E. Republic Rd., Springfield, 417-719-4573; facebook.com/Taj-Mahal-Indian-Restaurant 
When your stomach is grumbling and you're in need of something rich and filling, nothing beats lamb rogan josh. This aromatic lamb stew with its thick sauce of sautéed onions and peppers is just what you need. The bites of braised lamb are tender and flavorful and incredibly filling, and when you ladle a soupy spoonful of this curry over some warm rice, watch out! The mix of spicy cloves and cardamom blending with warm cinnamon make this one of those dishes that is as good for the soul as it is for the body. 


Eagle Burger
The Eagle Drive-In, 4224 S. Main St., Joplin, 417-623-2228; facebook.com/The-Joplin-Eagle-Drive-In
The fearless culinary team at The Eagle Drive-In is always pumping out creative fare we can't wait to try. But one dish won our hearts and appetites over on the day the drive-in opened shop, and that's the Eagle Burger. This is a classic burger amped up like only The Eagle Drive-In can do. You've got your cheddar cheese, Swiss cheese, American cheese, mixed greens, tomato slices, onion and pickles, and then as a finishing touch, it's topped with a fried quail egg and the house-made Eagle sauce. As Emeril would say… Bam! Now that's a burger.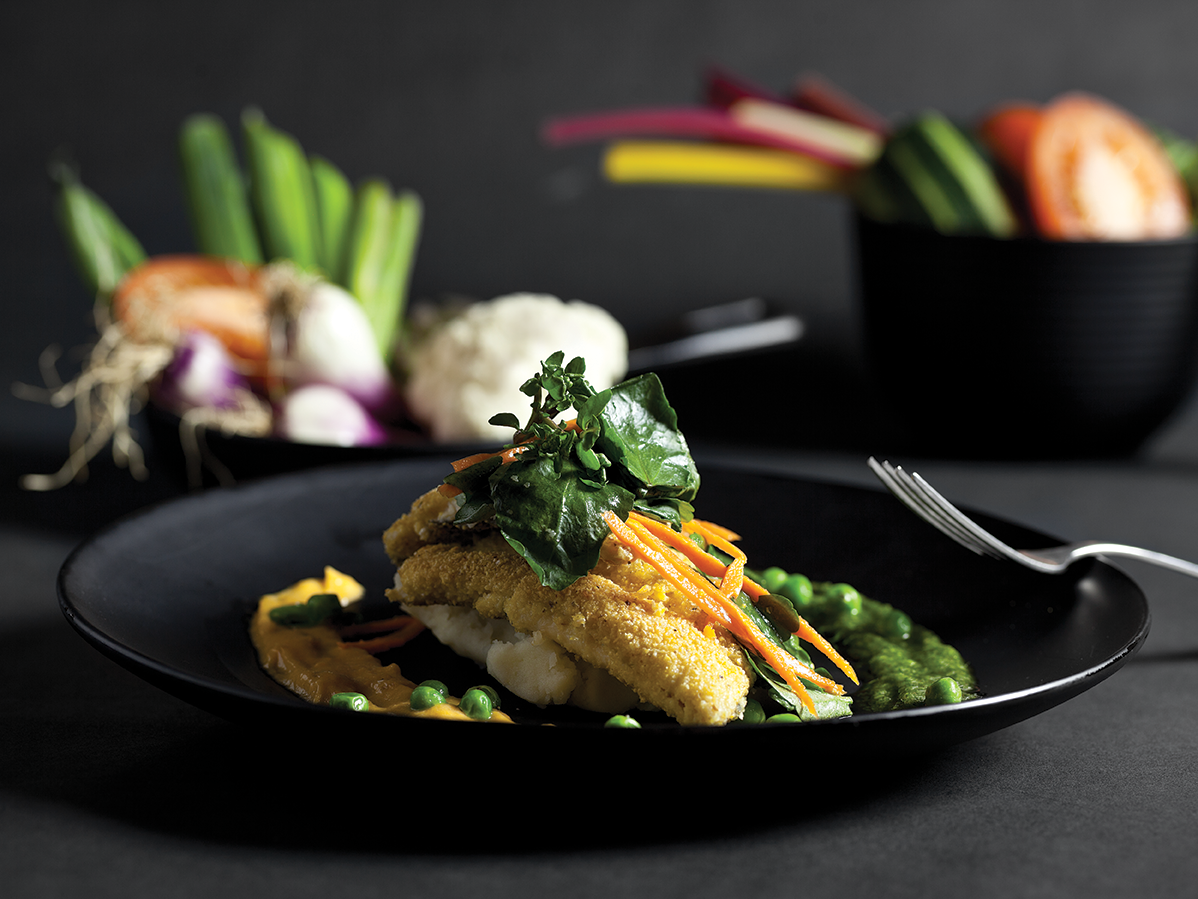 Cornmeal Dusted Pan-Seared Trout
Dobyns Dining Room, 1 Opportunity Ave., Point Lookout, 417-239-1900, keetercenter.edu
Because so much of this menu is raised, harvested, grown and processed on campus, it's hard to find something that isn't fresh or in-season. Even the cornmeal that coats this trout filet is milled on campus! And while we love trout—it's practically an Ozarks staple—it's the black walnut pesto we can't resist. Instead of pine nuts, this pesto reaches out to the local black walnut for an extra-buttery silkiness. Stir in some sweet potato butter and lemon-scented garden watercress, and dinner is served.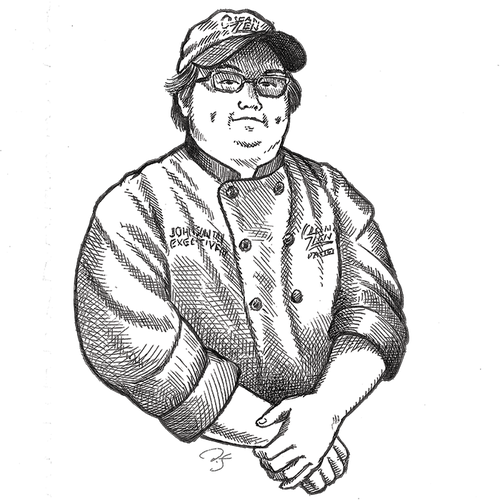 Chef's Dream Dishes

"Tomahawk ribeye with a lobster tail and seared foie gras with truffle whipped potatoes."
—Johnson Tan, chef at Ocean Zen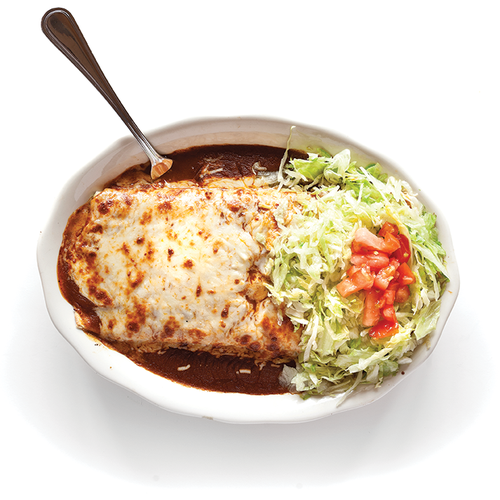 Legacy Dish
The Secret's in the Sauce

Sancho Enchilada Style at Mexican Villa
On the Menu for: Nearly 64 years
We Love It Because: This is a guilty pleasure for sure, and one that is a Springfield icon. Nothing more than a plump burrito overflowing with ground beef, it's the zesty sauce and melty cheese that make this a 417-land favorite.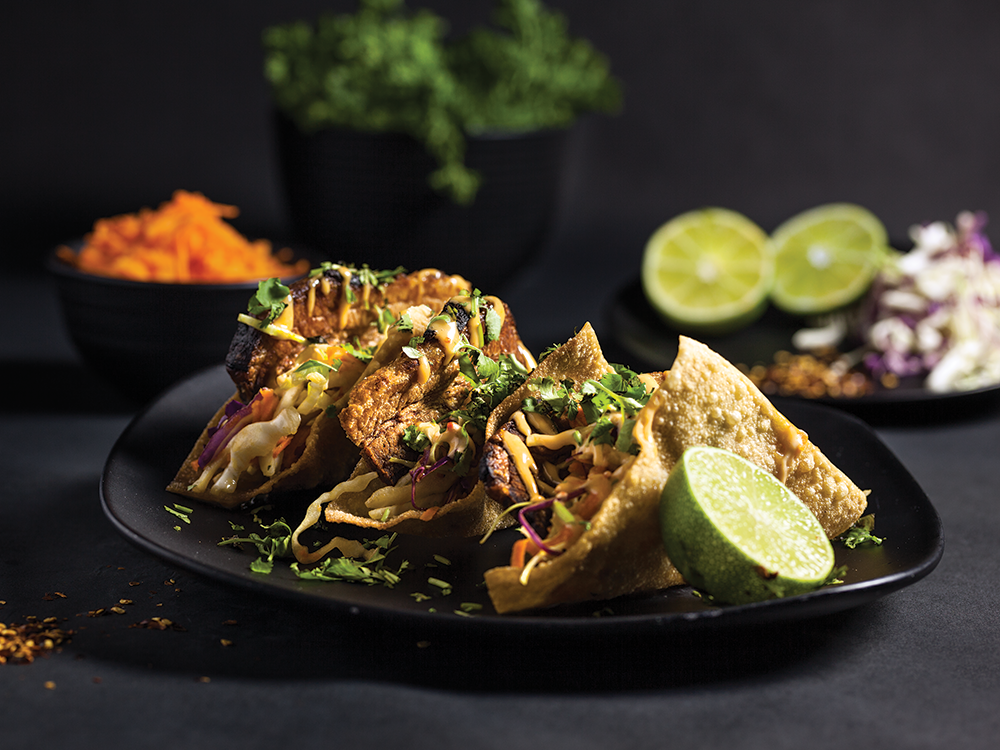 Asian-Style Pork Belly Tacos
Crabby's Seafood Bar & Grill, 815 W. Seventh Street, Joplin, 417-206-3474, crabbysjoplin.com
Those boring old tacos you used to crunch on just got a serious upgrade. Ditching the fragile hard shells, Crabby's takes thin wonton wrappers, fries them and then stuffs the wrappers full. The crispy shells serve as an ideal exoskeleton for the flavorful medley held inside, which starts with marinated crispy fried pork belly. The tender pork is soaked in a mix of salt, pepper, cayenne pepper and plenty of fresh garlic before it makes a trip to the fryer. For something bright that pops in your mouth, each taco is crowned with Asian slaw, Sriracha aioli, fresh cilantro and a spritz of fresh lime juice. Taco Tuesday will never be the same.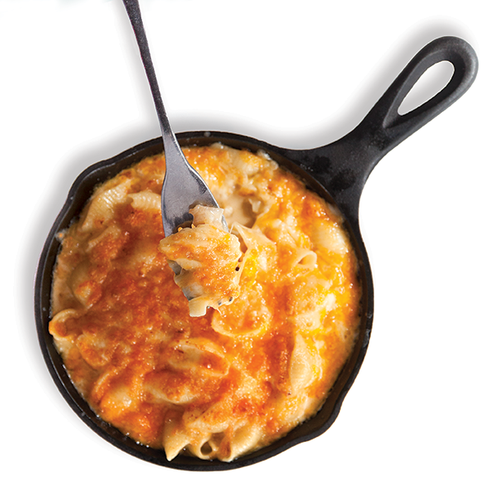 Legacy Dish
Cheese With a Twist

Lobster Mac and Cheese at Flame Steakhouse
On the Menu for: About 10 years
We Love It Because: This is your favorite childhood dish all dressed up. Gooey, melty cheese meets rich, buttery sauce and meaty bites of langostino lobster swirled around shell pasta that's easily enjoyed.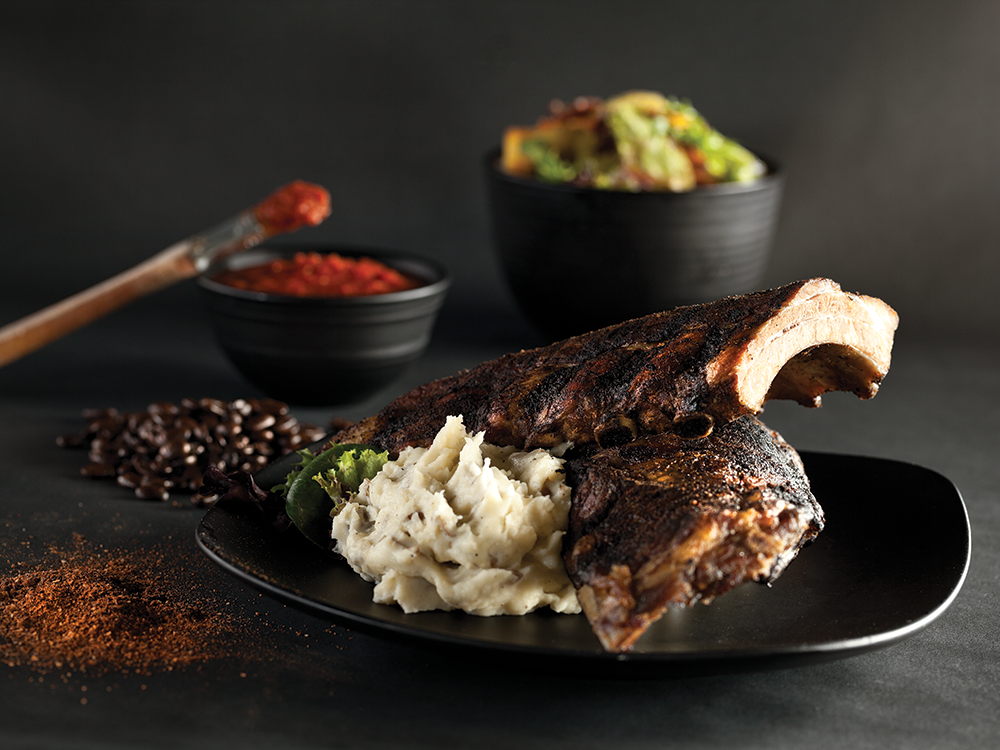 Coffee-Rubbed Ribs
Metropolitan Farmer (Editors Note: Since this article was first published, Metropolitan Farmer is no longer in business)
For all you coffee enthusiasts out there, this one is for you! Satisfy your caffeine craving with the coffee-rubbed ribs at Metropolitan Farmer. Everything you love about coffee meets everything you love about barbecue thanks to chef Wesley Johnson, and the results are highly addictive. Meaty ribs are coated in an aromatic dry rub that uses Brick & Mortar Coffee as the not-so-secret flavor booster. That and dashes of paprika, ginger, onion powder, chili powder, brown sugar and cumin give these ribs a rich flavor you don't expect from your average barbecue. Once the ribs are smoked for about two hours, they're topped with house-made coffee barbecue sauce—because when can you ever have too much coffee? Still hungry? Dip into the potatoes and cornbread salad that come with the meal.
5 Killer Sides
These side dishes are beyond compare.

1. Egg Noodles and Cheese Sauce
Level 2 Steakhouse
Soft egg noodles drowned in a slurry of four cheeses make this one of those over-the-top sides you wish you could order in bulk.
2. Brussels Sprouts
Metropolitan Farmer (Editor's Note: Since this article was first published, Metropolitan Farmer is no longer in business.)
Crisp pear, leafy greens and burnt honey vinaigrette turn these tiny flash-fried green cabbages into a local craze. Now customers are sprout-mad!
3. Chips and Salsa 
Iguana Roja
Crispy tortilla chips are sprinkled with "magic dust" to delight your taste buds.
4. Dugout Pineapple Slaw
Dugout Bar & Grill
Everyone's favorite crunchy coleslaw is spiked with juicy chunks of pineapple and a spritzing of tangypineapple juice.
5. Burnt-End Cheesy Corn
Whole Hog Café
Those already-irresistible burnt ends are drowned in a mix of nacho cheese and cream cheese before tiny kernels of sweet corn are stirred into the mess.