Features
Fresh Catch: Your Guide to Local Seafood
With local eateries flying in the freshest fish to be found and Springfield suppliers trekking to the coast to bring back the best just-caught seafood, the world is your oyster—or whatever other fishy fare fits your fancy. Let's dive in.
By Stephanie Towne Benoit | Photos by Brandon Alms
Mar 2017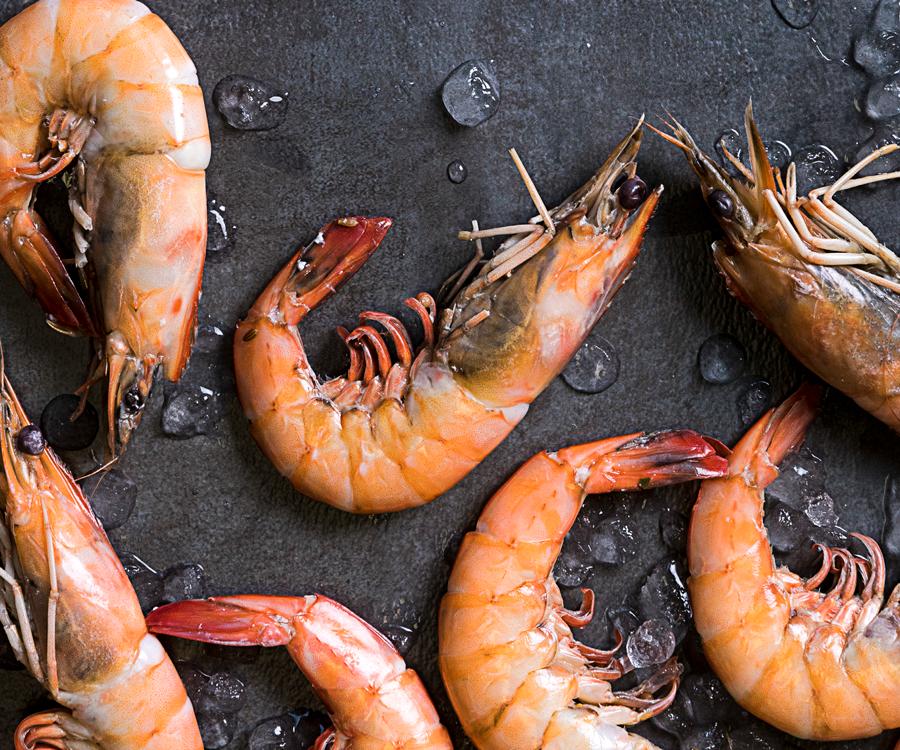 Dishes
Pan-Seared Red Snapper
With the sea referenced in its name, amazingly fresh seafood is unsurprisingly the star at Ocean Zen (4117 S. National Ave., Springfield, 417-889-9596). The fish here is never frozen and flown in multiple times a week. That includes the red snapper, which is flown in from the Gulf of Mexico. The snapper is pan-seared until perfectly cooked and served laying atop a bed of sauteed vegetables and pineapple-crab fried rice. For an acidic, tropical punch, a mango salsa and sweet chili vinaigrette round out the dish. 

Ocean Zen lives up to its name by serving fresh-from-the-sea finds like red snapper, which is pan-seared and served atop tropical-flavored sides.


Boone & Crockett Salmon
This top-selling entree at Hemingway's Blue Water Café (1935 S. Campbell Ave., Springfield, 417-891-5100) features a fillet of bacon-wrapped Norwegian salmon, which is seared and topped with toasted almond maple butter and crunchy crushed almonds. The fatty, thick-cut bacon helps the mouthwatering fish retain moisture and adds salty, savory goodness, a nice complement to the sweet maple butter. Another secret is that the salmon, which is brought in twice a week, is only frozen once.
Whole Bone-In Trout
Available fresh and in abundance right on-site, trout is unsurprisingly the foundation of many of the dishes served in the restaurant at Rockbridge Rainbow Trout & Game Ranch (4297 County Road 142, Rockbridge, 417-679-3619). One dish to try is the whole bone-in trout, which is available in numerous preparations, including baked, pan fried, stuffed and salt-broiled, during which the fish is covered in a thick layer of Kosher salt and cooked in the oven, which locks in moisture. Cooking the whole fish, bones included, makes every bite even more flavorful. 
Trout dishes abound at Rockbridge Rainbow Trout & Game Ranch, but the standouts are the stuffed and the salt-broiled trout entrees.


Ravioli con Aragosta Capesante e Gameroni
This mouthwatering seafood ravioli at Bruno's Italian Restaurant (416 South St., Springfield, 417-866-0007) prominently features a variety of different types of seafood, but its flavors are delicate and elegant. The luscious filling includes chopped lobster, scallop and shrimp, which is tucked inside layers of pasta that's made fresh each day. The divine sauce—a flavorful combo of lobster stock, garlic, paprika, brandy, tomato sauce, parsley and cream—alone is worth the price of admission. 
Butter Poached Seafood Pot Pie
Sous Chef Stephanie A. Holmes' seafood pot pie recipe at Osage Restaurant at Top of the Rock (at Top of the Rock, 190 Top of the Rock Road, Ridgedale, 417-335-2777) is comforting, refined and oh so good. Juicy shrimp and fresh scallops flown in twice a week from the East Coast are quickly seared. The pan is then deglazed with some white wine and cream, after which the shellfish is returned to the pan to poach. The shellfish and sauce are spooned on top of mashed potatoes, and a light, crispy piece of puffed pastry is placed on top. 
Fresh Ahi Tuna
Beef is a namesake of Flame Steakhouse (314 W. Walnut St., Springfield, 417-862-4444), but refined seafood from the raw bar and in plates like the popular ahi tuna entree are also a major draw. For the latter, the highest-grade ahi tuna is flown in twice a week from Hawaii (where it's selected by hand for quality and for the perfect deep-purple color). The beautiful fish is flavored with a salt and pepper crust and served with sides like a tangy wasabi slaw, as well as a choice of items like mashed potatoes with candied bacon and jalapeño cheddar.
A seafood-lover's delight, the Frutti di Mare from Avanzare Italian Dining includes a little of all the sea's best shellfish.
Blackened Salmon
One day, a staff member at Joplin Eagle Drive-In (4224 Hearnes Blvd., Joplin, 417-623-2228) ordered the restaurant's salmon salad and decided to try it with some barbecue sauce. That led to a discovery: the sweetness of the sauce went beautifully with the fish. Now, blueberry barbecue sauce always comes with the popular entree featuring wild-caught salmon. For the dish, a thin-cut piece of salmon is dusted with blackening seasoning, grilled on the flattop (it's covered for part of the cooking to lock in moisture) and presented on a bed of greens. 
Seared Trout
A far-and-away favorite for many of the regulars at Metropolitan Farmer (2144 E. Republic Road, Suite B101, Springfield, 417-720-1665), Chef Wes Johnson's signature trout dish—a fixture on the restaurant's regularly rotating menu—features a seared skin-on filet fresh from Rockbridge Rainbow Trout & Game Ranch. The trout is served with a potato, pea and mushroom hash and topped with mixed greens tossed in a subtly sweet burnt honey vinaigrette that's dynamite with the fish.
Tropical fruits like pineapple and passion fruit balance out the Pan-Seared Salmon Fillet from Level 2 Steakhouse.
Cioppino
The version of this classic seafood stew at Nonna's Italian Cafe (306 South Ave., Springfield, 417-831-1222) stays true to its San Francisco origins in every way but one: It eschews the hunk of sourdough bread that's typically served on the side for linguine, a delightful addition that goes beautifully with the rich tomato broth bursting with garlicky goodness. At lunchtime, the dish is filled with shrimp, crab meat, fresh mussels and clams; at dinner, big, beautiful scallops are added also. 
Grilled Yellowfin Tuna
Smooth, buttery yellowfin tuna—be sure to ask for the steaks to be cooked to either rare or medium-rare to preserve that luscious texture—is beautifully balanced by the tangy, citrusy lemon-and-caper sauce it's paired with at Nicola's Ristorante (3631 E. Sunshine St., Springfield, 417-886-3700). The zingy sauce and rich grilled fish shine alongside the simple sides they're paired with, which include fresh seasonal vegetables and basmati rice. 
Don't be a selfish shellfish. The Touch Tower from Touch Restaurant & Oyster Bar is made for sharing.


Frutti di Mare
As with every dish at Avanzare Italian Dining (1908 S. Glenstone Ave., Springfield, 417-567-3463), you are in good hands with the Frutti di Mare, a classic Italian dish overflowing with a variety of shellfish. The version at Avanzare features shrimp, plump scallops, calamari and black mussels, served with spaghetti. Be sure to ask for some extra bread so you can soak up every delicious drop of the fresh marinara sauce flavored with a little red pepper and splash of white wine.
Pan-Seared Salmon Filet
Salmon is scrumptious, but sometimes its preparation at restaurants tends to be a little, well, uninspired. So, we jump for joy when restaurants like Level 2 Steakhouse (200 E. Main St., Branson, 417-243-3433) jazz up the seafood staple with creative accoutrements and punchy flavors. Here, the salmon is filleted by hand, pan seared and served with inventive components such as charred fresh pineapple and a passion fruit vinaigrette balancing sweet and acidic notes. (Another worthy choice from the menu is the "Fresh Catch" entree utilizing whatever fresh fish is in season that day.)
There's no need to be salty about seafood—or maybe there is. The Gerard at Metropolitan Grill is served atop a Himalayan salt block for an extra punch of flavor.
Touch Tower
When Touch Restaurant & Oyster Bar (1620 E. Republic Road, Springfield, 417-823-8383) revamped its menu not too long ago to offer more oysters and seafood, we jumped for joy. And amid all that excitement, it's hard to choose what to order. If you can't decide on one dish, get a nice sampling of seafood instead. Gather a group of friends and share the jaw-dropping Touch Tower, which is piled high with jumbo shrimp, a dozen oysters, half a pound of Alaskan king crab legs and ceviche. The lofty platter serves about two people for dinner, and roughly six to eight as an appetizer.
Gerard
Inventively composed and elegantly presented, the Gerard dish at Metropolitan Grill (2931 E. Battlefield Road, Springfield, 417-889-4951) features ahi tuna flavored with a house blackening seasoning before it's quickly seared, cut on the bias and laid atop a Himalayan salt block. It also comes with a bloody mary reduction sauce, as well as a creative slaw incorporating grilled lime, creamy avocado and seared scallops, all of which is topped with a zingy wasabi caviar. Diners can choose either a 5- or 8-ounce portion of tuna for the entree. 
You might not think of seafood and country farms together, but trust us, scallops don't get any fresher than the scallops trio at Harvest Restaurant.
Misoyaki Black Cod
Melt-in-your-mouth Black cod—known by some as butterfish for its buttery, creamy texture—is the star of the richly flavored Misoyaki Black Cod at Haruno Sushi Bar (3044 S. Fremont Ave., Springfield, 417-887-0077). Using traditional Japanese preparation and components, the fish is marinated overnight in punchy ingredients like sake, miso and mirin. Once orders start flowing in, the fish is pan seared just long enough to get a little caramelization on the outside before it's plated alongside steamed rice and vegetables like bok choy.
Trio of Scallops
Having lived in California's Monterey Bay region and worked in top-notch establishments there and elsewhere, Harvest Restaurant (8011 E. State Highway AD, Rogersville, 417-830-3656) chef-owner Craig von Foerster knows a thing or two about sourcing and preparing incredible seafood. Don't miss his signature scallop trio made with three rotating preparations. For example, one scallop might come with a champagne and local caviar butter, another with a truffle vinaigrette and another with a Green Thicket Farm quail egg, dill and Dijon mustard sauce. Von Foerster uses either fresh diver-caught or day-boat scallops from Maine, which are chemical free and untreated. 
The pan-seared Chilean sea bass from Crabby's in Joplin comes with potatoes, asparagus and mushrooms that make this dish worth the drive. 
Shrimp & Grits 
Matt Lawson, sous chef of Devil's Pool Restaurant at Big Cedar (190 Top of the Rock Road, Ridgedale, 417-335-2777), came up with the eatery's take on classic shrimp and grits. It starts with house-made, cayenne-spiced brown gravy, which the team starts making early in the day. Then, juicy, bite-sized shrimp are quickly sauteed, and the pan is deglazed with some white wine. Next comes the gravy, followed by the shrimp, both of which are spooned over buttery, creamy grits, and the Southern favorite is ready to be devoured.
Pan-Seared Chilean Sea Bass
Put over the top by Crabby's Seafood Bar & Grill (815 W. Seventh St., Joplin, 417-206-3474, crabbysjoplin.com) chef-owner Damien Tiregol's skillful preparation, the pan-seared Chilean sea bass dish is a longtime customer favorite at this upscale Joplin restaurant known for high-quality seafood. The scrumptious fish is complemented nicely by a butter sauce made with mirin, a Japanese sweet rice wine lending a touch of welcome acidity. Garlic mashed potatoes, sauteed sesame asparagus and meaty wild mushrooms round out the dish.
---
Sea to Table's offerings vary constantly, but Pacific halibut will likely be available this spring and highlighted at The Order in its Chef's Seasonal Catch. Starting mid- to late-March, that halibut becomes available in icy Alaskan waters, where it's caught by fishermen who go out to sea for days at a time and return to docks in locations like Kenai. The fish is then offloaded, graded and weighed. Availability is logged into Sea to Table's software and relayed to chefs like The Order's Executive Chef Zach White by around mid-morning.
2. MONDAY LATE MORNING
White and his sous chef review Sea to Table's offerings and place an order for the Chef's Seasonal Catch. (Due to the time difference, White sometimes places a standing order for fish expected to come into West Coast and Alaskan docks.) Typically, this happens once a week, unless a particular version of the dish sells out quickly. Sea to Table conveys White's order to the dock, where the halibut is packaged and overnighted to the restaurant via FedEx.
3. TUESDAY LATE MORNING
The restaurant receives a package containing the halibut, which the chefs clean, portion, individually quick freeze in a minus-12-degree freezer and vacuum seal to ensure the product's freshness and integrity. (Several servings are vacuum sealed but not frozen for service that night; the remainder is frozen for the week.) Halibut is a large fish, so this process can take roughly 30 minutes.
4. TUESDAY DINNER SERVICE
As orders come in for the Chef's Seasonal Catch, the halibut is seasoned and typically seared. Sides often vary, but this March, White might serve celery root purée with fresh truffles or—in a nod to his days at an upscale restaurant in the Caribbean—coconut milk risotto alongside the flaky fish.
---
Our region is home to waterways that are chock-full of trout, bass and more, but a handful of area sources are producing other unexpected, ocean-faring goods right here in 417-land.
Despite the lack of ocean access, 417-land has a burgeoning farm-to-fork movement that also extends to seafood, varieties of which are raised in and around the region. Take for example Circle Sea Shrimp Farm in Stella, Missouri, which started selling saltwater shrimp in 2015. Once a barn for raising turkeys, Circle Sea's environmentally friendly facility yields about 100 pounds of shrimp per month, all of which are gobbled up by hungry consumers. 
Make your next brunch bougie—and local—with paddlefish caviar from Missouri's own L'Osage Caviar Company.
There's another 417-land shrimp producer located up in El Dorado Springs, although it raises and sells freshwater prawns. Cedar Waters Farms, LLC transformed roughly an acre and a quarter of land into a pond that now produces between 500 and 700 pounds of freshwater prawns annually. 
Those prawns are harvested once a year in September, when dozens of shrimp-loving people travel to the farm to stock up, including Harvest Restaurant's Craig von Foerster, who used that bounty for a private event and plans to serve the shrimp at the restaurant when they are available. 
Just beyond 417-land is a source offering one of the most prized and lavish seafood products available: caviar. L'Osage Caviar Company, Inc., based in Osage Beach, utilizes the rich roe from paddlefish, which are farmed out to area lakes to mature for 10 to 12 years before they are harvested.
Not only is L'Osage's final product sustainable—the operation is less taxing to the environment than other caviar producers—but it's also top-notch: The majority is shipped to high-end clients in Japan, and the brand was even featured in Academy Award gift bags one year. How's that for making waves?
---
Whether they're sauteed and sophisticated, saucy and deep fried or somewhere in between, these eight crispy seafood patties take the cake.
Crab Cakes with Lemon Aioli
Blue crab claw meat, panko, fresh herbs, lemon zest aioli
Pan-Seared Crawfish Cakes
Crawfish, breadcrumbs, bell peppers, green onions, served with spicy creole aioli and wilted greens
Smoked Catfish Cakes
Dobyns Dining Room at The Keeter Center at College of the Ozarks
Smoked catfish, green onion, bell pepper, mayonnaise, lemon juice, Dijon mustard, capers, seasonings, panko, smoked tomato tartar sauce, served with Carolina coleslaw
Crab Cakes
Red Oak Steakhouse at Downstream Casino
Lump crab, panko, Tabasco, Worcestershire, scallions, parsley, red bell pepper, cilantro pesto, remoulade, lemon aioli, served with micro greens
Crab Trout Cakes
Lump crab, rainbow trout, peppers, green onion, panko, Italian bread crumbs, spicy aioli
Seafood Cake
Crab, tuna, salmon, white fish, carrot, green onion, panko, katsu sauce, side of spring greens
Todd & Leah
Blue crab meat, risotto, béarnaise sauce (which binds the cake), panko, served with blue cheese and potato skins
---
---
The Raw Bar
Prettily presented on ice, Flame Steakhouse's raw bar is filled with items like crab legs, mussels, jumbo shrimp, Maine lobster tail and oysters. The seafood comes in as often as five times per week, and certain items are shipped directly from docks via seafoods.com. 
Diver Scallop
The Order's scrumptious scallop appetizer (also available as an entree) is put over the top with sides like chevre creamed corn and braised pork cheek, plus smoked tomato sauce and a balsamic fig reduction. The big, beautiful scallops come from New Bedford, Massachusetts, via Sea to Table, which works directly with sustainable American fisheries (read more on p. 131).
Ahi Tuna Poke
Chunks of raw ahi tuna are mixed with diced onion and tomato, poke sauce (made with ingredients like ginger, soy and sesame oil) and a sweet teriyaki sauce. The dish is plated with a pretty seaweed salad and wonton chips, adding a welcome crispy textural component to the island-inspired plate.
Five Spice Seared Tuna Nacho
Seasoned with Fire & Ice's house-made five-spice mixture, ahi tuna is cooked to mid-rare, sliced and served with crispy fried wonton chips and an Asian slaw. The appetizer is drizzled with a punchy wasabi cream and sweet soy sauce and sprinkled with sesame seeds.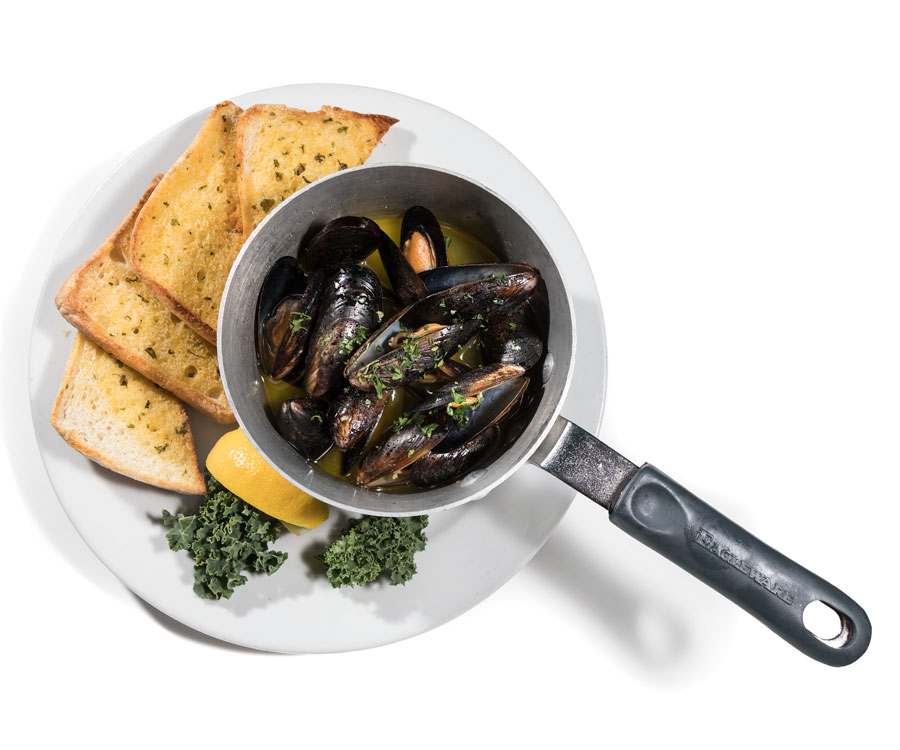 Steamed Mussels
A match made in seafood heaven, fresh blue mussels, butter, garlic and white wine steam together. After the mussels open, they are sprinkled with parsley and served in a pot with some crunchy toasted ciabatta (brushed with a garlic butter compound) that's perfect for soaking up the tasty broth.
Oyster Shooter
Available at Flame Steakhouse and Touch Restaurant & Oyster Bar
If you're a raw oyster lover, the Oyster Shooters at these two spots are a must. The freshly shucked oysters are paired with spicy, flavorful house-infused jalapeño and garlic vodka.
Leche de Tigre
A tradition in Peru but an atypical find stateside, this shot features the tangy, salty juice from ceviche, a piquant chili sauce and a chilled shrimp on top. Diners drink the liquid and follow it with the shrimp as a chaser, the subtle sweetness of which balances the liquid's heat.
---
BASA: Tong's Thai Restaurant
THE CRUST: Egg, half-and-half, salt, white pepper, flour
WHAT'S INSIDE: Farm-raised basa
GARNISHES: Served with steamed veggies, rice and a choice of sauces like the signature basil-garlic concoction
FISH & CHIPS: Springfield Brewing Company
THE CRUST: The brewery's Paul's Pale Ale, flour, spices
WHAT'S INSIDE: Light, flaky hake
GARNISHES: Served with waffle-cut fries, coleslaw and house-made tartar sauce
CATFISH DINNER: Big Easy Grill
THE CRUST: Cornmeal, creole seasonings
WHAT'S INSIDE: Deep-fried catfish
GARNISHES: Served with sweet potato fries, coleslaw, hush puppies and house-made tartar sauce
FISH & CHIPS: Farmers Gastropub
THE CRUST: Flour, baking soda, salt, soda water, water
WHAT'S INSIDE: Sustainable, long-line-caught Icelandic cod brought in twice a week
GARNISHES: Served with triple-cooked chips, house-made tartar sauce and lemon wedges
FLASH-FRIED CRAWFISH TAILS: White River Fish House
THE CRUST: Flour, seasonings
WHAT'S INSIDE: Farm-raised crawfish flash-fried for about 45 seconds
GARNISHES: Served with sherry wine sauce
---
Hy-Vee: Stocked up to four times a week with fresh-from-the-sea goodies, Hy-Vee employs its Responsible Choice labeling program, which indicates sustainably sourced seafood as determined by the Monterey Bay Aquarium's Seafood Watch. Take note of the live lobster tanks, a rarity in the region.  
Captain Craig's at Price Cutter: Foodies, rejoice: Although Captain Craig's original location is no more, Price Cutter brought the beloved market into its Battlefield Road and West Republic Road stores and is drawing on the know-how of two of its former owners. Look for in-house smoked salmon, custom seafood platters and all kinds of ultra-fresh items. 
Coming Soon: Ruby's Market: Fresh seafood will be flown in direct from both coasts to this new grocery concept located at 2843 E. Sunshine St. At press time, the market is planned to open its doors around late February or early March.
---

Express Foods: Call 417-766-4628 or visit expressfoods.net to order.
Get the fixings for a classic shrimp or crawfish boil from Express Foods, which caters those events, fish fries and other events with wild-caught, sustainable seafood and other products. A favorite among area chefs, Express Foods follows the Monterey Bay Aquarium's Seafood Watch guidelines and works directly with fishermen in Louisiana, Florida, the East and West Coasts and beyond. Look for their seafood at Farmers Market of the Ozarks, the Branson and Ozark farmers markets and stores such as MaMa Jean's Natural Market, Hörrmann Meats and others. Express Foods also handles all kinds of custom orders and offers delivery within 100 miles of Springfield.  
Shrimp and Bayou Classics: Located at 3245 W. Republic Road, Springfield. During business hours, call 417-818-1647. To order crawfish during the season, call 417-818-1950.
During crawfish season (roughly February through June), owner Chris Crow brings live crawfish back from New Orleans every other weekend. Order sacks of the fresh crustaceans or feast at the eatery's biweekly crawfish boils. You can also order fresh shrimp and attend weekend shrimp boils throughout the year. Catering is also available.
You don't have to live in a salty seaside village to throw a seafood boil. Head to 417-land shops for all these fish-friendly finds.

1. Danica Designs Odyssey Anchor Dish Towel
$12.95 at Everything Kitchens
2. Geode Cracking Coasters
$12.95 at The Market
3. Morty The Knife Man Shrimper
$4.99 at Everything Kitchens
4. Golden Rabbit Blue Speckled Stock Pot 
$149.95 at Baglady Boutique
5. Golden Rabbit Dinner Plates
$14.95 each at Baglady Boutique
6. Old Bay Seasoning
$4.99–10.99 from Express Foods
7. C and F Gingham Dish Towel in Black and White
$5.95 at Baglady Boutique
8. Express Foods Seafood
Maine lobster, blue crab and gulf white shrimp; market pricing at 417-766-4628 or expressfoods.net
9. Golden Rabbit Red Speckled Roasting Pan
$54.95 at Baglady Boutique
10. Morty The Knife Man Crab Mallet
$3.99 at Everything Kitchens
---
You don't have to travel to the coast to catch and consume fresh seafood. These prime spots make it easy to fish and dine that day on delicious local trout.
Rockbridge Rainbow Trout & Game Ranch
This local spot offers catch-and-release and catch-and-keep trout fishing as well as guided fishing outings if you need help catching your own. Request to have the fish cleaned and prepared at the restaurant to enjoy your catch that night. 
Get up to speed in monthly fly-fishing classes or head out on guided excursions. Then have your catch broiled, seared or fried and served at the restaurant with sauces like almondine or mushroom hollandaise.
Any trout you catch is cleaned and put on ice at no cost, so you can bring it home and cook it up in whatever way suits your dining disposition. Complimentary fishing rods and bait are available.