Life
5 Best Reasons to Go Cards Crazy
Spring is finally here, and there's nothing better than a warm night game and a cool curveball. This year is the Springfield Cardinals' 10th season, and we rounded up our five favorite reasons to get excited about this great American pastime.
By The Editors
Apr 2014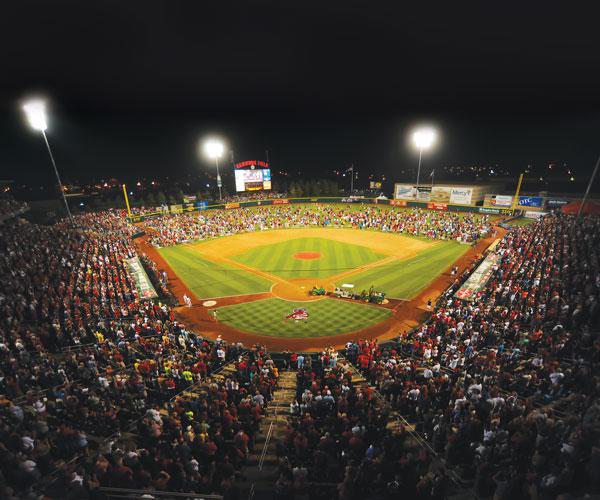 1. Hammons Field is an Award-Winning Ballpark
Hammons Field is a world-class ballpark—one of the many reasons why it won 2013 Double-A Field of the Year. The staff's efforts to improve the stadium make it a shining diamond in minor league ball. "We make improvements because of our commitment to the players," says Matt Gifford, vice president and general manager of the Springfield Cardinals. "We want to make sure this is one of the most first-class minor league facilities so they can improve those numbers and get called up." There's still more to do: John Hammons' legacy and vision for the park is a reminder to keep improving, Gifford says. 


2.  The Grounds at Hammons Field are Perfectly Maintained
The spotless logos on the field, the manicured mound and the lush, green grass are a few reasons why Springfield Cardinals head groundskeeper Brock Phipps was named the 2013 Double-A Sports Turf Manager. But more than watering the grass is required to secure the prestigious award. "Brock is very dedicated," Gifford says. "He has been here since the beginning. We win awards because of the hard work that gets put in by Brock and the entire staff." More than 100 events are held on Hammons Field each year, and the grounds crew works tirelessly to maintain a pristine field.


3. Springfield Cardinals Often Become St. Louis Cardinals
At the World Series last October, 18 of the 25 guys with the birds were former Springfield Cardinals players. Hammons Field is where major league talent comes to play before being called up to the big leagues. "We have the best fans in baseball, and for our fans to be able to see these young men develop into the stars we see today, you can't put a value on that," says Gifford. This season, keep an eye on centerfielder James Ramsey. He's got the speed to make nearly impossible plays and has a heart of gold.


4. Louie is the Best Mascot in the Roost
Louie is one busy bird, and he turns 10 this season. He flies around the field at every game as he signs autographs and ball caps and spends time at the Coloring Zone with young Cardinals fans. When not entertaining fans between innings, Louie can be found walking his dog, Fetch, around the stadium.


5. Anniversary Promotions Will Brighten Your Days
Because this month marks the beginning of the Springfield Cardinals' 10th season, plenty of promotions to celebrate a decade of baseball are in store, including premium St. Louis Cardinals promotional giveaways, bobbleheads, long sleeve T-shirts, baseball caps and ice cream bowls. Plus, the Cardinals team promises better-than-ever in-game activities and more fun at Hammons Field. And as always, Friday night fireworks continue. It's going to be a home run season.