Reviews
Trip to the Chef's Table
We experience a view of the White River while teasing our taste buds with Chef Ryan Van Winkle's creative Chocolate Tasting Menu at The Chef's Table at Dawt Mill.
Written by Heather Kane | Photos by Heather Kane
Apr 2017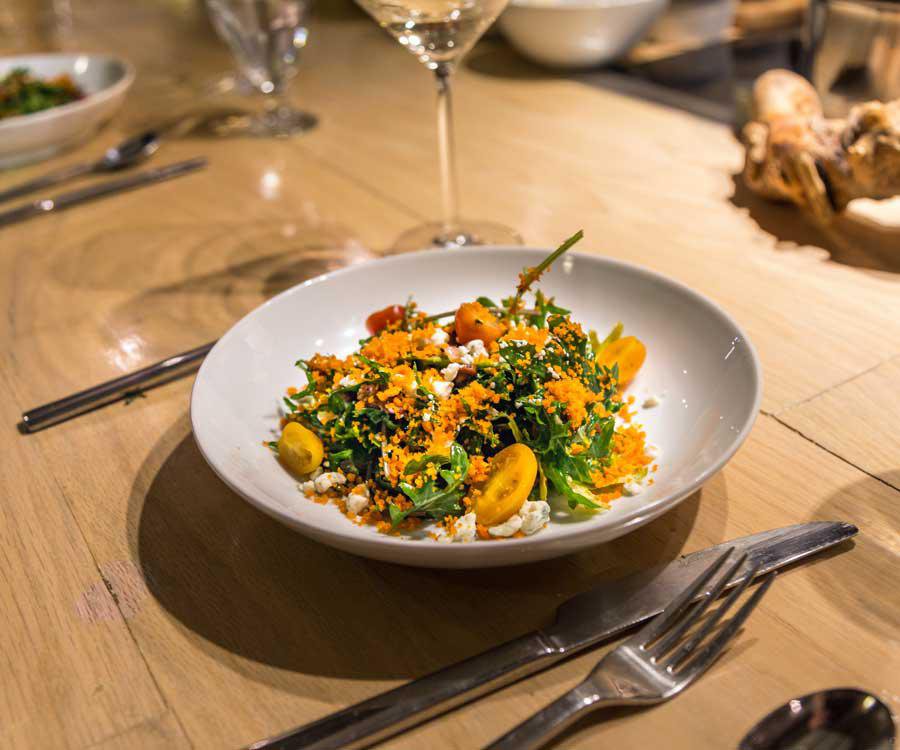 (Above) The first flight ended with a kale salad topped with bright veggies.

On a high bank of the North Fork on the White River sits Dawt Mill, home to The Chef's Table, a creative and intimate dining experience that takes place year round. Created by Chef Ryan Van Winkle, The Chef's Table can host up to 12 guests at a large hand-hewn oak table, with seats that have a view of the beautiful White River. 
I wasn't a stranger to Chef Ryan or The Chef's Table. I had been last summer when the resort was buzzing with guests who were escaping the heat in the cool river waters. This time was quite different—it was February, and the resort was quiet and serene. 
As my dinner partner, Carley Inskeep, and I entered the small cabin-like restaurant, Chef Ryan welcomed us and we quickly took our seats at the massive table. The stove that was built into the table had several pots cooking with mysterious and delicious smells wafting into the air. 
"Do you want to be surprised, or would you like a menu?" Chef Ryan asked. "Surprise us," was our immediate reply. I soon realized that the two of us, along with Jennifer Porter, Dawt Mill's digital marketing director, were the only guests for this particular 11-course dinner. What a pleasant and peaceful surprise.
The theme for the evening was a twist on South American–style cuisine with an underlying Valentine's Day theme. (When we visited, the holiday was only four days away.) I could see bowls of dark and white chocolate chunks sitting on the table, and my taste buds started to anticipate chocolate desserts before the first course was even served. 
The first flight started with a strawberry margarita. It was bright red in color and the perfect refresher after our drive. The Valentine's reference was apparent, but not in-your-face. Chef Ryan says he likes to start off with courses that are a little more relaxed and quirky to ease his guests into the culinary experience. "It's not a place where you have to worry about what fork to use; it's casual," Chef Ryan explained, and we became more at ease in our seats.
The night started off with a sweet strawberry margarita as the first course.
Our second dish was a plump shrimp paired with chunky citrus and ginger. The shrimp was cooked perfectly, and we craved more. Course number three was a fried stuffed pepper, pulled from a sizzling cast iron skillet, which made it slightly smoky. Next, we were served a kale salad with crunchy dehydrated carrots, Gorgonzola, bacon and white chocolate. The crunch was just how I like a salad to be, and the dressing was sweet and light. Chicken tamales came out next; the texture was in sync with the meal. We had started sweet, then gone chunky, then creamy and now soft and meaty. The tamale was delicate but rich at the same time. I wanted to scrape the plate for any remnants left behind.
Chef Ryan Van Winkle plates the steel cut oats with dark chocolate for the sixth course.
By this point in the dinner, the conversation was flowing, and not in a pretentious way. Chef Ryan is anything but egocentric. The attention is on the food and not on the chef, even though Chef Ryan's stories are interesting and heartwarming. Like the story behind his cast iron skillet that was given to him by his parents. It had belonged to his grandmother, and he now uses it to cook for his guests at The Chef's Table. Grandma would have been so proud, we told him. We chatted about eating snapping turtle and all the local places Chef Ryan sources his food, as well as his garden located on the Dawt Mill property. 
The sun was down, and as we began to realize our progression in the 11 courses, we started expecting a heavier main course to be served. Our wine pairings were becoming heavier in body and richer in color. Dish five was elk with steel cut oats and dried cherries. The cherries were this sweet and slightly sour flavor that paired well with the red meat, and I ended up enjoying the elk even though it wasn't something I would typically order. The other meaty dish was bison sausage, which was delicious and peppery. 
One of the dishes in the second flight was bison sausage served with chopped dried plantains, pickled garlic and chives, connecting the South American inspired flavors of the meal.
Now for the good part: the dessert courses. We began with a flan topped with blueberries, then a chocolate molten cake topped with homemade whipped cream. The cake was probably the heaviest of all the dishes, maybe because its size was a little larger than that of the previous courses. Chef Ryan then handed us a cookie made with crushed potato chips, which was absolutely delicious. It was thin and crispy and had a good balance of sweet and salty. 
The final plate for the sixth course has the elk resting on a bed of chocolate oats. 
We ended the evening with one last thing, and it may be my favorite of all of them: hot chocolate. My mind went straight to the movie Chocolat, where Vianne Rocher uses her chocolaterie to brighten the lives of troubled French villagers. I had never had hot chocolate that was so smooth and thick. It warmed my insides and my soul. It was the perfect way to end a Valentine's Chef's Table experience. Needless to say, I'll be back to The Chef's Table again, maybe ending the night in one of their cabins next time.