Drinks
Kombucha Springs up on Tap at Spring Branch
Jessica and Chris Ollis are brewing kegs of flavor at Spring Branch Kombucha.
By Peyson Shields
Apr 2018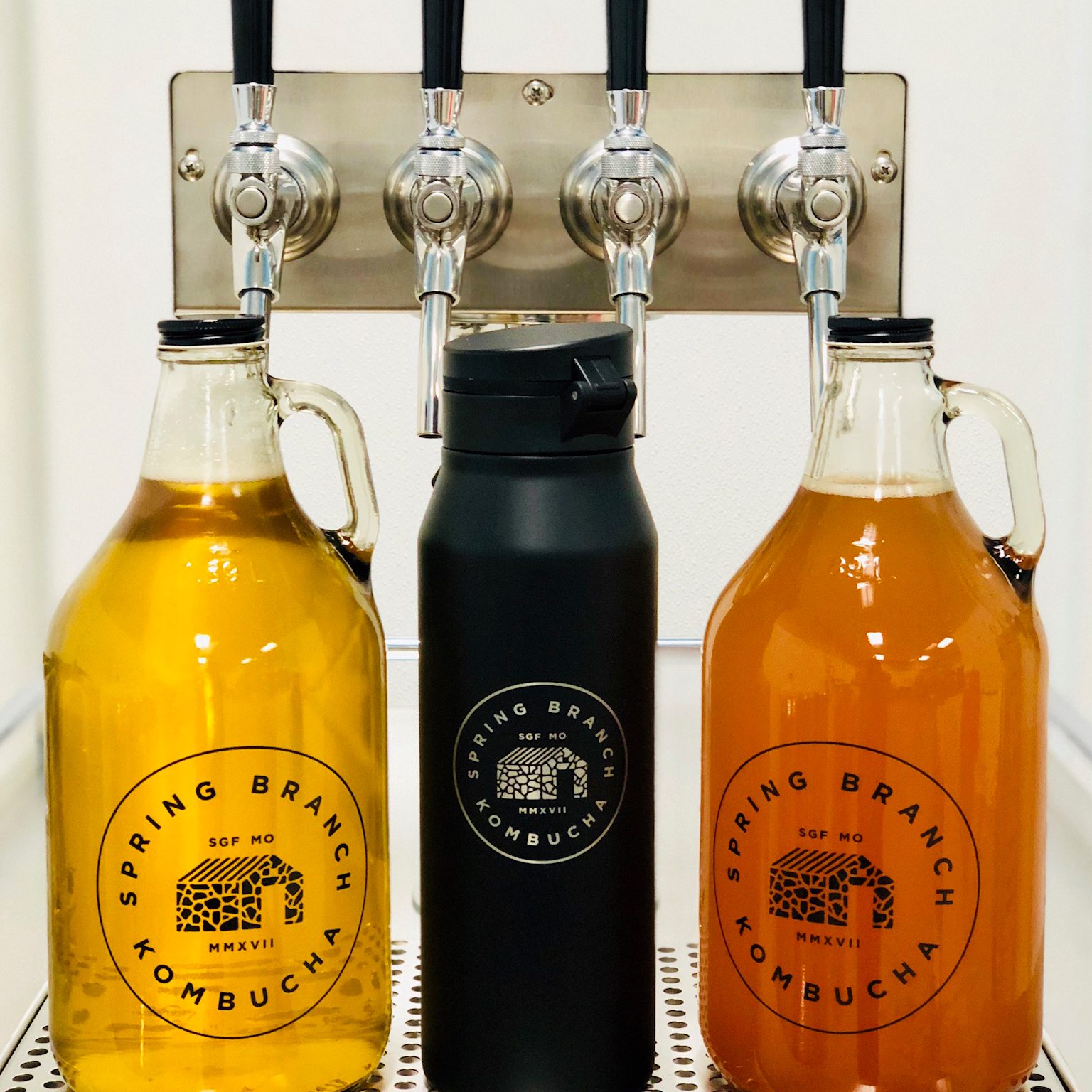 When Chris Ollis started making kombucha, a fermented tea, at home, it was more as an experiment than a business opportunity. "Chris was brewing beer at home off and on for 20 years, so we had all the equipment," says Jessica Ollis, Chris's wife and business partner. "He decided one day, 'I'm drinking kombucha, and I have this brewing equipment, so I'll just give it a shot.'"
Although it took Jessica a while to get on board, when Chris made a comment about a batch being good enough to sell in early 2017, she tried the new brew and was all in. Jessica sampled a few flavors with friends who shared her excitement. Chris did the same—at a barbecue competition nonetheless.
"I thought I was an outlier, but realized it's a little more mainstream," says Chris. "The majority of the people in the room drank kombucha regularly." Their successful market research helped propel the Ollises to take the leap and start Spring Branch Kombucha. "My mom grew up on a farm in Crawford County," Chris says. "One of the massively important features of this farm is a spring. Historically, it never had a name, but the family called it the 'Spring Branch.'" The family constructed a spring house and pump to push water to the house, and that stone structure served as the inspiration for Spring Branch's logo.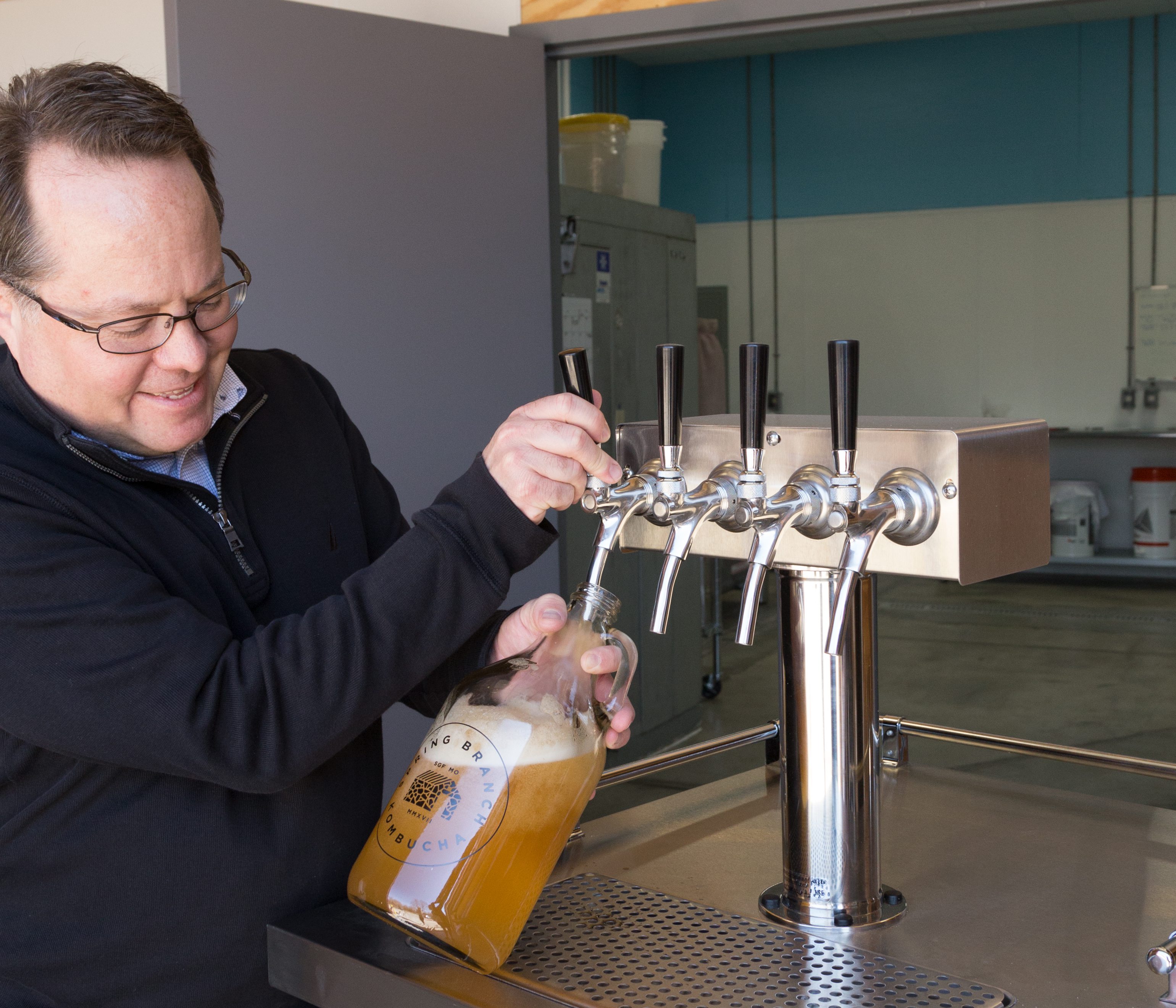 Kombucha has gained in popularity over the years for its fresh zing and health benefits—like being packed with probiotics that are said to be good for your gut. While fermented, kombucha has less than .05 percent alcohol content, which classifies the product as a soft drink in Missouri. That classification meant that the Ollises couldn't bottle their Kombucha by hand due to bottling regulations, so they landed on 5-gallon kegs—the same set-up you'd have at a college reunion. "I think the quality of our product lasts [in a keg]—it keeps the shelf life longer and flavors bolder," Jessica says.
Another benefit for Chris was to be able to experiment starting small and then scaling up. Jessica and Chris, along with Chris's brother, Matt, are working in 30-gallon batches. Eventually, they will have the equipment and the capacity to produce up to 300-gallon batches. 
As "the chicken guy" in barbecue competitions, Chris, who serves as head brewer, wasn't a novice when it came to experimenting with flavor. "I was a pretty plain-Jane beer person," Chris says. "I tried a few exotic things but didn't find them drinkable—the thing I enjoy most about kombucha is that it is drinkable. Raw kombucha is just an open platform."
Spring Branch will eventually have six flavors on rotation: blueberry thyme, raspberry basil, lemon hops, coffee, lavender and elderberry ginger. Whether you're wanting to fill up a 64-ounce glass growler or a 32-ounce stainless steel howler or just sip on a glass, Spring Branch Kombucha will be available at many places around 417-land this spring.