Dishes
Double Sow and Cow Burger
These seven dishes or drinks have passed our taste buds and made us rave. They are ranked by level of yumminess.
By The Editors | Photo by Brandon Alms
Aug 2014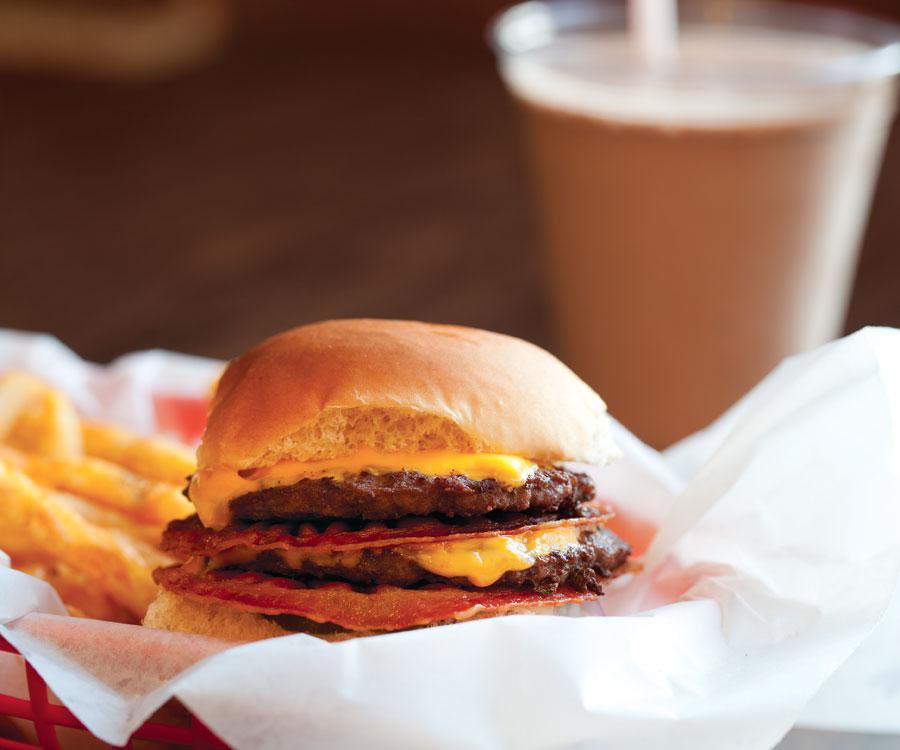 1. We're loving the Double Sow and Cow burger from Whisler's Hamburgers (208 W. McDaniel St., Springfield, 417-864-5565). Two burger patties, two slices of bacon and a toasted bun are topped with ketchup, mustard, pickle and onion. It's just a slider, but it's quite a mouthful.
2. Be sure to order the Arnie's Guacamole appetizer at Arnie's Barn (located at Top of the Rock, 612 Devil's Pool Rd., Ridgedale). It is oh-so-fresh with lots of lime juice for zip, roasted poblano peppers and fresh jalapeño.
3. For a meat-free lunch, we've been enjoying the Zucchini Grillini at Jason's Deli (1724 E. Battlefield, Springfield, 417-881-1500). Toasted nine-grain bread surrounds grilled zucchini, Kalamata olives, fresh spinach, roasted red pepper hummus and more. 
4. We already loved their pizza, but now we're also nuts for the pepperoni pinwheels at The Big Slice (1450 E. Sunshine St., Springfield, 417-720-1928). They are a bready, meaty, messy, indulgent treat—especially when you dunk them deep into marinara sauce.
5. Sweet perfection is the sea salt caramel from Candy House (locations in Joplin and Springfield; see candyhouse.net). It's the ideal two-bite treat.
6. The Omega from Legacy Bagelry (3049 S. Fremont Ave., Springfield, 417-501-1345) is a hearty-sandwich-lover's dream. It comes with corned beef, Swiss cheese, caramelized red onion, veggie cream cheese and an egg on fermented country bread.
7. We have lots of love for the creative cupcakes at Red's Cupcakes (redscupcakes.com), especially the Bananas Foster cupcake filled with dolce de leche and topped with brown sugar buttercream and a white chocolate drizzled banana chip. It's a deliciously sweet treat.