Love Local Buy Local
Shoppers get a little kickback when they shop at locally owned businesses.
By Jennifer Adamson | Photos by Brandon Alms
Aug 2014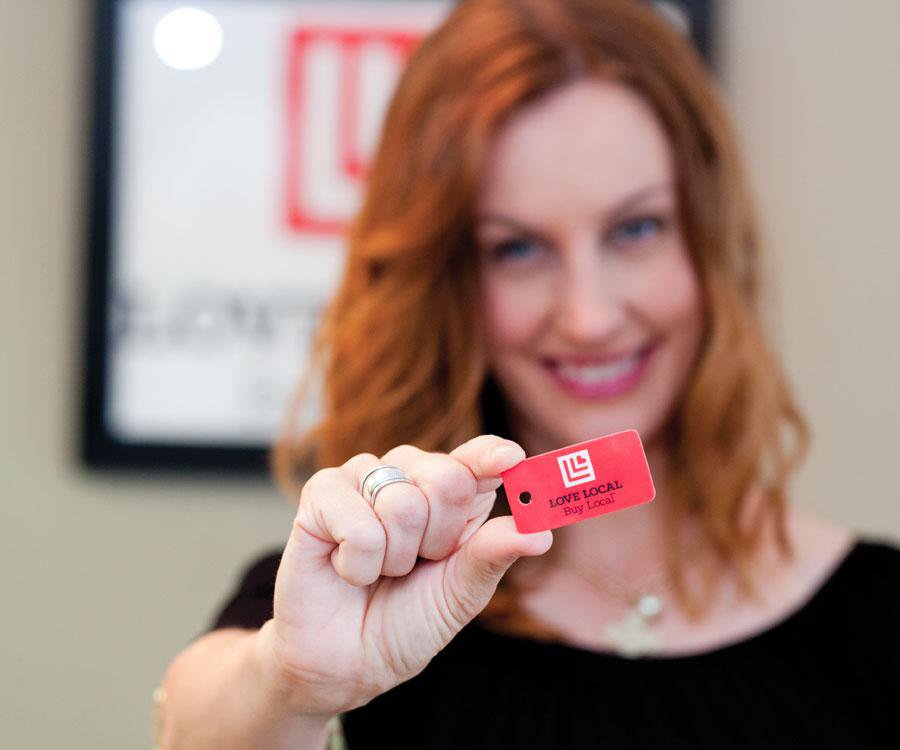 When Anessa Musgrave thinks about the economic community of the Ozarks, she pictures a beautiful tapestry. "Each local business is like a very unique thread," she says. "When those threads are woven together, as they are here in 417-land, they create something quite beautiful, like a colorful tapestry. That's what I want to preserve."
As the founder of Love Local Buy Local, Musgrave created a program that rewards customers for shopping locally. The idea is that money earned here stays here and strengthens our economy.
There are two ways to get involved: Buy a card or become a member business. Cards are $10 each at member businesses and can be used repeatedly until they expire each December. Just flash your card when visiting a participating business to collect rewards.
"I'm glad W3 Salon is a part of the Love Local team, and I'm happy we are able to pass along all the perks and benefits to our clients," says the salon's owner, Stacey Landrum. "It truly is a super-cool concept and a win-win for anyone living in the 417 community."
To become a member business, you have to be an independent, local business owner and honor the card for a 12-month period. You'll get ad space on the LLBL website (lovelocalbuylocal.com) and exposure on LLBL's social-media platforms. As an added perk, you can purchase cards at wholesale price and keep the sale of your cards, allowing you to recoup membership costs and make money off the LLBL brand.
More than 35 businesses have partnered with LLBL, and Musgrave plans to target additional businesses. "The more people I can reach and encourage to think about the importance of supporting local business, the better," she says.
More Info:
Look for Love Local Buy Local window clings around town, or download the free iPhone app to find member businesses. Here's the full list of participating businesses as of press time.
417 VIDEO
Antiquing We Go
Art Inspired
Balanced Business Concepts, LLC
Blue Raven Emporium
Bodacious Cases, LLC
Country Girls Espresso
The Creative Foundry
Dandylions (opening mid-August)
dannenga., LLC
DiGiaCinto
Down to Earth Foods
Eros Adult Boutique
European Café by Sweet Couture
Fitzgibbon Fine Art
Heather Freeman Design
Hook Creative
Kaleidoscope
Kaleidoscope Ink Tattoo
Kaleidoscope Piercing
Krueger Heating-Air Conditioning-Geothermal-Plumbing
Martial Arts USA
Megerian Rug Company
Mitchem Tire & Wheel
Oak Star Bank
P.E.A.C.E. thru Massage
Petals by Emily
Pickwick Underground Framing
Plank Productions, Inc.
Pure Wellness
Quincy's Creations
School of Rock Springfield
Simply Taken photos by Jen
Specialty Air Conditioning Services, Inc.
Star Cakes
Tara Homes by Gary Rostic
Traders Printing & Design
W3 Salon
Walker Hospitality Group
Wicker Fixer & Chair Re-Caner
Wood You Furniture
Zen 3 Spa and Bodyworks