Style
Schofield + Gray
Located approximately 20 miles east of Springfield, Fordland's monthly Schofield + Gray outdoor vintage market is the perfect spot to search for one-of-a-kind finds.
By Savannah Waszczuk | Photos by Vivian Wheeler
Aug 2015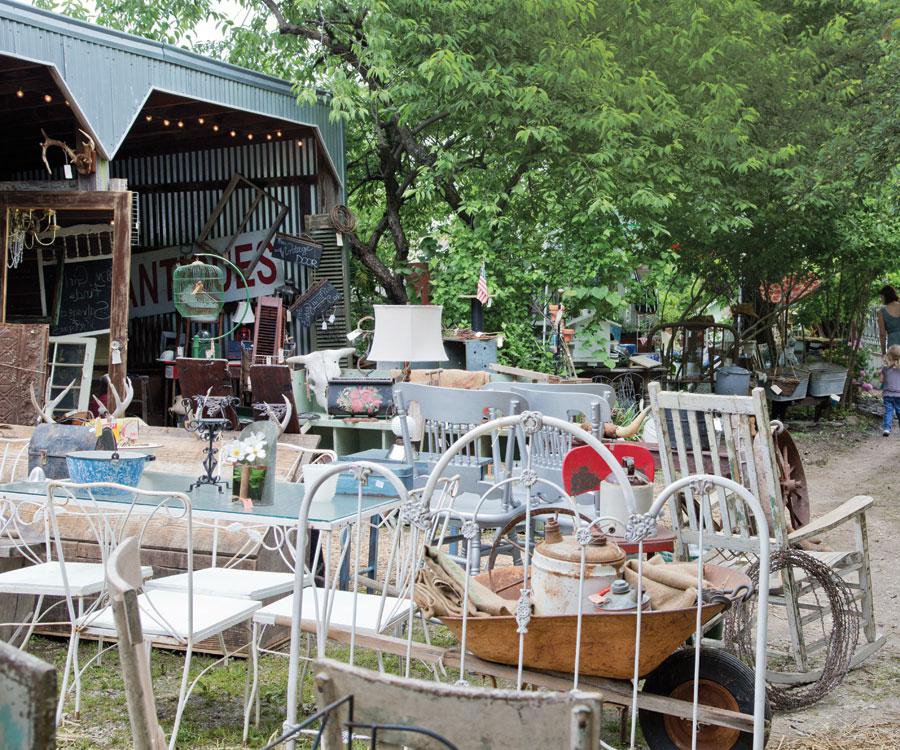 Schofield + Gray
358 Hill St., Fordland; 417-299-0227
Open 10 a.m. to 3 p.m. on the last Saturday of every month through September; scheduled to open varying Saturdays in October through December (check Schofield + Gray's Facebook page for details)
There's a bit of a romance that comes with searching for old treasures. While many people love scouring flea markets for treasures they might take home, they often find the thrill of the hunt every bit as appealing as actually finding a winning piece. At Schofield + Gray, an outdoor vintage market started by Grayson Home's co-owner Clive Gray, this hunt happens on a scenic country property just off of Main Street in the small town
of Fordland.   
Once a month on a Saturday, some 20 vendors set up shop at Schofield + Gray to create an outdoor festival of sorts. But there's a whole lot more than crafts up for grabs. Many of the vendors at Schofield + Gray are local businesses from Springfield, Ozark and other surrounding towns, and they bring in merchandise that ranges from repurposed furniture and vintage antiques to jewelry, lamps and other home décor. "There's really a huge variety for sale here," says Gray, who displays merchandise from Grayson Home, the Springfield furniture store he co-owns with Ryan Rosenquist. 
Many of the vendors set up shop in tents and outbuildings on the property, which is as large as three city blocks, while others set out displays in the old house that sits on the property. "It's my Grandma Lula Mai Schofield Lawson's old place," Gray says. As you walk through the cute, creaky house, you might find a business selling wall art and furniture in one room, then find antique restaurant plates and old children's games in the next. You don't know what's waiting around the corner, and that's definitely a huge part of the charm.
In addition to shopping, the monthly market is simply a good excuse to get outside and have some fun. Gray and Rosenquist, who is Gray's business partner, bring in musical entertainment each month, and they grill free hot dogs for people to enjoy as they explore. Since first opening in May 2014, the market has grown exponentially, and it's drawn as many as 500 people recently. While it's only a quick drive from Springfield, the towering trees, surrounding green grass and country charm make it feel a lifetime away. If you want a relaxing way to spend a Saturday, come on out and stay a while. 
Q&A with Schofield + Gray owner Clive Gray
417: How would you describe the atmosphere at Schofield + Gray?
C.G.: Everybody says when they come through the gates, it's just like magic to them. It's like they're in a different place. It does have that feel.
417: How do you find vendors?
C.G.: For the most part, they find me. We hand cards out and share information about it at our store, Grayson Home, but most of the time, people just come out to see it and then they want to be involved in it.
417: What is one word that best describes your merchandise?
C.G.: Eclectic
417 Magazine: What made you decide to open Schofield + Gray?
Clive Gray: It was actually my grandmother Lula Mai Schofield Lawson's idea. That's what she wanted me to do. She told me, "I never want you to work for anyone else. I want you to do something for yourself," and she wanted me to set it up and do exactly what we're doing now. She told me that in 1979 when I was 18 years old.  It's almost like an English garden.