Travel
Sedalia, MO
Located just 30 miles south of the Missouri River is the land of ragtime and railways: Sedalia, Missouri. Home to the Missouri State Fair that's more than a century in the making, Sedalia offers traditional Southern cooking and renowned culture perfect fo
By Riley de León
Aug 2015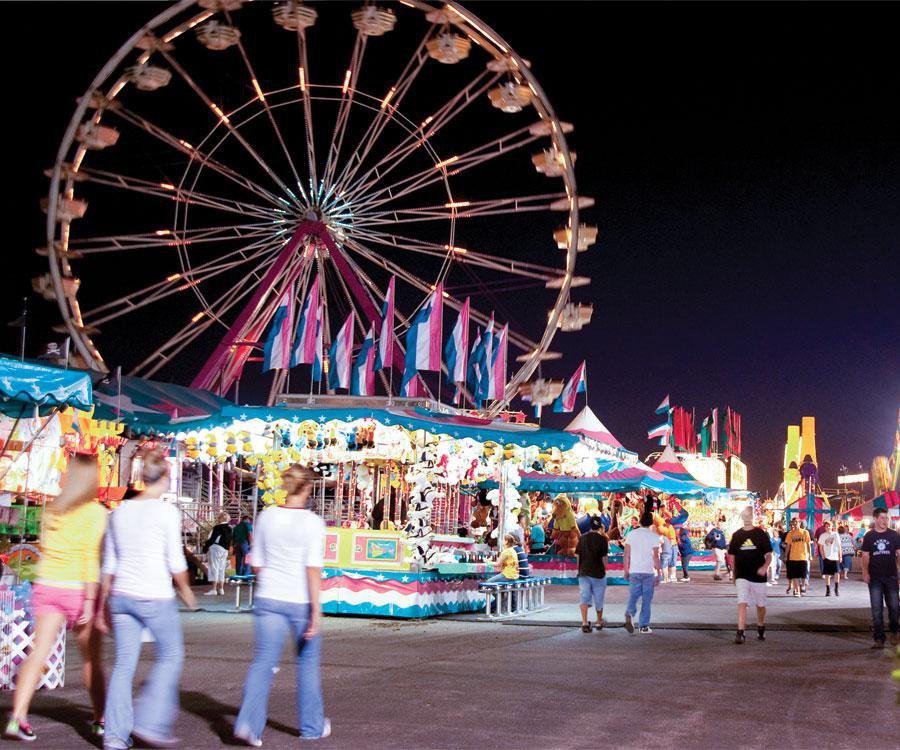 GO TO THE FAIR
This month, experience the hallmark of Sedalia by visiting the Missouri State Fair (mostatefair.com), August 13 to 23. Since 1901, families have made the annual expedition from near and far to see grandstand concerts, special contests and livestock events. This year, acts like Alabama and Andy Grammar take the Pepsi Grandstand stage, and the world-renowned Budweiser Clydesdales return for a special appearance. Admission is $7 for seniors age 60 and older, $10 for adults, $2 for children ages 6 to 12 and free for children 5 and younger. Be sure to mark your calendar for this 11-day festival.
FILL YOUR BELLY
Try Sedalia's signature twist on the traditional hamburger: The peanut butter–smothered Guberburger is served up  at Goody's Steakburgers (901 S. Limit Ave., Sedalia). Order a burger, and don't forget to load up on Goody's beer-battered onion rings. Once your food arrives, sit back and enjoy  the view. The '50s-inspired interior of the restaurant is even decked out with chrome chairs and gumball
machines galore.
If you like fried pickles and homegrown green beans, or if you're just in the mood for the most flavorful barbecue in miles, be sure to plan a stop at Kehde's Barbeque
(kehdesbbq.com). This restaurant was created from a 1920s train car and has been drawing crowds of barbecue-lovers for nearly three generations. While you're here, try the famous Posh potatoes.
HIT THE TRAIL
Head over to the Katy Trail (bikekatytrail.com) for the cornerstone of extraordinary native landscapes that stretches from Clinton to St. Charles. The Katy Trail is home to some of Missouri's finest bluffs and diverse wildlife. 
Whether you're looking for a brief afternoon hike or a five-day bike trek, the Katy is accommodating to any outdoors enthusiast. You can  start blazing your way down the trail at the Sedalia Katy Depot (katydepotsedalia.com). While there, explore the trailhead, do some souvenir shopping, repair your bike if needed and refresh with some yummy drinks and snacks. You'll even find an original metal train sculpture by Springfield artist Christine Shilling.
TAKE IN SOME CULTURE
Home to three stories of abstract paintings and aesthetic works of clay, the Daum Museum of Contemporary Art (daummuseum.org) is a cultural sanctuary featuring  significant works of Andy Warhol, Louise Bourgeois, Ansel Adams and many other mid-20th Century artists. Located in the heart of State Fair Community College, the Daum Museum houses a little something for everyone in each of its nine exhibition galleries. 
Just north of Sedalia, check out the Bothwell Lodge State Historic Site (Search Bothwell Lodge State Historic Site). This 31-room, 12,000-square-foot lodge offers a striking view of more than 8,000 acres of picturesque prairie land. Guided tours are available on Mondays, Thursdays, Fridays and Saturdays. Admission is $4 for adults 18 years and older, $3 for children ages 6 through 17 and free for children 5 and younger.