Style
The Crystal Fish, Gifts of Distinction
Looking for the perfect gift? Linda Cherry, co-owner of Branson gift boutique The Crystal Fish, Gifts of Distinction, has a few ideas.
Written by Lillian Stone | Photos by Kevin O'Riley
Aug 2016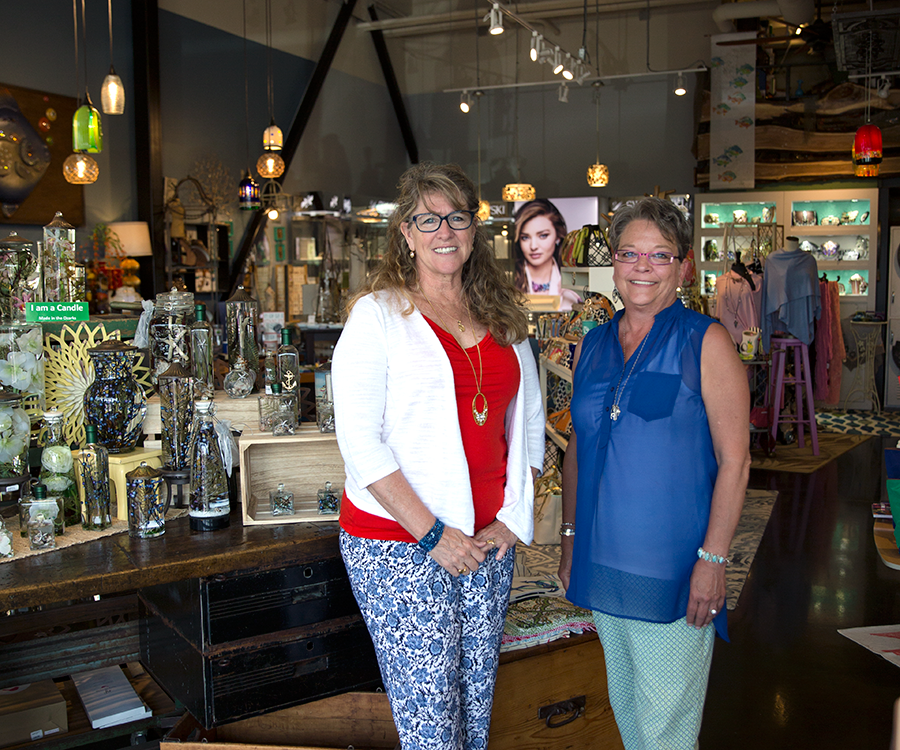 The Crystal Fish, Gifts of Distinction
490 Branson Landing Blvd., Ste. 301, Branson 417-335-8236, thecrystalfish.com
Open Mon.–Thurs., 10 a.m.–6 p.m.; Fri.–Sat., 10 a.m.–7 p.m.; Sun., 11 a.m.–5 p.m.
For a chronic impulse buyer like myself, walking into The Crystal Fish, Gifts of Distinction is an exercise in restraint. A prominent Swarovski display sparkles with classic and limited-edition crystal collections along one wall. A few feet away, shelves overflow with vibrant Vera Bradley prints. The boutique is bursting with well-known national brands, to be sure—but it's the Ozarks influence that really sets The Crystal Fish apart.
Linda Cherry served as the manager of Gifts of Distinction for 28 years. Today, she is the co-owner of The Crystal Fish, along with her lifelong friend Rosemary Knaust. The boutique's full name—The Crystal Fish, Gifts of Distinction—ties into its prior identity; the charming shop was known as Gifts of Distinction for years until its rebrand. Under Cherry and Knaust's ownership, The Crystal Fish has more than a new name. The boutique has moved from a central Branson Landing location to its new home: a more accessible spot on the Landing's outer boardwalk by Lake Taneycomo. "In this location, we want [the boutique] to be more casual," Cherry says. She adds that there is also more emphasis on handmade jewelry and local artists in an effort to tie the shop back into the Ozarks.
Eclectic Class
Cherry uses two words to describe the boutique's current vibe: eclectic class. The class is apparent in the glitzy Swarovski displays and gleaming Pandora baubles. According to Cherry, the boutique makes an effort to stock the latest and most exclusive lines of national brands. "We make it a point to bring in those products you can only buy in boutique stores," Cherry says. Cherry is also proud of the boutique's eclectic and Ozarks-centric aspect. The work of local jewelers is lovingly displayed throughout The Crystal Fish. Step into the back and you'll be met with an array of funky gifts, many of which are made in the Ozarks. A few highlights: locally made Windwood Farm soaps, whimsical fishy trinkets straight out of the lake and an abundance of Ozarks-inspired decor. The funky display ties in beautifully with the ritzy brands available in the rest of the store. Overall, The Crystal Fish maintains a comfortable balance for the 417-land shopper. It comes down to Cherry's goal as a boutique owner, which is for someone to have a great time and feel good as soon as they come in.
Q&A with Linda Cherry, co-owner of The Crystal Fish
417 Magazine: What makes a great gift? 
Linda Cherry: Something that has meaning is always wonderful. And sometimes it's just girlfriend gifts, like, "Hey, I want to get you a charm that reminds us of that day we had fun." Time spent together is so important, and sometimes it's so seldom that we get that. Something that makes an emotional connection is very important, and it doesn't have to be expensive.
417: What is your mission for The Crystal Fish? 
L.C.: I want to see people bring their friends in here and say, "You gotta see this." I want you to come back with your friends and say, "You wouldn't believe the handmade jewelry they've got in here." We want to see guys walk in our door and be comfortable—really, all you have to do is ask a few wonderful questions and they know exactly what they want to buy for their wife. On the other side of that, we want the wife to come in and say, "My husband bought me this and I love it." To be a part of those situations is probably what we want more than anything.
417: Where did the name "The Crystal Fish" come from? 
L.C.: Our name, "Gifts of Distinction," has been synonymous with us for a long time, and we wouldn't let it go. When we moved the store, we were changing our face a little bit. We wanted to have nice art pieces in the room. You'll see some handmade gyotakus, or fish prints. I kept saying, I want to put crystals all over a fish, just as an art object. My husband had been helping me find a fish that we could put crystals on, and he said, "Let's just sculpt a fish for you." That's where Bubbles [the store's mascot] came from. That's where "The Crystal Fish" came from, and it just stuck.