Spaces
Jami & John Wightman's Cottage Farmhouse in Nixa
Nixa residents Jami and John Wightman built a cottage farmhouse–inspired custom home with plenty of family touches and room to unwind.
By Adrienne Donica
Aug 2018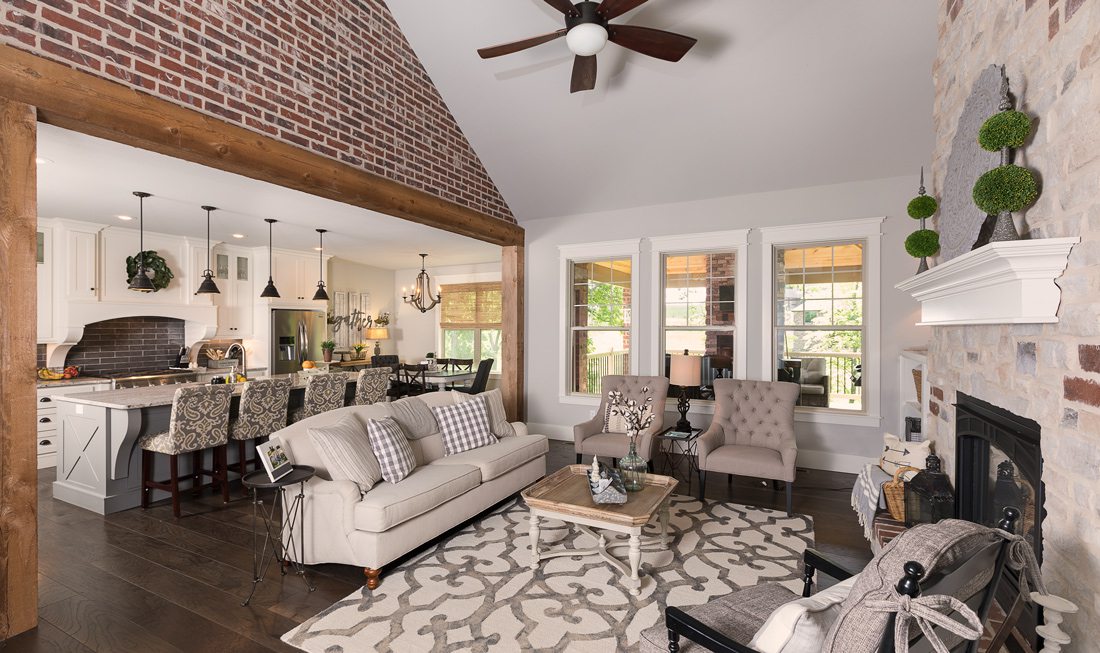 Becoming homebuilders sort of just happened for 417-landers Jami and John Wightman. Before joining the construction business, John grew up watching his dad, Ron, who built and sold homes in his free time. When the couple outgrew their first home in St. Louis, they sold it themselves and started building a new house. At the time, Jami, a Lockwood native and senior account executive at 417, was working for a telecommunications company and realized she could exercise her entrepreneurial spirit in the real estate market. "John's good at the construction and design part, and I'm good at the business side of it," Jami says. In 2002, Jami earned her real estate license, and the next year, Wightman Construction LLC was born. 

They built several homes in St. Louis, but after the market crashed, they decided to move to 417-land with their two kids, Logan and Molly. "[The] Springfield area has always felt a little bit like home," says Jami, who frequently visited Springfield while growing up. And both Jami and John graduated from Missouri State University. After moving, the couple put custom homebuilding on hold (John still does concrete work through the business) except for one project—their own home in Nixa. 

In January 2016, they broke ground and moved in that December. "We wanted the big open family eating [and] gathering areas, and I wanted an outdoor space," Jami says. "I really feel like on a weekend I'm at a resort. I don't know that resort is the right word, but it's definitely a safe haven."

That's no accident. The Wightmans incorporated family heirlooms and designed cozy-yet-functional living spaces throughout the 4,200-square-foot, five-bedroom home. For the family, the home is more than a roof over their heads. It's where they can be themselves, weather the bad times and celebrate their successes—together.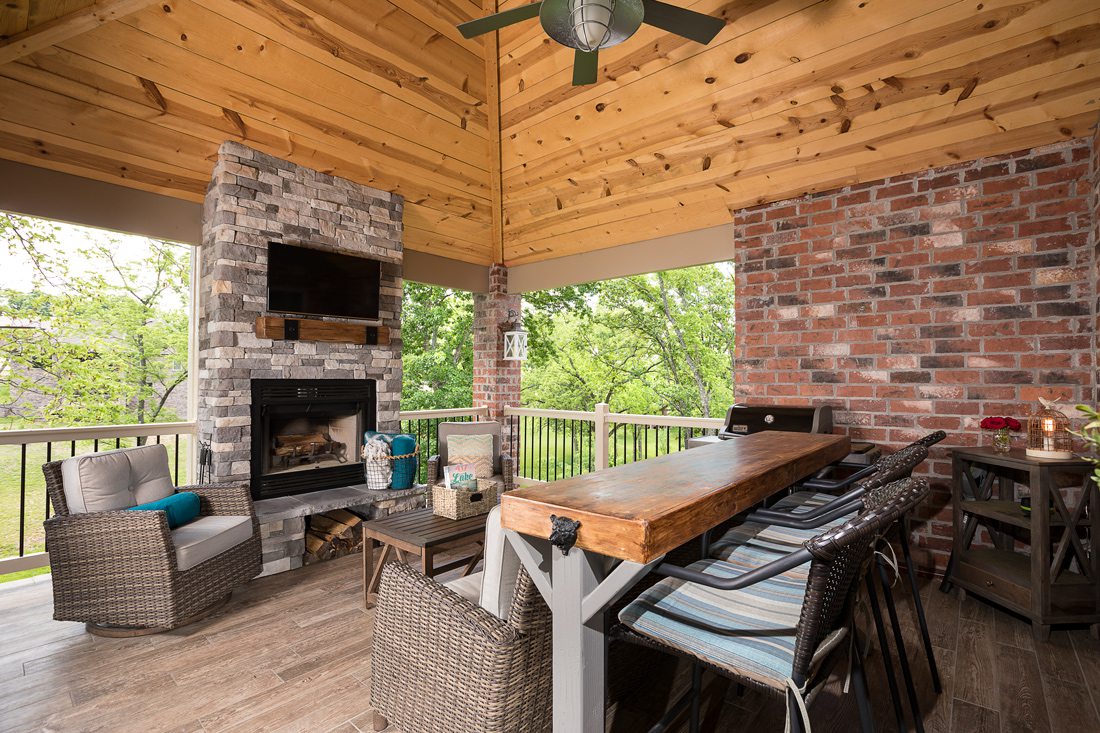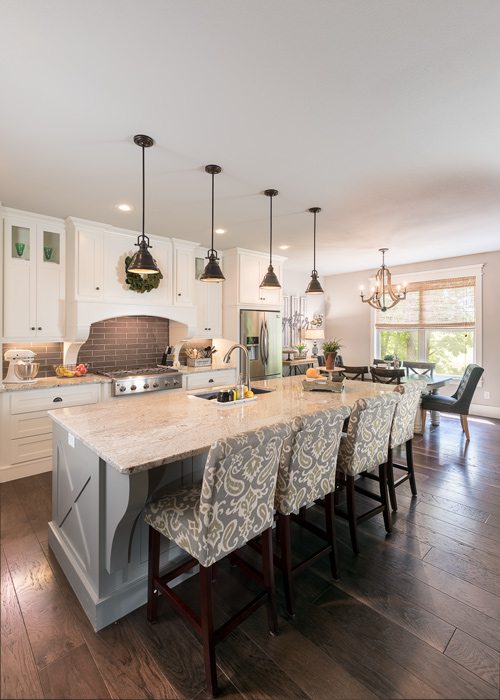 Photo by Brandon Alms
"Family is everything to us," Jami says. Many family heirlooms, including dishes and pictures, have found a home in the kitchen. When Jami struggled to find a kitchen table, her mom suggested the one Jami had grown up around, which her grandfather had refurbished. Jami loved the idea and refinished it again to fit her home's decor. To add more seating, they designed a large bar that could fit four stools.
Purchase Photo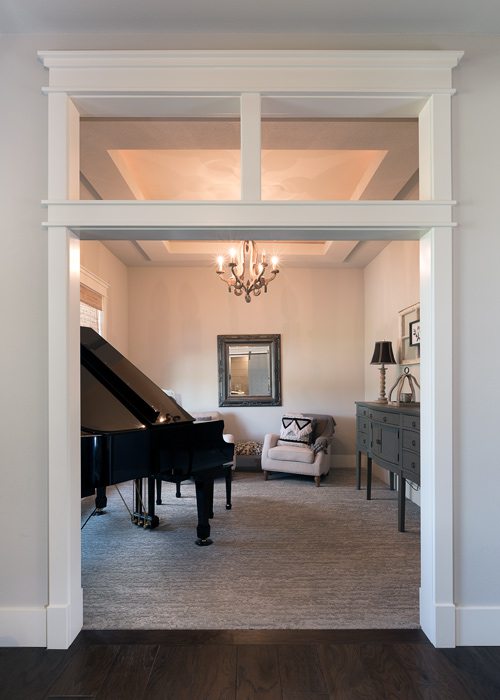 Photo by Brandon Alms
Music is one way the family unwinds, so creating a space for that was key. "If it's been a stressful day or stressful week, you'll often find me in there on Friday evening," Jami says.
Purchase Photo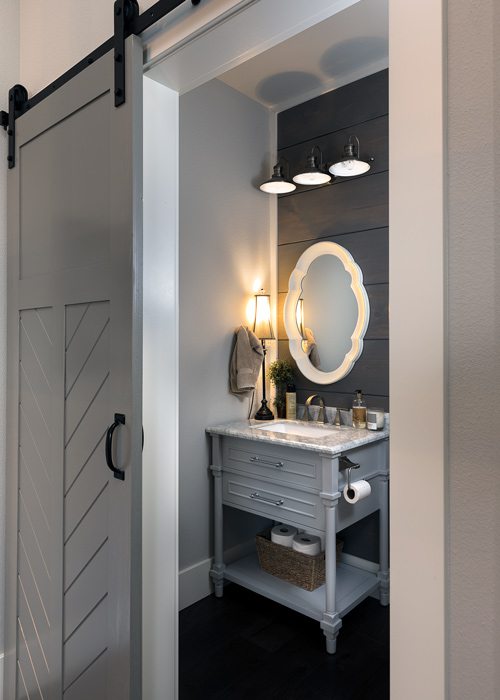 Photo by Brandon Alms
A barn door adds rustic charm to the powder bath near the front of the home.
Purchase Photo
Photo by Brandon Alms