Features
25 Must-Try Food Trucks in Southwest Missouri
From British comfort food to perfectly pressed Cuban sandwiches, we've got your guide to the local food truck dining scene.
By Adrienne Donica, Katie Pollock Estes, Evan Greenberg, Claire Porter
Aug 2018
FIND MY FOOD TRUCK
One of the perks of a food truck is mobility. It can squeeze into tight places where you would otherwise never be able to build a restaurant. But, that mobility can also lead to some frustration when you can't find your favorite taco or Cuban sandwich. Just as each truck has its own personality and menu, there's no one-size-fits-all way of communicating business hours and locations. Luckily for you, we've done the research and put together an all-in-one list with the best way to look up all 25 trucks' current information, plus a map of where to find our stationary favorites. You'll be dining in the sunshine in no time! Bookmark this page to quickly revisit when hunger strikes again.
FOOD TRUCKS WE LOVE
In the past few years, 417-land's food truck scene has slowly and quietly become a powerhouse for creative cuisine—cooked in close quarters and served al fresco. They're a testament to the idea that good things come in small packages, as these unassuming little trucks, carts and trailers churn out inventive fusion, clever comfort food and delightful sweets. Our food trucks are a casual way to marry community and food, and we rounded up 25 of our favorites for you.
2845 W. Highway 76, Branson, 417-320-6357, gettinbasted.com
---
The team of award-winning Branson barbecue joint Gettin' Basted has created a secret sauce for success.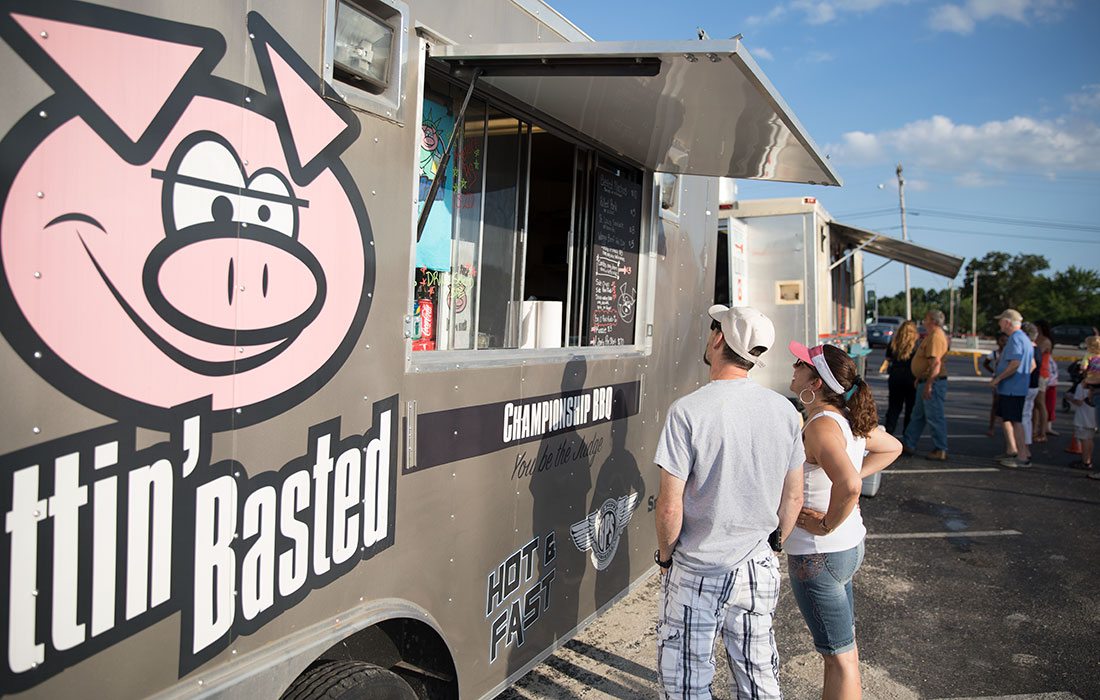 Vegetarians, beware: Gettin' Basted could be the end of your meatless journey. That might sound like an exaggeration, but co-owner Tammy Roberts can name a handful of customers who have fallen off the wagon. And trust us, the award-winning barbecue is that good. 
"It was really something that Jason and I wanted to do," Roberts says, referring to her and her husband's idea to open a food truck. "We had this grand concept that we would get tied into the bigger events that are around the country and be mobile and see the country." Originally planning to open a hot dog truck, they convinced Derrick Melugin to join them and then reached out to Brad and Sarah Leighninger, who had been on the barbecue circuit since 2012, for recommendations on a smoker. Soon enough, it was a five-person collaboration, and the concept morphed into barbecue. By September 2016, Gettin' Basted was up and running.
After four months, Gettin' Basted made the leap from wheels to bricks. The restaurant's menu features all the same finger-licking good barbecue—cooked hot and fast to maintain maximum juiciness—along with newer additions such as the Basted Nachos, the Austin sandwich and Waygu beef burgers. And don't worry, purists can still enjoy the authentic Gettin' Basted food truck experience at local events. Find the truck's whereabouts on Facebook.—Adrienne Donica
---
Trailer Perk Coffee brings caffeine-infused innovations to the Midwest.
One year ago as Amber Ottoson was developing drinks for her coffee trailer business, she asked: "What's going to set Trailer Perk apart? What is it going to have that no other coffee place in Springfield has?" Her answer: white coffee. The light roasted beans are highly caffeinated without the coffee taste, and they pull a light blonde drink that takes on the color of its add-ins. At Trailer Perk Coffee, those are white chocolate and raspberry, creating a perfectly pink concoction that looks as good in front of the drink's namesake flamingo as it does on your Instagram feed. Look for Ottoson and her camper-themed menu at the Greater Springfield Farmers Market.—Claire Porter 

Pineapple Whip
Since 1974, Pineapple Whip in Springfield has served dairy-free desserts. Cup or cone, you can't go wrong with the classic pineapple flavor.
Honey's Ice
Snow cone meets classic Mexican fruit drink in the Mangonada at Honey's Ice (search for "Honey's Ice" on Facebook).  Shaved ice, fresh mango, Chamoy sauce, mango and lime snow cone syrups and TAJÍN seasoning collide in this sweet and spicy dessert.
Pineapple Bliss
Take Dole Whip up a notch with toppings such as coconut or Sour Patch Kids at Joplin's Pineapple Bliss. The truck features pineapple and a second, rotating flavor. 
Shaved Ice Co.
Cool off with a snow cone from Branson's Shaved Ice Co., which boasts 32-plus syrup flavors including sugar-free options. Try a Frankenstein with green apple and grape or The Sandlot, a mix of root beer and vanilla.
Persimmon Hill Thunder Wagon
Trying a Cumulobluebus from the Persimmon Hill Thunder Wagon is a must. A giant, warm blueberry Thunder Muffin is split in half then topped with locally made ice cream, whipped cream, blueberries and a blueberry syrup drizzle.
3245 W. Republic Rd., Springfield, 417-818-1647, shrimpandbayouclassics.com
---
With simmering heat, Shrimp & Bayou Classics brings the bounty of a Louisiana shrimp shack to southwest, Missouri.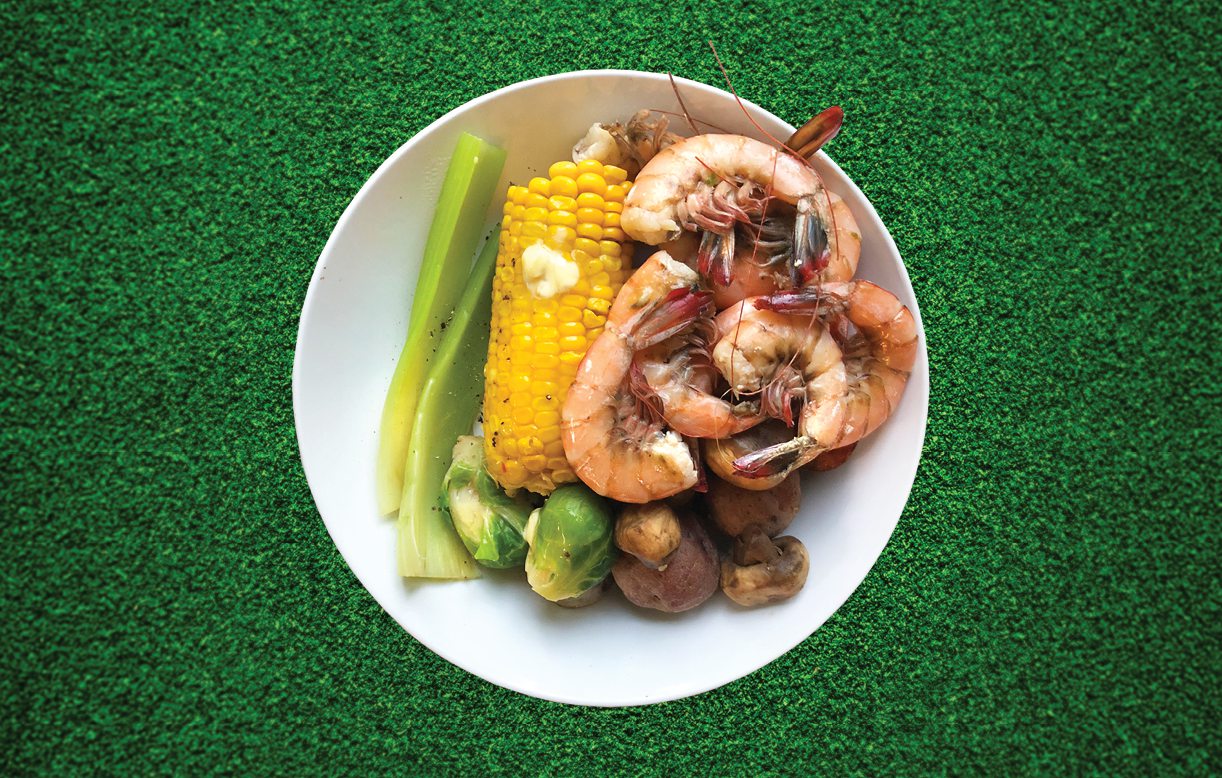 What, is worth driving 500-plus miles for? For Chris Crow, owner of Shrimp and Bayou Classics, it's shrimp. Crow attended LSU, where he fell in love with the culture and cuisine of Louisiana. "I majored in crawfish and beer and did real, real well," Crow says with a laugh. Six and a half years ago, he opened the unassuming trailer-restaurant–shrimp shack hybrid parked on West Republic Road. The food draws lines and loyal customers. "A customer kept coming back, so I asked him, 'When are you gonna come work for me?' and he said, 'I've been waiting for you to ask that,'" Crow says. That customer was Aaron "A.D." Davis, and, together, the two serve Cajun, Creole and bayou favorites like gumbo, étouffée, boudin, crawfish and, of course, shrimp.
"Eighty percent of our products come from Louisiana—down to the mayonnaise," Crow says. Every two weeks, Crow heads down south to load his car full of raw shrimp and other state-specific goods. Every Friday during the summer, those fresh shrimp are boiled with dry and wet seasonings and tossed with steaming hot veggies in a spicy and sizzling shrimp boil. The ingredients and outpost are straight out of Louisiana, and the flavors are worth driving for. Luckily for us, we don't have to book it to the Gulf to get them.—Claire Porter
836 N. Glenstone Ave., Springfield, 417-380-7943, londoncallingpastycompany.com
---
With London Calling, Neil Gomme and Carrie Mitchell are broadening perception of British food beyond fish and chips, introducing 417-land to hearty pasties, a traditional Cornish dish filled with almost anything you can think of.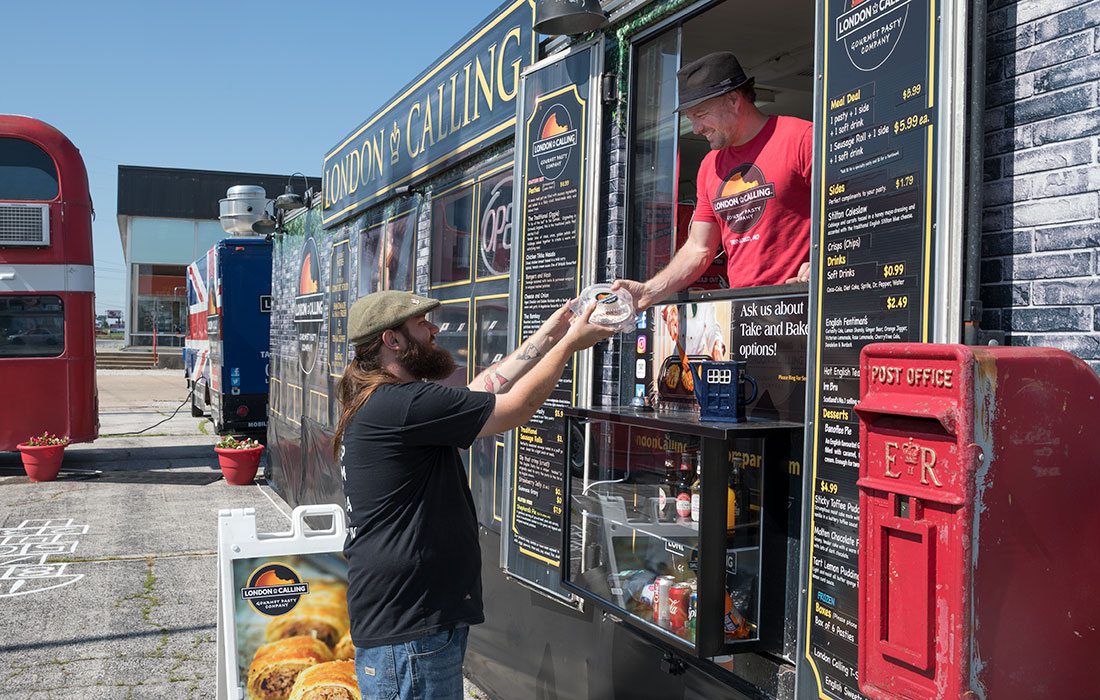 Neil Gomme loves America. He grew up watching American television in his native Britain and had long dreamt of living elsewhere. In 2013, he moved his wife and three kids to Springfield to start London Calling, the food truck he co-owns with his sister-in-law Carrie Mitchell. Upon his arrival, he bought a cowboy hat, boots and a John Deere shirt.
"I've got them all at home, and no one will let me wear it because they just want me to be the Brit," Gomme says. Instead, he wears a distinctively European hat. He's become so tethered to it that others don't recognize him without it. It's all part of the atmosphere he and Mitchell have created, serving English pasties (pronounced past-y) to the 417-land masses.
Gomme used to holiday in Cornwall, where the pasty gets its origins; this was his introduction to the dish. Think of the pasty as a sort of half-Frisbee–shaped calzone-esque meat pie with a short crust. There are myriad combinations and fillings to choose from.
London Calling has spread across Springfield—you might have seen its red tour bus parked on North Glenstone. There's an outpost at the Battlefield Mall food court and you can get London Calling frozen pasties at the Price Cutter on South National. 
"Our biggest goal with this is to create an experience," Gomme says. "We really want people to feel like they're coming into the U.K.—stepping out of America and stepping into a little piece of Britain."—Evan Greenberg
Try this: THE BBC from London Calling Pasty Company
A pasty filled with chicken, bacon and Boursin cheese.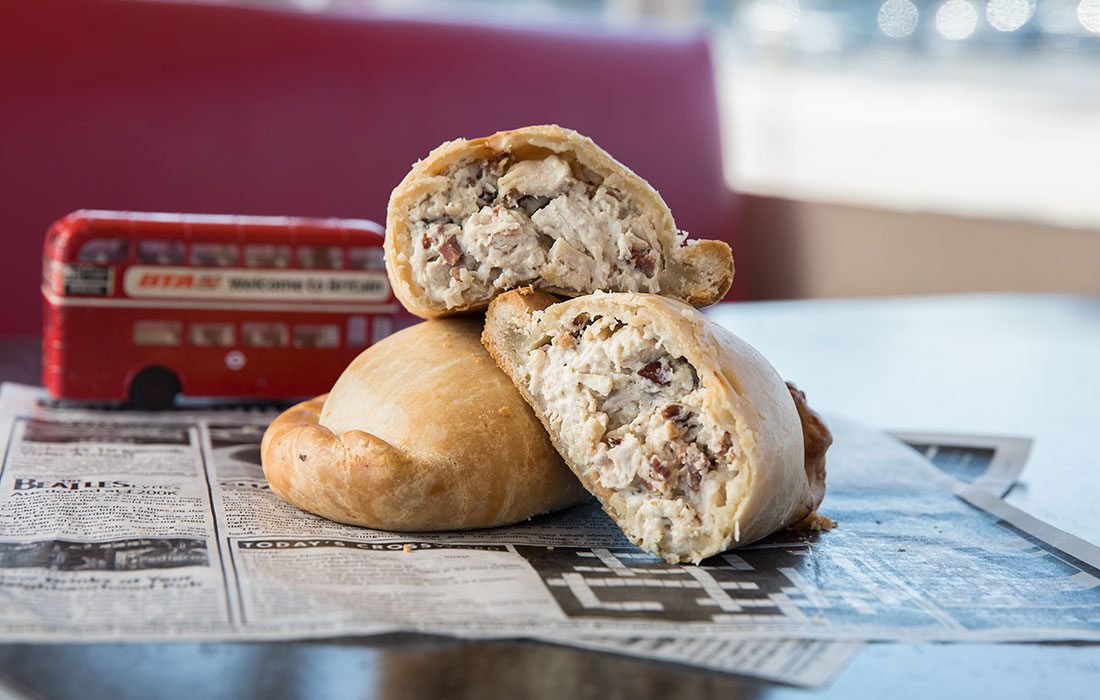 THE MEAT | The chicken and bacon blend seamlessly together, creating a delicious, meaty mixture.
CHEESE | The Boursin cheese acts almost like a sauce, adding extra flavor and a creamy texture to the meats.
THE CRUST | There's no yeast in the crust of a pasty, best described as a firm short crust holding everything together.
Road Trip Eats
You'll find several must-try trucks in the Bentonville and Fayetteville area where you can grab some grub while you visit Crystal Bridges or explore the towns of northwest Arkansas.—Katie Pollock Estes
---
Making appearances at breweries around 417-land, two-person operation Skully's Food Truck churns out handmade Asian-inspired dishes packed with flavor.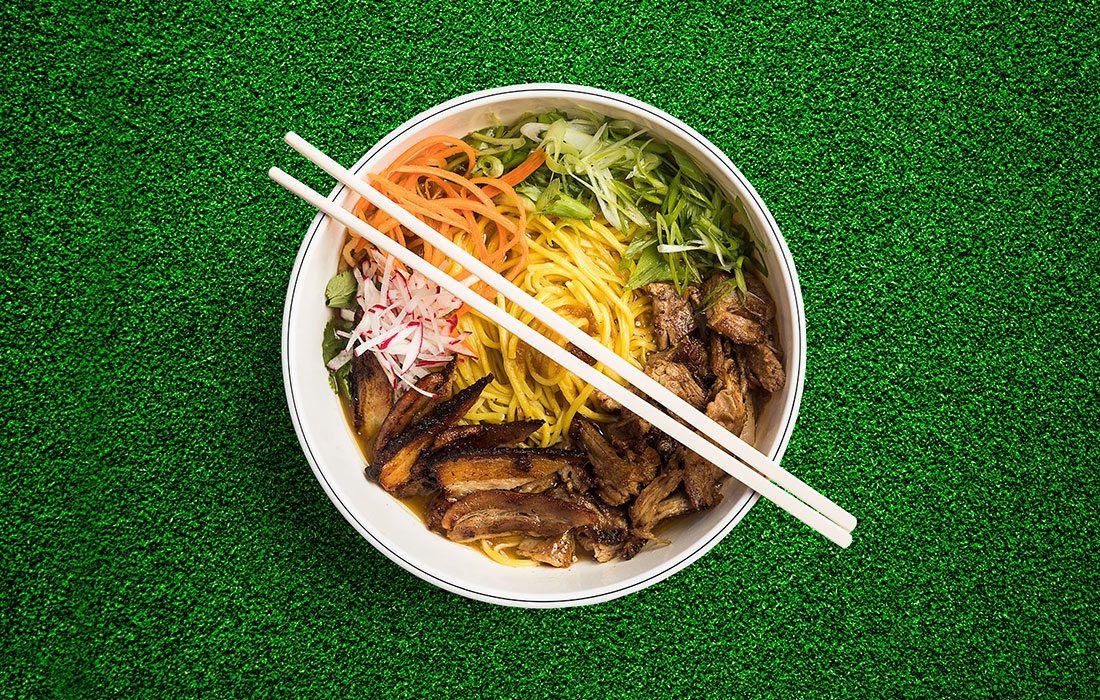 The Pork on Pork Ramen embodies the ethos of Skully's Food Truck. Umami-packed broth simmers all day with pork, chicken, duck and lamb bones from Hörrmann Meats. The broth envelops noodles and laps up against smoked pork shoulder—brined for 24 hours and smoked behind the black truck—and fatty pork belly, which is slow roasted and then seared to a crispy finish. All of that is topped with fresh green onion, radish, cilantro, cabbage and pickled carrot. Painstaking care is put into each element, all of which are made from scratch by owners Joe and Lora Still. "We have our fingers in all the pots," Joe says with a laugh. "It's a lot of work, but it pays off." 
Joe and Lora have spent their entire careers cooking in restaurants around town, so a year and a half ago, when the opportunity arose to open their own mobile operation, they revved at the opportunity. "Food trucks are a good low-cost way to get into serving your own food," Joe says. For the Stills, their own food means multidimensional Asian-fusion foods, with each element (save the bread and noodles—there are limits to a truck's kitchen, after all) made by hand. Since leaving its home behind White River Brewing Co. last month, Skully's can be found rolling into events around town or popping up at local breweries, so when you succumb to the slow heat of the hot wings, or the oppressive Missouri summer, cold beer awaits.—Claire Porter 
---
In three short years, Central Park in Carthage has established itself as a food truck destination with Food Truck Fridays.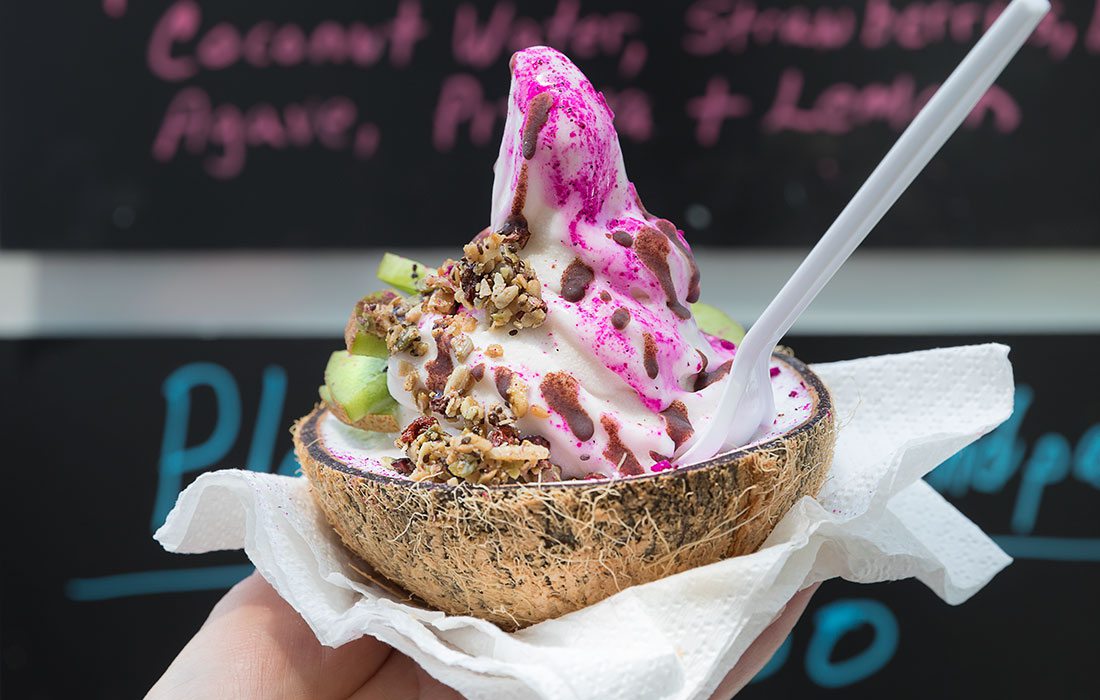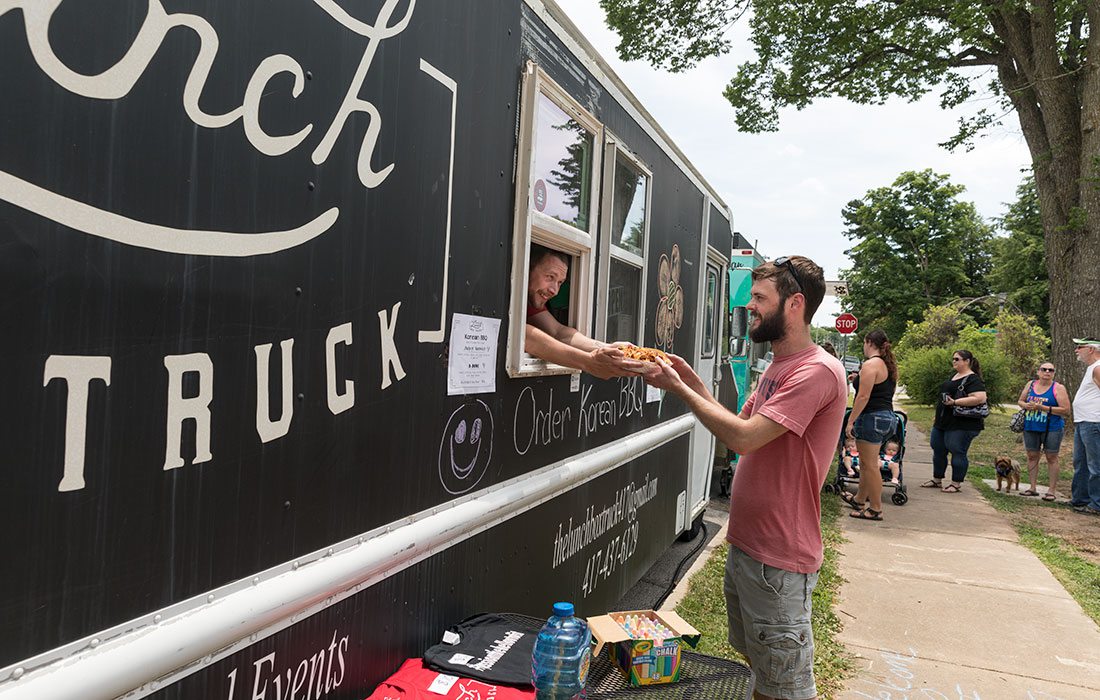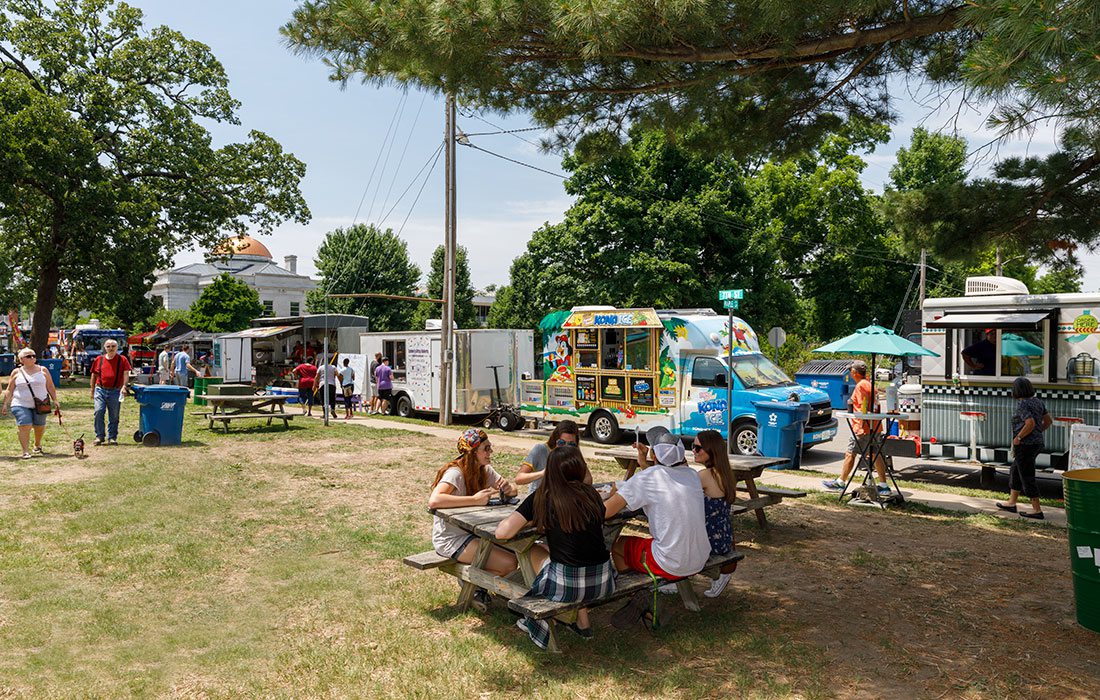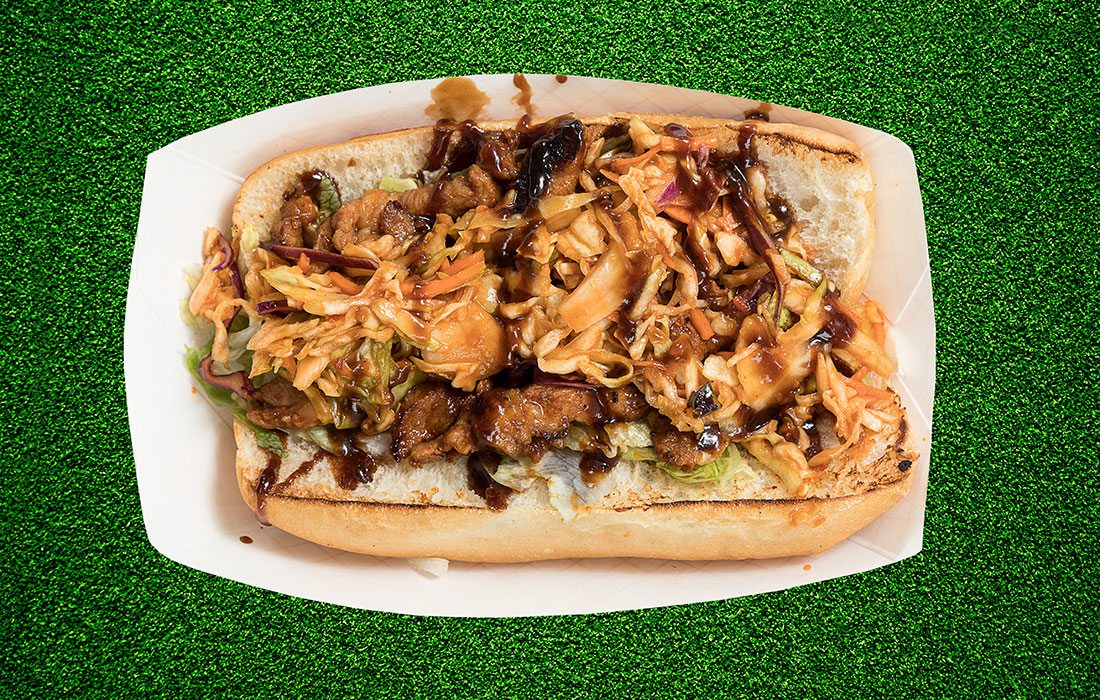 The food scene in Carthage, as Caleb Stiles will tell you, is not exactly bustling.
"Carthage lacks in food, like, a lot," says Caleb Stiles, owner of The Lunchbox Truck in Carthage. "We've got fast food, and we had a few independent [restaurants]—we still have a few independents that do a really good job, but we just needed more variety." With this in mind, Stiles put together a ragtag event called Food Truck Fridays. The first rendition included two food trucks including Stiles' and two sno-cone trucks. The event drew 3,000 people.
Now, three years later, it can draw twice that. Running April to September on the second Friday of every month, Food Truck Fridays has grown into an event where people want to see and be seen. Twenty to 25 trucks show up month to month, providing patrons with a ton of variety. 
On a recent muggy July day at Central Park, we sampled five trucks, serving foods as diverse as pastries, fresh-squeezed lemonade and grilled cheese, among other wilder concoctions. Stiles' Korean barbecue offerings were especially tasty. 
The event was packed, especially for mid-afternoon on what was ostensibly a workday. It was a loud and strong message: This is something that the Carthage community needed, and others have taken note.—Evan Greenberg
---
WHEN: Food Truck Fridays are the second Friday of every month, April to September. Visit foodtruckfridaycarthage.com for the lineup and more information.
KNOW BEFORE YOU GO: Stiles suggests coming with a group to try as much as possible. From 5 to 9 p.m., there's a beer garden, too, with Indian Springs Brewing Company serving its brews.
Grab & Go
These hand-held bites are packed with flavor and perfect for munching on the go.—Adrienne Donica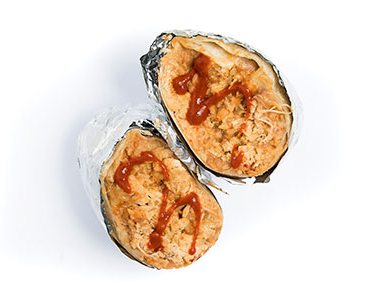 The Wheelhouse
1670 E. St. Louis St., 417-351-5220

Bold Thai flavors meet a Mexican food staple in the Peanut Chicken Burrito from The Wheelhouse.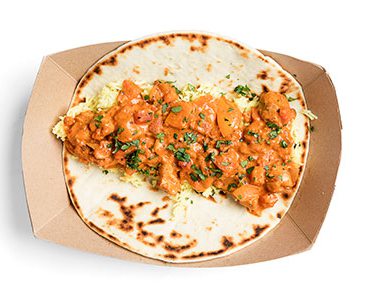 Holy Cow
417-459-0857

Get your fix of Indian food with the Chicken Tikka Masala Naan Taco, made with nearly 15 spices, from Holy Cow.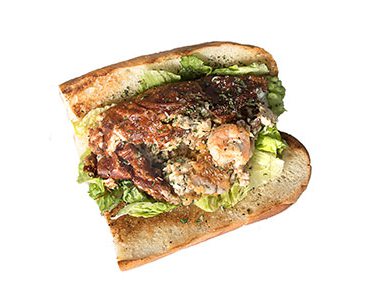 BillyNeck Food Station
417-983-6982

Garlic sautéed chicken and shrimp pair perfectly with gooey Parmesan cream and mozzarella cheese in the Hen Fin from BillyNeck Food Station.
417-597-5079, facebook.com/CecilsToGo
---
Trey and Teri Manning's Cecil's To Go food truck has made an indelible mark on the community, establishing itself as a tasty mainstay at events across 417-land.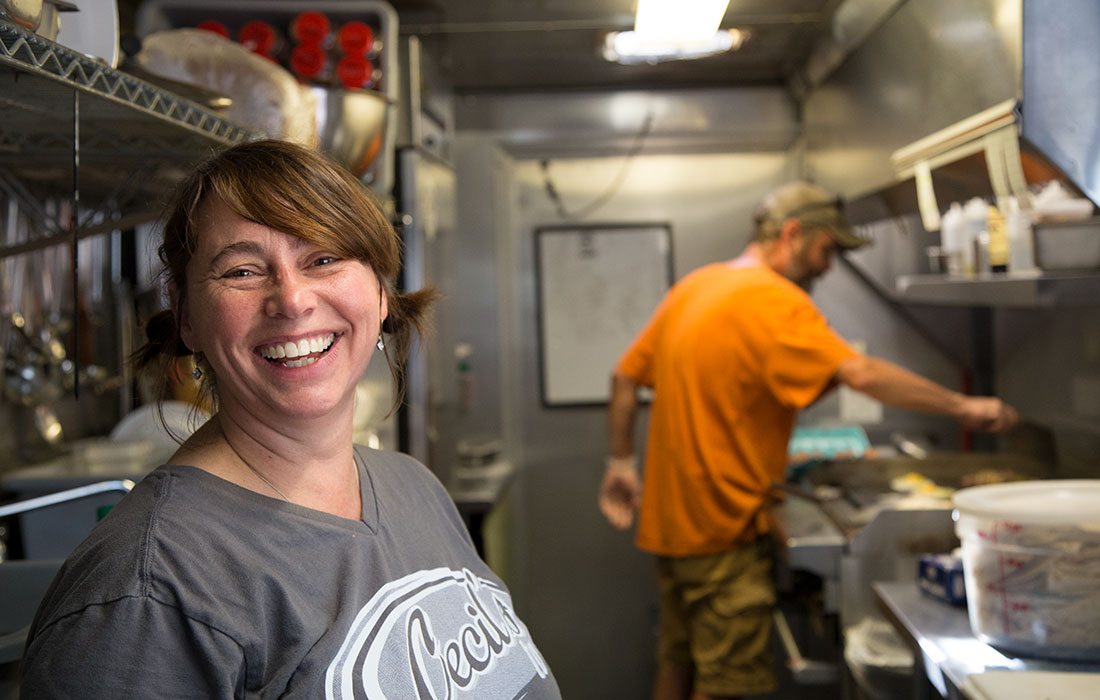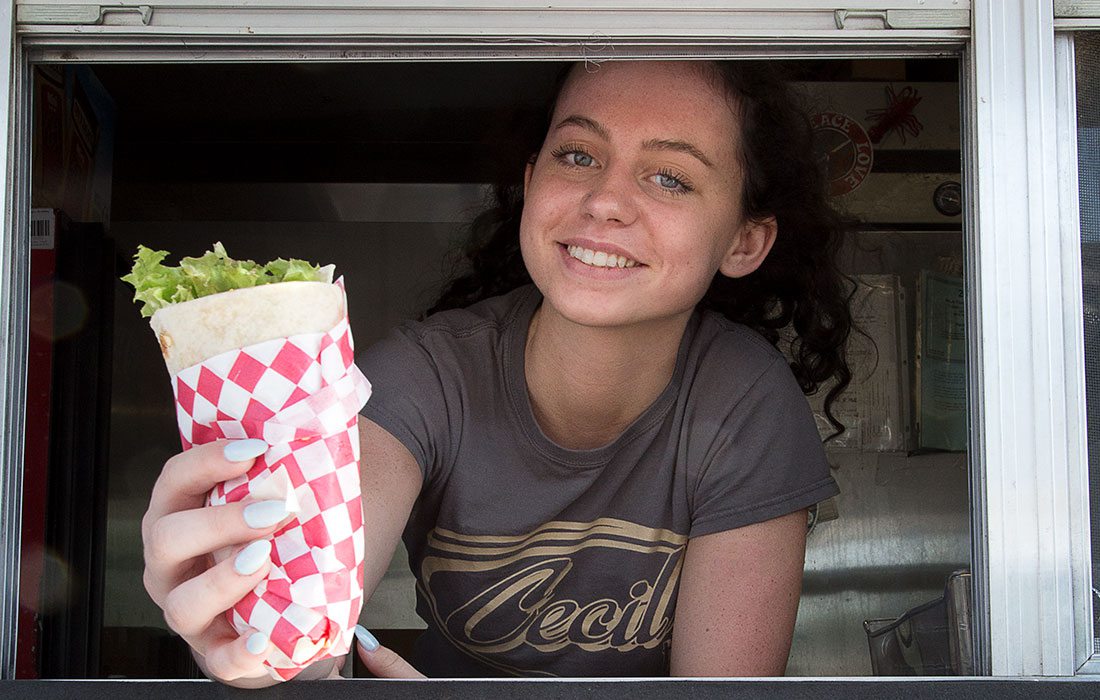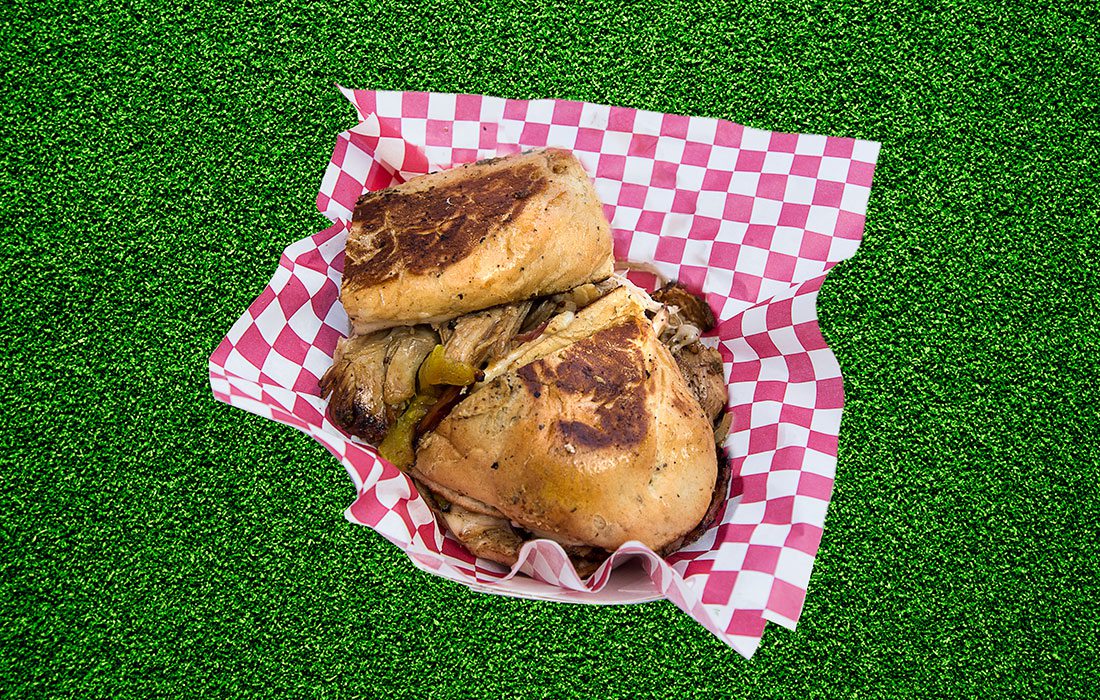 Teri Manning knew just about everyone who stopped by Cecil's To Go on a summer night at Tie & Timber Beer Co. The truck, which she co-owns with her husband, Trey, has a familial feel, probably because every member of the Manning family has worked there.
The Mannings have lived in the same Rountree neighborhood since 2001, and Teri, a self-professed Chatty Cathy, has the type of genial personality you need when a good portion of your job is interacting with others.
Trey, the truck's chef, was a professional brewer for 15 years with Sierra Nevada before deciding on a career change in 2013. Cecil's To Go was born, serving tacos, Cuban sandwiches, falafel and other tasty dishes.
Trey takes pride in his craft. "You're going to have to wait for my food," he says. His dedication emerges in the form of delicious food, like the tequila lime and Korean beef tacos, cooked fresh to order and served on handmade tortillas. That's something the family prides itself on—Cecil's makes just about every component of its dishes in the truck. Even the guacamole and salsa that come on the side are made in-house. 
Despite the heat, Trey cooks Cuban sandwiches for customers at Tie & Timber. It's a heavy meal for summer, but it stays on the menu because it's a best-seller. 
Cecil's sticks to a pretty set schedule. Wherever there are hungry people, the truck is there. The Mannings set up shop at Mother's on Fridays and the Farmer's Market of the Ozarks on Saturdays.
The Mannings have been doing this for five years, so they're a well tuned machine. Each person has his or her own role. Daughter Tyler works the window, as one step of the process transitions smoothly into the next.—Evan Greenberg
Perfect Taco Builds
Ah, tacos. There's no better way to get fiesta-fresh flavors and steaming hot combos, all wrapped in a handy—and handheld—shell. When you want your tacos to be as mobile as you are, hit up these food trucks for your next meal on wheels.—Claire Porter