Dishes
Short Ribs at Mijuri Sushi Bar & Grill
Plus six other things that passed the test of our taste buds.
By The Editors
Dec 2012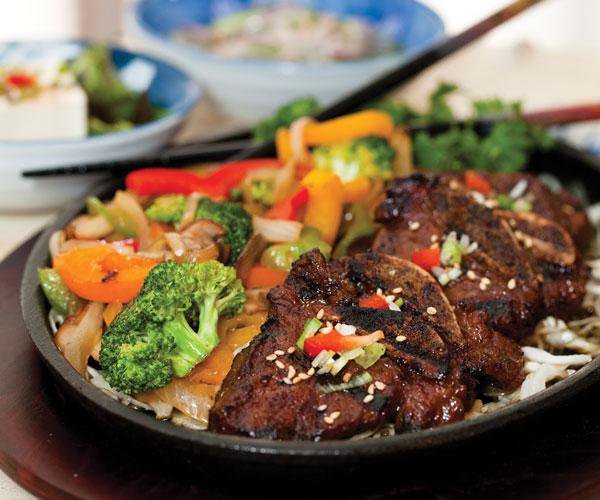 1. We usually go to Mijuri Sushi Bar & Grill (2710 S. Campbell Ave., Springfield, 417-889-9593) for sushi, but we've recently discovered a new non-sushi favorite: kalbi short ribs. These super-tender hunks of meat are cooked to perfection and fall right off the bone. They're topped with a barely sweet, barely there sauce that is so satisfying.
2. We can't get enough of the little taco sliders at Santa Fe Grill (3120 E. Sunshine St., Springfield, 417-827-0666). The homemade shells are perfectly fried, and the size is ideal for a light lunch.
3. Staffers love the Carnivore breakfast sandwich at Brown Egg Café (607 E. Madison St., Springfield, 417-865-3223). It is just all kinds of breakfasty goodness and easy to eat on the run. The bacon is nice and crispy, cheese perfectly melted, and everything tastes fresh. Love love love!
4. When one staffer wants a big plate of pasta, she reaches for the Rasta Pasta at Grad School (434 S. Jefferson Ave., Springfield, 417-866-8163). It features penne pasta tossed with jerk-style meat of your choice, tomatoes, green onions, Parmesan cheese and a spicy marinara sauce.
5. For something hot to warm up the winter, we love the spicy seafood stew at Haruno Sushi Bar & Grill (3044 S. Fremont Ave., Springfield, 417-887-0077). It's great for clearing your head from a cold. And we hear it's not a bad hangover cure, either.
6. The fresh tortilla chips at Creekside Bistro (3830-C S. Lone Pine Ave., Springfield, 417-882-1899) are a favorite snack that goes great with after-work drinks. Don't forget to order them with some tasty guacamole.
7. We have long awaited the re-opening of The Pier restaurant (11863 Missouri 13, Kimberling City, 417-739-4311) in Kimberling City since it was destroyed by the February 2012 tornado. A recent weekend didn't disappoint. The blackened prime rib was melt-in-your-mouth delicious. It is great to see Bob Nicols back, better than ever.