Style
Grayson Home
We explore the modern and vintage furniture and home goods at Grayson Home's new location that's nearly twice as large as the store's former home.
By Savannah Waszczuk | Photos by Kevin O'Riley
Dec 2015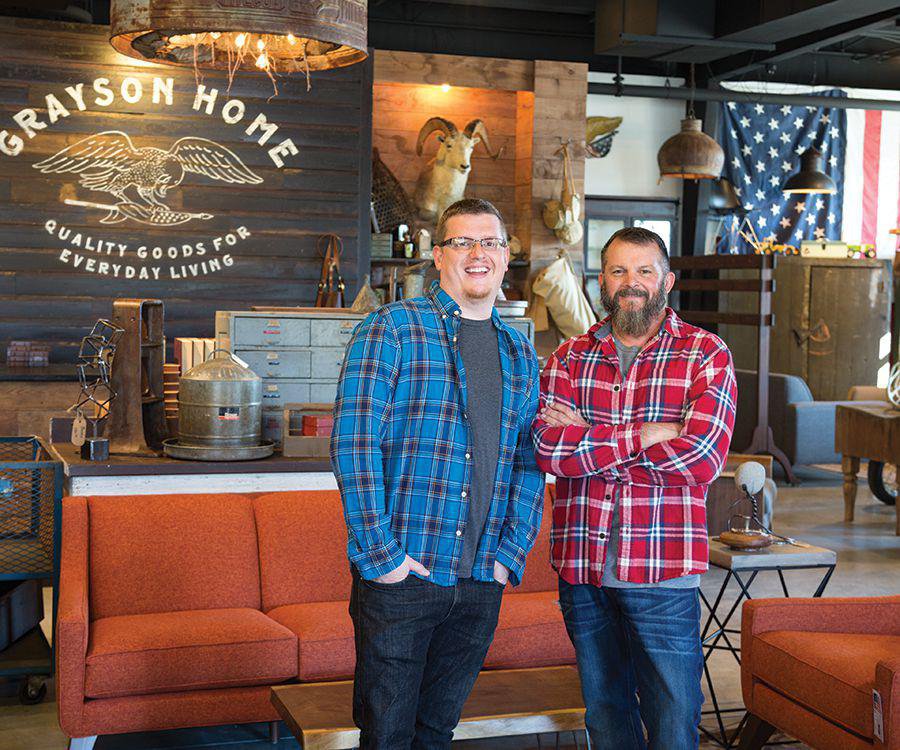 Grayson Home
2814 S. Fremont, Springfield (near intersection of Battlefield and Fremont Avenue) 417-299-0227
Open Tues.–Sat., 10:30 a.m.–6 p.m.
Clive Gray and Ryan Rosenquist first opened Grayson Home in downtown Springfield in August 2013. And while the guys liked a lot of things about being in downtown Springfield, they came across an opportunity that was too hard to pass up. "Moving to this location gave us the opportunity to display a lot more product and appeal to a wider audience," Rosenquist says of the store's new location on South Fremont. The new store is 3,000 square feet and the last was 1,750, so they almost doubled in size. 
In the shop, you'll find new upholstered furniture, hand-crafted furniture, antiques and a wide range of quality gift items, like hand-made cutting boards, hand-poured candles and leather-bound glasses and mugs. There are even some pieces made by the owners themselves, including Rosenquist's hand-crafted lamps made of galvanized pipe, wood and Edison bulbs. But you won't find anything from a market. "We don't go to markets or anything like that," Gray says. "Actually, the only things we buy in bulk are some of our candles, and those are still hand-poured and hand-crafted," Rosenquist adds. 
After one walk around, it's obvious that everything in the store was chosen with a purpose. In fact, that's part of the appeal. "Any piece I buy for the store I would buy for my own house," Gray says. "I buy what I love, and if you love it, you can sell it." Everything is arranged in a way that doesn't really feel like a retail store. It's more like you're visiting your cool friend's house. This friend has some amazing one-of-a-kind vintage pieces, and he's paired them with new mid-century modern furnishings to create a look worthy of a Dwell magazine cover. 
He also has all the latest cool-kid gadgets you wish you could have yourself, from T-shirts to field notebooks and even a vintage blanket you know would look perfect by your fireplace. 
The owners welcome newcomers to explore what they like. When asked what they think every home needs, neither had an immediate specific answer. "I really think they need to just fill it with things they like," Rosenquist says. And Gray agrees. "We fill our store we things we love. People need to fill their homes with the things they love, too."
Q&A
with Grayson Home Owners Clive Gray and Ryan Rosenquist
417 Magazine: How would you describe your store's merchandise? 
Clive Gray: I always describe our stuff as modern rustic. It's a style that is more popular now, but I wouldn't really say it's "on-trend." We never paid attention to whether or not it was popular. We have just always liked this stuff because it's timeless. I think timeless is a much better way to describe it.
417: How do you want the store to feel to customers?
Ryan Rosenquist: I would say I want it to feel familiar. Relaxed and comfortable, too. But mostly familiar.
417: What is the price range of your merchandise? 
C.G.: You can come in and buy a $20 candle or come in and spend a couple thousand dollars on a sofa. 
417: Who picks out the store's merchandise? 
R.R.: Both of us. I like more modern pieces, and Clive has more of a draw to the rustic-type pieces. I think you can see both of our personalities in our merchandise.
417: What styles of homes do you think of when you buy your products?
C.G.: We really want our stuff to appeal to a wide range of people. We're not just antiques, and we're not just modern.
R.R.: Our pieces could go into a minimal modern house, or they could go into a cabin.