Reviews
Ms. Gilmore's Vintage Suitcase and Tea Room
As soon as you walk into Ms. Gilmore's Vintage Suitcase and Tea Room, your mind questions if you're still in Springfield. The eclectic design and various trinkets make this local lunch spot feel like a destination.
By Peyson Shields | Photos by Chuck Travers
Dec 2015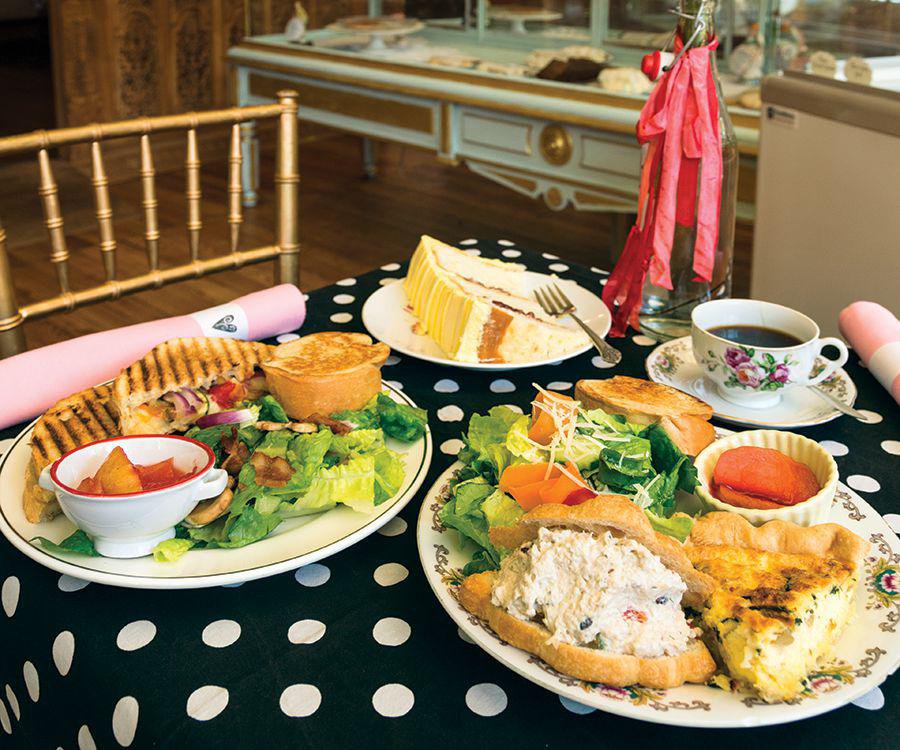 Ever since I was little, my mom and I have loved going on mother- daughter dates. It was a time when we could step out of the house and bask in a few hours of girl time. And if there's one thing we love to do on our dates, it's grab lunch. We can find something new, share meals and catch up. We especially love tea rooms. There's just something about little sammies and homemade desserts that makes us swoon.
Recently Momma Stace and I set out on a new lunch adventure: Ms. Gilmore's Vintage Suitcase and Tea Room. Located on historic Commercial Street, Ms. Gilmore's makes you feel like you've stepped into Wonderland. The smiling staff let us pick our seat, and we chose a nook adorned with a chandelier and vintage portraits. The privacy of being in our own little area led to lots of girl talk—but the main thing we were talking about was the décor. The dining area of Ms. Gilmore's is decorated with trinkets, photos and objects that create such a fun environment.



After taking in the décor, we flipped open our menus and got to work. The main thing to understand about Peyson and Momma Stace lunch dates is that we like to try everything, which results in sharing and taking nibbles off each other's plates. We immediately were drawn to The Three Sisters. You have the option of choosing three of the following: soup, garden salad, egg or chicken salad sandwich or quiche. Excuse me? We get to pick three? This was our dream. We chose the Debonair Chicken Salad sandwich, small garden salad dressed with house-made creamy raspberry dressing and a slice of the quiche of the day.
The next order of business was to decide what else we were going to try. Oh wait, a Tearoom Special where you get to choose any sandwich with soup or salad? Sold. We decided on the Woolsworth Veggie Panini with the Holland Wilted Greens salad.
When our fare arrived, our eyes widened and we dove right in, cutting bites off each plate and having fork wars in the salad bowls. Our The Three Sisters pick was the best of every world. The chicken salad sandwich was served on a tiny croissant, balancing the sweet base with a buttery, freshly baked pastry. The quiche of the day happened to be ham and cheese, otherwise known as illegal. The full-size piece could have stood alone for lunch, and the gobs of cheddar that stretched out with each bite definitely led me to appreciate how big of a piece it was. The last sister was a salad. Normally, you would think of this as the stepsister with a lineup like chicken salad and quiche, but this salad was for sure biologically related. Fresh greens were topped with veggies, sunflower seeds and that oh-so-yummy raspberry dressing. The sweetness helped each bite of salad cleanse your palate so you could go back to the quiche feeling healthy as ever.
The Tearoom Special didn't disappoint, either. The panini bread was the perfect crispiness, and the cut veggies helped you feel better about essentially eating a grilled cheese. The star of the special, though, had to be the salad. Mushrooms, red onion and warm bacon vinaigrette swam through fresh romaine lettuce. 




When you're dining at Ms. Gilmore's, be sure to save room for a treat. There are a plethora of desserts made in house, including macarons.

Once we were finished filling our bellies, we decided to fill them some more. Our waitress came around with a dessert platter that changes daily. Caramel-lover Momma Stace decided on the chocolate and salted caramel cake, and I chose the lemon cake with raspberry filling. The richness of the chocolate cake was hearty enough but not overwhelming for after lunch—actually, I would recommend it after every lunch. The lemon cake was light and tangy enough to make my lips pucker but my taste buds smile.
Not only is the food at Ms. Gilmore's a reason to trek a little farther for your lunchtime commute, but the shop is bound to give you a break from your nine to five. The retail portion is full of eclectic pieces, clothing and gift items like specialty soaps and greeting cards. Ms. Gilmore's also has a second floor warehouse that has recently been opened full of furniture.
So, grab some friends, and head to Commercial Street. Even if you eat yourself into a sugar coma like I did, you'll still have leftovers to take home—however, they do taste better when you're sitting in a different world known as Ms. Gilmore's Vintage Suitcase and Tea Room.


---


Q&A with the owner, Robin Gilmore
417 Magazine: Why Commercial Street?
Robin Gilmore: When I was in high school, this building was Nellie Dunn's, and I always loved it. I remember being in here thinking, "Man, I wish I owned this."


417: What was your inspiration behind the décor?
R.G.: I just like the funky, out of the norm. I think you can eat anywhere and get good food, but I want [customers] to come in and be entertained.

417: What is your favorite dessert?
R.G.: Strawberry cake is still one of my favorites, and I love Becky Adams's bread pudding. (Editor's note: Becky Adams is the pastry chef at Ms. Gilmore's.)
 
417: What would you say is your specialty?
R.G.: I love it all, but the thing I love the most is the creamy raspberry dressing.